My only real complaint with this gun is something I've seen with other, larger P30 models. The shape of the trigger and lower interior of the trigger guard combine to pinch my index finger. I've run across a few other folks with the same complaint, but it doesn't bother most. A few dry-fire trigger pulls when the gun comes out of the dealer's showcase will tell you whether this is a deal-breaker or not before you buy.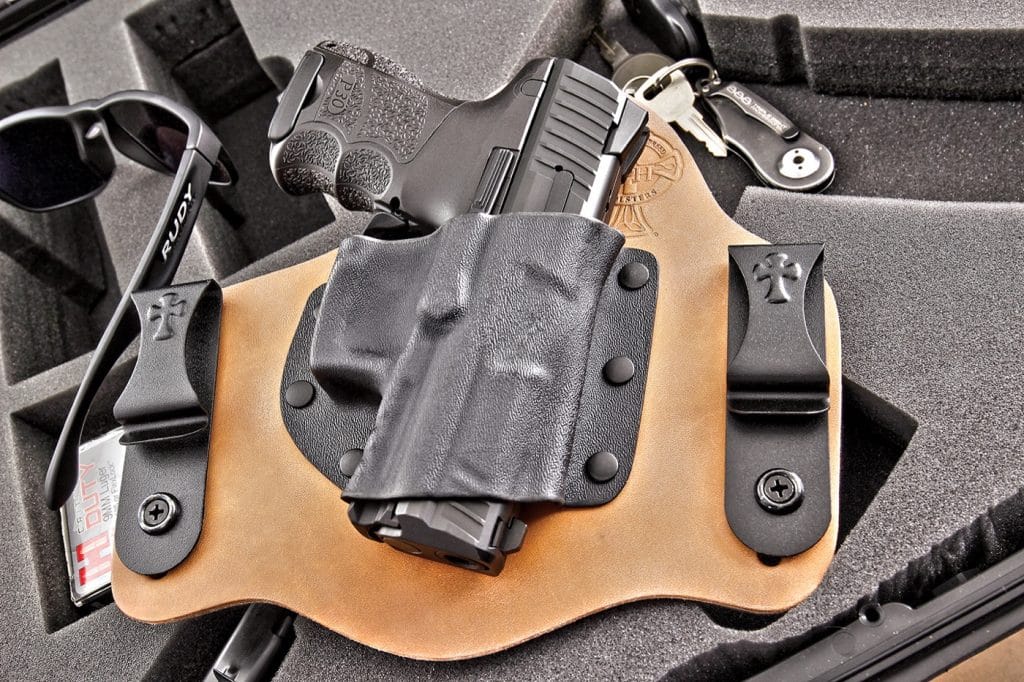 Our On Target test team for this pistol included lefty Josiah Gunter, who confirmed that the SK, like other P30s before it, is extremely southpaw-friendly. Whichever is your dominant hand, the P30SK's ambi mag release paddles and slide lock levers give you options as to how your hands can most expeditiously lock the slide open or close it fast, and dump an empty magazine without having to shift the pistol in your hand. The configuration of the P30's slide stop levers also give a good felt index for keeping trigger fingers in register on the polymer frame when the pistol is out in a ready position.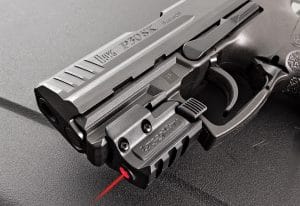 It's female-friendly, too. The two females on our test team were petite Gail Pepin and athletic Courtney Gunter. Once they got the feel of the LEM trigger, which is distinctly different from their familiar Glocks, both were able to shoot the P30SK fast and straight, with quick recovery in rapid fire.
Carrying the P30SK
The young Gun Culture Gen 2.0 guys who run Green Force Tactical comprise an up and coming firm making fine Kydex carry gear. My favorite outside the belt concealed carry holster for the 20-shot Springfield XD(M) 9mm is a Green Force. They made me one of their standard inside the waistband holsters to fit the P30SK, and in a week of constant concealed carry when I wasn't in bed—I not only carried it, but taught and shot with it—the Green Force IWB performed superbly. (greenforcetactical.com).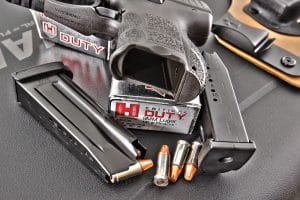 While spare magazines sell dear (approximately $60), the P30SK's MSRP of $719 represents a good value, particularly given Heckler & Koch's reputation for high quality and fine engineering, engendering an enthusiastic legion of fans. See it at your firearms retailer, or contact Heckler & Koch, Dept. OT; Tel.: (706) 568-1906; Web: http://ww.hk-usa.com