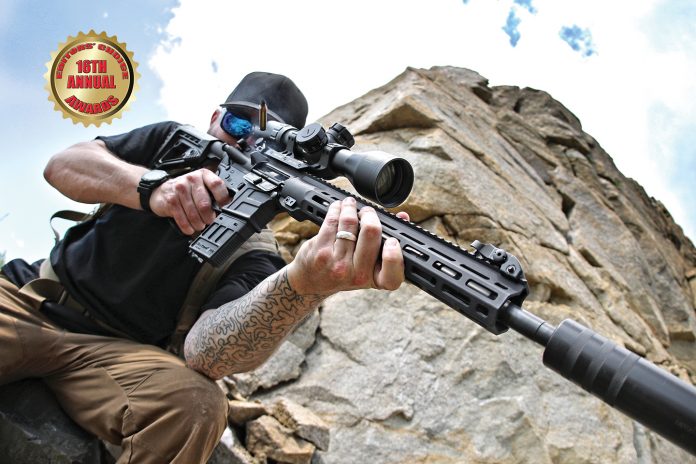 By Frank Melloni
---
Any Situation. Any Distance
The designated marksman, or DM, is the soldier in the unit who has the most shooting talent and therefore is issued a rifle that can engage targets out to 800 yards, but still fight alongside their buddies up close and personal. Bushnell had this in mind when they developed their elite DMR scope and its newest version the DMR II ($1,998.67)
The DMR II starts life on a one piece 34mm tube, which provides generous light transmission and adjustment for elevation and windage. At just over 13 inches long, the 3.5x-21x 50mm DMR II makes it very short for class. The reticle is on the first focal plane, which keeps your subtentions the same distance from each other throughout the entire magnification scale. Two reticle options are available; the clean G3/G3-I (tested) or the detailed Horus H59. Both reticles have subtentions that allow you to estimate a lead on a moving target as well as the standard mil scale to estimate target size or distance.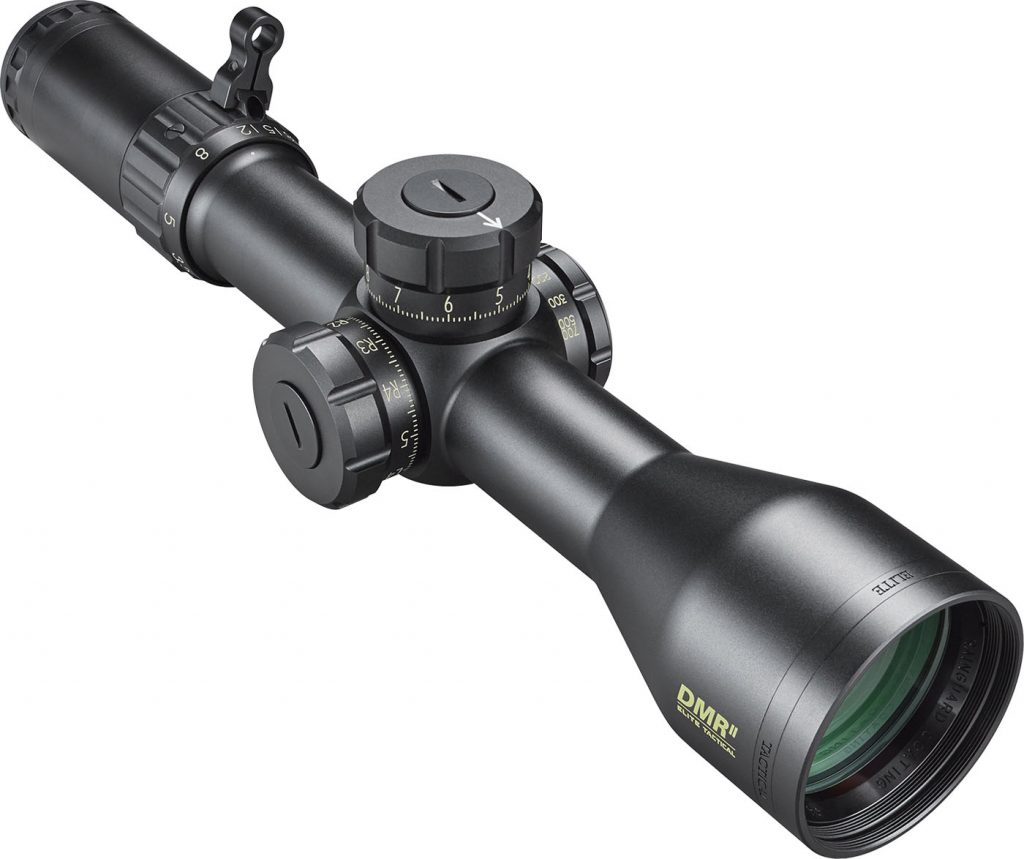 We installed our multi-use scope in a Warne 1-piece X-Skel mount, mounted it on a switch-barrel Frontier Tactical Warlock AR (not shown) and hit the range. We brought out their 16-inch barrel in 7.62×39 for our CQB work and their 20-inch 6.5 Grendel barrel for our long range work.
Our first objective was to check tracking and repeatability. Tracking is the ability of an optic to give you the correct elevation/windage changes for the clicks that you dialed in. Measuring the distance between the groups fired we confirmed two important factors: the click values are true and the scope holds zero.
Dialing back down to our 50 yard zero we fired a final group and confirmed the third important criterion for a usable long range optic: repeatability. If a rifle scope fails any of these three tests it is essentially useless. Happy with the zero, we installed the RevLimiter zero stop to allow us to dial back down and stop right where we need to without looking at hash marks.
Feeling confident in the optic we engaged the 800 yard target with several boxes of the Federal 6.5 ammo. With a mild crosswind we had to hold between 1 and 2 mils to connect repeatedly. The G3 reticle gave us very handy hash marks at 1.25 and 1.5 mils, which helped us center up more rounds than not on our steel IPSC target.
Following the long range work we set up some paper IPSC targets within the 7- to 15-yard range and switched over to the carbine 7.62×39 barrel to test transitioning. At 3.5x the optic was still clear with targets this close and the illumined reticle made it feel like we were running a red dot.
Overall it was a great day on the range. The clarity and light transmission were that of an optic costing several times as much and should certainly be a contender for any long range setup.
See them at your gun shop, or for more information contact Bushnell Optics, Dept. OT; Tel.: (800) 423-3537; Web: www.bushnell.com