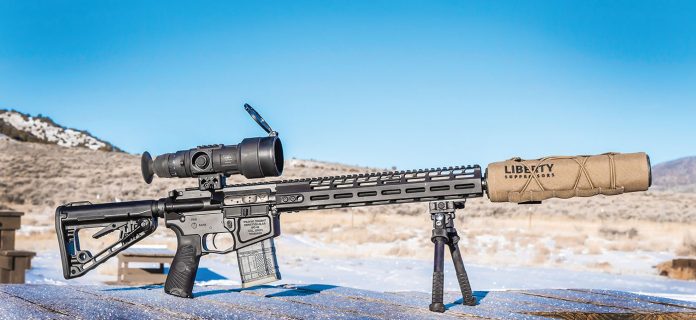 Liberty's big-boy solution
Hunting rifle offerings in big-bore .45 caliber chamberings have been around for years and are growing in popularity. My introduction to the .458 SOCOM came in 2011 and it was a real eye opener. This cartridge has become popular among law enforcement who stand a good chance of encountering large predators, and it also has a huge following among hog hunters.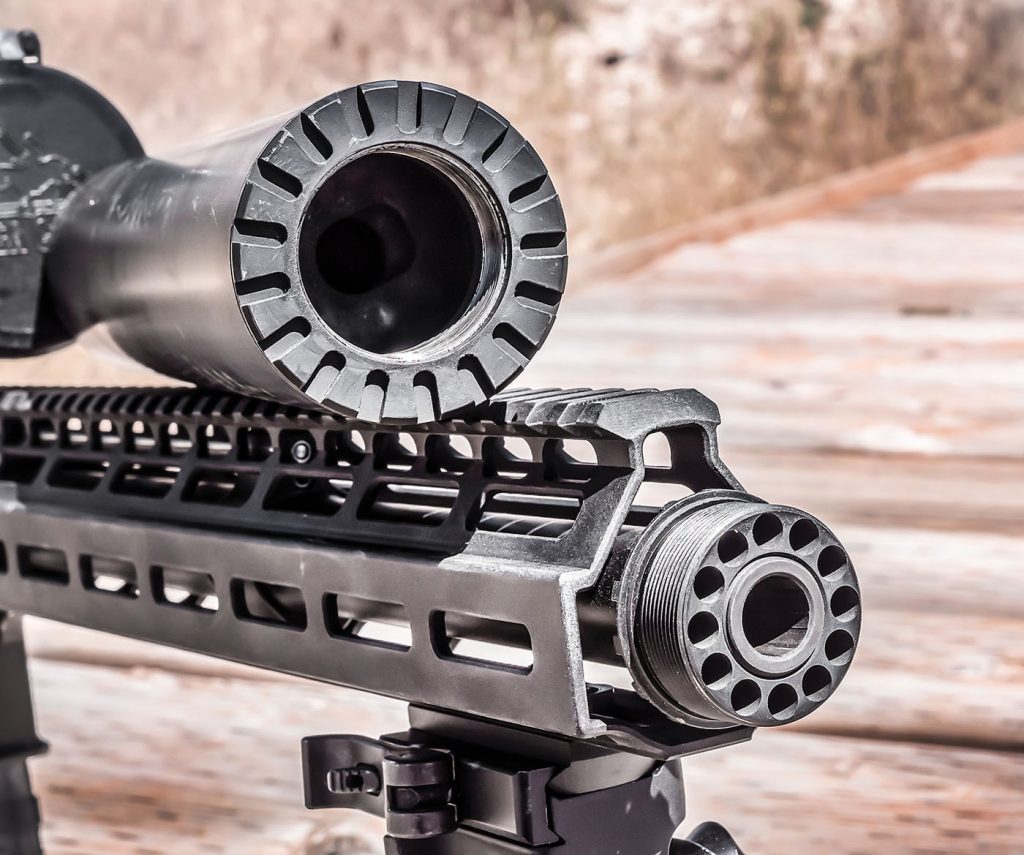 A simple barrel and bolt change on an upper receiver gets you rolling on an AR platform, as it uses standard 5.56mm GI magazines and works on standard AR lowers. Delivering 2,500 foot pounds of energy at the muzzle, a suppressor really helps make things a bit more civilized. Move up to Wilson Combats .458 HAMR and the difference is even more striking. Developed to hunt any North American game, it delivers 3,000 foot pounds at the muzzle. Impressive as these cartridges are, however, the most popular right now is the .450 Bushmaster. Using a straight walled cartridge allows it to be used during shotgun seasons in many states, increasing its overall popularity. All of them, however, benefit from a suppressor where lawful to own and hunt with.
Liberty Goliath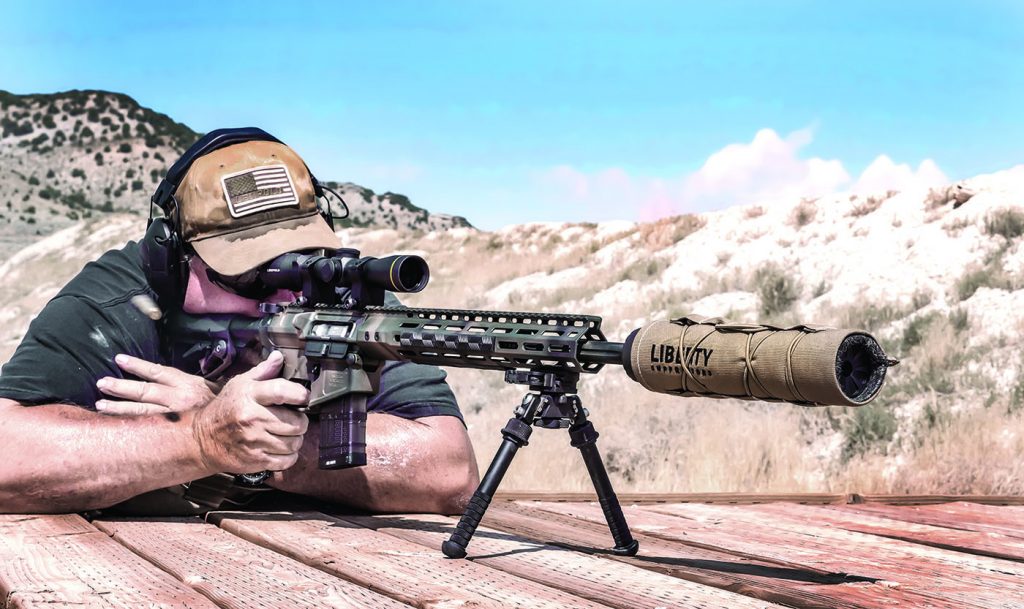 Where many suppressors are just oversized pistol cans designed for limited use on the .458 SOCOM, Liberty's Goliath—originally designed for the military and primarily for CQB work—is a true multi-caliber rifle suppressor. When asked if it would handle the .458 HAMR, Dave Saylor, the owner of Liberty, did not blink an eye; "No problem" he said. The tube is grade 9 Titanium, the core and end cap are both grade 5, and stainless-steel thread inserts allow for use on most anything. At ten inches long, two inches in diameter, and weighing in at only 20 ounces, it's also light for its size. It ships with an Armageddon gear suppressor cover and two thread-adapter inserts (5/8 x 24 and 5/8 x 32).
Testing
Shooting the .458 HAMR is much like shooting the .45-70—best in small doses, especially with full-power loads. Adding the Goliath made a huge difference in recoil reduction. Sound reduction was also impressive, and perfectly capable of hunting or limited use without hearing protection. Balance was all but unaffected given its light weight; long for sure, but not unwieldly at all. Most testing was completed using the Barnes 300-grain TSX variant of the .458 HAMR load, making the Goliath a shoulder saver as well as protecting my hearing.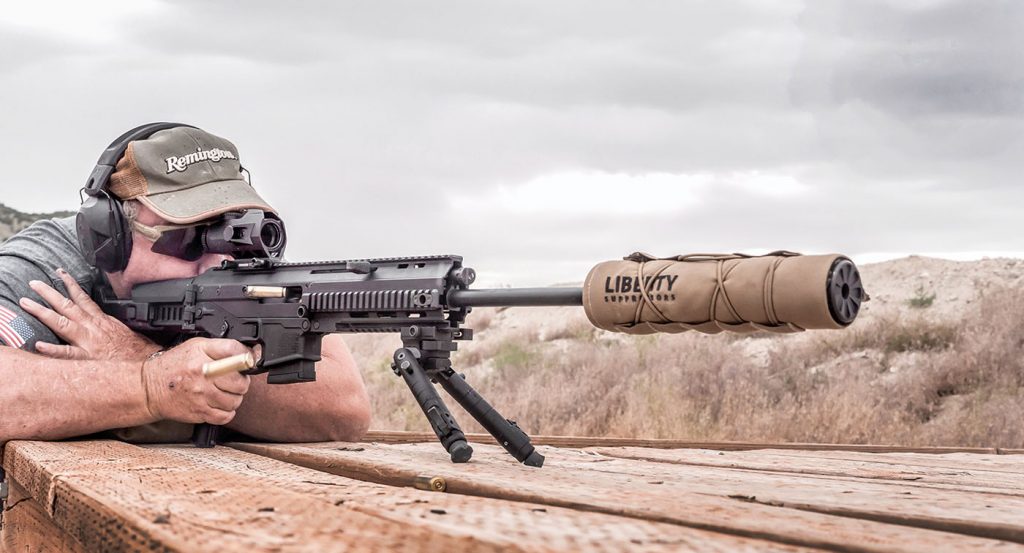 Moving to my 14.5" .458 SOCOM, it was downright pleasant with the subsonics and controllable with the most powerful ammunition. Two- and three-round bursts proved easy when mounted to my Colt M16 lower. Add the Trijicon REPIR and you have what may be the perfect hog-hunting machine.
Use on the .450 Bushmaster was just as impressive—quiet, much softer shooting and very little excess gas in my face out of a Bushmaster ACR with a 16-inch barrel. Reliability while suppressed has been unaffected on anything used so far. Attached to a bolt rifle, or even a shorter barreled pistol with a brace, a Goliath-equipped gun would make a formidable defensive weapon and hunter.
Final Thoughts
Initially designed for the .458 SOCOM, the Goliath is capable of use on high-powered rifles. I've used it on a .300 Norma Magnum in a pinch with zero issues. I have also used it on a short-barreled .308 bolt rifle—even a 12-inch barreled Primary Weapons AR—with no real issues. Not as quiet, but with solid recoil reduction and durability. Bottom line: if you are looking for a light, quiet, and rugged .45 caliber big-bore suppressor for .458 SOCOM, .458 HAMR or .450 Bushmaster this needs to be one of the top cans on your list. Contact Liberty Suppressors; Tel.: (706) 661-6911; Web: www.libertycans.net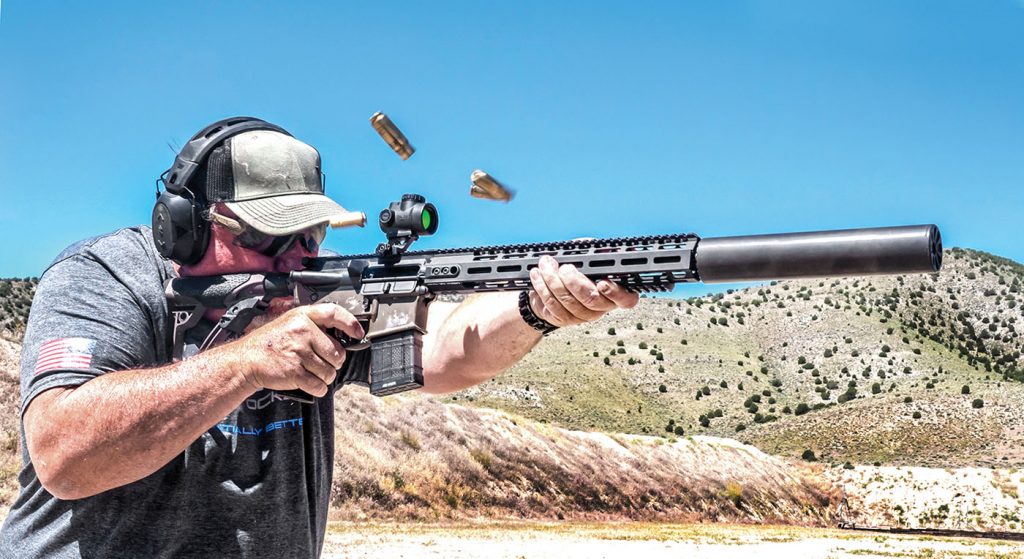 MSRP: $999
Caliber: .458 SOCOM
Length: 10"
Diameter: 2"
Material: Titanium tube, core, and rear cap / Stainless Steel Thread Inserts
Weight: 20 OZ.
Approx. DB Overall: 132.2 dB (including First Round Pop)
Approx. DB Reduction: 31 – 33 dB
Finish: C-Series Cerakote
Mounting Type: Direct Thread, 5/8-24 and 5/8-32 Inserts Included