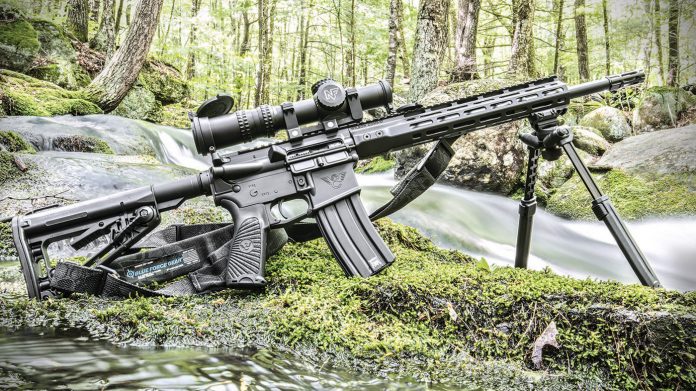 The most-versatile AR-15 chambering in existence?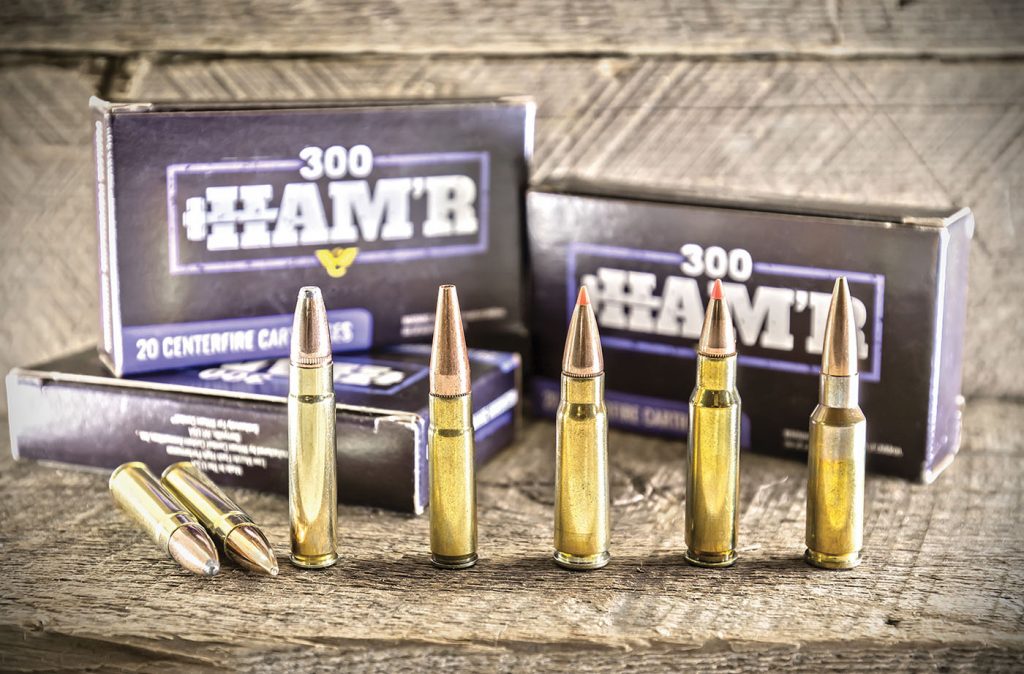 Designed to be the most versatile AR15 "ranch rifle" cartridge, the 300 HAMR was purpose built starting where the 300 BLK begins to fade…at range. It needed to take medium to large game reliably and humanely out to 300+ yards, while protecting stock from four legged predators and family from the bi-pedal variety. Extending the 300 BLK case improved accuracy and consistency using proven .308 bullets. Increased capacity and Hodgdon's new CFE BLK powder bumped velocity as much as 200 f.p.s. with less pressure. Utilizing a 1:15" rifling twist rate optimized it for longer range consistency using bullets from 110 to 150 grains. Since being introduced it has taken numerous hogs, predators, even a 600+ pound elk doing exactly what it was designed to do. I have produced consistent sub-MOA accuracy out to 400 yards with barrel lengths from 11.5 to 18 inches from several rifles. This cartridge is not just marketing hype, with a ton or promises never kept.
Wilson Combat 300 HAM'R
The only changes required to convert an AR-15 rifle to .300 HAM'R are a barrel and magazine, making it an easy swap. Everything else is standard AR-15, including the bolt, bolt carrier and buffer system. It will work in a pinch with a 5.56mm GI magazine, but is designed to use 300 BLK magazines. Several companies are making magazines designed to accommodate the larger 300 BLK subsonic ammunition and they work perfectly for the 300 HAM'R's extended case and .308 bullets. Wilson Combat offers several rifles and pistols, along with complete upper receivers and barrels from 8 to 20 inches. One of the first to test this caliber, I have extensive time on both the 11.3-inch pistol and 16.2-inch rifles. Optimized for the 18-inch barrel, the 16 inch is about perfect as an all-around protection, duty and hunting carbine. Shorter is fine, but that is still the sweet spot for the 300 BLK.
Wilson Combat Protector Series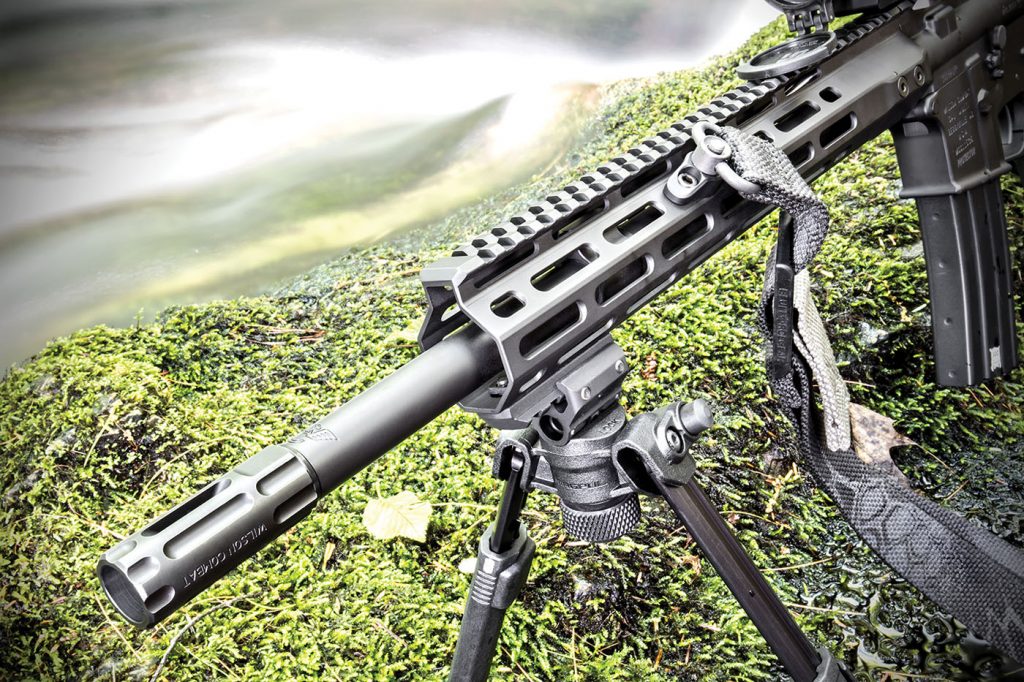 Protector Series rifles are available in numerous calibers and purpose built as defense or self- and home-protection rifles. Starting with their forged upper and lower receivers the barrel is stainless steel, match grade, and button rifled. Capped with a WC Q-Comp, it is threaded 5/8" x 24 tpi to accommodate suppressors or other muzzle devices. The 16-inch 300 HAM'R tested here uses a mid-length gas system to provide smooth and cool operation with less recoil. Bolt carriers exceed mil-spec and include a Carpenter 158 Magnetic  Particle Inspected bolt, one piece gas ring and chrome-silicon extractor and ejector springs. The handguard is slim and very lightweight, using M-LOK compatible slots for accessories. The trigger is Wilson Combat's M2 2-stage TTU module set to a crisp, repeatable, and proven reliable 4.5-5 pounds. The grip is a BCM with Wilson Combat's Starburst texturing, while the stock is an adjustable Wilson Rogers Super-Stock, keeping things very lightweight. Every Wilson Combat rifle tested has been among the lightest you can get, even compared to some using more exotic materials. My test rifle weighed in at only 6 pounds 3 ounces. Shipped in a custom nylon case, it includes one 30 round D&H 300 BLK magazine.
Testing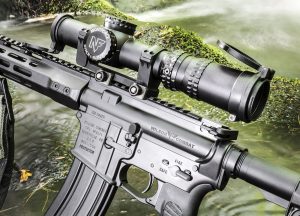 Having just received a new low-backpressure OSS Helix 762 QD suppressor, it was used for most testing. Using a QD compensator (or brake) it can be employed with or without the suppressor. Given the all-purpose nature of the test, Nightforce's ATACR 1-8 X first focal plane optic was used and mounted in their lightweight, single-piece mount. This scope is a solid workhorse, perfect for defense or duty and equally adept for hunting. The reticle uses Mil adjustments, making it adaptable for any caliber, and 8-power is the sweet spot for the 300 HAM'R. I have tested the 300 HAM'R out to 600 yards and it works well, but the sweet spot is really 0-400 yards, 500 yards in a pinch.