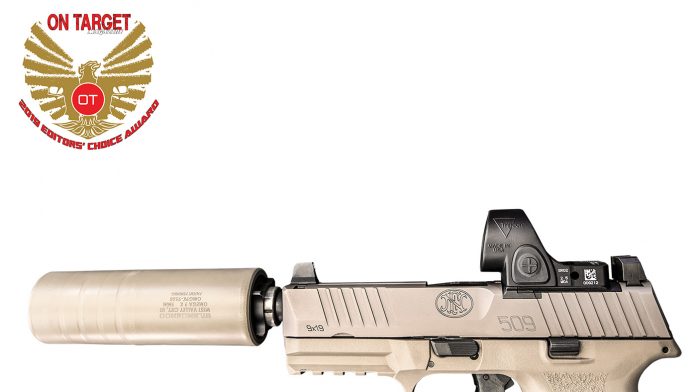 Once a rarity relegated to custom machining or slide conversions, times have changed when it comes to RDS (red-dot sight) ready pistols. Compacts, midsize, full size, concealed carry, duty or competition, there is an RDS capable pistol for you. As demand increases, optics companies are stepping up their game, including Trijicon—the leader in the duty capable RDS field. When Trijicon's RMR HRS was chosen by USSOCOM as their primary HRS (Handgun Reflex Sight), Trijicon was already working on the next generation RMR, the SRO, and it is pretty impressive.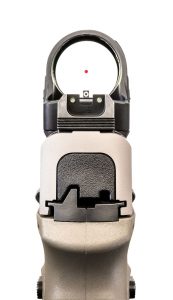 The SRO (Specialized Reflex Optic) was specifically designed for pistol use. Widening the field of view makes it easier to pick up the dot with less interference from the body of the sight. The round lens is crystal clear and parallax free providing a very crisp dot. Using the same footprint as the RMR makes mounting easy. Moving the battery to the top eliminates the need for a sealing plate. Battery life is three years on setting 4 using the widely available CR2032 battery. Built from 7076-T6 Aluminum, the internals are designed to survive 30,000-plus rounds. Now waterproof and submersible to 10 feet, it's also impervious to the elements. Available dot sizes include 1, 2.5 and 5-MOA to suit your application.
My test SRO has the 2.5 MOA dot—big enough to pick up quickly yet allowing for precision at 50 yards and beyond. Mounted to a CZ P10F, Walther Q4, STI 2011 Staccato-P, Glock 19 MOS, FN509 Tactical and Springfield Armory TRP 1911 in 10mm, it saw tons of use. Several test days included snow and inclement weather, and one complete day in the pouring rain. Numerous stoppage drills and reloads were conducted using the SRO on barricades, walls, boots and holsters without a scratch or crack on the lens. Dropped in the dirt, mud, and snow, it continued to work and never even came loose. It was carried IWB, OWB and AIWB.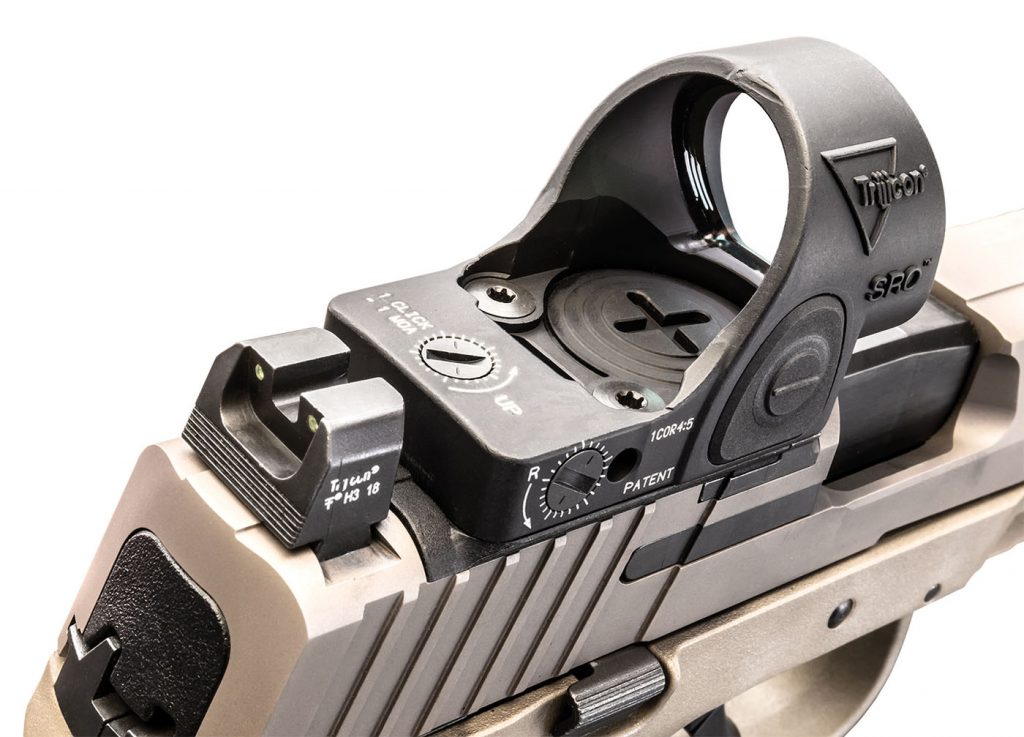 Bottom line was less or no tube effect, less occlusion, wider field of view and easier to see dot were the takeaways compared to the RMR. Changing the battery from the top is huge, as is losing those annoying sealing plates. Check the new SRO ($739) out at your nearest dealer or contact Trijicon; (800) 338-0563; Web: www.trijicon.com