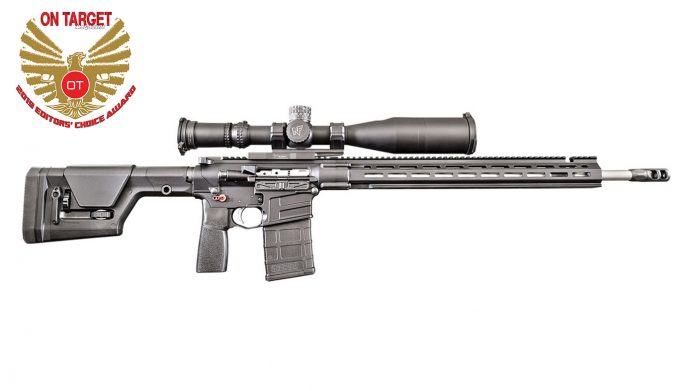 There's a new half-MOA 6.5 Creedmoor Gas Gun in town and it's surprisingly affordable
The new MSR-10 Precision Rifle from Savage is everything the AR-10 should have been—and much more—employing technologies that didn't even exist back in 1956 when Eugene Stoner designed the AR-10.
Available chambered in 7.62 NATO, 6.5 Creedmoor (tested) and 6mm Creedmoor—all priced at $2,499—the direct-gas-impingement MSR-10 was designed for one thing: long-range, competition shooting. Weighing in at 11 lbs., 6 oz. empty without optics (read "15 pounds or so loaded, with competition-class base, rings and long-range optic"), this is not a rifle you'll be wanting to hump over hill and dale. If you've got the beef, however, it would make an outstanding long-range big game rifle, but again—this is not the rifle's intended mission.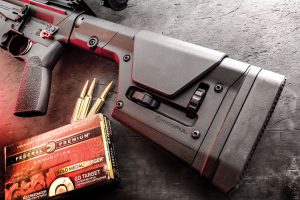 After the weight, the first thing you notice about the MSR-10 is its left-side mounted, non-reciprocating charging handle. It also includes a standard T-handle, but competition shooters want to charge the weapon without having to break their grip or move their heads away from the scope's ocular lens, and the side-charging handle allows just that. Besides, with a big, long competition optic mounted, you can't even reach the T-handle.
Controls vary somewhat from a modern production AR-10, with red-anodized, ambidextrous safety levers, right-side mounted magazine release positioned for perfect reach with the trigger finger, polymer dust cover, standard left-side mounted bolt release and what has to be the best factory 2-stage trigger we've ever seen. First stage travel is less than 1/8" at a pull weight of about a pound to a hard wall, while the second stage breaks like glass at just over 2 pounds without a hint of take-up, creep or stacking. A precision rifleman's trigger for sure.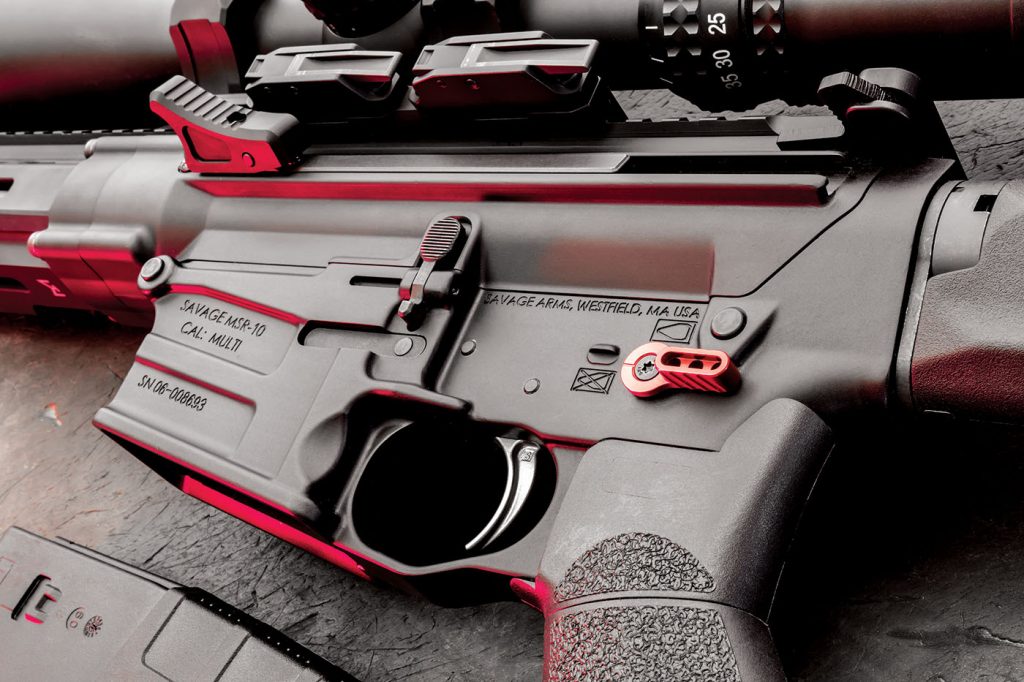 Furniture consists of an adjustable-for-everything Magpul PRS buttstock with multiple QD sling swivel receptacles, cushy ribbed rubber butt pad and 14.25" length of pull; TangoDown Battlegrip Flip Grip which quickly adjusts from 24 degrees of rake to vertical; and a machined aluminum, 18-inch Arca hand guard with full-length Picatiny top rail, five rows of M-LOK slots and a perfectly flat bottom. One red-anodized QD sling swivel receptacle mounted far forward in the rail's left-side M-LOK slot, and one Magpul PMAG 20 magazine is included.