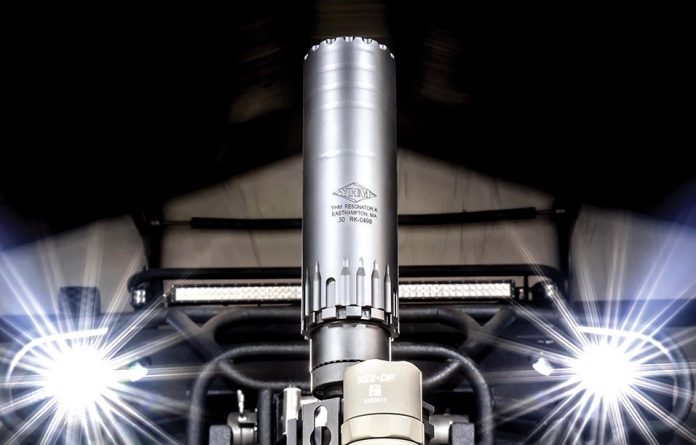 Yankee Hill Machine Resonator K
For most folks, remembering to bring or don hearing protection prior to deploying a truck gun is often an afterthought — one that typically rings as a reminder after the first shot is fired. We recommend storing ear pro with your firearm or wrapped around the passenger seat headrest so it's not forgotten.
If you're forgetful or just simply value your hearing, suppressing your truck gun makes a lot of sense. That said, if you're not yet using an in-cab security system like one offered by Tuffy Security Products, leaving NFA-controlled items unattended in your vehicle should be avoided altogether. If that's the case a quick-connect suppressor, such as YHM's Resonator K is for you.
What we love about the Resonator K ($589) is that the blast chamber is threaded for the popular 1-3/8"-24 thread, making it compatible with many of today's mounting options. The updated endcap design greatly reduces flash and the suppressor can be used on rifle calibers ranging from .17HMR all the way up to 300 RUM.
Not only is the Resonator lightweight, quiet and affordable, it utilizes a tubeless design housing 17-4 stainless steel baffles and a 718 Inconel blast baffle, both of which have been heat treated, increasing longevity and shrugging off years of rigorous, full-auto abuse. The QD version is barely there, weighing only 12.4 ounces and stretching a hair over 5.5-inches in length. Contact Yankee Hill Machine; Tel.: (877) 892-6533; web: www.yhm.net