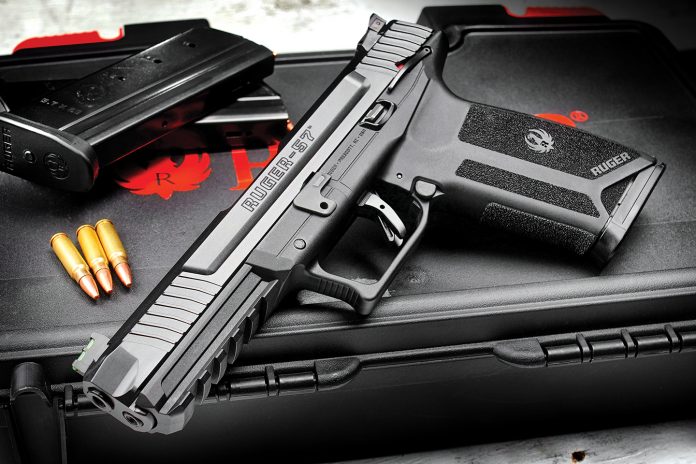 Ruger 57 Pistol
by Bill Battles
The FN 5.7×28mm cartridge is a small-caliber, high-velocity, centerfire cartridge designed for handgun and personal defense weapon (PDW) uses. It's similar in length to the .22 WMR (Winchester Magnum Rimfire). Unlike most new cartridges, it has no parent case—the complete package was developed from scratch by FN for their FN P90 PDW and FN Five-seveN pistol in response to a NATO request for a replacement for the 9x19mm Parabellum cartridge that would penetrate body armor. When fired from the P90's 16-inch barrel, the 5.7×28mm loaded with FN's SS190 steel penetrator round will penetrate both NATO CRISAT and NIJ Level IIIA Kevlar vests at a range of 200 meters. Unfortunately—or perhaps fortunately—FN restricts the sale of this round to military and law enforcement only.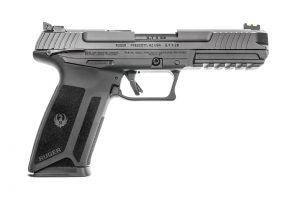 The 5.7×28mm looks like a tiny bottlenecked rifle cartridge with a rebated rim. Case length of a loaded round measured 1.136" and 0.312" in diameter along the untapered body. The slightly rebated rim measured 0.305" in diameter, with a shoulder angle is 35 degrees It fires a .224" diameter bullet. Current commercial loadings from FN, Speer and Federal American Eagle (the most affordable of the bunch) include 27- to 40-gr. bullets of various types (FMJ, HP, polymer tip) at published muzzle velocities ranging from 1,655 to 2,150 f.p.s. None of the manufacturers, however, stated test barrel lengths, so we don't know if these velocities apply to the 4.8-inch barreled Five-seveN pistol or the 16-inch barreled P90 PDW. Guess you'll just have to chronograph some out of your new Ruger 57 pistol (our chronograph, unfortunately bit the dust while testing this pistol.)
Announced last December, and introduced at the 2020 SHOT Show, the new Ruger 57 pistol is a better looking—as in "more American"—alternative to the FN Five-seven. Priced at $799—just over half the cost of an FN Five-seveN—the Ruger 57 should go a long way toward popularizing this cartridge.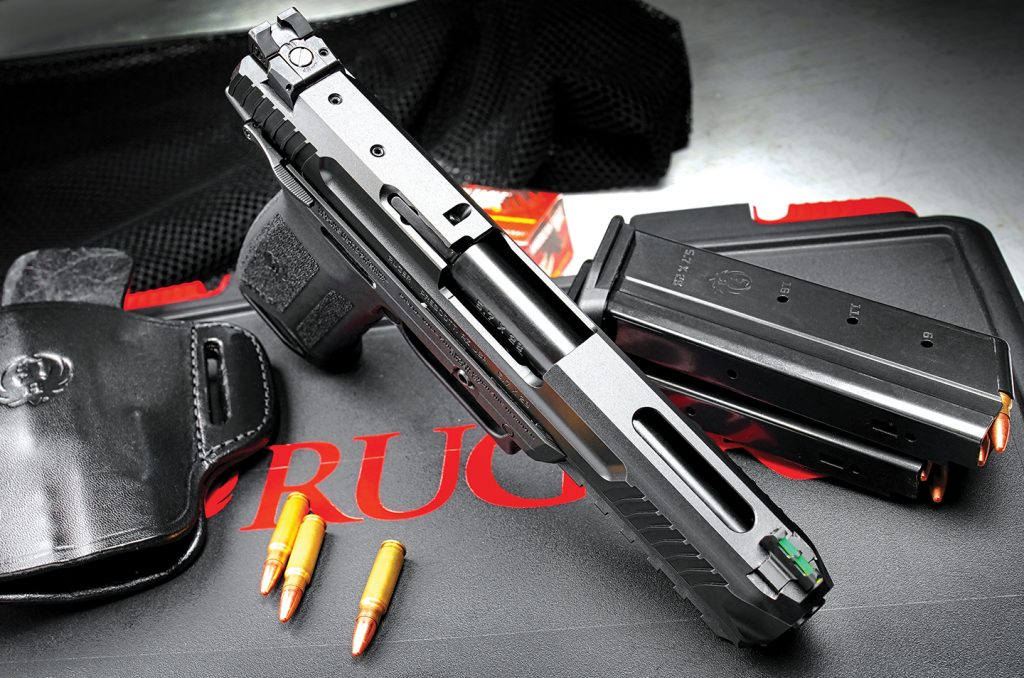 Starting at the top, the Ruger 57 offers a fully adjustable, serrated rear sight and
a green fiber optic front sight, both dovetailed into the slide. The through-hardened billet steel alloy slide with lightening cuts and grasping groves front and
rear is drilled and tapped for easy mounting of a red-dot sight with an optional adapter plate available at ShopRuger.com. A window machined into the rear face
of the ejection port, just to the left of the external extractor/ejector, serves as a loaded chamber indicator by permitting the shooter to see the head of a cartridge if one is present in the chamber. The 4.94-inch, bushingless barrel is machined from alloy steel and 8-grove rifled at a 1:9-inch RH twist rate. Like the slide, sights and all metal controls, it is finished in black phosphate.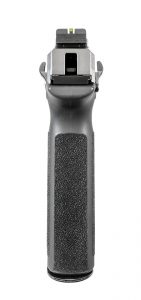 Moving down, the ambidextrous manual safety is one of the best we've encountered. It's long, slim and perfectly placed for putting the pistol on- or off-safe without breaking the firing grip. Safety manipulation in either direction is perfect—not so tight as to require any real effort to engage or disengage, but tight enough to prevent inadvertently sweeping it off-safe. Another nice feature is a big red dot visible through the slide's safety notch when the safety lever is down, indicating that the gun is off-safe. Unfortunately for lefties, there is no safety notch on the right-hand side of the slide, so there's no red dot to be seen.
Other external controls include a slide catch/release lever, take-down lever, easily reversible magazine release button and trigger with Glock-like safety blade. We did find the flush magazine release button to be awkward to reach and depress without breaking the firing grip. Mercifully, there's no magazine drop safety.
The trigger wasn't half bad. The safety blade depresses with virtually no effort, then there's about 1/4-inch of take-up at a pull weight of about a pound to a semi-hard wall, a signal that "you're getting there." From the semi-hard wall to the break there's another 1/4-inch or so of travel with a tad of very light stacking at an average pull weight of about five pounds. It's a fairly long pull, but smooth and predictable with no overtravel, and despite its unusual qualities we quickly got used to it and actually wound up liking the overall pull.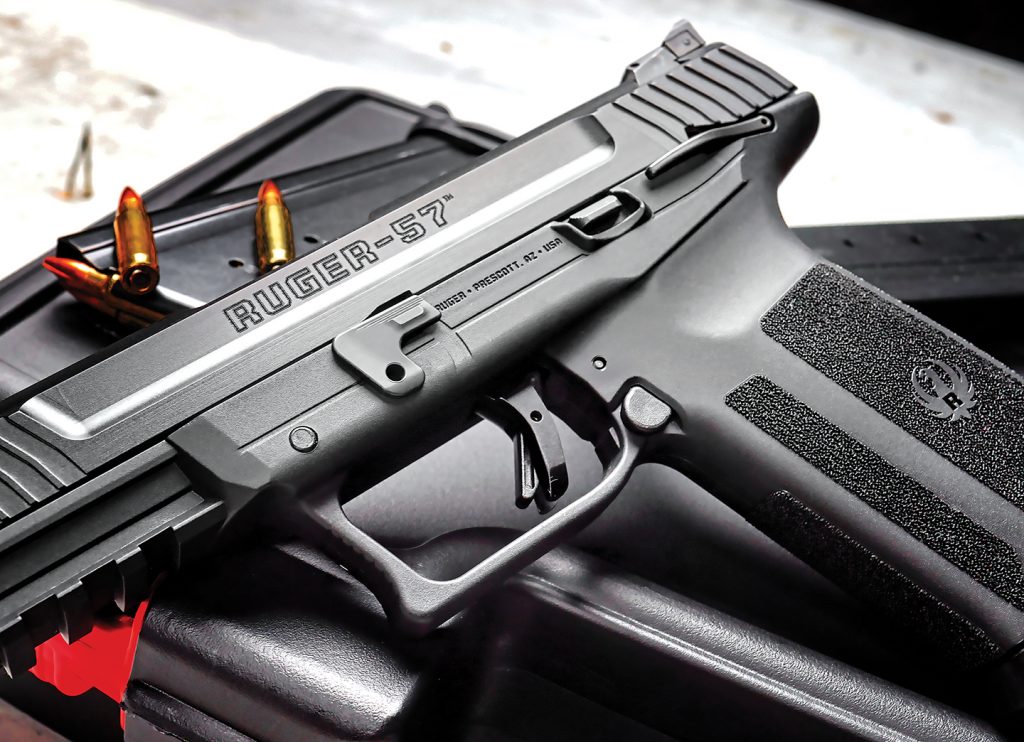 The frame is made from high-performance, glass-filled nylon with a 5-slot Picatinny rail molded into the dust cover for attachment of white light illuminators or lasers. The operating system is Ruger's safe, reliable, and proven Secure Action fire-control system with protected internal hammer. Like a striker-fired pistol, there is no re-strike capability. Ergonomics are excellent, with an easy trigger reach without the need for interchangeable backstraps, comfortable molded checkering on the front and back straps and the sides of the grip frame and an oversize, square-front trigger guard.
Disassembly and reassembly are quick, simple and require no tools or trigger pull to accomplish. The Ruger 57 comes with two 20-round, drop-free steel magazines. Dimensions are 8.65" L x 1.20" W x 5.60" H, and empty weight is a very light 24.5 oz.
Given the '57s light weight (even fully loaded), low felt-recoil and overall-excellent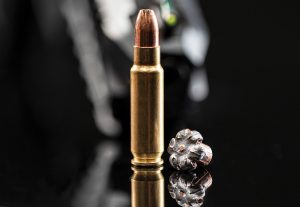 ergonomics, this proved to be an extremely-fun pistol to shoot for anyone who picked it up — no matter what their stature was. Part of the fun factor weighed heavily on the fact that our Ruger-57 test gun was laser-beam accurate, and if the shooter was doing their part behind the trigger, odds were in their favor. From the 25-yard line, our Ruger-57 drilled a centered 0.98-inch 5-shot group using the 40-grain Federal American Eagle target/training load, which also happened to be the only load we had on hand for testing. Anything over 1.50-inches meant we weren't paying attention and threw a shot or two — downrange precision was simply not a problem. Also not a problem was reliability; the Ruger-57 digest all 250 rounds we had on hand for testing without a single hiccup.
While ammunition costs are still higher than your typical 9mm, Federal has brought the 5.7 cartridge into the realm of reasonability price wise with their American Eagle load — much like Ruger has done with the pistol itself — and has added a legitimate self-defense option with the brand-new Speer Gold Dot load. In short, there's never been a better time to purchase a 5.7×28mm chambered handgun. See it at your gun shop, or contact Sturm, Ruger & Co., Inc., Tel.: (336) 949-5200; Web: www.ruger.com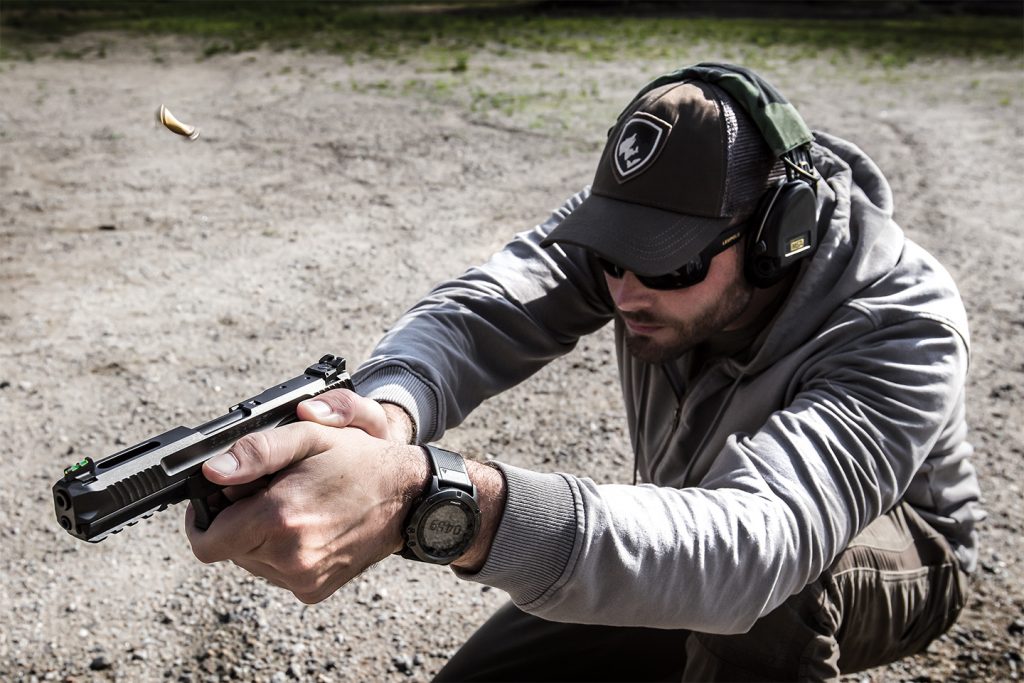 Specifications: Ruger-57
Action:                                    Striker Fired
Caliber:                                  5.7x28mm
Capacity:                               20+1 or 10+1
Barrel Length:                        4.94 inches
OAL:                                      8.65 inches
Weight:                                  24.50 ounces
MSRP                                     $799