Rock River Arms RUK-9BT 4.5-inch
by Dave Bahde 
A packable, home/vehicle/close-quarters defense specialist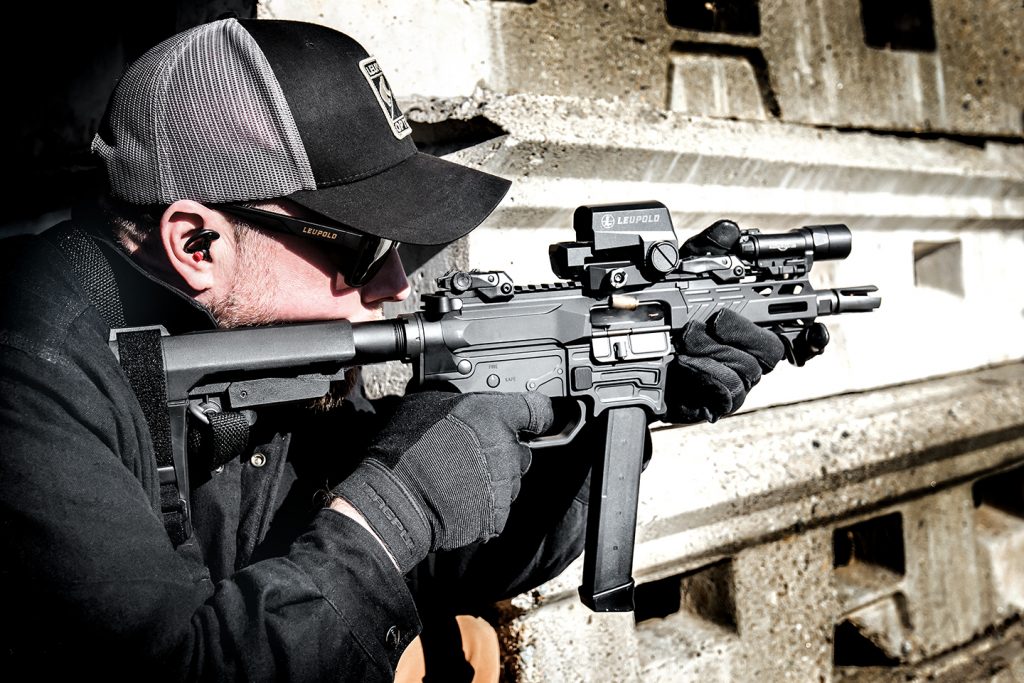 Pistol-caliber ARs configured as pistols have grown in popularity over the last few years, and one of the biggest reasons is the ability to field a compact, shoulder-fired pistol without the ATF paperwork. For those states that outlaw SBRs altogether, they become the perfect alternative. In states restricting travel with a rifle, even in pistol configuration, a pistol-caliber version remains lawful. Reliability is better than ever with features that open the door to multiple uses, and competition has spawned a huge aftermarket for what used to be a novelty. The triggers are excellent, and they are more accurate, lighter and more compact than ever. Unlike a rifle, a 4- to 6-inch barrel has little effect on pistol ballistics, making them fully capable for defensive situations. Lacking the punishing muzzle blast, noise, flash and reliability issues, they are better suited to home or vehicle defense than an ultra-short-barreled, rifle-cartridge-chambered AR. Easy to shoot, they are also fantastic for new shooters.
Smile Makers
Most of my career has been LE or self-defense focused, making me a late comer to these pistol-caliber AR pistols. My first entry weapons were MP5s, the mold for a 9mm PCC, but were all select fire. As an HK Master Sub-machinegun instructor, it was hard to argue the effectiveness of a three to five shot burst placed inside an inch while on the move and with a single trigger press. That mindset has not really changed, but the 9mm AR has. Gone are the horrible triggers, modest accuracy and spotty reliability. Shooting a friend's moved me along pretty quickly; it was fast, accurate, reliable and fun, making it hard to put down. In short, they are huge smile makers. Hand one to most anyone, fan or otherwise, and a grin slowly shows its presence after the first magazine. The trick is in choosing a good one, and Rock River Arms has introduced an excellent out of the box 9mm AR pistol in the RUK-9BT.
Rock River Arms RUK-9-BT BT9G (Glock)
The BT-9G starts with a machined billet-aluminum lower using a Glock compatible flared magwell and integrated oversized trigger guard. SB Tactical's SBA3 stabilizing brace allows it be classified as a pistol. Hogue's rubber grip provides comfortable control. The trigger is the excellent RRA 2-stage model, and the thumb safety is the equally excellent RRA Star Safety Selector. The extruded aluminum A4 upper houses a 4.5-inch chrome-lined chrome moly vanadium barrel with a full-auto chamber and 1:10" twist rate. Threaded 1/2 x 36 tpi, the muzzle is capped with a Smith Vortex flash hider. The hand guard is light weight, free floating, M-Lok compatible and 4.25 inches long. It includes RRA NSP flip up sights, low-profile handstop and one Glock 17/19 compatible magazine. Leupold's LCO red-dot sight was added for testing.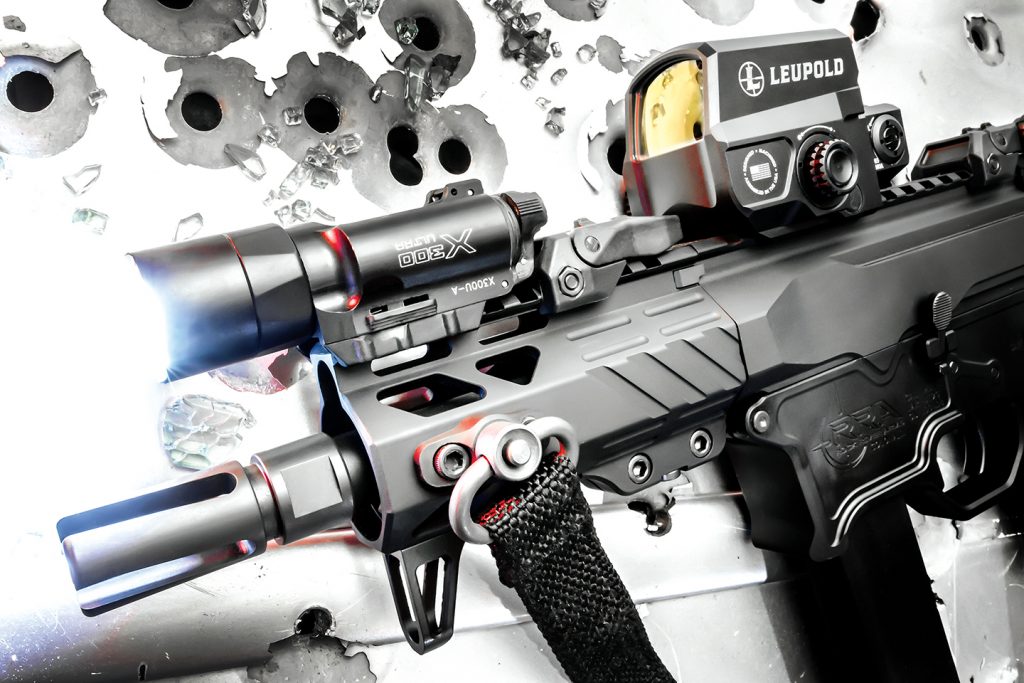 Range Time
Even with the stubby 4.5-inch barrel, accuracy was impressive. At 25-yards it all but stacks high-quality self-defense ammunition. My best efforts came with the Federal HST 124-gr. +P, with the Wilson Combat 115-gr. Bill Wilson Match in a very close second place. The Bill Wilson load was so soft shooting it was almost frightening, and I had to check a couple of times to make sure it actually went off. Even with the lower velocity, it kicked empty cases out into a nice little pile and the bolt locked open on the last round. I noticed the increased recoil with the +P ammunition, but it still remained comfortable during rapid fire strings. The trigger was perfect for defense, but competitors will likely want a faster, single-stage trigger of some sort.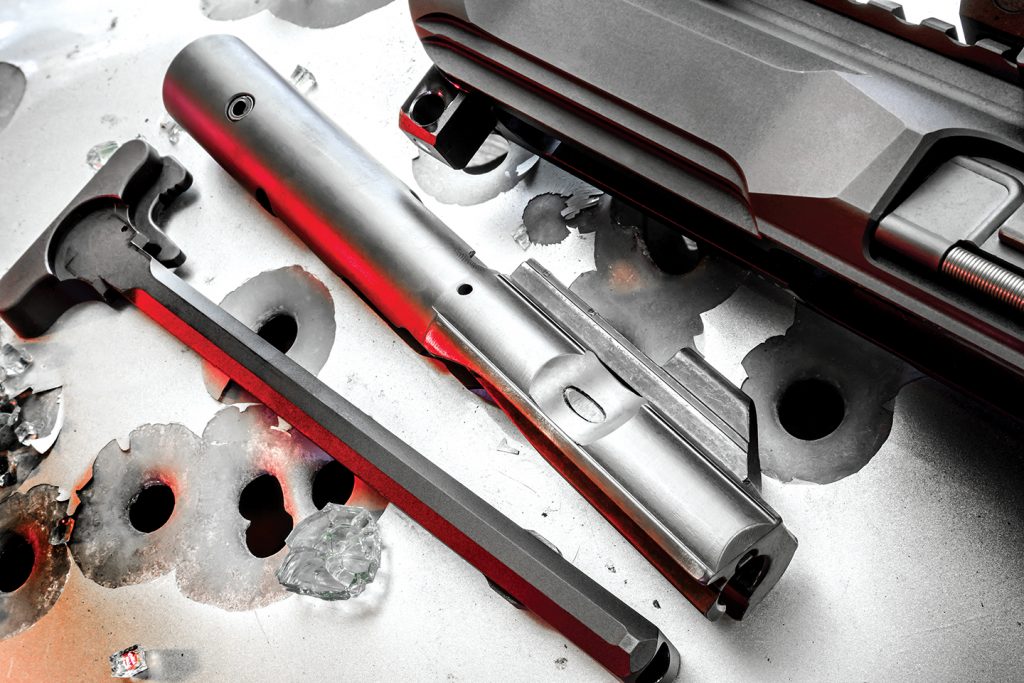 These systems excel while working in and around vehicles and moving through tight spaces. Muzzle blast is certainly noticeable with a 9mm, but nothing like a rifle cartridge fired from a similar length barrel; flash was minimal with significantly less blast. Recoil was also minimal, making it easy to stay on target during rapid fire at CQB distances. Moving among pallets and other obstacles, the short barrel facilitated maintaining cover.
The BT9G spit out brass as fast as I could press the trigger, and with excellent accuracy. It shipped with an ETS clear polymer magazine that worked without issue. Every Glock 19/17 magazine in my inventory fit, dropped free and functioned perfectly. The oversized magazine release is also in just the right spot for quick, fumble-free manipulation. The hand stop was helpful, and the Smith Vortex flash hider allowed me to hook my finger in front, but—for reasons that should be obvious—you need to be ultra-careful about doing do. The hand guard is excellent, but definitely on the short side for my large hands. You can add M-Lok attachments, but they will eat up grip space quickly.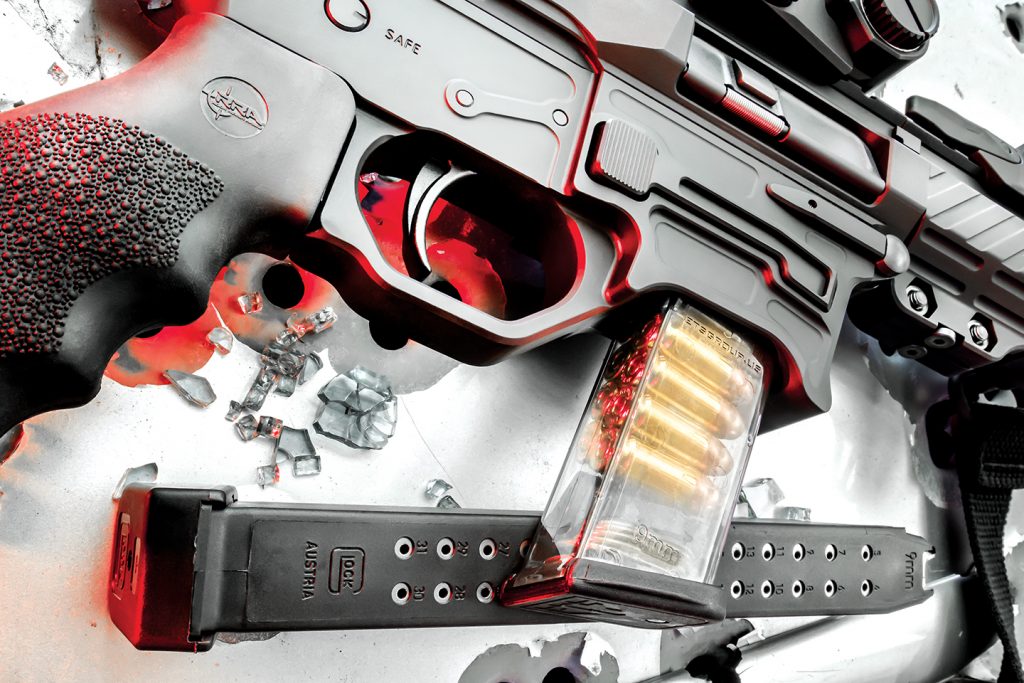 With a lens providing an excellent, obstruction-free field of view, Leupold's LCO is one of the best red-dot sights on the market today, and one that often gets overlooked. The 1-MOA dot is clear and crisp (even with my astigmatism) and adjustments can be made in the field with an expended case—no proprietary tools needed. The battery is a CR123a; easy to find, easy to change. With a very rugged housing, and waterproof to 66 feet, it's designed to take a beating. My personal LCO has seen years of testing in some serious conditions, including rain, snow, fine dust and being dragged over a rock or two, and has never failed me. Rock River's supplied flip up BUIS co-witnessed in the center of this optic.
SB Tactical's SBA3 is the best ever arm brace. It is adjustable for LOP, capable of bracing for single-handed shooting with different length arms, and maintains this gun's classification as a pistol, which is critical for some concealed carry laws and those involving vehicle carry.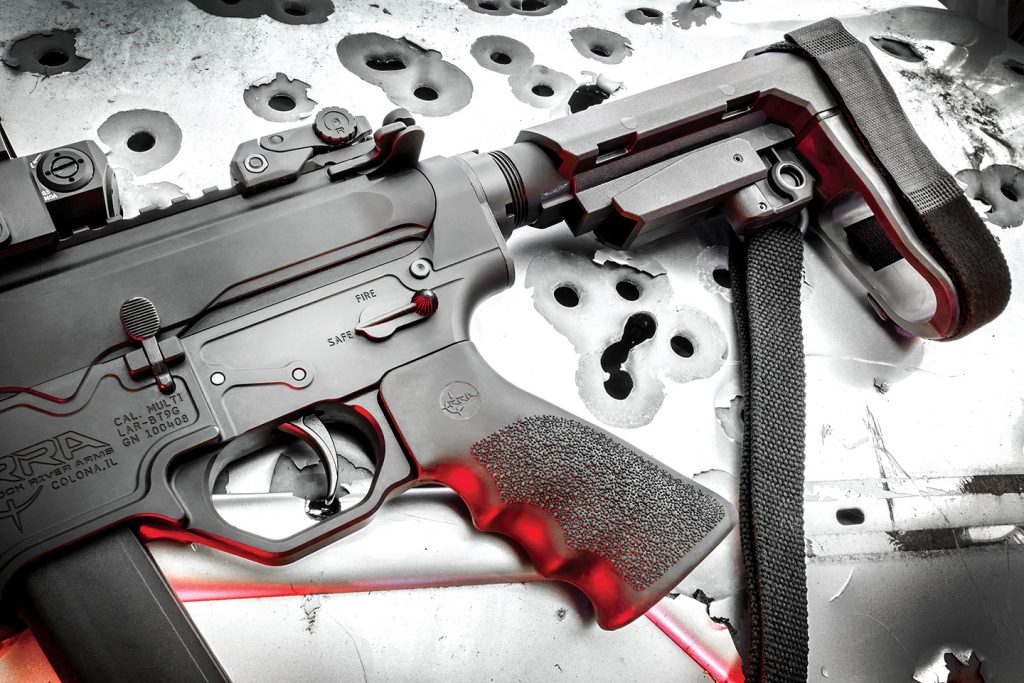 Bottom Line
Admittedly, my preference remains a rifle with a slightly longer barrel, but my travel of late is minimal and my FFL makes SBR paperwork a non-issue. That being said, every time I test one of these it is difficult to send it back at the end. The Rock River is very well equipped out of the box with some very nice features, accuracy is excellent and it was reliable throughout testing. Adding a red-dot sight is nice, but it will get the job done right without one. If you are running a 9mm double-stack Glock you will have plenty of compatible magazines. If a 9mm AR pistol with brace is in your future, make sure to take a very close look at the Rock River RUH-9-BT BT9G. See it at your gun shop, or contact Rock River Arms; Tel.: (866) 980-7625; Web: www.rockriverarms.com
Specifications
Action:                      Blow back
Caliber                      9mm
Barrel Length            4.5 Inches
OAL:                        23.5 inches
Weight:                    6.5 Pounds
MSRP                       $1,380.00
Ammunition                                        Velocity                      Group Size
Remington 115-gr. +P HTP                           1,200 fps                   1.50 inches
Federal HST 124-gr. +P                                1,175 fps                   0.90 inches
Winchester Defender 124-gr.                        1,074 fps                   1.25 inches
Wilson Combat BW Match 115-gr.                 1,075 fps                   1.00 inches
Groups fired from bag rest on the hood of my truck. Distance of 25 yards, three 5-shot groups for comparison.