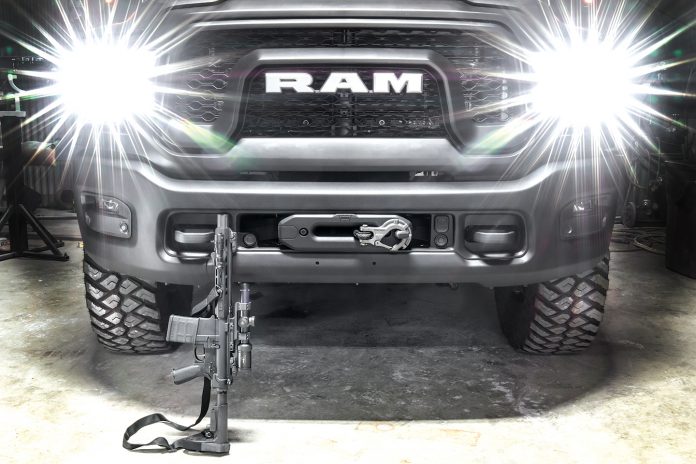 Springfield Armory Saint Victor .308 Pistol
by Guy Coursey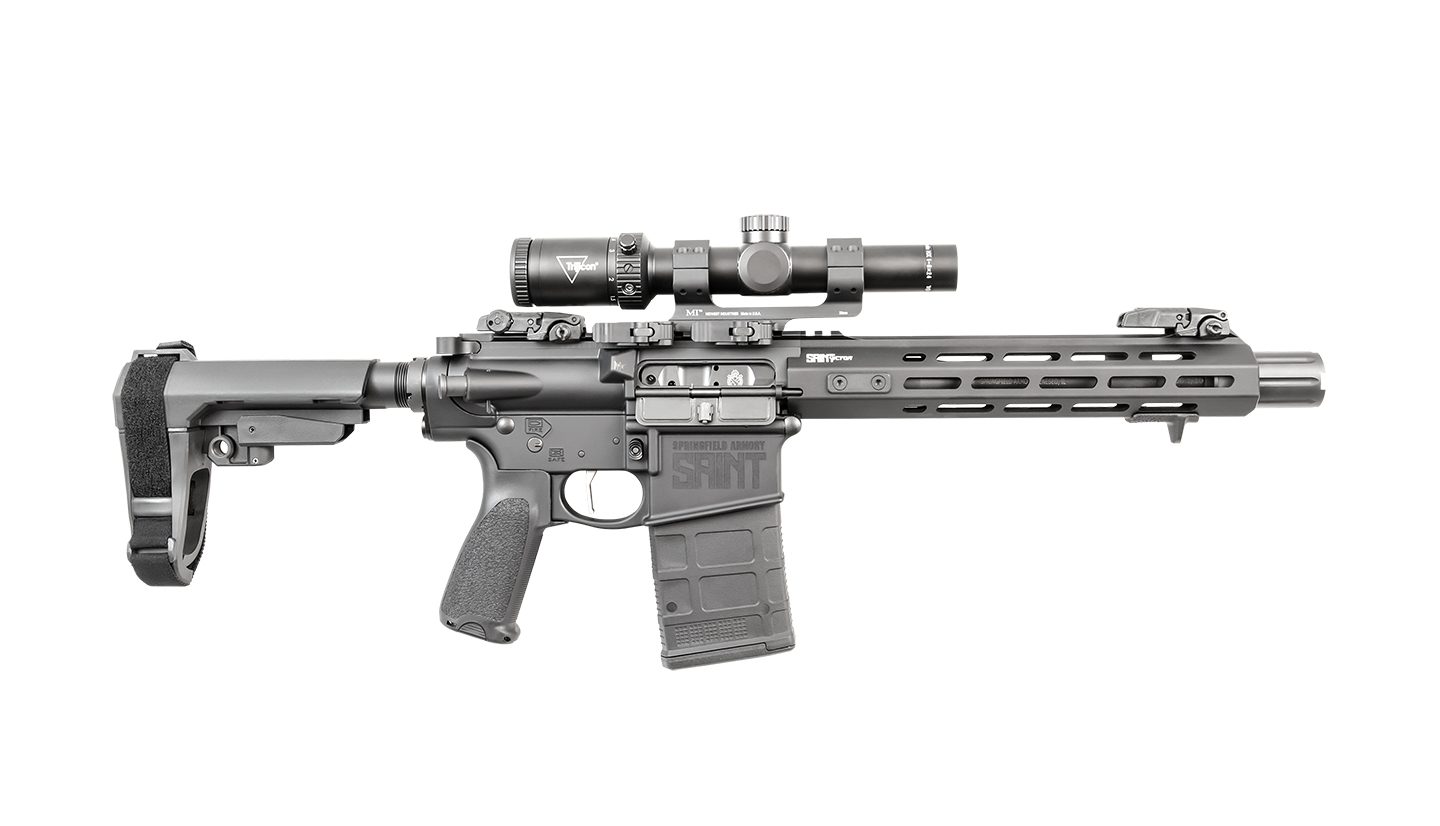 Springfield's ultimate truck gun
Springfield Armory ("SA") has canonized a new Saint, this time a rifle-caliber pistol chambered in .308 Win./7.62 NATO. The Saint line of AR-style carbines came out several years ago in 5.56mm, quickly capturing a corner of an already saturated market with semi-custom rifles having quality parts at a reasonable price. The Victor line is a slightly upgraded version of the stock Saint, distinguished by an M-Lok handguard, nickel-boron coated trigger, with Melonite-coated bolt-carrier group and barrel. The .308 Saint rifle came along in 2019, with its smaller brother not far behind earlier this year. True rifle-caliber pistols (as opposed to carbine or pistol calibers) are not everyone's cup of tea, but the Saint Victor pistol has some interesting features which may appeal to even those who may initially have cause to doubt—as I did.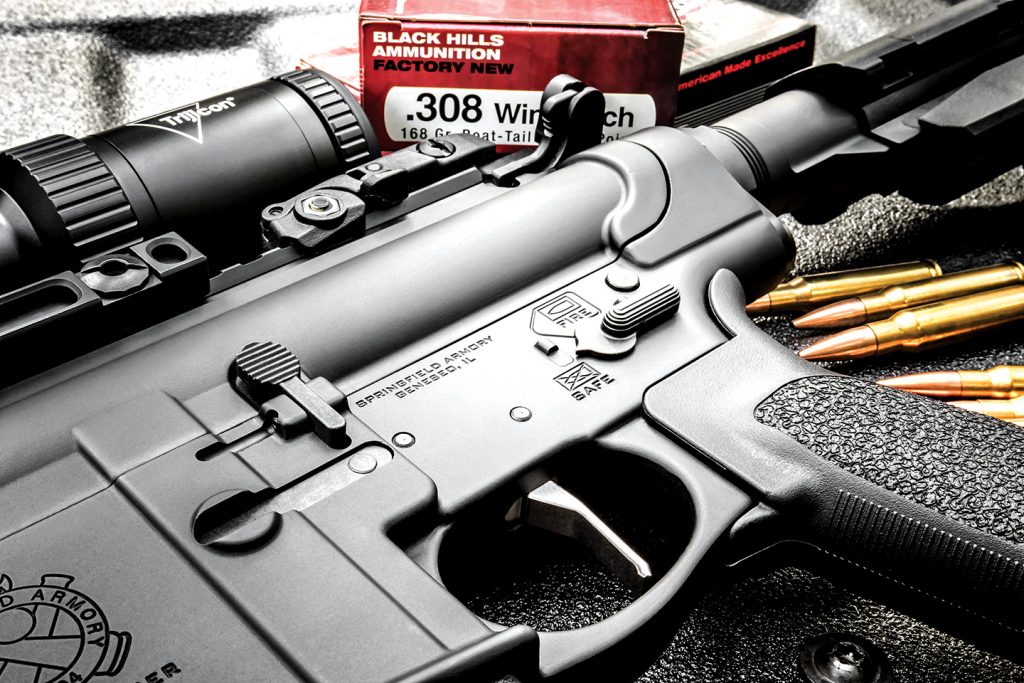 Outwardly the Saint Victor follows the general format of a Mk 18-style SBR, with machined 7075 T6 aluminum, hard-coat anodized upper and lower receivers, which include the Accu-Tite Tension system to mitigate movement between the two receiver halves. The 1:10" twist, 10.3-inch chrome moly vanadium barrel has a carbine-length direct impingement gas system, with a low-profile pinned gas block under the free floating M-Lok handguard.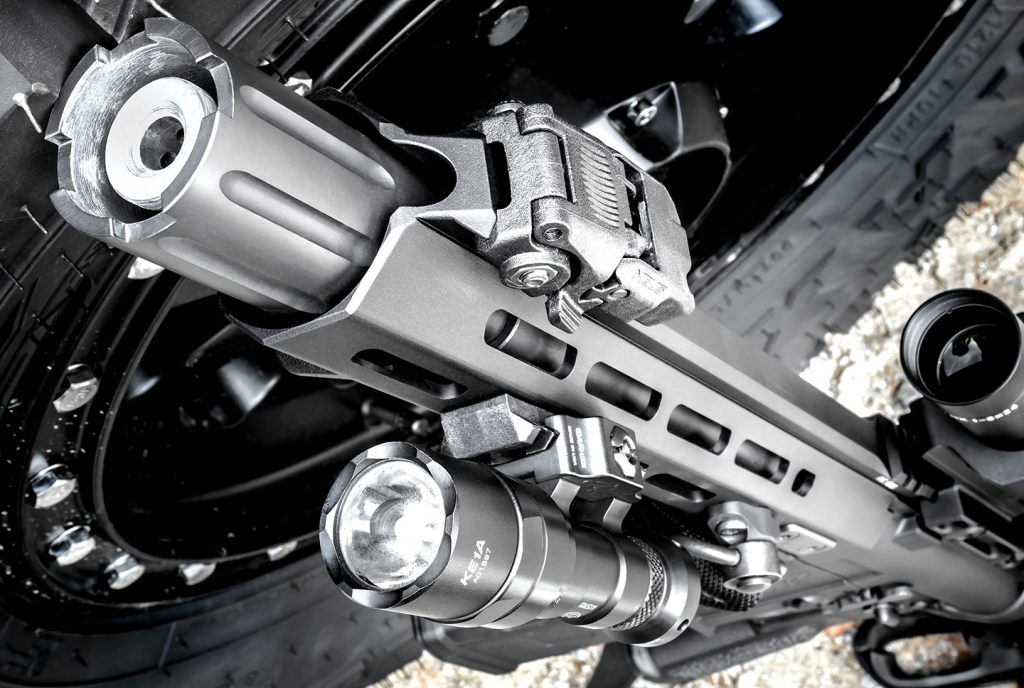 The handguard has a small Picatinny rail section at the front at 12 o'clock for attachment of BUIS, with a handstop directly below at 6 o'clock. Controls and charging handle are all standard Mil-Spec fare found in their usual places, with an upgraded, nickel-boron coated, single-stage Mil-Spec trigger. Mine broke at an average pull weight of 5.5 pounds. The rear of the pistol includes a 5-position receiver extension held in place by a QD receiver plate, mounting the excellent SB Tactical SBA3 brace. Like other Saint models, the Victor includes the equally excellent BCM Gunfighter Mod 3 handgrip. The most interesting part is at the muzzle, with the proprietary SA 2-piece Forward Blast Diverter. This rather distinctive piece sits partially under the handguard, reportedly to help promote reliable operation and send some of the blast away from the shooter. I was indeed hopeful this would be the case, but still had my doubts. Internally, the Saint Victor .308 pistol holds a few surprises. The bolt-carrier group is Melonite-finished 9310 steel, HPT and MPI inspected, but the horn-shaped retaining pin has a rim to keep it from falling out. The firing pin is beefier toward the end, and the ejector is rounded versus square. The buffer is listed as a heavy tungsten "H" style to help dampen recoil, but mine was not marked as such. The gun came in an attractive nylon rifle case with SA-embroidered logo and Velcro Saint patch, complete with a 20-round Magpul P-MAG magazine.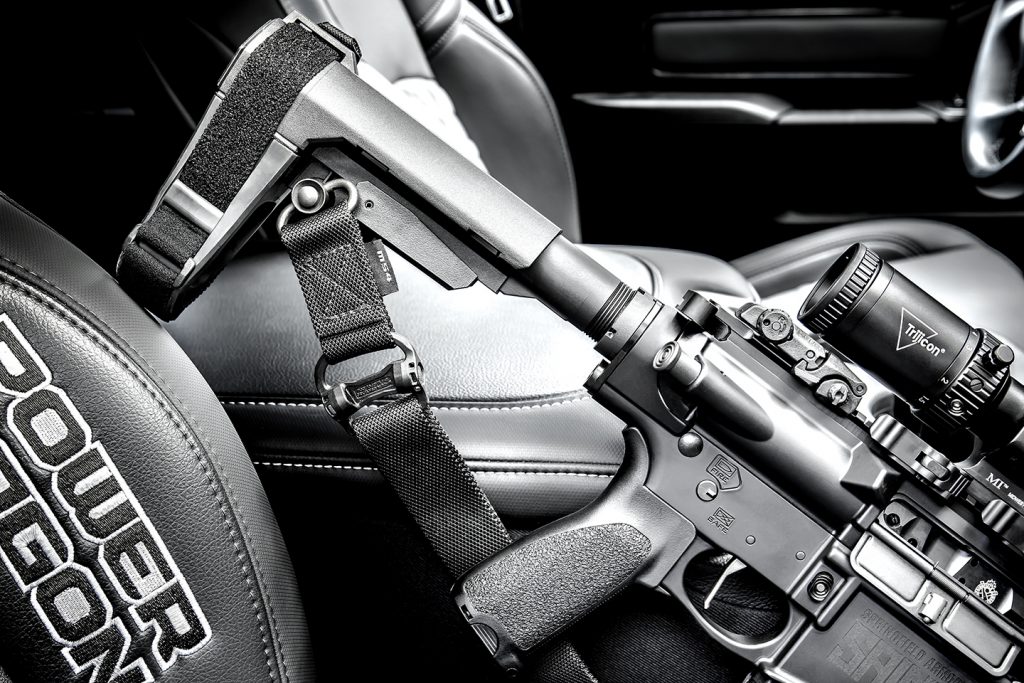 You may have sensed that I had some initial misgivings about testing the .308 Saint Victor pistol. I was frankly anticipating the type of recoil and muzzle blast sufficient to loosen dental fillings, and create mild concussion and temporary blindness which can come from firing a .30 caliber rifle cartridge from a short barrel. Fortunately, two factors made these fears unfounded. First, the weight of the .308 Saint Victor pistol is 8.6 pounds empty. This is heavier than the rifle version, due to a significantly thicker barrel. I used the new and very capable SFP Trijicon 1-6×24 CREDO HX scope with green .308 BDC reticle, sitting in a 30mm Midwest Industries mount, which added a good pound and a half to the system, bringing the whole thing up to over 10 pounds empty. Add a full 20-round magazine and it was up to 11+ pounds. Combined with the second factor, namely the proprietary SA 2-piece blast diverter, they served to do an admirable job attenuating both recoil and noise. With the Trijicon CREDO scope I had reasonable expectations of accuracy at 100 yards, as indeed others have had, but range limitations on the day of testing and my own feelings kept me at 50. I felt that while one could certainly employ a pistol of this type at 100 yards or farther, it was more likely to be used at closer range. I shot the Victor from a rest with five different types of factory ammunition, expecting accuracy in the 2-inch or so range given the trigger and use of the brace as an improvised stock. In this respect, I was also pleasantly reassured, with the average group being 2 to 2.5 inches, but top honors going to Federal Gold Medal Match 168-gr SMK BTHP, with all groups near center at around an inch. The notable anomaly was PPU 147-gr ball, with groups opening up to greater than 4 inches, with a significant deviation from POA to the lower right. After accuracy testing, I fired several mags at targets set on the berm while standing as fast as I could snap up and take sighted shots. The only malfunction noted throughout testing was due to a bad round of ammo which failed to extract. While not an exhaustive test by any means, it was a testament to the quality of the build and the parts SA has used in the .308 Saint Victor pistol.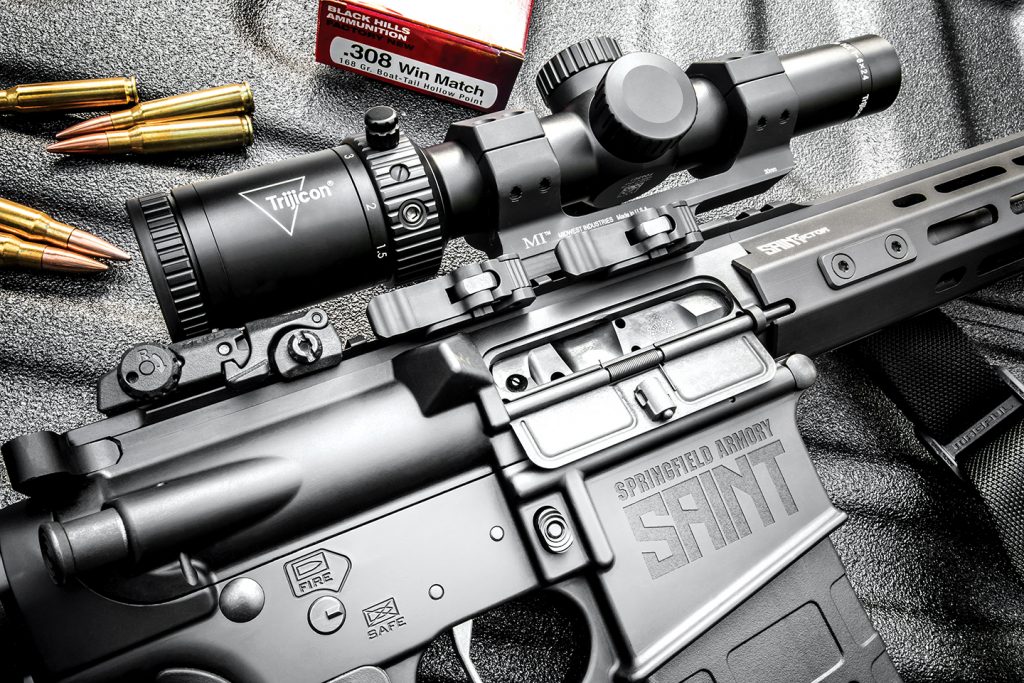 The benefits of rifle power in a compact form factor without the paperwork and legalities of an SBR are not lost on me. Nevertheless, I am usually unwilling to sacrifice reliability, or the heavier recoil and muzzle blast that typically come with such a firearm. The .308 Saint Victor has given me some pause to reconsider. For the reasonable price of just over $1,300, SA has managed to create a reliable, non-abusive, rifle-caliber pistol that is fully capable of shooting minute-of-man or beast at reasonable engagement ranges. Coming at a time which may be charitably called "unrest" in this country, characterized by plague, urban rioting, political discord and a run on nearly anything that shoots or can be shot, the Saint Victor .308 pistol is likely to find a niche among those shooters who want full rifle power in a smaller package. Contact Springfield Armory; Tel.: (800) 680-6866; Web: www.springfield-armory.com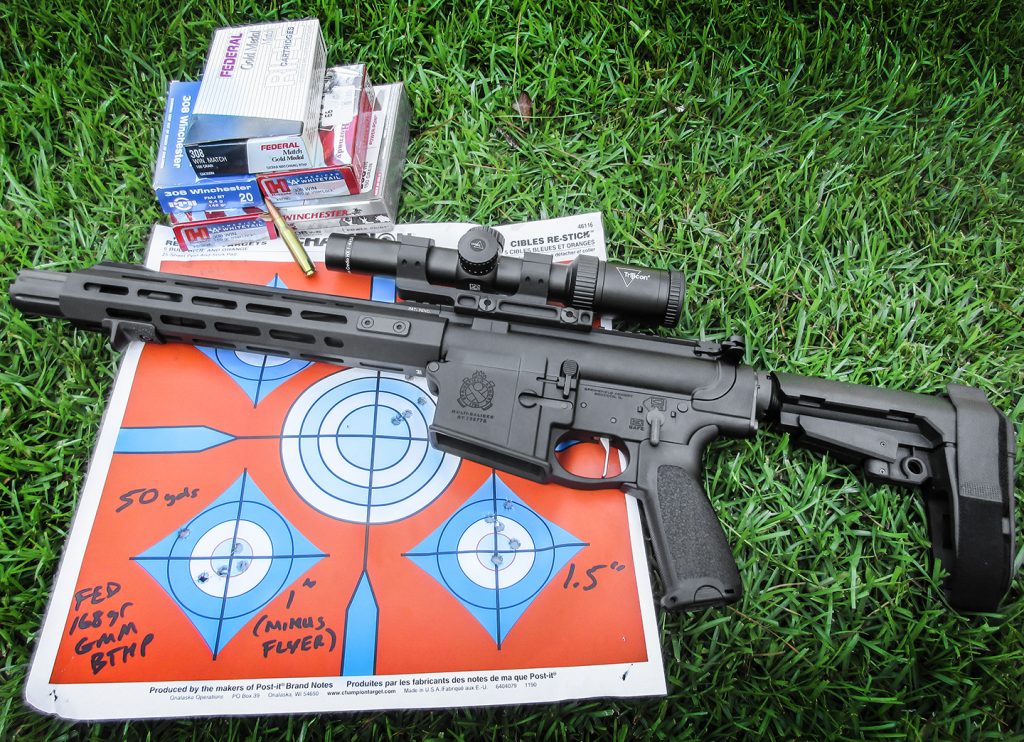 Specifications
Caliber:                                  .308 Win.
Capacity:                               20-rounds
Barrel Length:                        10.30 Inches
OAL:                                      28.25 to 30.5 inches
Weight:                                  8 lbs, 6 oz
MSRP:                                   $1,363.00