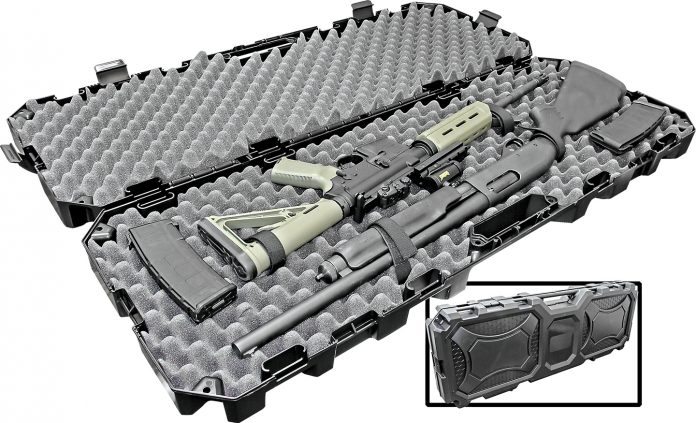 MTM Case-Gard 42-inch Tactical Rifle Case
MTM has a great reputation for making high-quality products that don't break the bank. Just about every product we've tested from company has left us satisfied that our money was well spent and the product works as advertised. Given todays slicked up marketing, that latter part is truly important for repeat business, and MTM knows it. After nearly 52 years in business and much forethought, MTM is finally ready to release its first rifle case ($73). Just as you'd expect, the case is high-quality, will last for many years of regular use and won't leave your wallet wailing. The case closes tightly, thanks to MTM's snap latch design and each rifle (it will hold two) is held securely in-place with internal hook and loop tie down straps. Two pieces of quality foam sandwich its contents to further prevent movement, while also dampening the inevitable impact (you're buying a hard case for a reason). The case is also fully lockable and meets the requirements for air travel.
Given the battering our ARs receive, we're now running with the 42-inch model, which fits a pair of modern rifles with mounted accouterments perfectly, but the case is long enough to fit most shotguns and scoped rifles as well. See it at your nearest dealer, or for more info. contact MTM Case-Gard; Tel.: (937) 890-7461; Web: www.mtmcase-gard.com.