Sightron SIII FFP 6-24x50mm Riflescope

by Bill Battles
Sightron's first-focal-plane optics pack all the right features at the right price and with a level of quality that nets you a lifetime warranty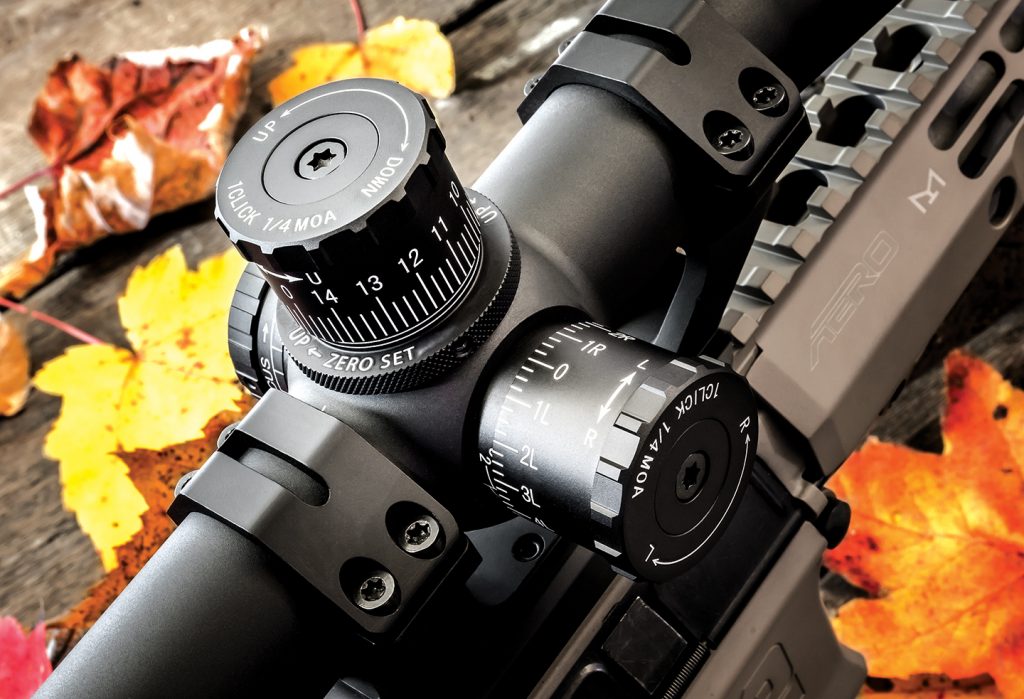 If you're in the market for a mid-priced, high magnification, premium riflescope that is equally at home in tactical or hunting environments, Sightron's SIII 6-24x50mm ($1,479) should be on your short list of choices.
Built on a 30mm diameter, aerospace-grade machined aluminum tube, the SIII Series is available in a wide range of models offering first and second focal plane reticles in two styles (MOA-2 and Mil Hash, both illuminated and non-illuminated) and long-range, competition and target configurations with magnification ranges up to 10-50X. Our evaluation model is a member of the SIII FFP Series, which are all first focal plane models with 6-24X magnification ranges. Reticles set in the second focal plane are what most shooters are accustomed to, where the reticle stays the same size as magnification is increased, but ranging subtensions are only accurate at a certain magnification level. First focal plane reticles do increase in size in proportion to the increase in magnification setting, but no matter what the magnification setting, subtensions in the reticle always remain accurate for ranging purposes. First focal plane reticles are the preferred choice for high-stress, quickly-changing hunting/competition/tactical long-range scenarios.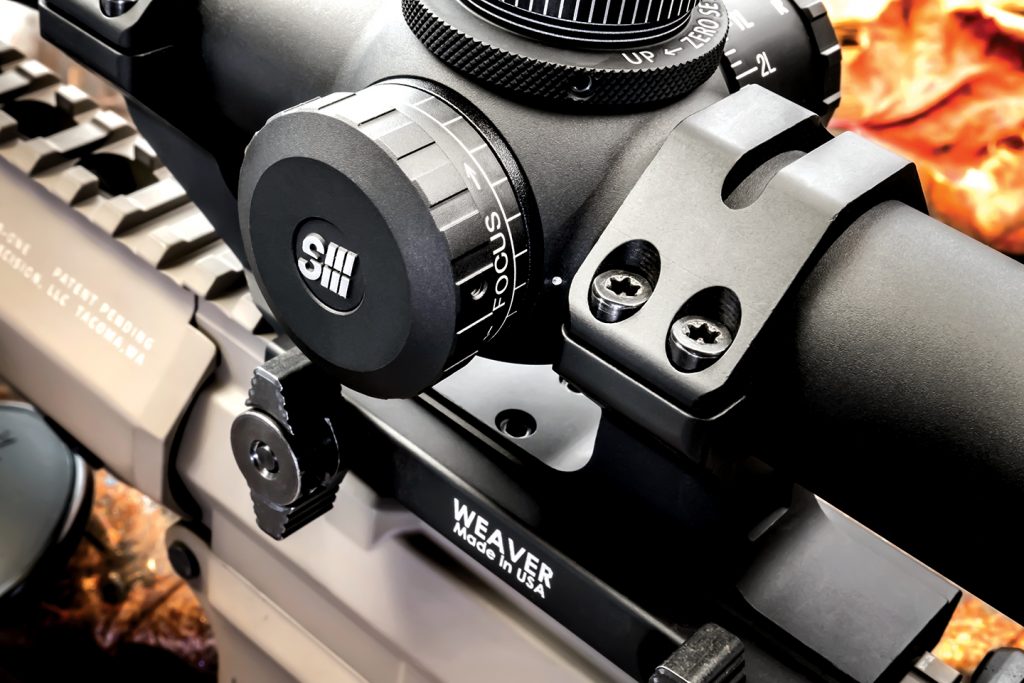 We chose this model because of its particularly appropriate application to the AR platform, and the wide variety of long-range uses it excels at. As of late, it's amazing to see how many hunters have switched to ARs—both AR-15s and AR-10s—for hunting everything from P-dogs and varmints, to hogs, medium game and large game.
The SIII FFP 6-24x50mm includes a host of useful features, like a 50mm objective lens for high light gathering, a 40mm ocular lens with padded rubber eye ring, fast diopter adjustment, oversized, tactical, zero-stop elevation turret with rotating lock ring that does not require any knob removal or shims and are easily resettable to zero. High-performance and high precision ExacTrack windage and elevation adjustment system with 1/4 MOA click adjustments and 80 MOA adjustment range for both windage and elevation had extremely tactile and positive click adjustments. A side-mounted parallax turret adjusts for parallax from 40 yards to infinity. Precision ground glass lenses are given seven layers of Zact-7 Revcoat coatings and the optics are 100% sealed to ensure reliable operation in the most extreme environmental conditions. The SIII FFP 6-24x50mm is also nitrogen purged for complete fog proof performance and is fully shockproof to protect against impacts.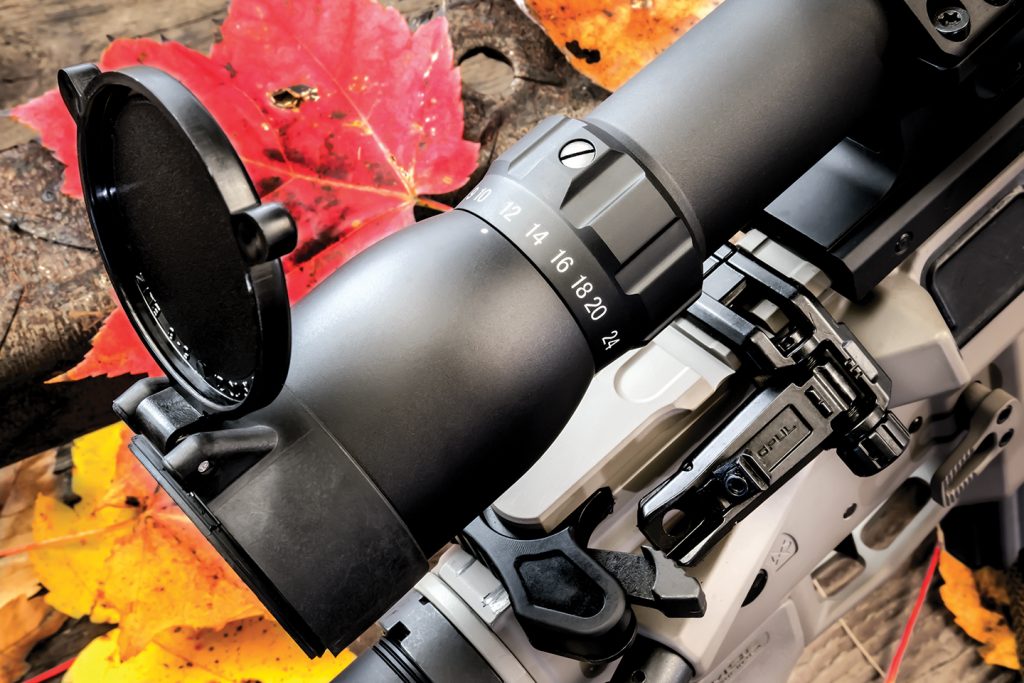 Field of view is 16.1 ft. at 100 yards on 6X magnification and 3.9 ft. on 24X. Eye relief is 3.6 to 3.8 inches depending upon magnification setting. Weight is a very reasonable 23.4 oz., length is 14.9 inches and a sunshade, flip-up lens covers and a lifetime warranty are included.
The scope's MOA-2 reticle bears further comment. It easily allows you to range targets at all magnification settings, and determine wind offsets if you know the wind velocity (or can accurately estimate it). It consists of fine crosshairs with a center dot 2-MOA windage and elevation bars along all four axes. It's one of nicest, easiest to use ranging articles we've come across.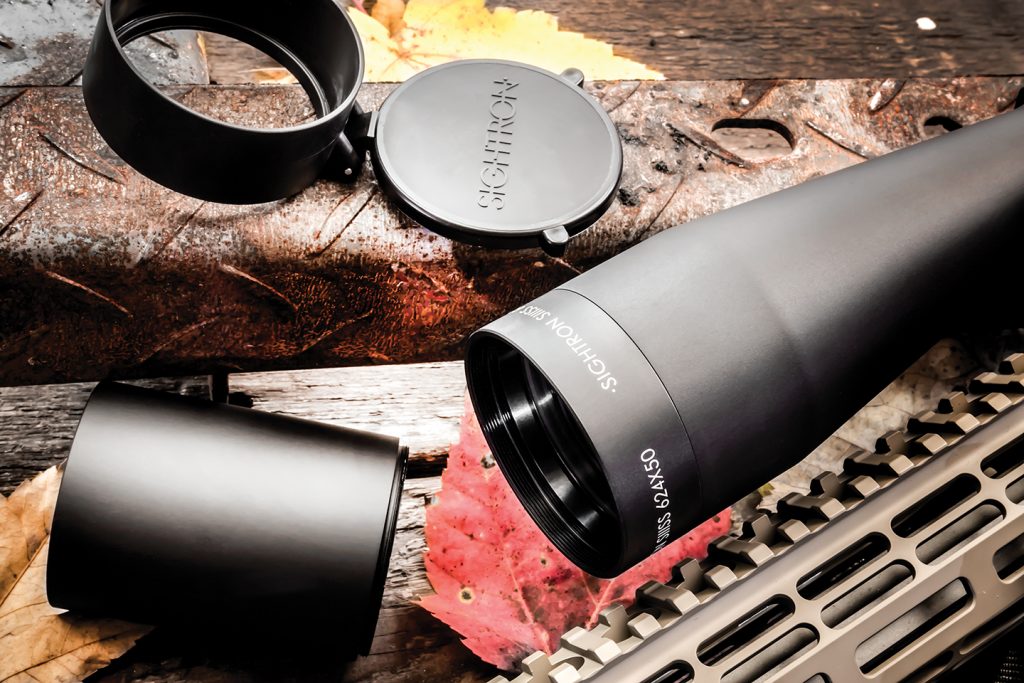 During testing on our custom-built Aero Precision DMR-type rifle we found the SIII FFP 6-24x50mm to be a delight to use. Rugged yet not overweight, light transmission was excellent, and the viewing field was sharp and crisp all the way to the edges. The zero-stop turrets were as easy to use as Sightron claims, and the left-side-mounted parallax adjustment turret was much easier to use than scopes with parallax rings mounted on the objective lens bell. The knurled magnification ring turned easily, but with enough resistance to ensure that it won't move unintentionally, and the diopter adjustment was more than adequate for anyone who isn't totally blind. If you're looking for a high-quality/reasonably-priced, long-range first-focal-plane optic, this one deserves a serious look! See it at your outdoor retailer, or contact Sightron USA; Tel.: (919) 562-3000; Web: www.sightronusa.com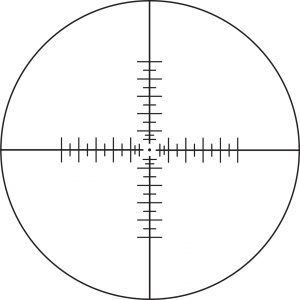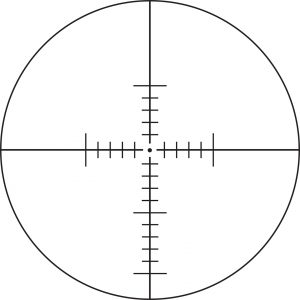 Depending on your preference, the first focal plane version of the SIII can be had with a reticle with either MOA (right) or Mil based subtensions.