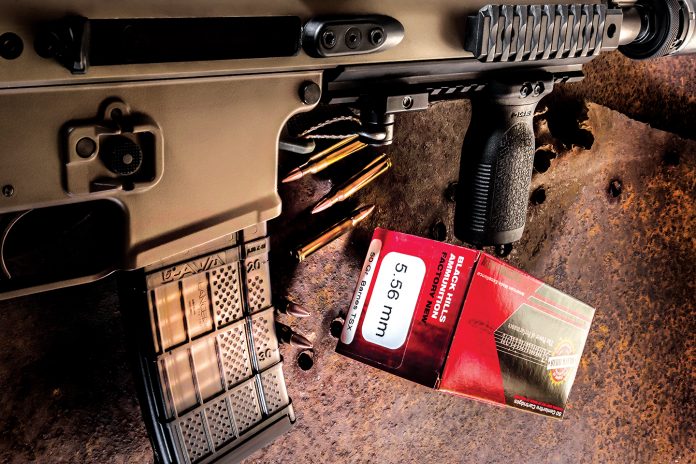 Black Hills 50-grain TSX 5.56mm
by Chris Mudgett
The Optimized Home Defense Load
Let's talk home defense ammunition selection for your .223/5.56 chambered rifle or pistol. There are a lot of great rounds out there; some specialty, some more general purpose. Careful consideration should be given to your intended application before selecting a round, especially for potential use within your home. Bulk XM193 or the XM855 green tip loaded into your range mags should be crossed off your list for home defense use. When it comes to the delicacy of defending the home, only products that have been thoroughly tested and vetted with a critical eye should ever make the cut. Especially considering you may be betting a family member's life on it, who may be asleep across the hall.
After many years of testing, and the same careful considerations recommended above, we continue to rely on Black Hills 50-grain TSX as our preferred home defense load. Here's why we think it deserves your consideration as well.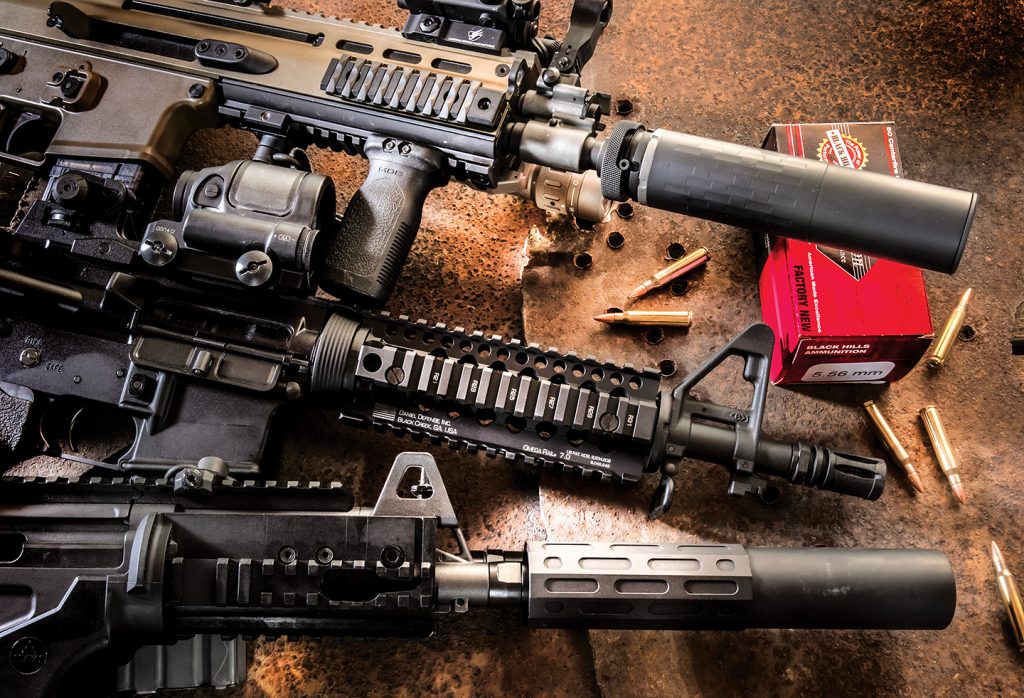 Black Hills 50-grain triple shock (TSX) bullet is a proprietary bullet constructed of 100% copper and contains no lead. When the projectile expands, four razor sharp cutting petals are created, slowing the round, while still allowing it to reliably penetrate to 14-inches—through tough bone and soft tissue—without passing through the target. These bullets typically retain 100% of their original weight and are regarded as one of the best performing 5.56 loads currently available, especially out of shorter barrel lengths.
We all know that short barrels are the best barrels for confined spaces, but they're not without drawbacks—terminal performance due to velocity loss being one. Typically, a heavier weight, 70-ish grain load is recommended as a fix to make up for velocity loss out of such short tubes, but the side effect is over penetration, a big problem when used within residential structures.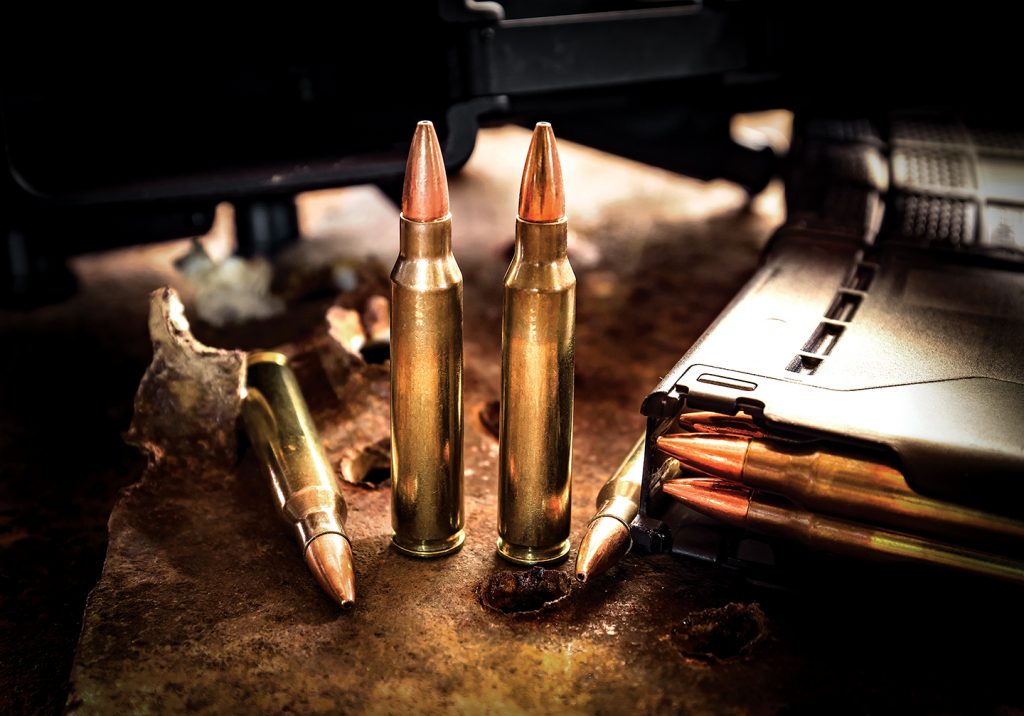 The 50-grain TSX load is truly optimized for use out of shorter barreled carbines ranging from 10- to 16-inches in length, regardless of twist rate and the round produces extremely consistent terminal performance. When fired from a 10.5-inch barrel, the bullet produces nearly the same results in bare ballistic gelatin as it does when fired through a 20-inch barrel. The round is designed for relatively short range and has a minimum velocity expansion threshold of approximately 2,500 feet per second.
To attain comparable performance data, we tested the 50-grain TSX in two popular short barrel lengths: a 10.5-inch with a 1:8" twist rate and an 11.5-inch with a 1:7" twist rate. When fired through an 11.5-inch barreled SIG Sauer MCX Virtus SBR, we achieved 0.58-inch five shot groups at 50 yards and an average muzzle velocity of 2,908 fps. From the same lot of ammunition, using a 10.5-inch barreled Ruger AR-556 pistol, we achieved 0.68-inch five shot groups at 50 yards with an average velocity of 2,808 fps, both of which meet the minimum expansion threshold out to about 100 yards.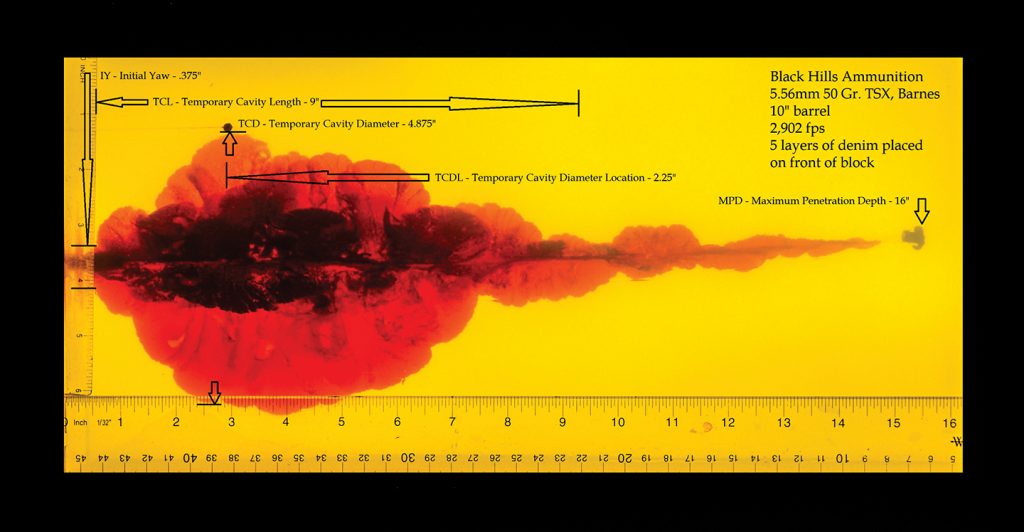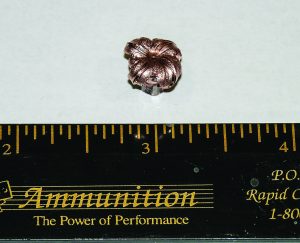 As a velocity comparison, we fired Hornady's 75-grain Interlock HD SBR ammunition through both of our barrel lengths. The Interlock HD SBR, as its name implies, is a bullet marketed as being optimized for short barreled platforms, albeit using a heavier weight projectile. Firing the round through each platform resulted in 2,328 FPS from the 11.5-inch and 2,246 FPS through the 10.5-inch. All velocity testing was conducted during the same afternoon; elevation was approximately 500 feet above sea level; the chronograph used was a LabRadar positioned adjacent to the muzzle, and the average velocity was calculated using 10 consecutive shots.
Black Hills Ammunition produces the best ammunition in existence, with no corners cut and continues to hand inspect every single round it ships. We've been to their plant (and others) and will vouch for that fact. Each 50-grain TSX's case mouth is crimped into the cannelure of the projectile, while each primer is crimped in place. Fully annealed LC brass is used with temperature stable ball powder. Both the case mouth and primers are sealed using a water proofing compound to prevent any chance of moisture from corrupting the round, even if submerged for prolonged periods of time. The result of these extra manufacturing steps is a product that is of the highest possible quality, provides consistent performance and is 100% reliable. A product we would bet our lives on . . . and do! Snag some at your dealer (if you can find it) or for more information contact Black Hills Ammunition, Tel.: (605) 348-5150; Web: www.black-hills.com