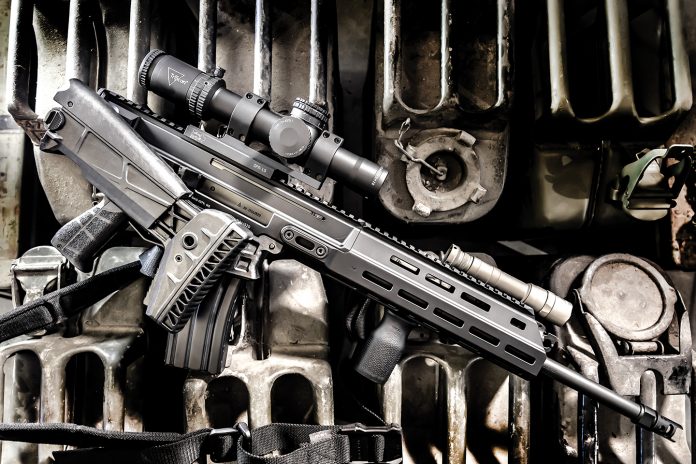 CZ Bren 2 Ms Carbine   
by Dave Bahde
The ultimate hard-use survivalist carbine?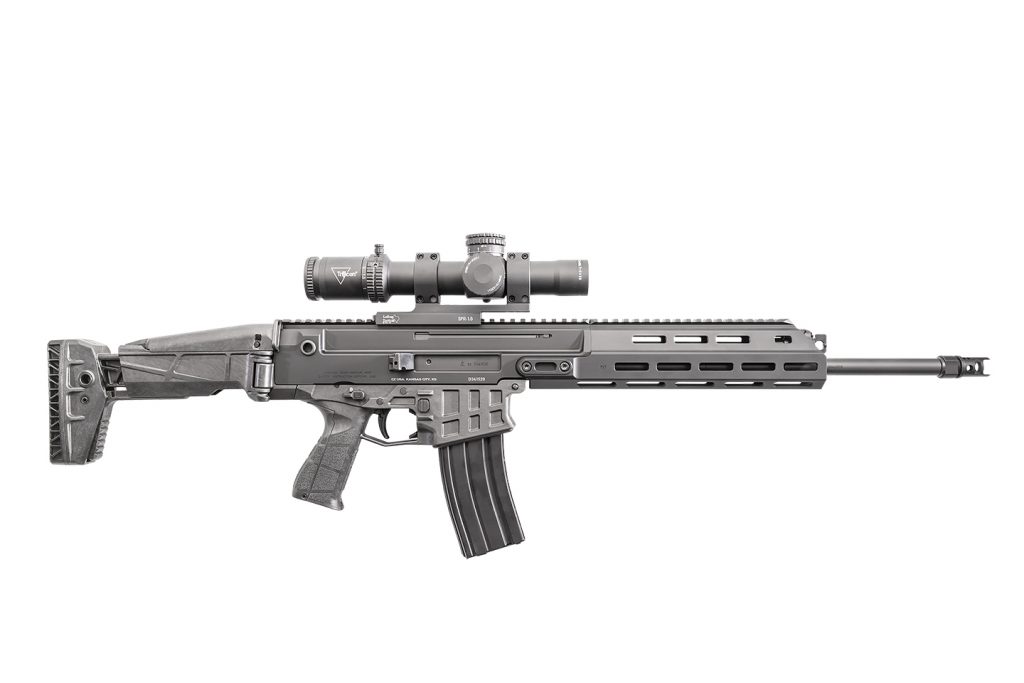 CZ's 805 Bren was designed specifically for the Czech military as a select-fire combat carbine chambered in 5.56 NATO that can be converted to 7.62 x 39mm when needed. Adopted in 2010 by the Czech Republic, there was a request for an updated version that was lighter with a folding polymer stock and a number of improvements, which ended up being the Bren 2 BR (select fire). This was the base firearm for which the civilian semi-auto version just released—the subject of this article—was derived. The pistol version was well received, but many have been anxiously awaiting the Bren 2 Ms carbine, and we're here to tell you, they will not be disappointed.
The CZ's barrel is cold-hammer forged and capped with a U.S. made version of the issue flash hider/muzzle brake. Threaded 1/2 x 28 t.p.i., sound suppressors or muzzle devices can be readily attached. Gas can be adjusted for normal, hard use (more gas) and off; there is no "suppressed" setting. Barrels are interchangeable, and based on demand, other variations may become available at a later date. The upper receiver is aluminum, while the lower is molded from carbon-fiber-reinforced polymer. The handgrip is integral to the lower but does have interchangeable back straps. The charging handle does not reciprocate, locks forward until needed, can be swapped to either side and doubles as a forward assist. The safety and magazine release are ambidextrous, while bolt stops/releases are positioned on the side of the receiver, with another sitting inside the trigger guard, which you lift up to lock the bolt open and push down to release. American markets tend to dislike these but they can be accessed with either hand while staying in the "pocket", making for fast reloads without coming off the gun. The trigger is a two stage and is surprisingly light (4.5 pounds) and crisp for a military designed trigger. The polymer adjustable and folding stock locks solidly in place, can be released or deployed with one hand, and the gun still has firing capability when folded. QD sling swivel receptacles can be found on either side of the butt.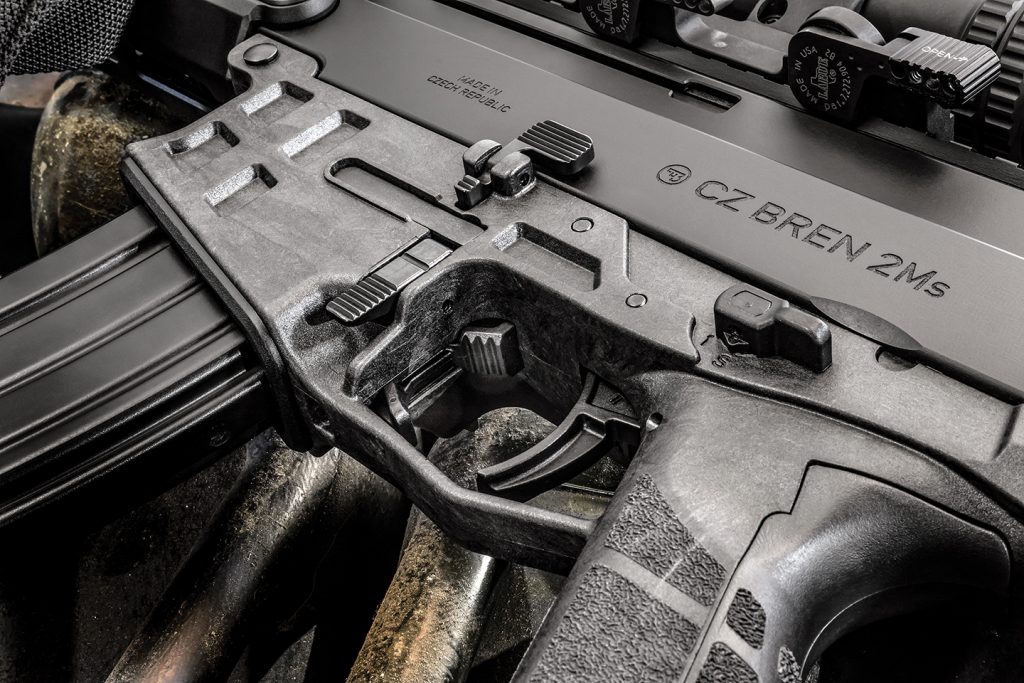 Why polymer for the lower receiver? The whole polymer argument was asked and answered when Gaston Glock took over the pistol world decades ago. Having broken "all metal" rifles during training and deployment, they are no stronger, just heavier. I tested this rifle pretty harshly, including lots of dropping in the dirt, mud, and silt, walking on it, banging it around in the back of the truck and knocking it off the bench several times; pretty much everything short of running over it with the truck or dropping it off a roof. The gun still works, and nothing fell off or broke. I can't say that about some "duty ready" ARs tested in the past, which I subjected to far less abuse.
Moving to the upper, a Picatinny rail runs the entire length of the receiver and modular handguard. M-Lok cuts can be found around the rest of the circumference of the handguard, giving ample options for accessory placement. Sling loops and QD sling receptacles sit on either side at the back of the receiver, but you will need to add an attachment point to the handguard. Two 30-round D&H magazines are included, as well as a complete cleaning kit. No iron sights are provided, but any AR sights will work.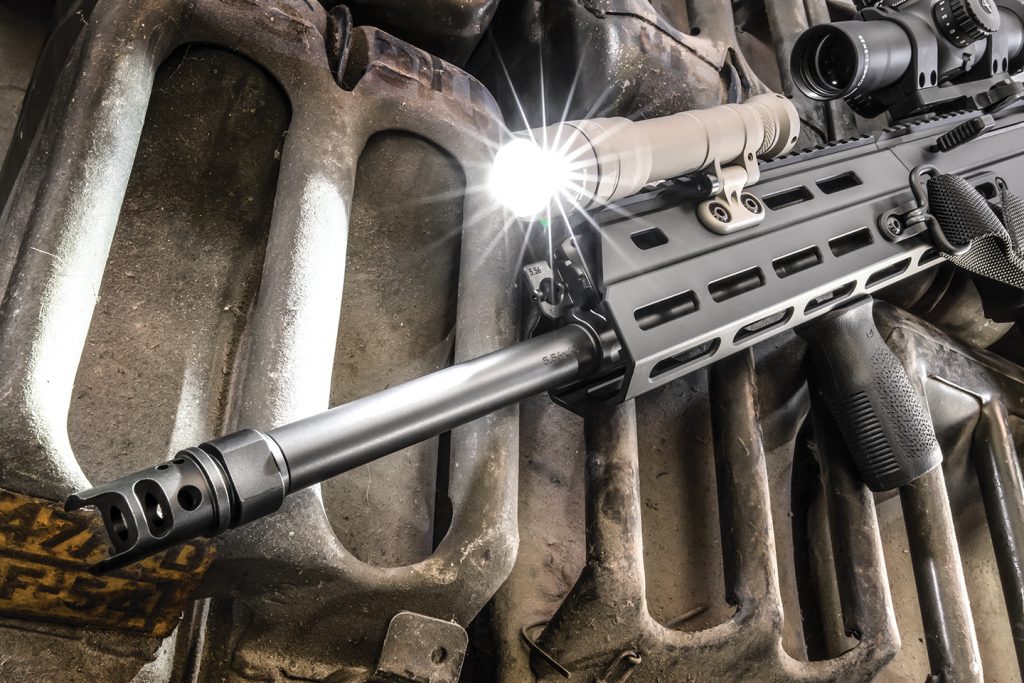 Range Time
Testing was completed using the factory muzzle brake and an X2 DevGroup VM-18 muzzle device, which allowed attachment of the company's no-backpressure Orion sound suppressor. Trijicon's durable new Credo 1-8×28 first-focal plane riflescope was used for testing. With a 34mm tube, full multi-coated and anti-reflective lenses and dual red/green illuminated "segmented circle" reticle, it excels in low-light activities. This optic gives you the option of fast CQB work on 1x and the ability to reach out accurately at distance on 8x. The only other additions were a Magpul MS1 sling and a Magpul M-Lok GI Sling Swivel for the handguard.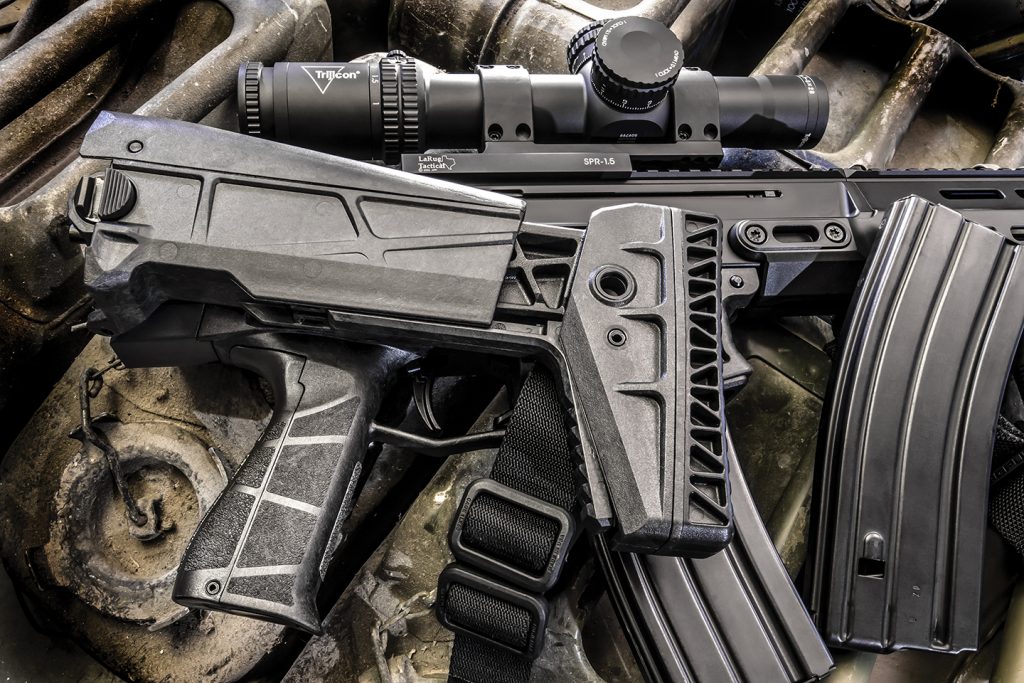 Accuracy was excellent—especially for a weapon built to be used in combat. My best group was around an inch at 100 yards using Hornady's 55-grain Frontier Match/BT. Used in several tests, this round has proven more accurate than "precision" ammunition at twice the price. At 50 yards my ten-round, rapid-fire group was inside a couple inches, mostly cutting a big hole in the target. Loaded with Black Hills 77-grain TMK, the Bren 2 Ms grouped right at 3 inches at 300 yards, and at 200 yards the ten-round group was a glop of lead no bigger than 2.5 inches.
Reliability was what I expected from this platform—not a single stoppage. The factory muzzle brake mitigated recoil very well with very little blast at the shooter, but anyone standing next to it would not be as fortunate. Given the fact that it is a compensator—a muzzle device likely chosen to assist during full-auto fire on the original Bren—rapid fire was stable and controlled. Moving to the X2DevGroup VM-18, all the drawbacks of a comp were cured, albeit with slightly more felt recoil.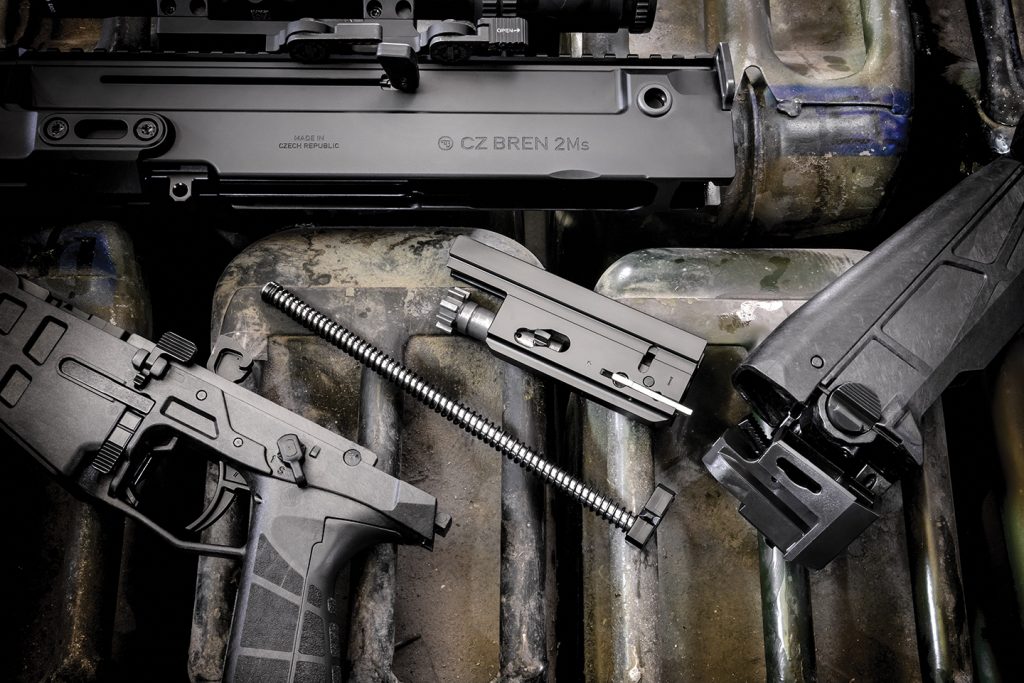 Combining an AK style gas piston system with no way to lower gas and suppression is iffy. It will work with conventional cans but will tend to make things kind of harsh and gassy, as well as possibly unreliable. Using a no-backpressure design like the X2 Orion, these drawbacks are not as noticeable. The X2 Orion did not change the brass ejection or gunk up the works, and was as quiet as a suppressor gets on this system. It was very pleasant to shoot. Adding a suppressor to a 16-inch carbine can make for a long system, however. If the 11-inch barrel we've been hearing rumblings about is made available, this would be just the ticket for a very handy suppressed SBR.
Controls are intuitive and ambidextrous, there is very little transition needed from a AR outside the use of the side charging handle. The charging handle does not reciprocate, locks forward and can be moved to either side.  Stoppage drills (if it ever has one) are easier since you can lock the bolt open using the lever in the trigger guard. Once you get used to this lever being there, it's kind of nice—it never once caused an issue, even with gloved hands.
Tear down makes one thing clear: this weapon was designed to be easily dealt with in the field. Break-down is fast and simple, with no tools needed. Everything about this carbine is well thought out for use in the field by your average person, no armorers needed.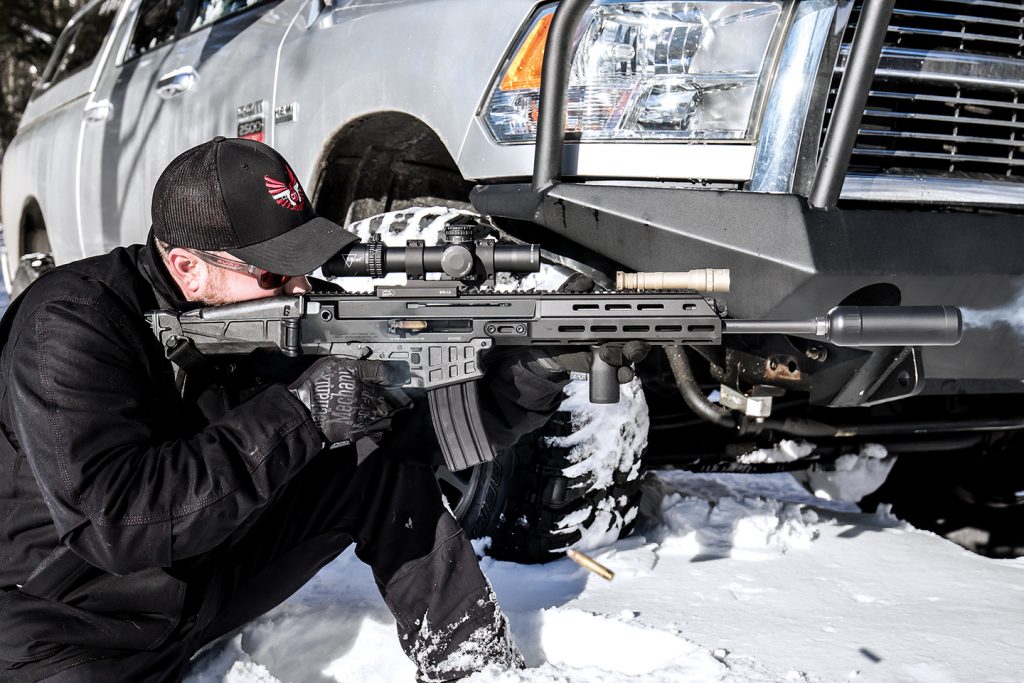 Bottom Line
Having tested the pistol version, it was no surprise how much I enjoyed testing the carbine version. Simple, proven rifles like this are my preference in a working gun. Given the need, this would be at the top of my list as a survivalist/defensive carbine. Bells and whistles are great, but I want something that works in any condition without "tuning", and the Bren 2 Ms fits that bill perfectly. Ambidextrous controls, a folding stock, and excellent accuracy are just gravy.
Priced at $2,255.00, it's not cheap, but you get plenty of performance and second-to-none reliability for the money . . . you could pay more fa or a rifle that will do far less. If you are not married to the AR platform and are open to different systems, you will love this carbine. See it at your gun shop, or contact CZ-USA, Tel.: (800) 955-4486; Web: www.cz-usa.com
Specifications:
Caliber – 5.56mm NATO
Receiver – Aluminum with carbon fiber/polymer lower
Barrel – 16.5 inches
OA Length – 35.6 inches
Weight – 7.3 pounds
Sights – Top Rail
Stock – Folding/collapsible
Action – Semi-Automatic Gas Piston
Finish – Black
Capacity – Accepts AR15-based magazines
Price – $2,255
Ammunition Tested                   Velocity (f.p.s.)                  Group Size
Hornady 55-gr. Frontier HP / BT                       2,900                                    1.00"
Black Hills 55-gr.TSX                                       2,950                                    1.35"
Barnes VOR-TX 55-gr.TSX                                2,930                                    1.45"
Black Hills 69-gr.TMK                                       2,950                                    1.50"
Hornady 55-gr.Critical Defense                         2,920                                    1.25"
Federal 77-gr.GMM                                          2,650                                    1.40"
Groups tested using a bag for a rest on the hood of a truck. Best group shown out of five 5-shot groups from 100 yards. Velocity measured using a Chrony chronograph.