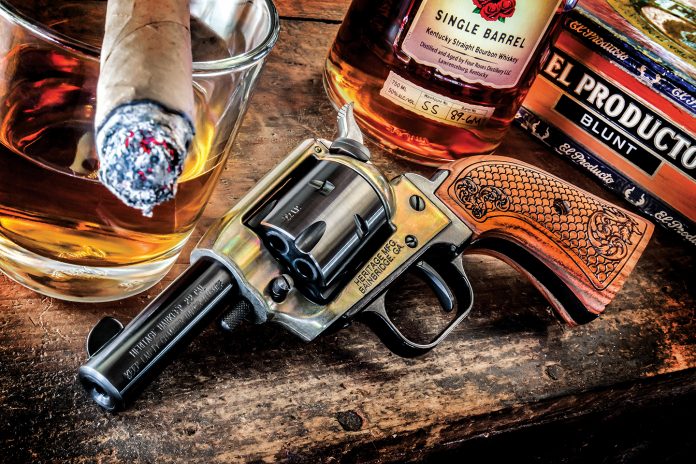 Heritage Barkeep .22 Revolver
by Bill Battles
The most fun you can have for 180 bucks?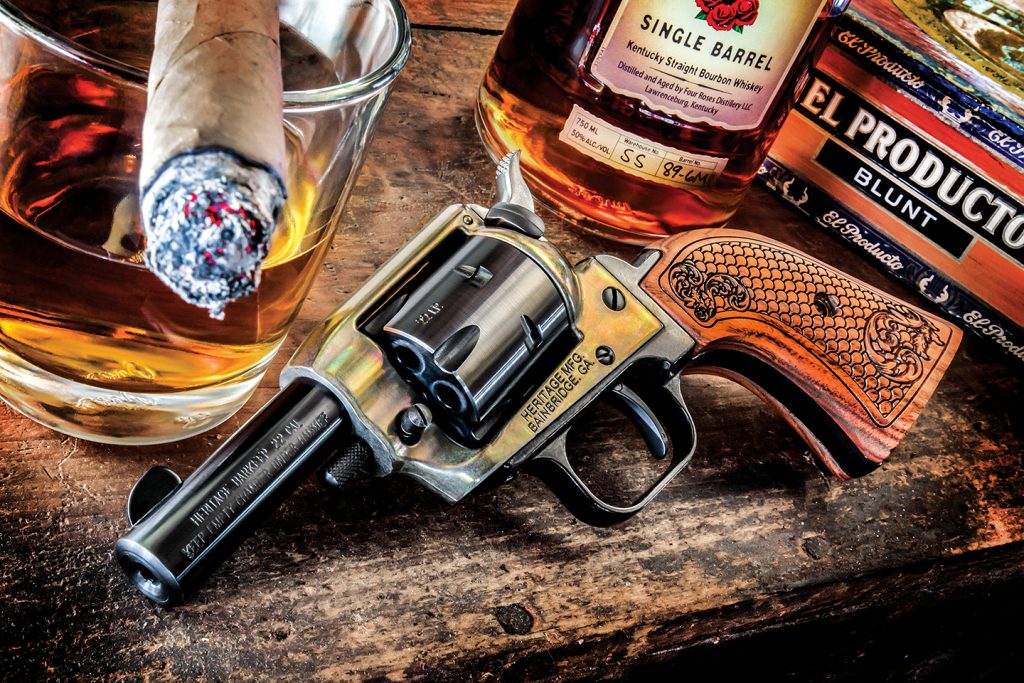 The new Barkeep .22 caliber single-action revolver from Heritage Manufacturing, Inc. is a modern throwback to Old West weaponry in an entirely modern package. Even though its 2.68-inch barrel, small frame and shorter than center-fire cylinder make it look and feel like a small gun designed for concealed carry, it's nearly full size grip (with exposed front and back straps) make it significantly larger than many small concealed carry pistols and revolvers chambered in .380 ACP or even 9mm Luger.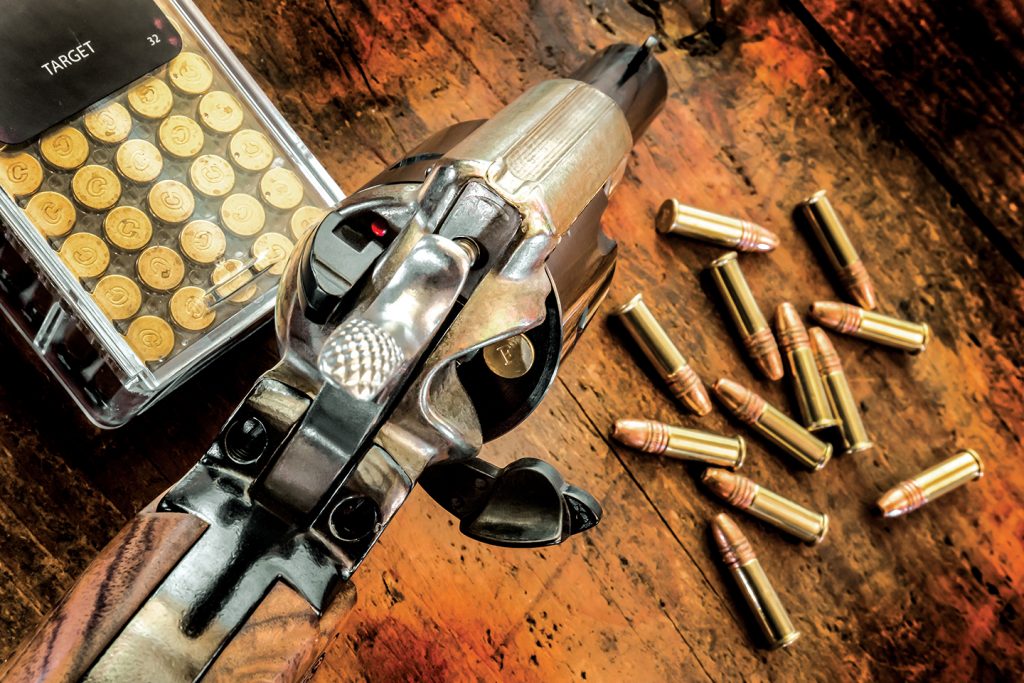 So maybe it's not the perfect sidearm for personal defense, but that's really not the point. Not to mention it's fun factor (which we believe is the point), it's very attractive, highly customizable with factory accessories and comes at a retail price that's almost hard to believe—$180.30. One of those factory accessories is a .22 Magnum cylinder that ups the horsepower sufficiently to make it a more realistic personal defense revolver. Actually, you can choose from among ten different .22 Magnum cylinders in a variety of engraving patterns and finish colors, priced from an exceedingly-reasonable $29.99 to $38.99.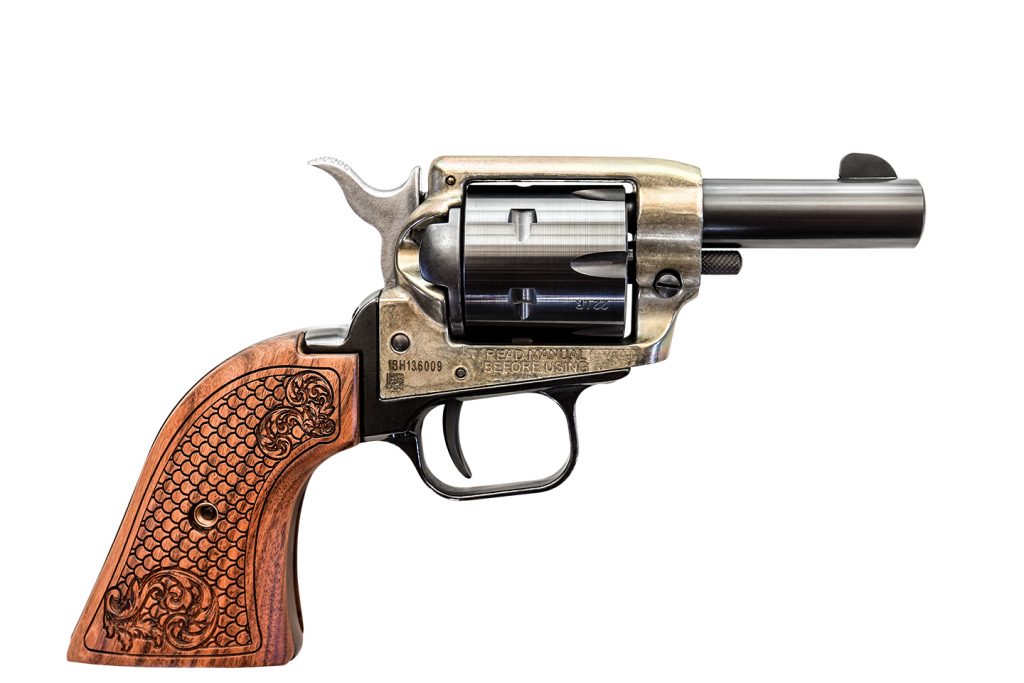 In standard factory form, the Barkeep has a blued barrel, front sight, grip frame/backstrap assembly, loading gate, trigger, screws, pins and hammer-block manual safety. The cylinder frame is finished in an antique brass color (which Heritage calls "simulated color case hardening"), and the hammer is given a silver finish. The factory grips are a medium colored walnut with attractive laser engraving. An amazing 34 different sets of optional grips—in laminated wood or a variety of hardwoods, mother of pearl, Dymondwood, stag, plastic and other synthetic materials in a host of colors and engraving patterns—are also offered, priced from, again, an exceedingly-reasonable $24.99 to $38.99. You can even buy a substitute bird head shaped grip frame/backstrap assembly ($29.99) to make the Barkeep smaller and more concealable, plus eight different bird head grip panel sets to go with it ($24.99 to $28.99). Sights consist of a black cowboy blade front sight and a U-notch cut into the top rear of the cylinder frame. Empty weight is 26.0 oz., and overall length is 7.95 inches.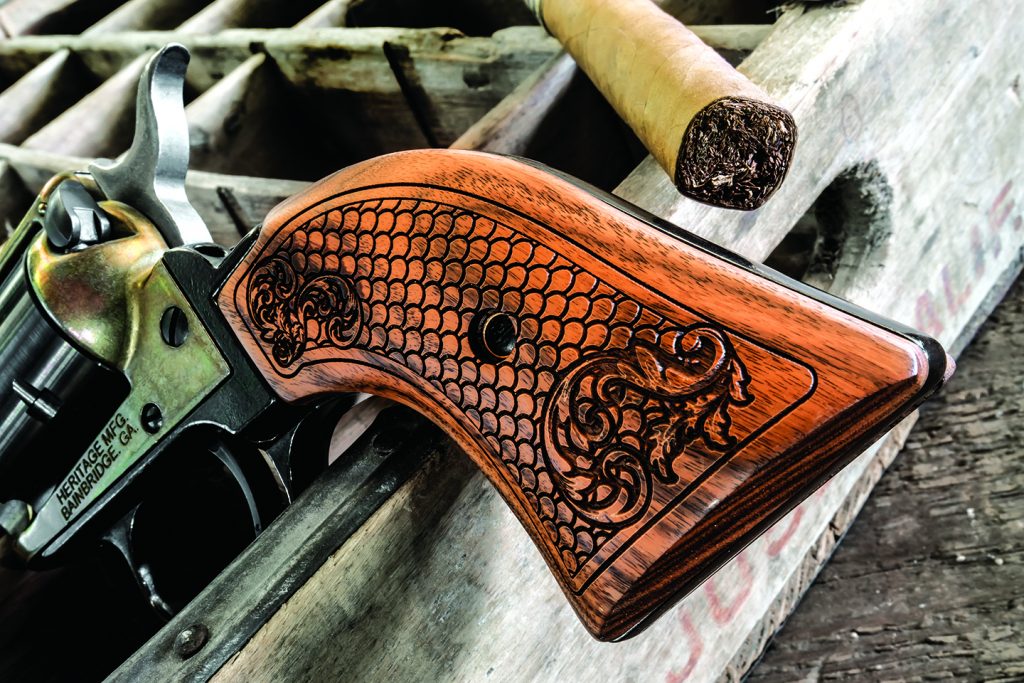 Several features of the Barkeep warrant further discussion. This is a true single-action revolver, but it also has a flip back/flip forward hammer-block manual safety mounted on the left-hand side of the frame adjacent to the hammer, something we've never seen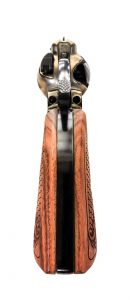 before on a single-action revolver, but a damned good idea. It can be put on-safe or taken off-safe with the hammer in any position. While the Barkeep is loaded through a standard loading gate, it is not fitted with an under-barrel empty case ejector typical of single-action revolvers. Instead, a wooden handled steel push pin is provided to manually push each empty case out of its chamber. Odd, but it works fine . . . just don't lose the wooden handled push pin or you'll have to buy a replacement from the factory ($5.99). All of the accessories mentioned, together with a host of holsters, replacement parts and other accessories, can be purchased directly from Heritage Manufacturing on its website, with no FFL required.
For $9.39 more, you can get the Grey Pearl Barkeep, which is identical to the standard revolver with the exception that all metal other than the silver hammer is blued, and it is fitted with a set of grayish-silver mother of pearl grip panels. All accessories mentioned above fit this modal as well.
Functionally, the Barkeep had no surprises. The cylinder is easily removed by depressing a spring-loaded retaining pin and pulling the cylinder pin out from the front. The hammer is fitted with an internal safety that prevents the hammer face from contacting the firing pin unless the hammer is fully cocked and the trigger pulled, making it safe to carry a live round under the hammer. The slightly smaller grip is hardly noticeable, and provides a full and positive purchase on the gun when firing. Even with the antique slights and shorty barrel, its accurate enough to hit what you're aiming at out to reasonable distances. The optional .22 Magnum cylinder is a major plus if you need to dispatch varmints, or increase the challenge on your next gator hunt. The eminently reasonable price of both the revolver and its accessories let you own a customized .22 handgun for very short dollars. And . . . it's a whole lot of fun to shoot.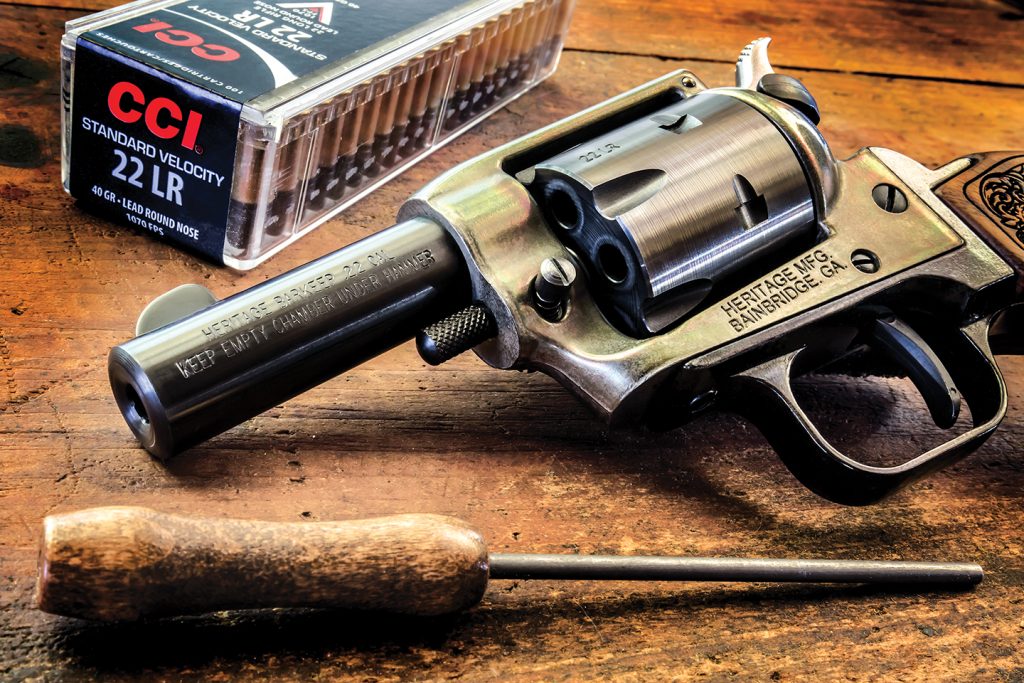 Adding to the Barkeep's fun factor was the fact that it pretty much shot to point of aim with all of the ammunition tested. If you're a seasoned single-action shooter, you know this can be a crapshoot, and the benefit of not having to compensate with your point of aim makes the shooting experience that much more fun.
At 15-yards using a sandbag rest, the little Barkeep performed beyond our downrange-precision expectations. Using Federal's BYOB (Bring Your Own Bucket) 36-gr. copper-plated hollow point load, we printed a best-of-test five-shot group measuring two-inches on the dot. Performance was relatively consistent with all test ammo, but the Barkeep did seem to show a preference for sub-40-grain projectiles.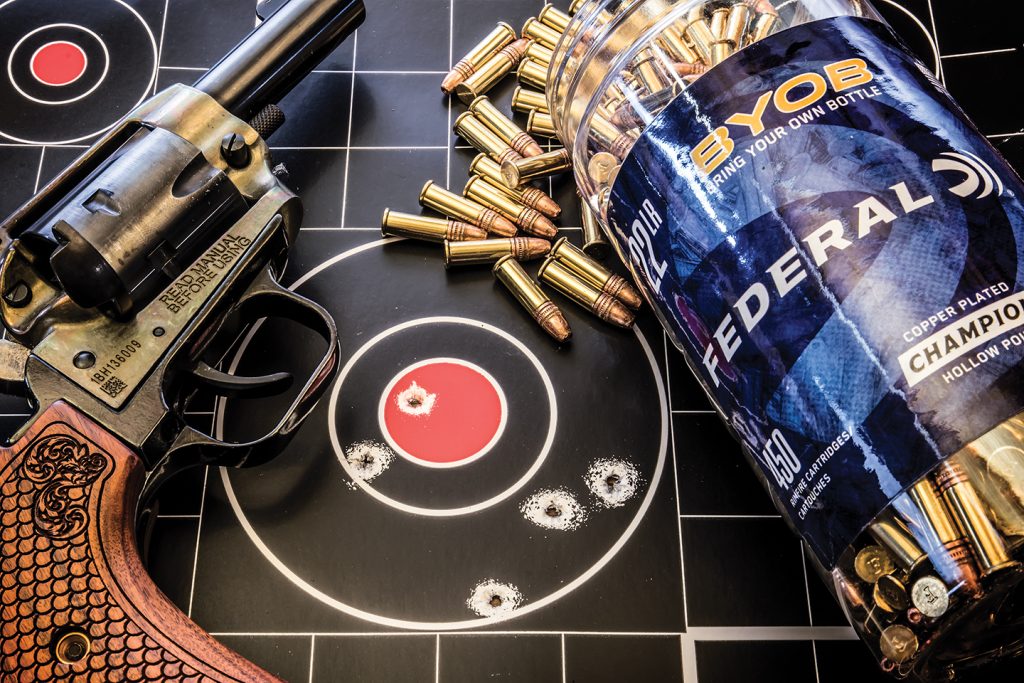 Given the price, performance and fun factor, we're not sure why any shooter wouldn't want to have one of the new Barkeep's in their stable. See it at your firearms retailer, or for more information contact Heritage Manufacturing, Inc., Tel.: (229) 515-8099; Web: www.heritagemfg.com