Nighthawk Bob Marvel Custom 10mm
by Dave Bahde
The gentleman's backcountry pistol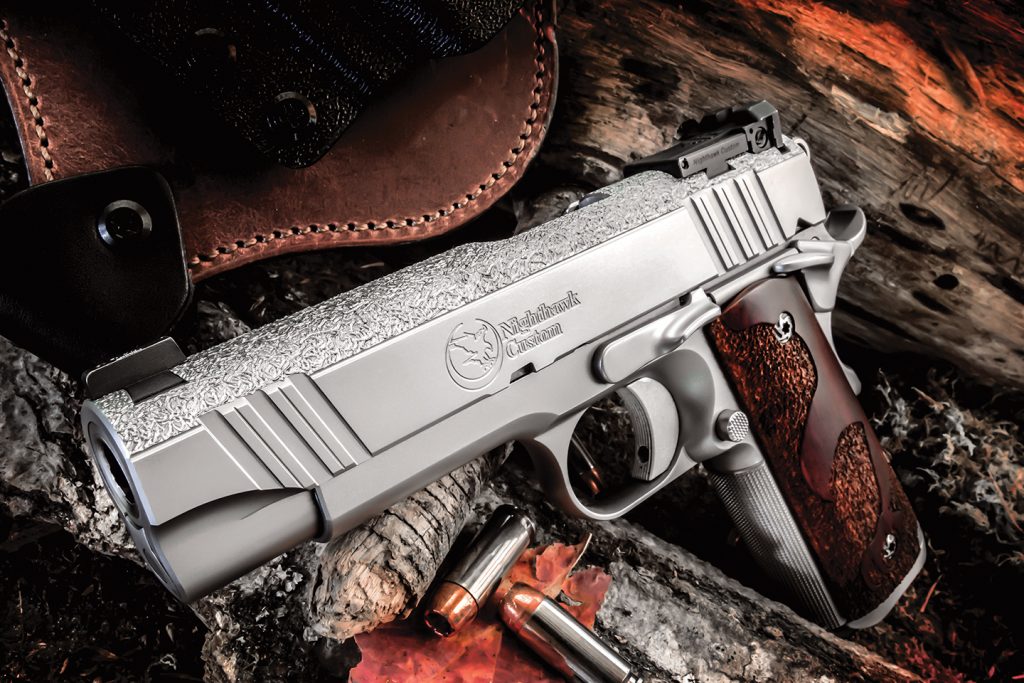 Over the years the argument has continued as to the best "backcountry" caliber for protection, primarily against four legged predators. Revolvers remain a top choice, with the .44 Magnum being the most common due to its versatility. Loads can range from soft shooting .44 Special to full-boat hand-cannon magnum loads. Available in medium and large frames it can easily serve double duty for self-protection. But, as many gun buyers today never even consider a revolver, as the semi-auto is gaining some traction for backcountry duty.
When it comes to semi-autos, the 10mm remains the most common choice as a backcountry pistol for many of the same reasons I outlined for .44 Magnum. Loads range from 135-grain rockets with limited penetration, to 200-grain freight trains with deep penetration. Glock's G20 is popular for its capacity but many still prefer an all-steel 1911. Full sized 1911's are the most common, a bit less comfortable for concealed carry but easier to handle full-power loads with. Many consider the Commander size the perfect compromise, but they're rare in 10mm, popping in and out of the market every few years.  Having tested most (if not all), they are great to carry, but not so much fun to shoot. Too often, reliability is an issue with the heavier loads, but that may have just changed with Nighthawk Custom's Bob Marvel Custom commander chambered in 10mm.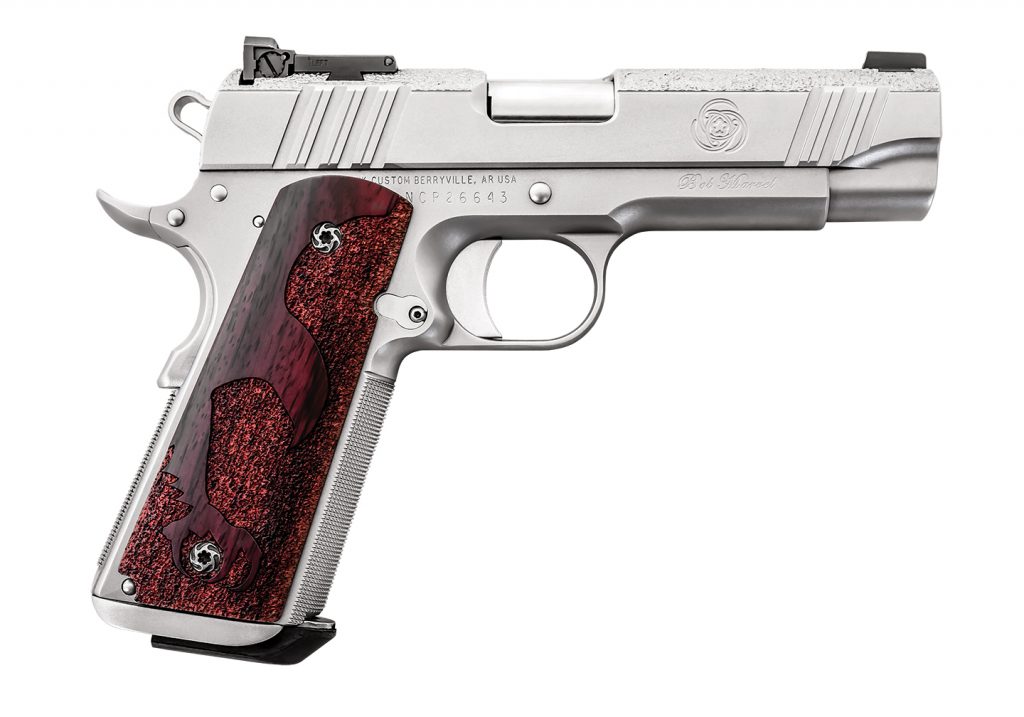 Bob Marvel Custom 1911
Nighthawk custom has offered the Bob Marvel commander in .45 ACP and 9mm for years. A true custom, built by Nighthawk's 'smiths under the tutelage of Bob Marvel, there are a few unique characteristics to this 4.25-inch barreled 1911. Bob Marvel is well known in the custom 1911 world, especially for the combined accuracy and reliability of his pistols. His proprietary barrel system is the most prominent feature; a sleeve is screwed to the barrel and fit precisely to the slide resulting in some impressive accuracy. The Everlast return spring assembly adds longevity and softer recoil. The rear sight is moved slightly forward, and the rounded slide-top and back are stippled. A French border—rarely seen—provides a very nice look. Checkering at the front strap and mainspring housing are 25 LPI and a one piece beveled magwell is fitted for smoother magazine changes. Every part of the pistol is nicely rounded, smooth and custom looking. Front and rear cocking serrations are unique, aggressive and provide excellent purchase. The muzzle end of the slide gets a bull taper, with the bottom tapering back slightly. The front sight is tritium, the rear is fully adjustable. Everything about this pistol screams handmade, and in fact it is—by one gunsmith start to finish.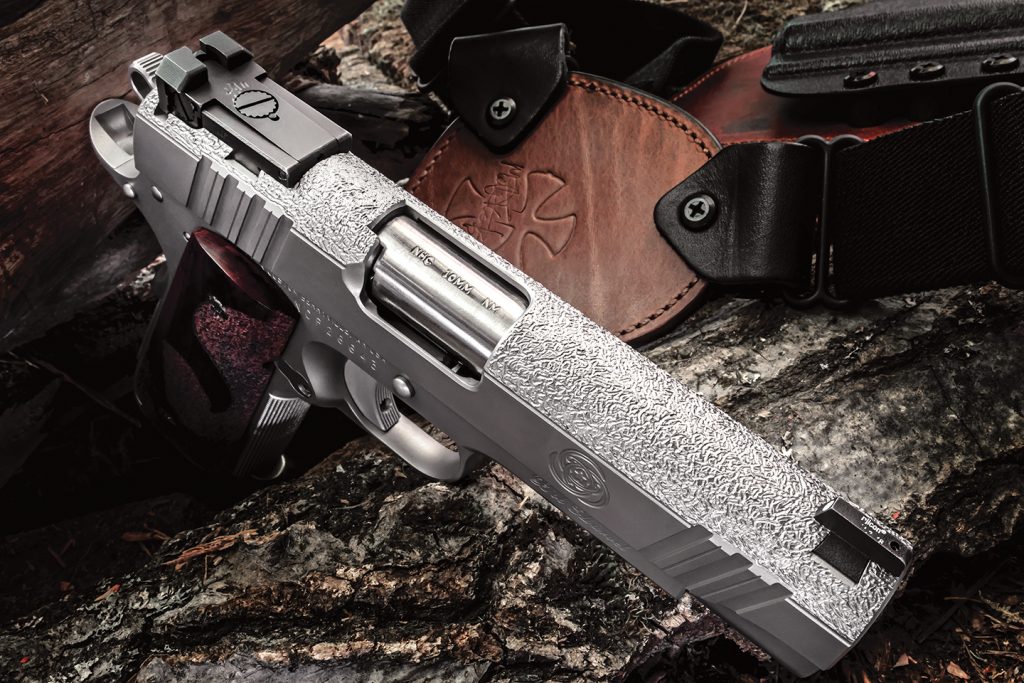 Range Time
The real question is will it work in 10mm? Previous tests of comparable "custom" 10mm commanders has ranged from the unimpressive to the abject failure. Not so with this Bob Marvel. It was one of the most reliable commanders I've ever tested, using ammunition ranging from 155-grain defense rounds to 200-grain hard cast loads. Using one of my Tripp Research magazines, it reliably fed 9 different loads from three different manufacturers without failure. From a practical perspective, this is invaluable. Being able to switch from deep penetrating ammunition for the trail to proven defense ammunition for the street is a huge advantage. Supplied with two 8-round magazines, it worked with both Tripp Research and Wilson Combat 9 round magazines without issue.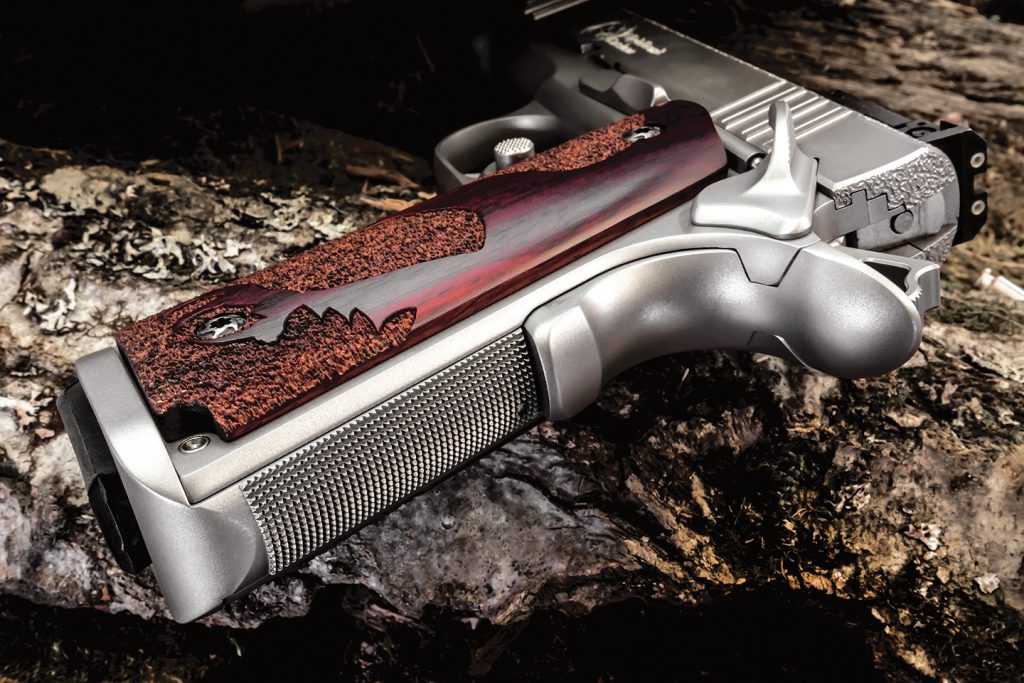 Maybe the most surprising thing was how soft it was to shoot. A frequently stated drawback of 10mm commanders is excessive recoil, coupled with excessive spring pressure when racking the slide. Having carried 10mm 1911s for decades, they can be snappy with a 5-inch barrel with hot loads, let alone a shorter barrel.  Shooting this was similar to a 5-inch 1911 in 10mm, or even a commander in 45 ACP. Slide reciprocation time is quicker but without the harshness or loss of controllability. Rapid fire was no problem, even using Doubletap's 200-gr. controlled expansion and solids at around 1200 f.p.s.—either of which would likely get the job done on most predators, without regard to size or leg count.
Accuracy was as expected, with the most accurate load being the 180-gr. Colt National Match load from Doubletap, producing consistent 1.5-inch groups at 25 yards. Muzzle velocity on this load is around 1,100 f.p.s. making it a powder puff 10mm load, but it's about as close to match grade as it gets. Next up was the 155-gr. Doubletap load, my favorite carry round. Firing a copper bullet, even at 1,400 f.p.s. it's soft (and flat) shooting, and group sizes were only only slightly larger than the leader.
Considerations
This is a full custom pistol, with both the perks and price tag that come with that. Many ask what you get for your money with a custom 1911, and my answer is attention to detail, no sharp surfaces, precision-fit everything, performance—all the product of painstaking work by hand. Nighthawk's Bob Marvel model is about as good as it gets.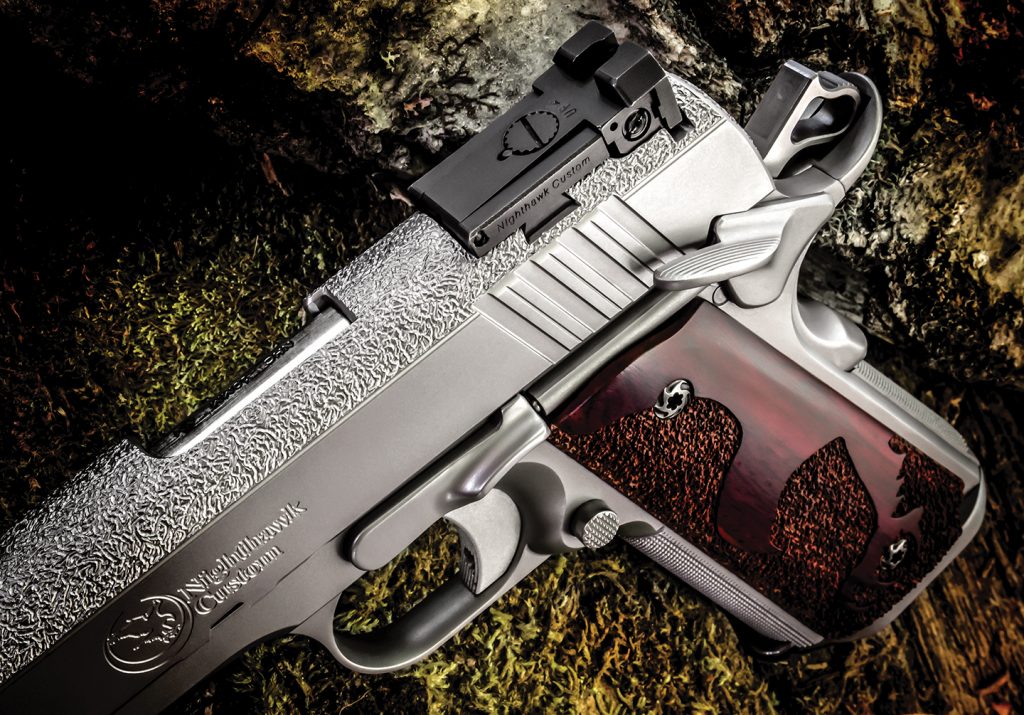 Opinions vary when it comes to stippling the top of a slide. It probably does make a difference in sight-picture glare, but that's probably also not the point—it looks absolutely amazing. But, for the most part, users tend to either really like it or not.
The trigger measured at a tad over 4 pounds and was very repeatable. Although a bit over used in the gun writing industry, this trigger was very crisp with an incredibly clean break, no overtravel and minimal take-up. Not sure it gets any better for a 1911 trigger, or any trigger on a pistol for that matter.
Bottom Line
The Bob Marvel models in 9mm and .45 ACP retail for $4,499. The 10mm adds $100 to the cost. As custom 1911s go, this is reasonably priced, as custom 1911s in 10mm can be as much as a grand more than their lesser chamberings. Not for everyone, but well priced for the market it caters to. You may pay more for a custom from other places, but I'm not sure you will get anything more for that money.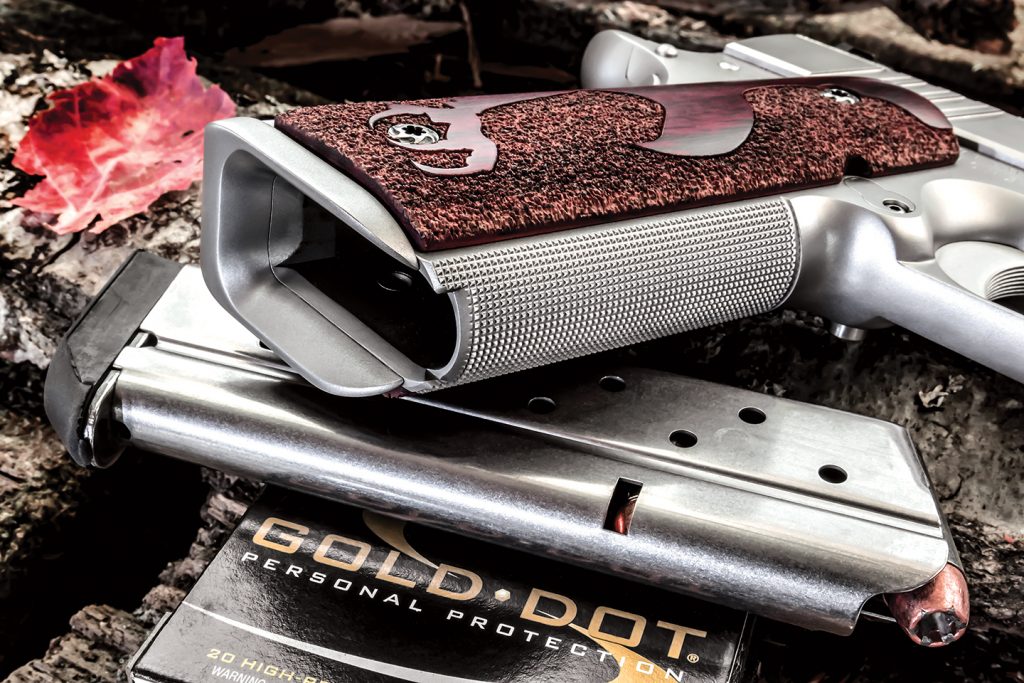 The Bob Marvel can be ordered with other finishes, ranging from Cerakote in solid or camouflage patterns, hard chrome, stainless, polished or in complete blackout. While probing the Internet a few were available as is, but these are custom builds, to include checkering, front sights (gold bead or fiber optic), grips and engraving. Custom 1911s should be personal and that is certainly something you can do with the Bob Marvel.
Nighthawks Bob Marvel Commander is the most reliable and softest shooting 10mm 1911 I've ever used. Were it in the budget, it would stick around. If you are in the market for a custom 1911 in 10mm, be absolutely certain this is at the very top of your list! For more information, contact Nighthawk Custom; Tel.: (877) 268-4867; Web: www.nighthawkcustom.com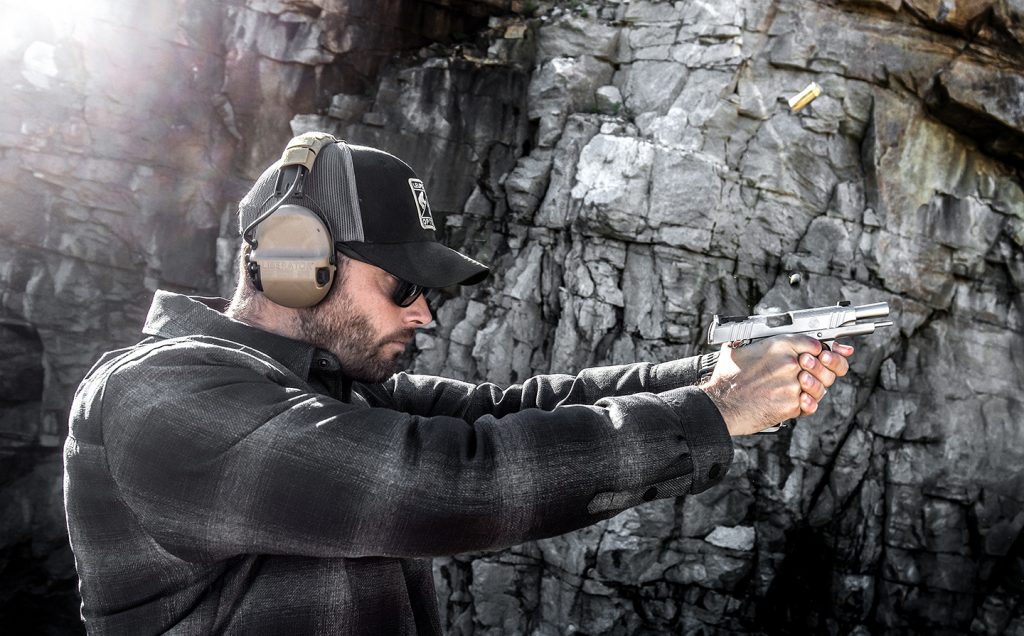 Dimensions
Caliber                            10mm Auto
Barrel                              4.25-inches
Overall Length                  7.9-inches
Sights                              Trijicon Tritium Front / Adjustable rear
Weight                             37.8-ounces
Finish                              Stainless, Hard chrome, Cerakote in various colors.
Magazine Capacity            8+1 (accepts standard 10mm 1911 magazines
Retail Price                      $4,699
Performance Specifications
Load                                                   Velocity                        Accuracy
Underwood 135-gr. JHP                           1.550                          1.70 inches
Doubletap 155-gr. Barnes                        1,580                          1.60 inches
Sig Sauer 180-gr. VC JHP                         1,250                          1.75  Inches
Buffalo Bore 220-gr. HC                           1,200                          2.00 Inches
Hornady 175-gr. Critical Duty                   1,125                          1.65 Inches
Doubletap 180-gr. Match                          1,100                          1.50 Inches
Bullet weight measured in grains, velocity in feet per second (fps)
by Pro Chrony Digital chronograph. Accuracy in inches for (3) 5-shot groups at 25 yards using a bag as a rest over the hood of a truck