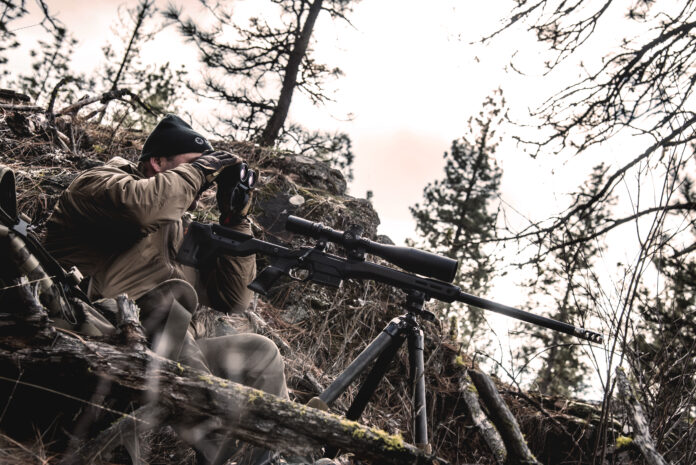 MDT Announces Their Brand New 26oz Hunting Chassis, The MDT HNT26 Chassis System.
A Purpose-built, 26oz Hunting Chassis now available from MDT. The MDT HNT26 Chassis System is a brand new addition to the MDT Chassis System line designed specifically for hunters. The MDT HNT26 Chassis weighs in starting at just 26oz for the full chassis system (including chassis base, buttstock, forend and grip).

Although MDT chassis systems have been used by hunters for years, this marks the first truly purpose-built hunting chassis from MDT. This legendary rifle chassis provides you with all of the usual benefits that you expect from a rifle chassis such as V-Block bedding, length of pull and comb adjustment, AICS magazine compatibility, thumb shelf etc, while catering specifically to the hunter's needs.
The MDT HNT26 Chassis System offers the following additional design features making it the perfect option for hunters:
Starting weight of just 26oz for chassis base, forend, buttstock, and grip
A snag-free design to diminish or eliminate unwanted snag points when packing or moving through the brush
A foam-filled carbon fiber buttstock to suit the ultra-lightweight construction while dampening vibrations and felt recoil
Low profile magazine latch designed into the trigger guard, easily accessible and once again eliminating an unwanted snag point
Option for a folding buttstock version for compact packing and storage
Option for ARCA integrated right into the carbon fiber enclosed forend (which is an innovative first in the chassis industry)
Designed for use with MDT's new Polymer SA 3 Round Magazine, which fits flush into the magwell
The MDT HNT26 is sold as a complete chassis kit including magnesium alloy base, foam-filled carbon fiber buttstock, carbon fiber enclosed forend, and a carbon fiber grip.
Available options: Remington 700 SA, Remington 700 LA CIP 3.850, Savage SA, Savage LA CIP 3.850, Tikka T3 SA, Tikka T3 LA
For more information see https://mdttac.com/hnt26-chassis-system/