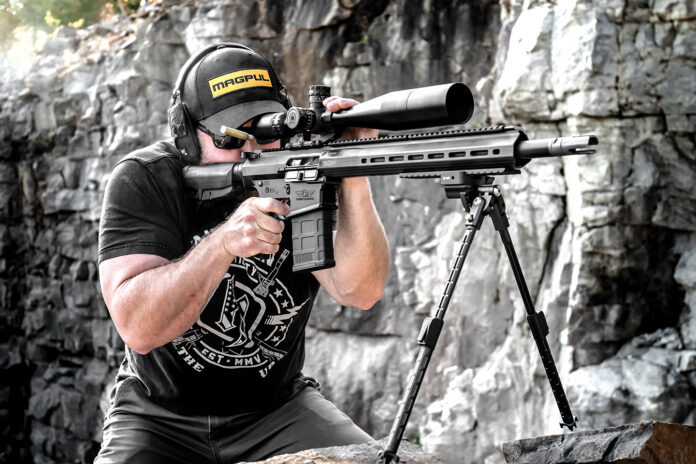 Christensen Arms CA-10 G2
By: Dave Bahde
THE carbon-fiber innovators take the AR10 platform to the limit of lightweight performance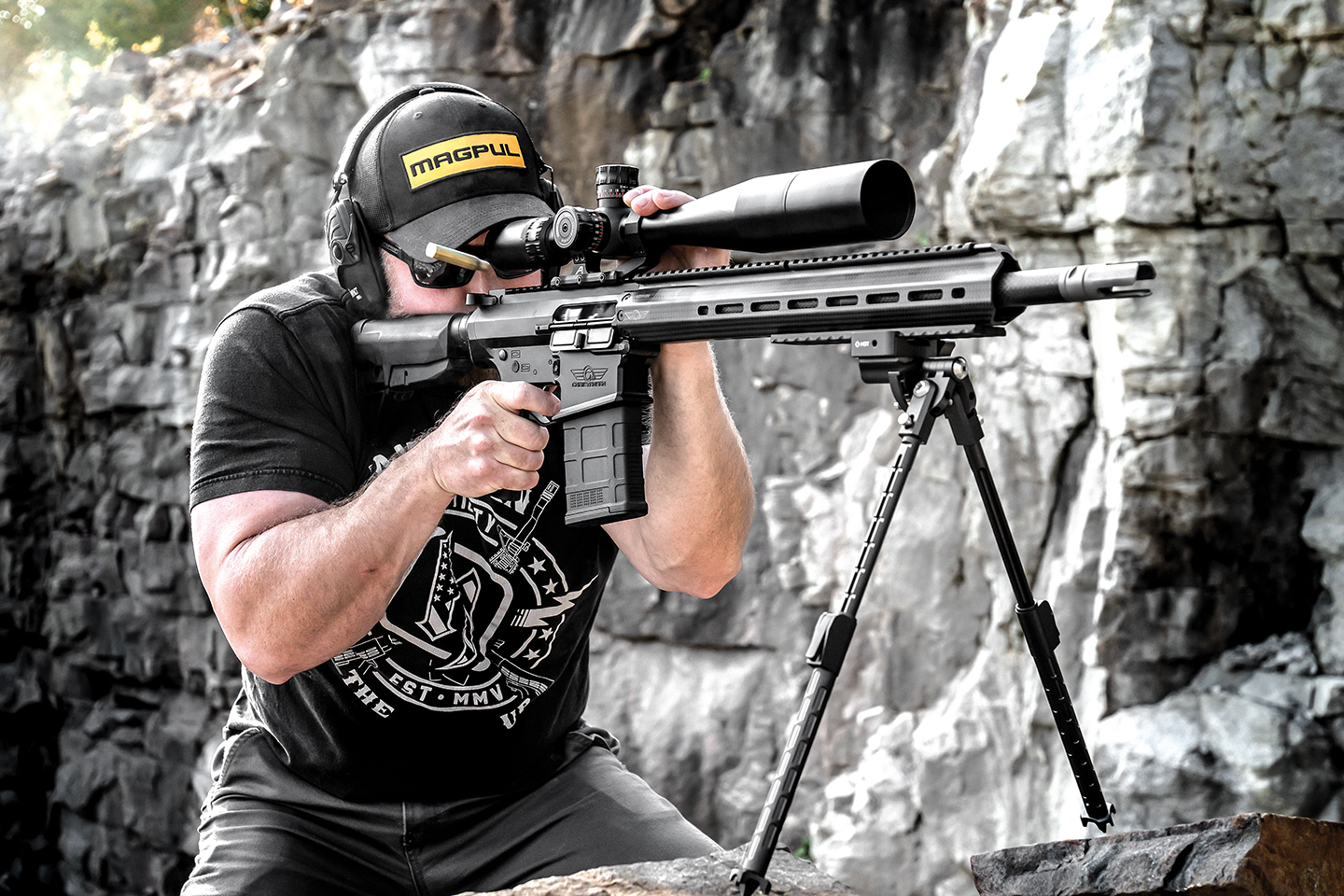 My first test of a Christensen Arms CA-10 was in 2014. Very few carbon-fiber barreled ARs existed, even fewer in .308 Win. Testing yielded none of the "issues" the critics were throwing out at the time; it was accurate, reliable, and very lightweight. They also built a 6.5 Creedmoor upper for me that still sits on a CA-10 lower I built at the time. A very capable hunter, it still reigns as one of the most accurate AR10's in my inventory. During testing the CA-10 G2 model seen here, the latest crop of Christensen Arms rifles proved to be just as accurate, and they remain one of the lightest AR10-style rifles you can get your hands on. One of the first companies to wrap an inner stainless-steel barrel in carbon fiber, they also remain one of the few to use carbon fiber handguards.
Carbon Fiber Innovators
Christensen Arms exemplifies what hard work, innovation, and determination can get you in America. Dr. Roland Christensen began making carbon-fiber parts for the aerospace industry in his garage. As that progressed, he also began making carbon-fiber medical devices. As an avid hunter and target shooter, Dr. Christensen decided to apply his technology to rifles by manufacturing one of the first carbon-fiber-wrapped barrels for bolt action rifles. Along with precision rifle barrels for bolt actions, the company now makes complete, lightweight precision-AR rifles — all of which are built in-house at their state-of-the-art facility in Gunnison, Utah. With decades of experience — making everything from prosthesis to aircraft cockpits out of carbon fiber — they are true innovators in this industry.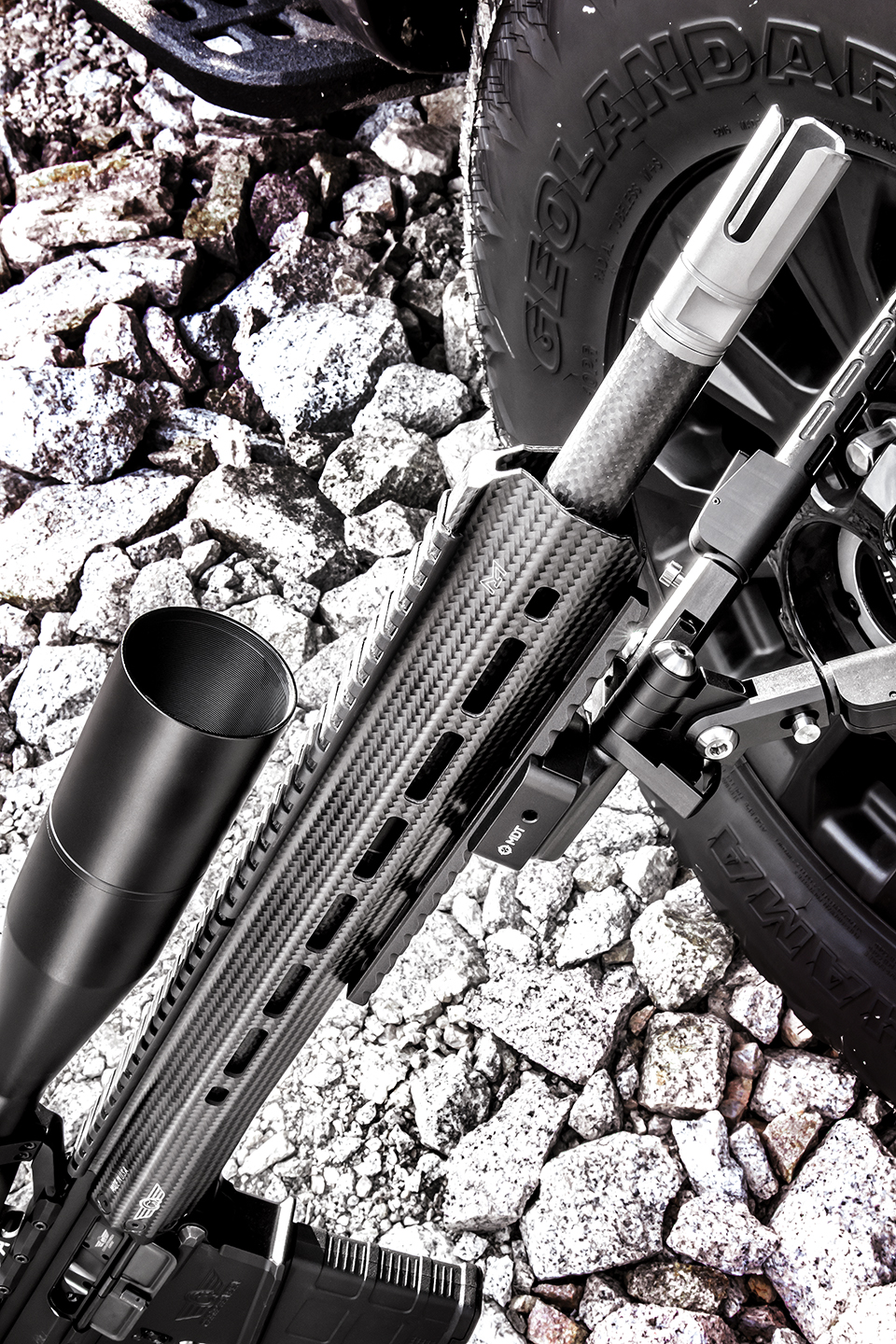 Christensen Arms CA-10 G2
The CA-10 G2 utilizes an 18-inch barrel and weighs 7.2 pounds overall, which is just slightly heavier than a standard M4 carbine chambered in 5.56mm. Considering the rifle's upper and lower receivers are made from a single billet of aluminum, this weight reduction remains impressive, even today. Most of the CA-10's weight savings are found in the carbon-fiber-wrapped barrel. The barrel starts from a solid piece of 416R stainless steel. It is then bored, rifled, contoured, and given a match chamber in-house. Both the contour and carbon-fiber wrapping process are well-guarded secrets. The barrel's 1-in-10-inch twist rate is designed for stabilizing the most popular .308 bullets, and the muzzle features 5/8 x 24 threading for adding a brake, sound suppressor, or other muzzle devices. My test rifle came with a three-pronged flash hider installed. Available with either KeyMod or M-Lok attachment points at 3, 6, and 9 o'clock, the carbon-fiber handguard is 15-inches long with a full-length Picatinny top rail. A short bottom-mounted Picatinny rail at the very front accommodates bipods and other devices.
The billet upper receiver houses a nitride-coated bolt carrier, an A2 style charging handle and is minus the forward assist. The billet lower receiver features an extended trigger guard housing for gloved hands, flared magwell, and a high-cut grip. Christensen Arms uses a match-grade trigger with a crisp 3.5 to 4-pound pull weight. The stock is a BCM Gunfighter.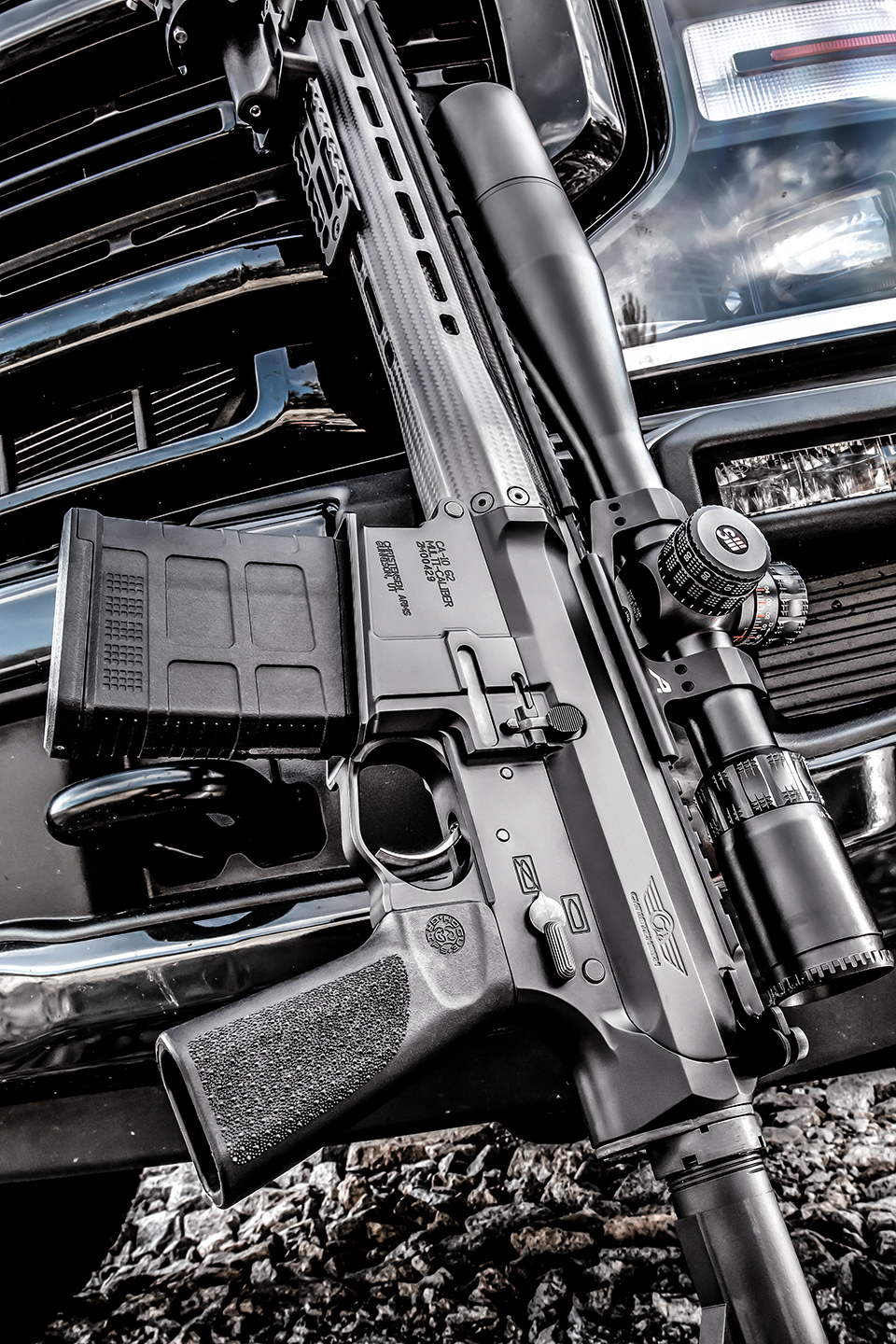 Sightron SIII Precision Series    
Sightron's new SIII Precision Long Range 6-24x scope (which you can read about in detail elsewhere in this issue) uses an illuminated MOA-H 5 reticle mounted in the second focal plane. This reticle features a tree-type pattern below the horizontal stadia line, with MOA measurements for elevation and wind adjustments. Measurements are at 2 MOA increments, making it easier to range for distance and hold for wind and elevation. Designed for long-range target shooting or competition, it is equally at home on a tactical rifle.  The scope's tube is 30mm and equipped with tactical turrets, with the elevation turret having a zero-stop function. Also available with a Mil reticle, at a $1,325.00 retail cost, it offers a lot of scope for the money.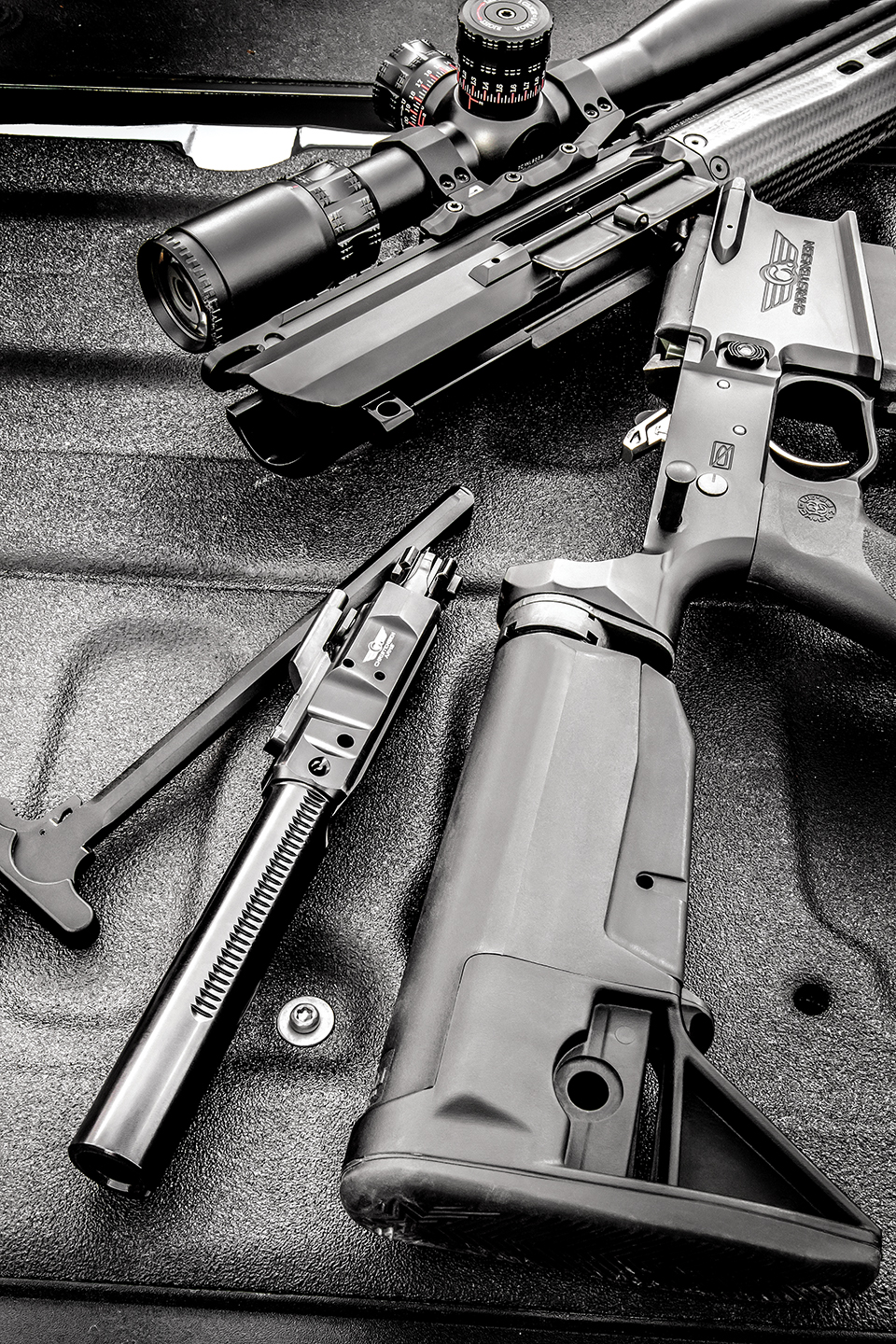 On the Range
Christensen Arms provides a 1-MOA guarantee with match ammunition and, as I knew would be the case, that performance promise was not a problem to keep. The CA-10 G2's best five-shot group at 100-yards was with Hornady's 155-grain American Gunner ammunition, coming in at 0.55 inches — not an unusual event for this company's ARs. While American Gunner is not considered "match," Hornady loads it to match standards, and it has performed incredibly in everything I've tested it in; it often outperforms true match ammunition. At 300-yards, it was still the most accurate at just under three inches, although the Federal Gold Medal 168 grain was very close. Accuracy was maintained during rapid-fire ten shot strings with no vertical stringing, although given current ammunition availability, that test was more limited than usual. The CA-10 G2 easily held up its 1-MOA guarantee at 100 yards and remained very close at 300-yards.
Recoil with a flash hider was not bad and about what you expect with a .308 Winchester in a 7-pound rifle. The gas block is not adjustable, so suppressors will require some testing. While I did not suppress this rifle, previous testing yielded typical results for .308 AR10's.  Reliability was excellent, with consistent brass ejection with everything from 155-grain to 178-grain ammunition.
Bottom Line
Christensen Arms has been building these rifles for years. The G2 is just the latest version, and it is pretty refined. Fit and finish are very nice — one of the advantages of building everything in-house. The carbon-fiber handguard is incredibly strong yet remains very lightweight.; there was no deflection under hard use against barricades or obstacles.  Setting the rifle down on the bi-pod with authority did not seem to affect accuracy or reliability. My 6.5 Creedmoor uses the same handguard, and it has suffered many years of abuse without failure.
These are essentially custom-built rifles and are priced accordingly at $3,199.00. They are assembled in-house one at a time in a state-of-the-art facility with strong attention to detail, using state-of-the-art materials. Making an AR10 completely reliable remains a challenge for many, let alone one that weighs in at around 7 pounds. Having carried mine for miles in the backcountry of Utah, I can attest to the advantages of the lower weight. If you are looking for high-quality and space-age materials in a reliable and accurate rifle, you need to give this CA-10 G2 a very close look. See the complete line of Christensen Arms rifles and rifle-style pistols at your nearest dealer, or for more information, visit www.christensenarms.com.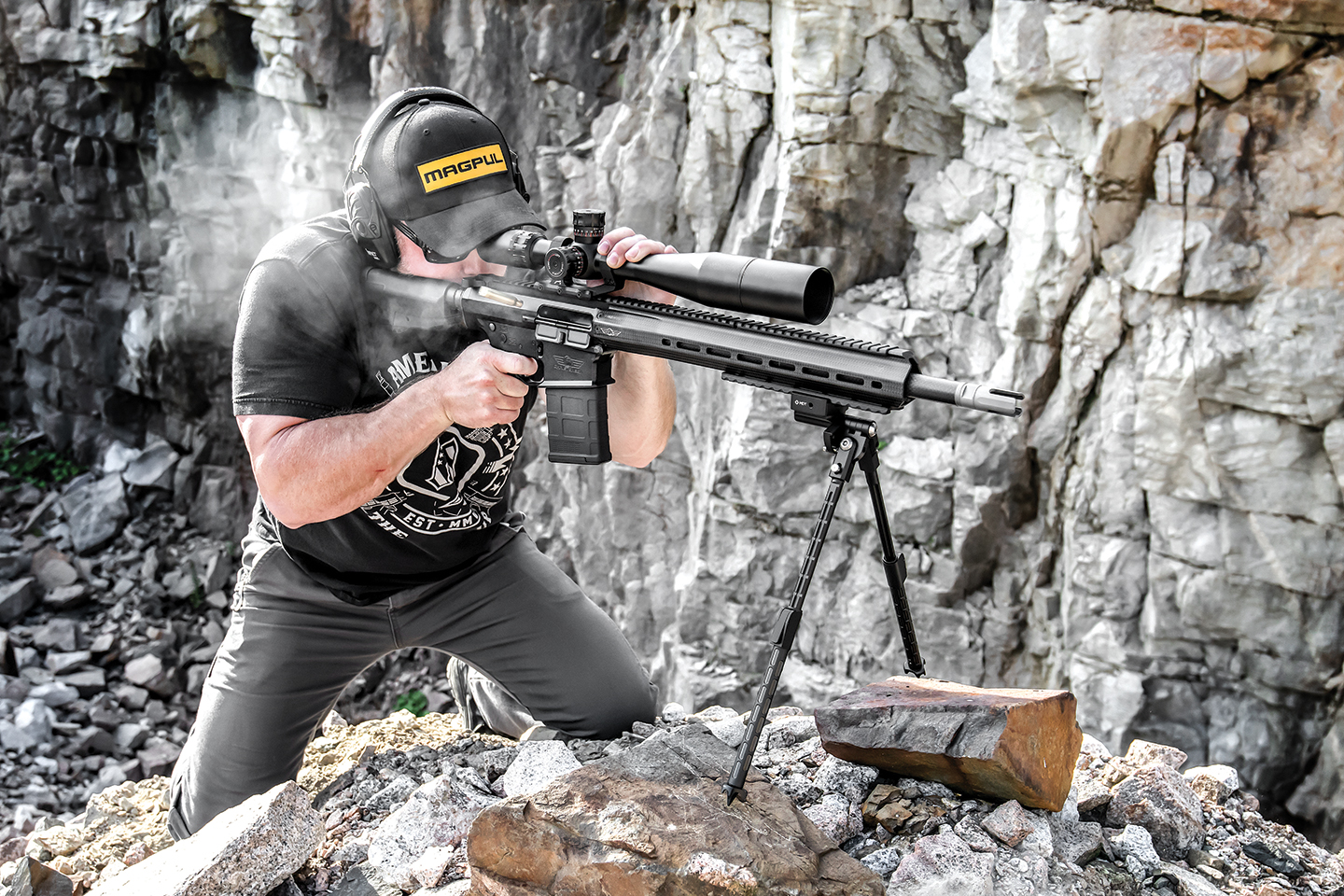 Specifications:
Caliber/Gauge:                     .308 Win.
Barrel:                                 18-inch carbon wrapped stainless steel, 1-10 twist
OA Length:                           33.5 inches
Weight:                                7 pounds 2 ounces
Sights:                                 Flat Top Rail
Stocks/Grips:                        BCM Stock and grip
Action:                                 Rotating Bolt Direct Impingement
Finish:                                  Cerakote
Capacity:                              Standard AR 10 Magazine Capacities.
Price:                                    $3,199
Performance:
Load                                                                  Velocity                      Accuracy        
Federal 168 GR Gold Medal Match                          2725                           0.59-inches
Black Hills 175 Grain Match                                   2640                           0.65-inches
Nosler Custom 168 Match                                     2650                           0.60-inches
Hornady 155 Grain AG                                         2700                           0.55-inches
Bullet weight measured in grains, velocity in feet per second (fps) measured using a Magneto Speed V3. Accuracy in inches for three five-round groups fired from 100 yards using a bipod as a rest from behind a bench.