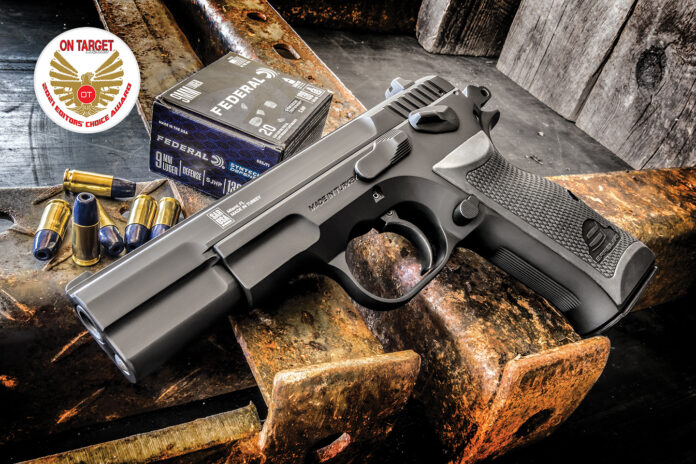 SAR USA 2000 9mm
At under $550 and with time-tested roots, this may be the best deal going today in an all-steel, high-capacity service pistol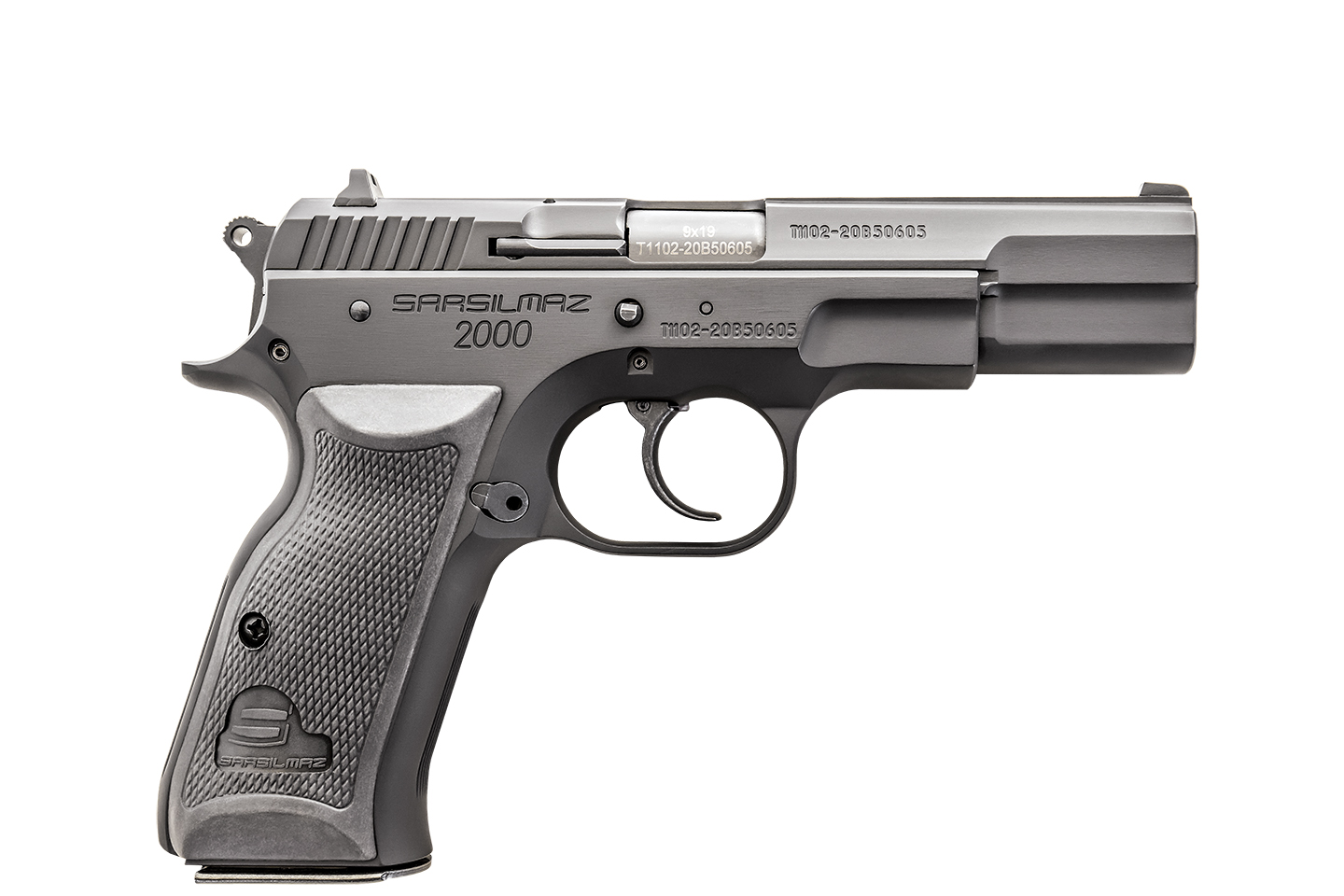 Sarsilmaz may be the most often misspelled (and mispronounced) name in the handgun business. Their guns are manufactured in Turkey, but they ain't no turkeys. I was impressed by their take on the Glock platform, the SAR9, and happily accepted the assignment to test the SAR 2000, which is their clone of the often copied CZ75 selective double-action 9mm pistol.
First, of course, you get the good and bad of the CZ75 design itself. Good: It feels great in most hands. At 36 ounces unloaded, this all-steel 9mm has extremely mild recoil. You have the versatility of selective double action. Bad (for some): the Petter-type slide rides within the frame rails, which gives you less to grab hold of when you activate the weapon; a trigger reach some find too long in double-action mode, and a thumb safety higher than 1911-acclimated shooters might like.
Trigger Pull
The SAR 2000 has a one-side thumb safety which operates whether or not the hammer is cocked and allows slide manipulation even in on-safe mode. More Good Things. This gives us fully five carry options with a round in the chamber. The SAR2000's multiple trigger pull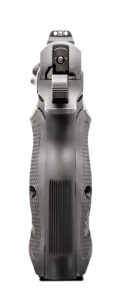 options were tested on a Lyman digital gauge from Brownell's. I normally test from both center and toe (bottom tip) of the trigger with a pivoting trigger design such as this one; the latter gives the lighter pull, but the former is probably more relevant because that's where the shooter's trigger finger usually rests. The sharply curved shape and pointy toe of the SAR 2000 mandated center placement for me. With the hammer fully down in double-action mode, the pull weight averaged 11.21 pounds.
At half cock, the trigger starts only slightly back from the totally at rest position, so we stayed with center placement. Pull averaged 11.5 4 pounds, slightly more than from full hammer down since the shorter pull slightly compromised mechanical advantage, despite length of pull being slightly shorter. Fully cocked to single-action mode, pull averaged 5.75 pounds.
From both hammer-down and half-cock positions, the trigger pull is reasonably smooth and without stacking; that is, resistance does not increase through the length of the pull.  In single-action, there's a short, easily-controlled "roll" before the sear releases and a bit of backlash (continued trigger movement) after the release.  The reset is long but not too long; the very short trigger reset that target shooters like can be conducive to an unwanted additional shot under stress.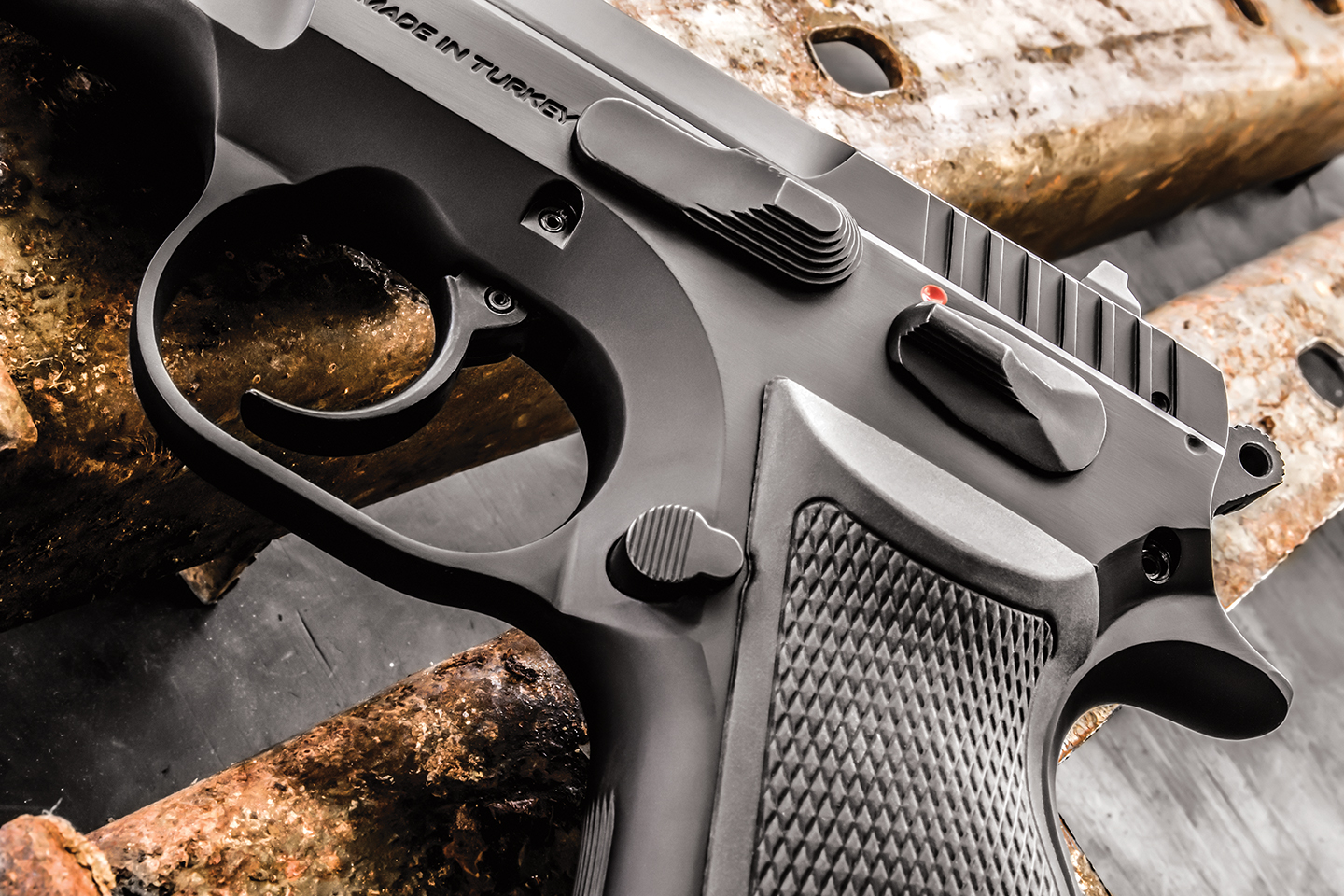 Accuracy
Accuracy testing was done from a two-hand hold with a Matrix rest on a concrete bench at 25 yards. As usual, we tested with the three most popular bullet weights for the caliber. A common rule of thumb holds that five shots in four inches at 25 yards constitutes "acceptable service pistol accuracy." One round we tested, SIG V-Crown 147-grain JHP, did precisely that: 4.00″. The other two were just out by one round each.  Now, the decades have taught me to measure each group once for all five shots and again for the best three; testing showed that the "best three" measurement of a hand-held group would generally predict machine rest five-shot groups with the same gun and ammo, by factoring out unnoticed human error from the bench.
That was true with SAR 2000. Of those five SIG V-Crowns that measured 4.0", four were in 3.15" and the best three, in 1.75", less than half the total group size. The 124-grain load was Federal's full metal jacket American Eagle, which delivered 4.15" for all five, 2.70" for four of those, and an amazing 0.55" including a tight "double" for the best three. 115-grain Winchester "white box" ball hit high left for me, with a 4.75" measurement for all five, but four in less than half of that (2.30") and the best three in 1.85".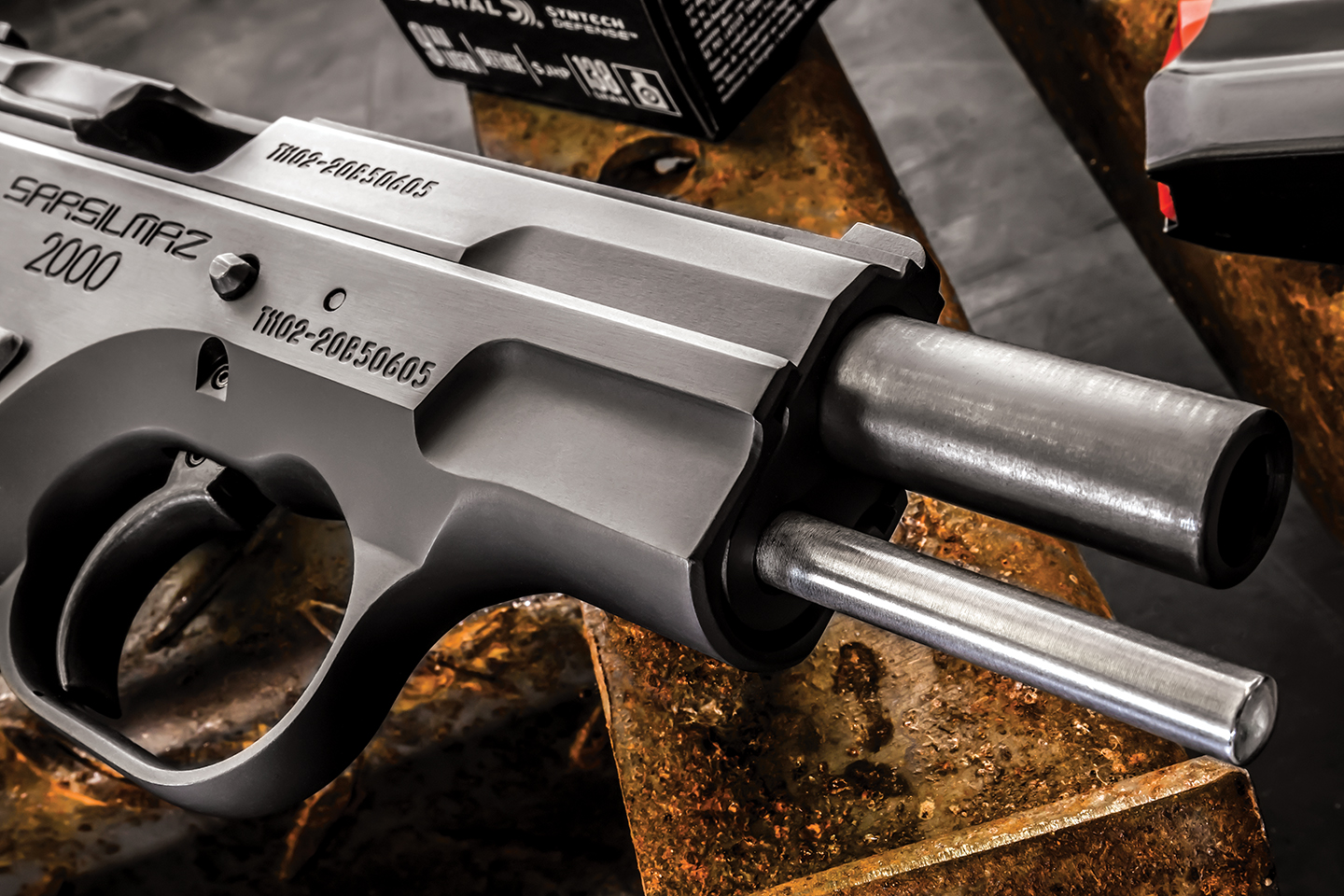 Shootability
I've found over the years that a CZ75 works best for me cocked and locked, and that was true of this clone as well. The gun's weight and configuration made recoil seem almost non-existent, with the sights tracking almost completely straight and coming immediately back on target.
I was pleased to find that each SAR 2000 came with two 17-round magazines. They were easy to fill to full capacity, even without a loading tool, and my arthritic hands appreciated that. The gun and its magazines both ran flawlessly in every respect with ball and hollow-point alike.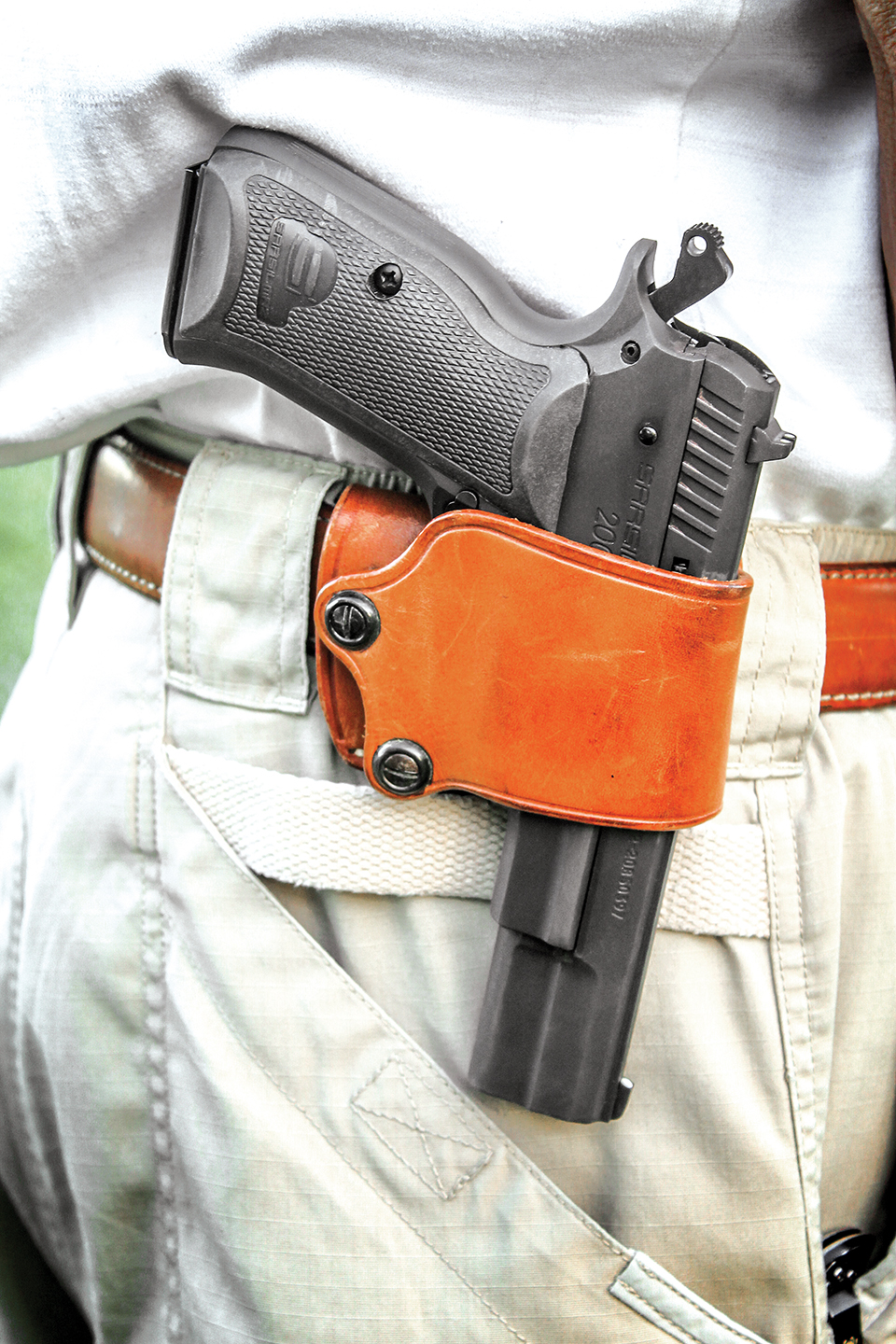 Concealed Carry
The SAR 2000 is a full-size service pistol, all steel, about 35 ounces unloaded. Having carried something similar for most of my life, I had no problem with that. At the end of a day, with the gun on and loaded with the 147-grain SIG V-Crown, I found no discomfort and no sharp edges or chafe points on the gun itself in a Galco Yaqui Slide holster. Bottom line? At under $550 for the test gun and right at $570 in stainless, the SAR 2000 is an excellent value in today's market. See the complete SAR line at your nearest dealer, or for more info., contact SAR USA; Tel.: (833) 727-4867; Web: www.sarusa.com—Massad Ayoob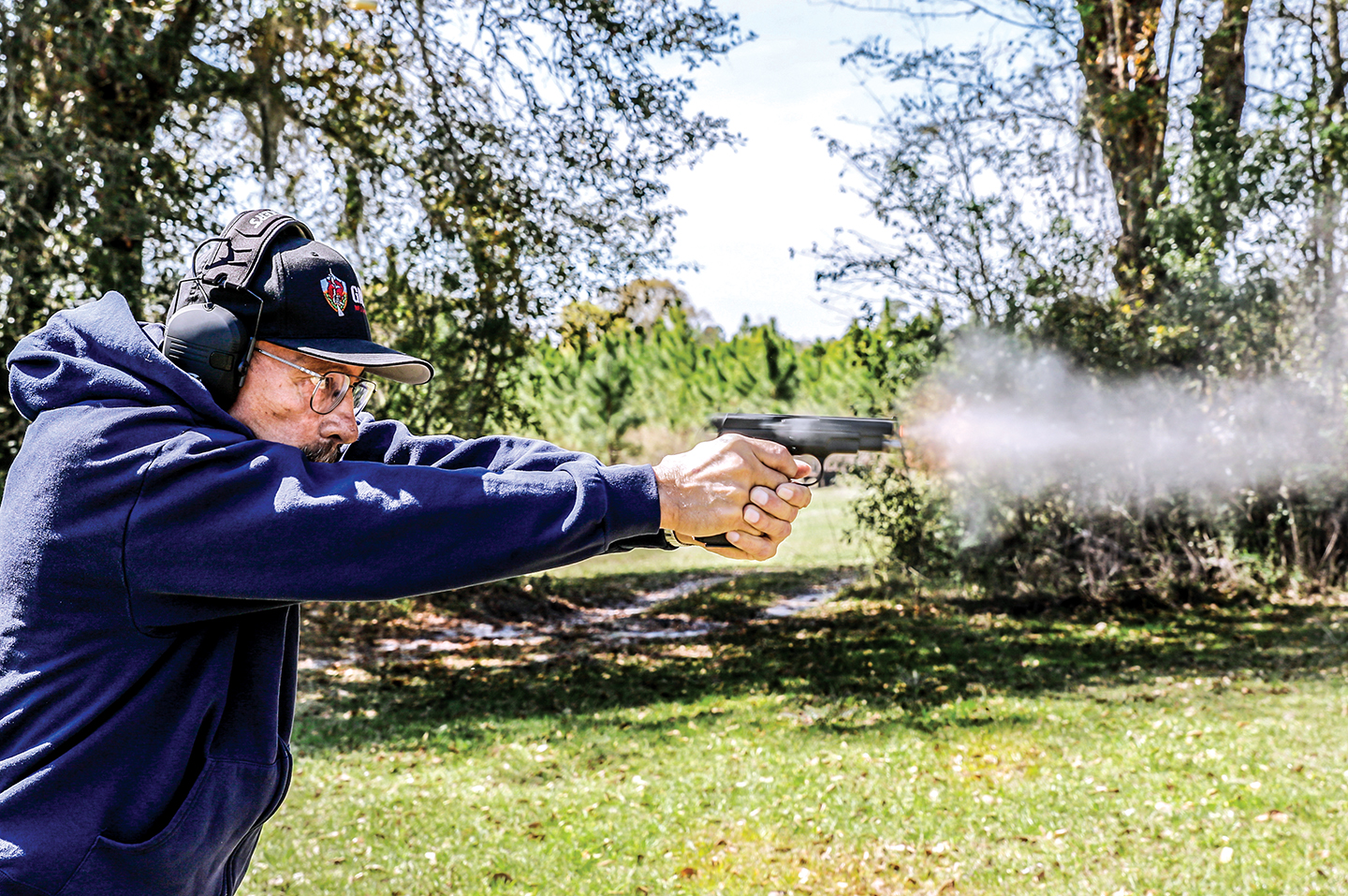 Specifications:
Weight:                                   35.20-ounces
Overall Length:                        8.0-inches
Barrel Length:                          4.50-inches
Frame:                                    Steel
Sights:                                    White dot front, fixed white dot rear
Magazine Capacity:                  17+1
Retail Price:                            $549.99