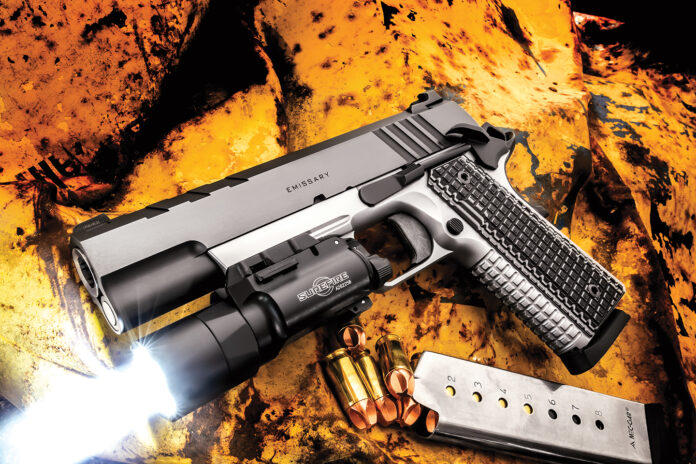 Springfield Armory Emissary 1911
By: Guy Coursey
A custom 1911 for a non-custom price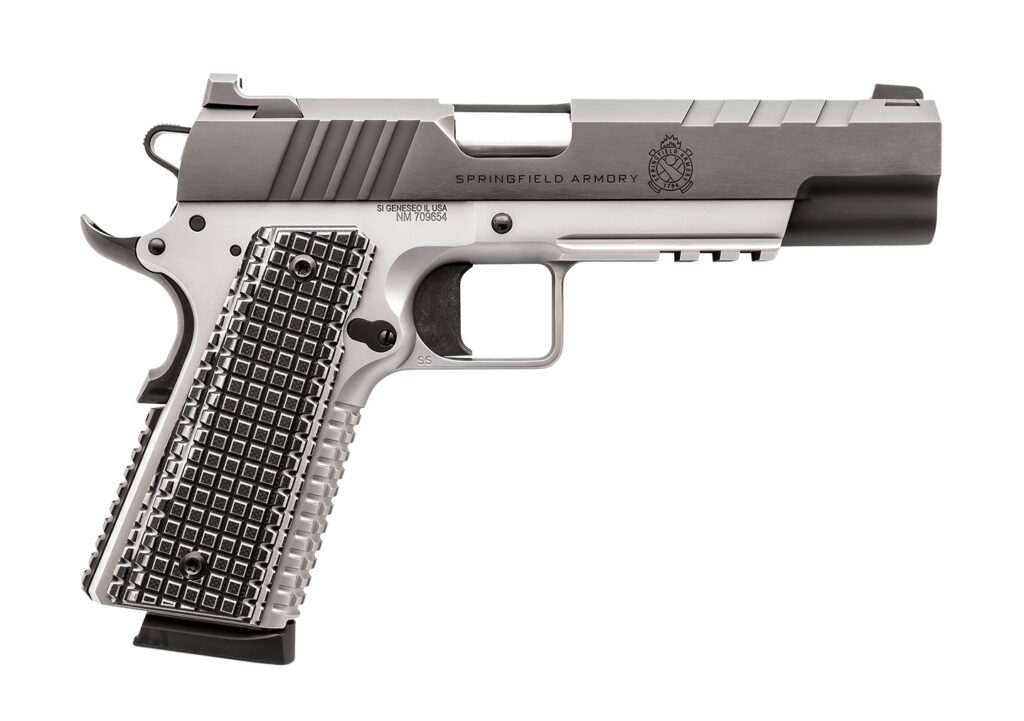 "Well, that is interesting," I said as I opened the case containing my new .45 ACP Springfield Emissary 1911 pistol. In the over 110 years since John Browning developed what is arguably the most enduring handgun design on the planet, the 1911 has seen a lot of variations. These basically fall into three categories: stock, custom, and semi-custom. It used to be one had something approaching the stock version, which closely resembled the military 1911 made famous by American GIs in battle before the 1980s. Or, if you were a competition shooter and were willing to spend the money, you had a 1911 customized by a competent gunsmith. The stock 1911 was reasonably reliable but not especially accurate. The custom 1911 was accurate but often not especially reliable due to very tight tolerances. In the past few decades, though, the semi-custom 1911s have come to dominate. These come from the factory with many custom features for a less-than-custom price. Most of these features are similar, and thus in many ways, different copies of these guns often look similar. The Springfield Emissary, however, does not. It is unusual. It is distinctive. While not Springfield Armory's first foray into the field, I will say it breaks the mold for the semi-custom 1911. Let's take a brief look at exactly what makes it so interesting.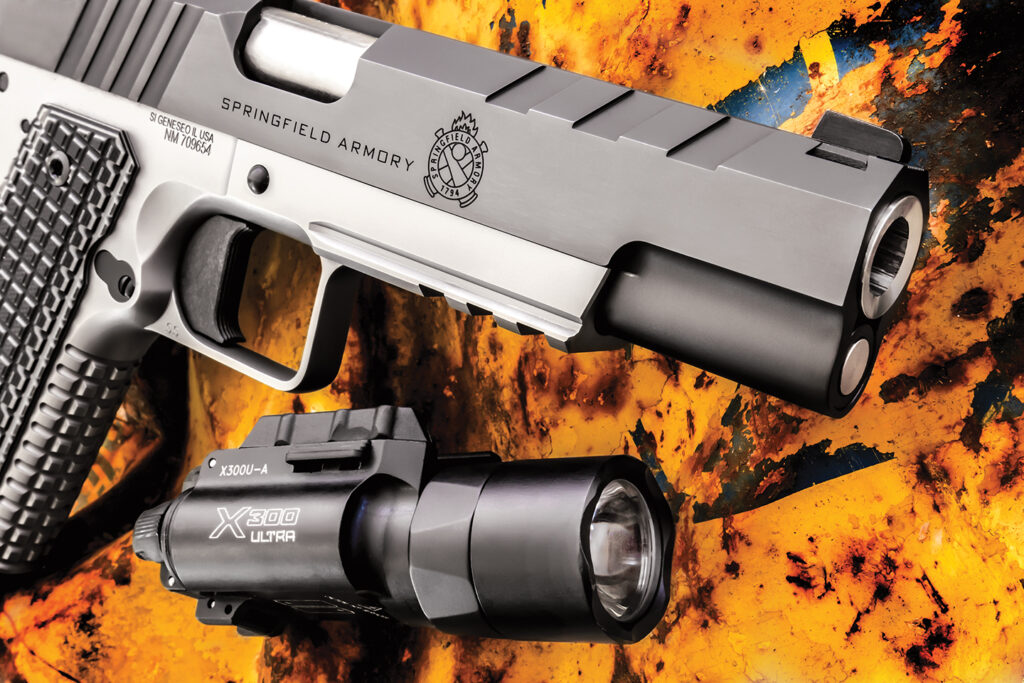 The Springfield Emissary has many distinguishing features that are apparent at first glance. To start, it has a stainless-steel frame with a nicely blued slide for an attractive two-tone finish. Both the slide and frame are forged vice cast, making the metal more dense and generally more durable. The next thing that distinguished the pistol for me were the angular lines of its slide and frame. Most 1911s have rounded beveled edges along the top corners of the slide, as well as a curved trigger and trigger guard. The Emissary, however, has a "tri-top" with slide edges that are squared to about 45 degrees, meeting up with the top of the slide that is itself flat with serrations cut to minimize glare. The front and back of the slide have three wide but shallow grip cuts. The trigger is flat and sits in a trigger guard, which is squared versus rounded off. An accessory rail flairs out forward of the trigger guard and requires the use of a 1911 holster which will accept a rail. In addition, Springfield Armory added slimline VZ G10 grip panels in a "grenade" pattern, which matches the same pattern forged into the front strap and mainspring housing of the frame. This adds significantly to the already distinctive look, in addition to being very effective at adding grip traction under recoil. The slide is topped with Springfield's excellent "U" notch sights, like those found on the Hellcat. The dovetailed front sight is an HD-type with a tritium lamp surrounded by a yellow ring, which fits into a rear "U" defined by a white outline. The rear sight is cut at an angle to aid in manipulating the slide on a belt, corner, or other hard surface when the shooter has only one hand available.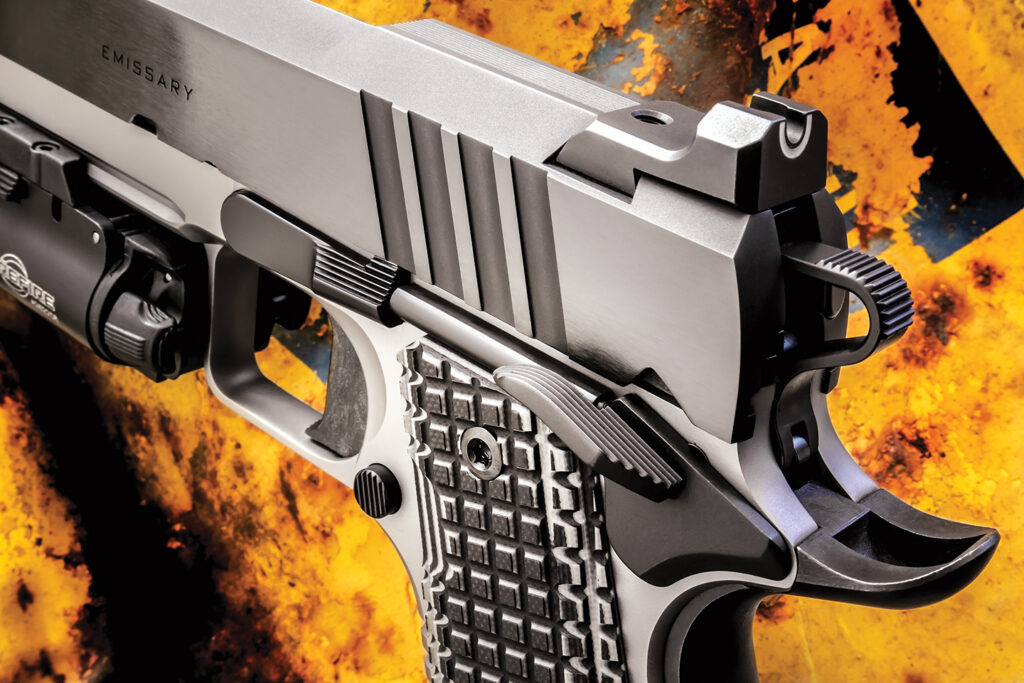 Rounding everything out, the Emissary's hammer is a hollow "Commander" version that mates nicely with a beavertail grip safety that includes a memory notch. It also has a gas-pedal type thumb safety for right-handers only. I would have preferred an ambidextrous setup, but since I am not wrong-handed, it was not a real issue. The magazine well is slightly beveled, which fed and ejected magazines easily. The bull barrel requires no bushing and is crowned to aid in accuracy. Takedown is accomplished in the usual manner of almost all 1911s, until you get to the recoil spring and full-length guide rod, which requires using a small L-shaped metal pin to capture the guide rod and remove it with the spring and sleeve. The pistol comes in a small nylon case with the SA logo, and included are two 8-round Mec-Gar magazines, a gun lock, a takedown pin, and a user manual.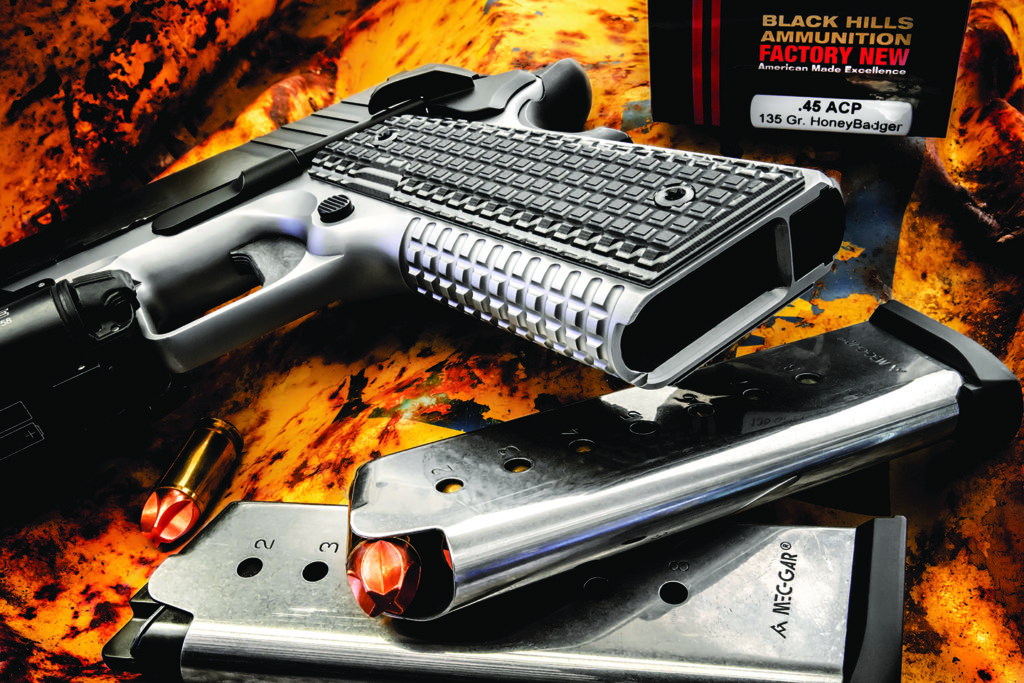 Heading to the range, I was curious to see if the Springfield Armory Emissary's good looks would translate to a good shooting experience. Before I get to the details, in the interest of full disclosure, I will admit upfront that I am not a true "1911 guy". I own 1911s, I have shot 1911s, and I like 1911s. I will never disparage 1911s, lest the noble spirits of John M. Browning, Jeff Cooper, and other demi-gods send bolts of lightning to punish me for my sacrilege. But my personal preferences generally tend towards striker-fired pistols, and some of my experiences with 1911s have not all been entirely positive. So, I was very pleased to find the Emissary shot like a dream. I believe this was due to three main factors. First was the trigger, which broke cleanly and consistently at 4.4 pounds after a very short take-up. Second, the Emissary is a heavyweight at a hair over 2 pounds, 10 oz empty.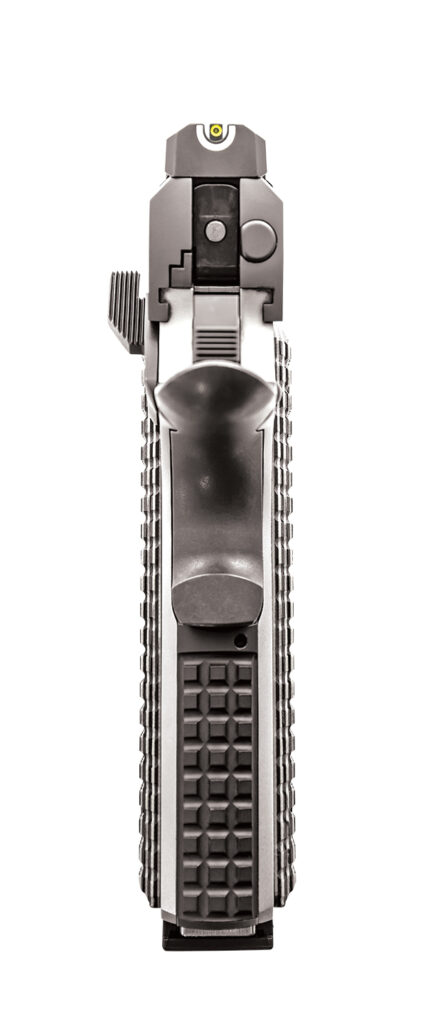 Though not optimal for carrying around long periods, it was great for controlling recoil. Lastly, the Emissary's tolerances are very tight, which, combined with its bull barrel, lends to improved accuracy. Preparing for range time, I was slightly dismayed to discover that I had a limited selection of new factory-loaded ammo but quite a bit of bulk factory re-loads acquired sometime in my distant, pre-Covid past. I, therefore, started testing by warming up with practical shooting drills out to 15 yards on steel, plate racks, and IDPA targets with the re-loads. Practical accuracy was excellent, with the big yellow dot of the front sight and the U-notch rear an aid to quick acquisition. Recoil was there but totally manageable, aided by the aggressive gripping surface. Having put a serious dent in my re-loaded ammo, I transitioned to accuracy testing with three 5-shot groups at 15 and 25 yards per load from the bench. I had three factory loads available for this phase: Blaser Brass 230-gr. ball, Hornady 185-gr. Zombie with synthetic tip and Speer 230-gr. Gold Dot Hollow Point (GDHP). At 15 yards, each load grouped five rounds into an average of 1.25-inches center to center, just left of the POI using the tip of the front sight. At 25 yards, the groups opened a bit as expected, but not much. In virtually every case, I had one called flyer, so I used the best four shots from each group as my metric. The four-shot groups averaged about 2.5 inches across the board, with honors going to the Speer 230gr GDHP, which placed all five into a group of 2-inches once I really got my act together. Mind you, this was with a pistol mounting practical pistol versus target sights. Reliability throughout all phases of testing was flawless, and the memory notch always managed to de-activate the grip safety no matter how the pistol was utilized.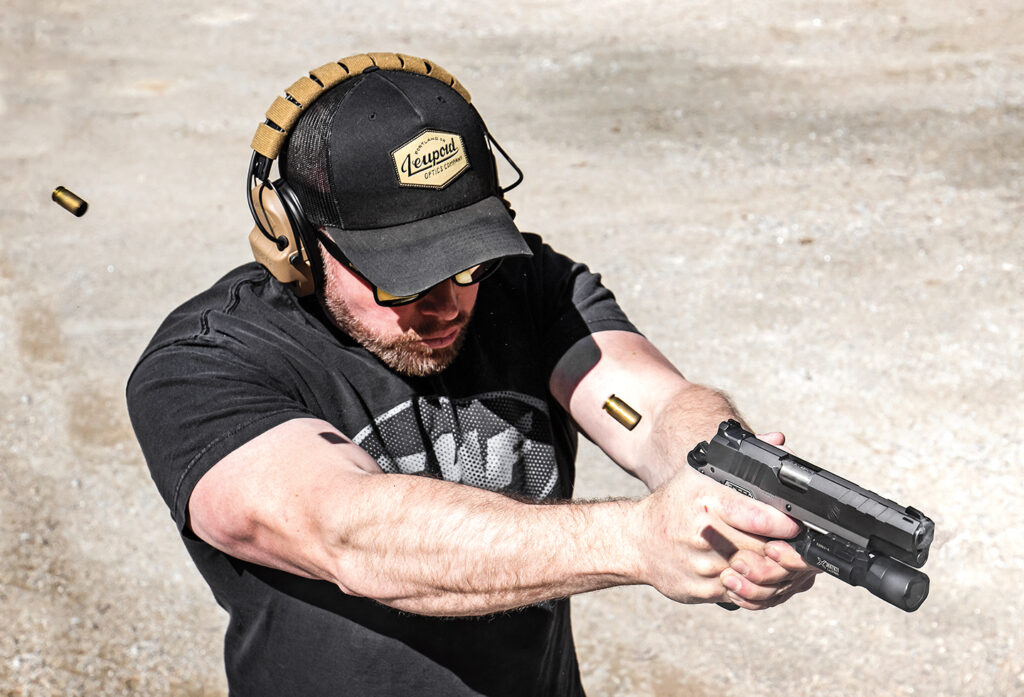 The Springfield Armory Emissary is essentially a custom 1911 for a non-custom price. It breaks the mold for semi-custom 1911s. Its distinctive looks are complemented by first-rate accuracy and reliability. The Emissary is a pistol that will outshoot most of its operators, and it will make some question why they would spend thousands more on a 1911 from a true custom manufacturer for a pistol that may not even shoot as well. The 5-inch version of the Emissary is listed for $1349 on the Springfield Armory website, which I think is not only reasonable but a bargain. If you want to cut down a bit on weight and length, a 4.25-inch Commander version is also available, as is a version in 9mm. All are suitable for range, competition, or self-defense applications. See them in person at your nearest dealer, or for more information, contact Springfield Armory; Tel.: (800) 680-6866; Web: www.springfield-armory.com.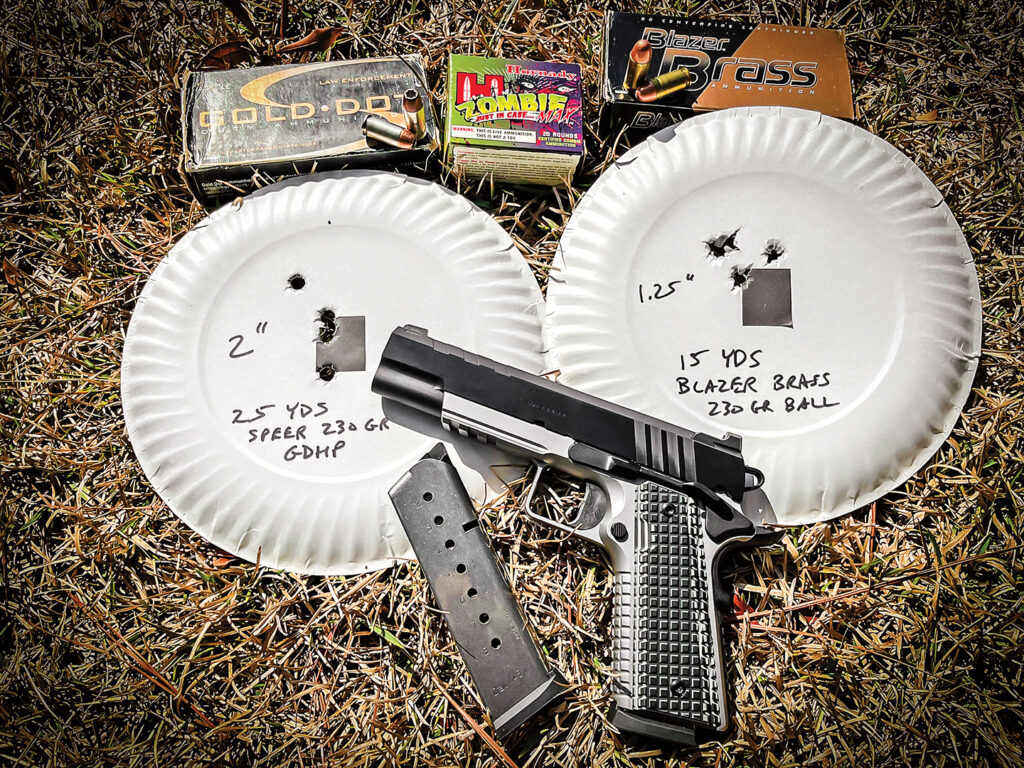 ---
Specifications:
Action:                                   Single-action, hammer-fired
Caliber                                   45 ACP
Barrel Length                          5-inches
OAL:                                      8.4-inches
Weight:                                  40-ounces (empty magazine)
Capacity                                 8+1
MSRP                                     $1,349.00
---