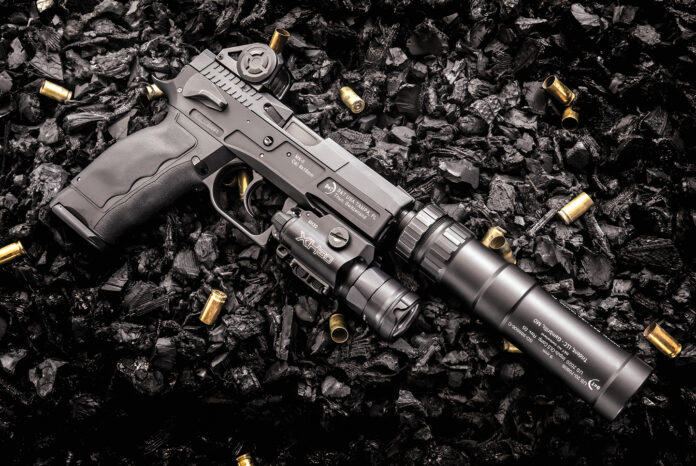 B&T Impuls-OLS Compact Suppressor
By: Ben Battles
Light, tunable, and born from Swiss-precision lineage
As a great scholar once opined, it's not that America is the best country in the world, it's that the others just aren't as good. America is great at many things; everything relating to war being one of them. As such, we've exported cutting-edge weaponry to our friends on other continents to help them with their own efforts. While American ingenuity typically overshadows its competitors in this space, they aren't the only ones successful at producing advanced small arms. One company that has earned a strong reputation — namely for producing and supplying most European NATO countries — is none other than Switzerland-based B&T.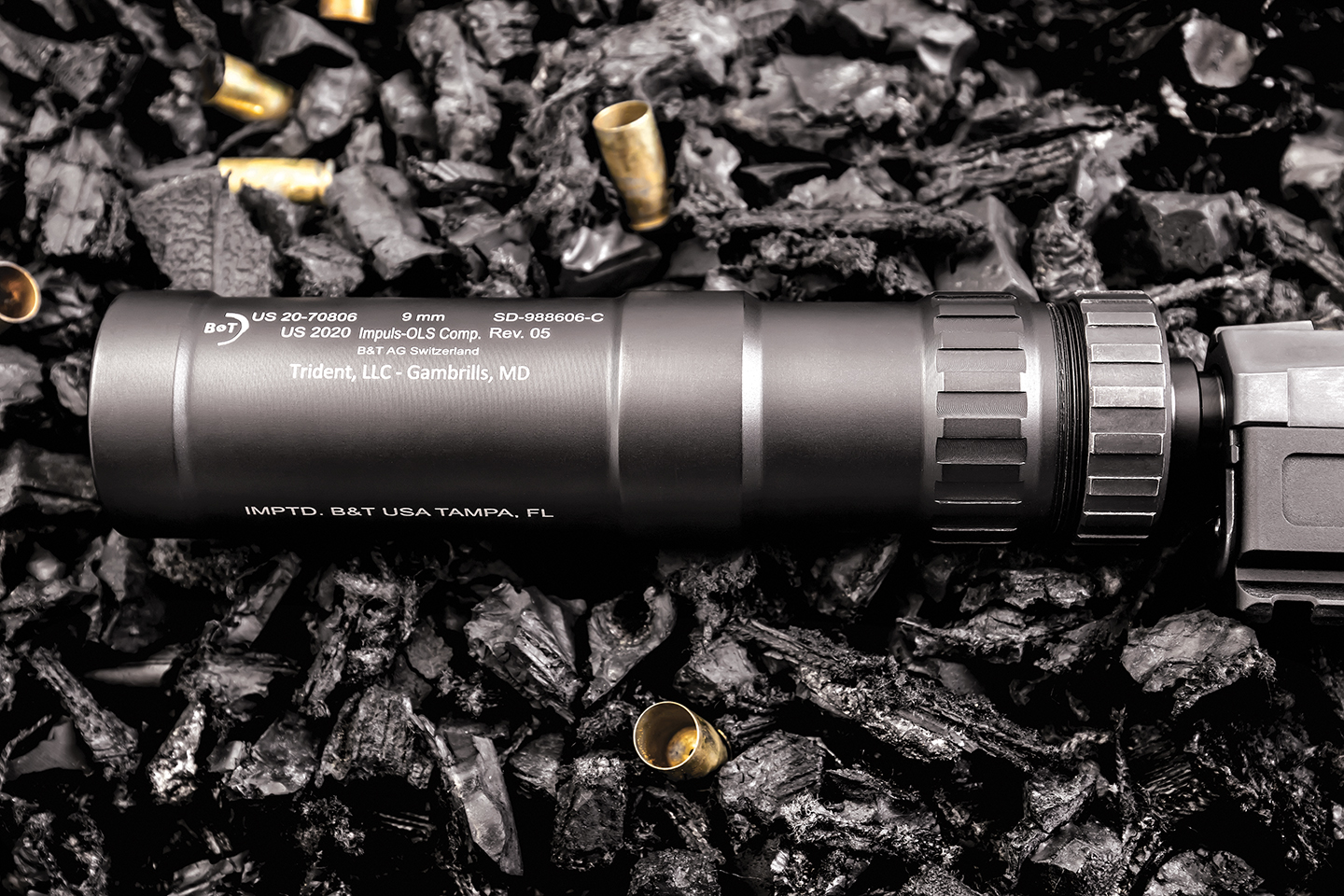 Formerly known as Brugger and Thomet, B&T has been extraordinarily successful within many segments, and producing top-performing suppressors (since 1991) is one of them. In fact, it has become one of the largest suppressor manufacturers in the world. B&T has also become the OEM suppressor manufacturer of choice for most of Europe's small arms manufacturers, to include HK, FN, CZ, Glock, Beretta, and many others. B&T even developed the suppressor for HK's famed MP5SD, which is the gold standard of suppressor performance all others are judged against.
During SHOT Show 2022, B&T announced that it was bringing its vast suppressor technology to the United States. To do so, B&T stood up a US-based manufacturing facility stocked with the same CNC machines and programming used in Switzerland, Swiss-trained and mentored operators, and the US facility even imports all of its raw materials from the same Swiss suppliers B&T AG contracts with. The result is a 1:1 clone of the Swiss-produced suppressor whose parts, we're told, are seamlessly interchangeable with one another. To our knowledge, B&T is the only foreign company to successfully accomplish this feat with its US-based subsidiary. Color us impressed. So why did B&T set up the manufacturing facility, you may ask? The reason is simple; imported suppressors may not be sold on the commercial market, per import restrictions put in place by the United States.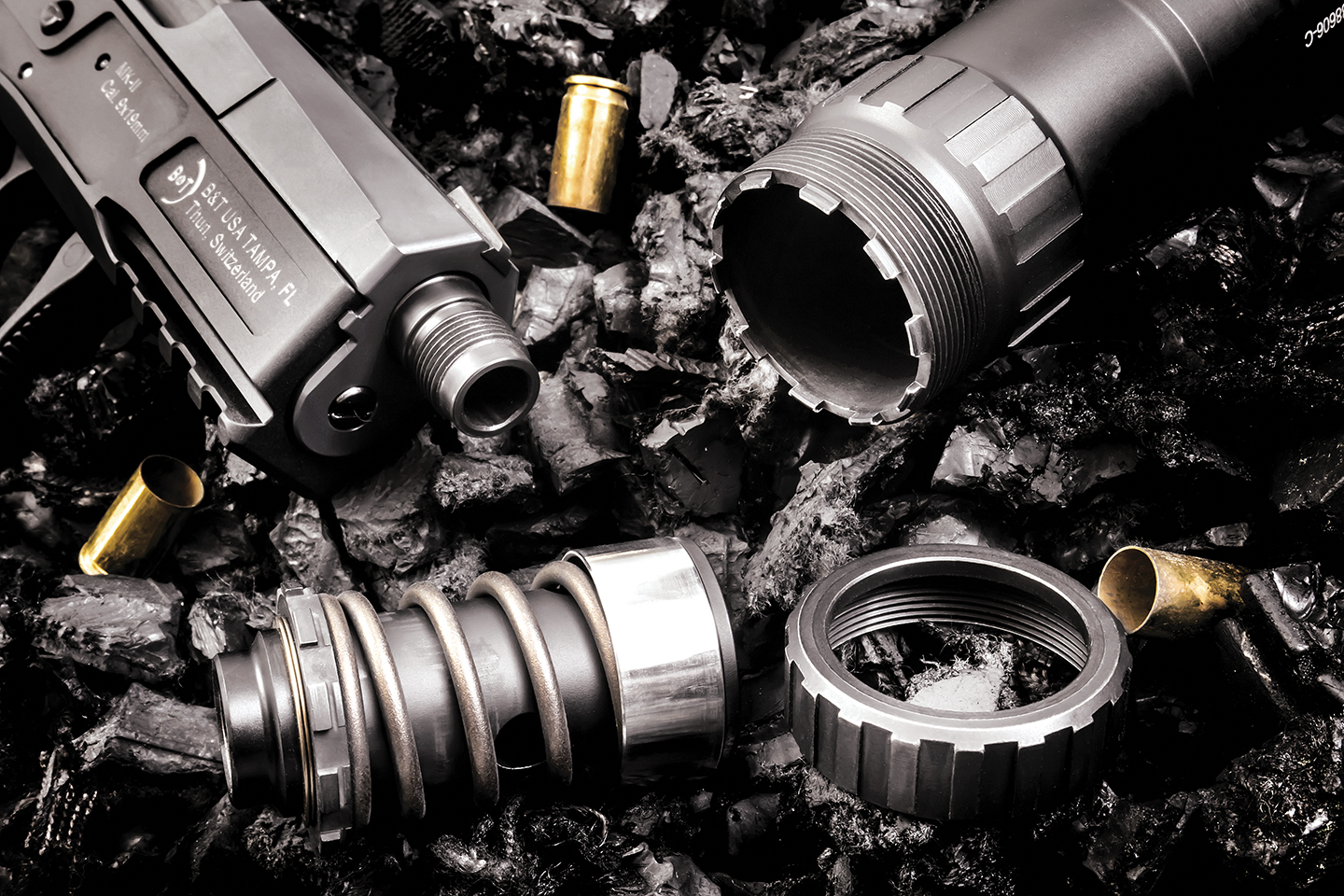 We got our hands on B&T's Impuls-OLS Compact 9mm suppressor for review. OLS is a tongue-in-cheek acronym for Our Lightest Suppressor and is based upon the company's wildly successful Impuls-IIA suppressor, just 4 ounces lighter. A variation of the Impuls IIA — the Impuls IIP — was just adopted by the French Military, who purchased a staggering 75,000 units to pair with their new Glock 17 pistols. Reliably suppressing a Glock pistol — especially for military use — is no small accomplishment, which speaks volumes about B&T's pistol suppressors. We also understand the only suppressor authorized by Glock for use on their pistols are those produced by B&T.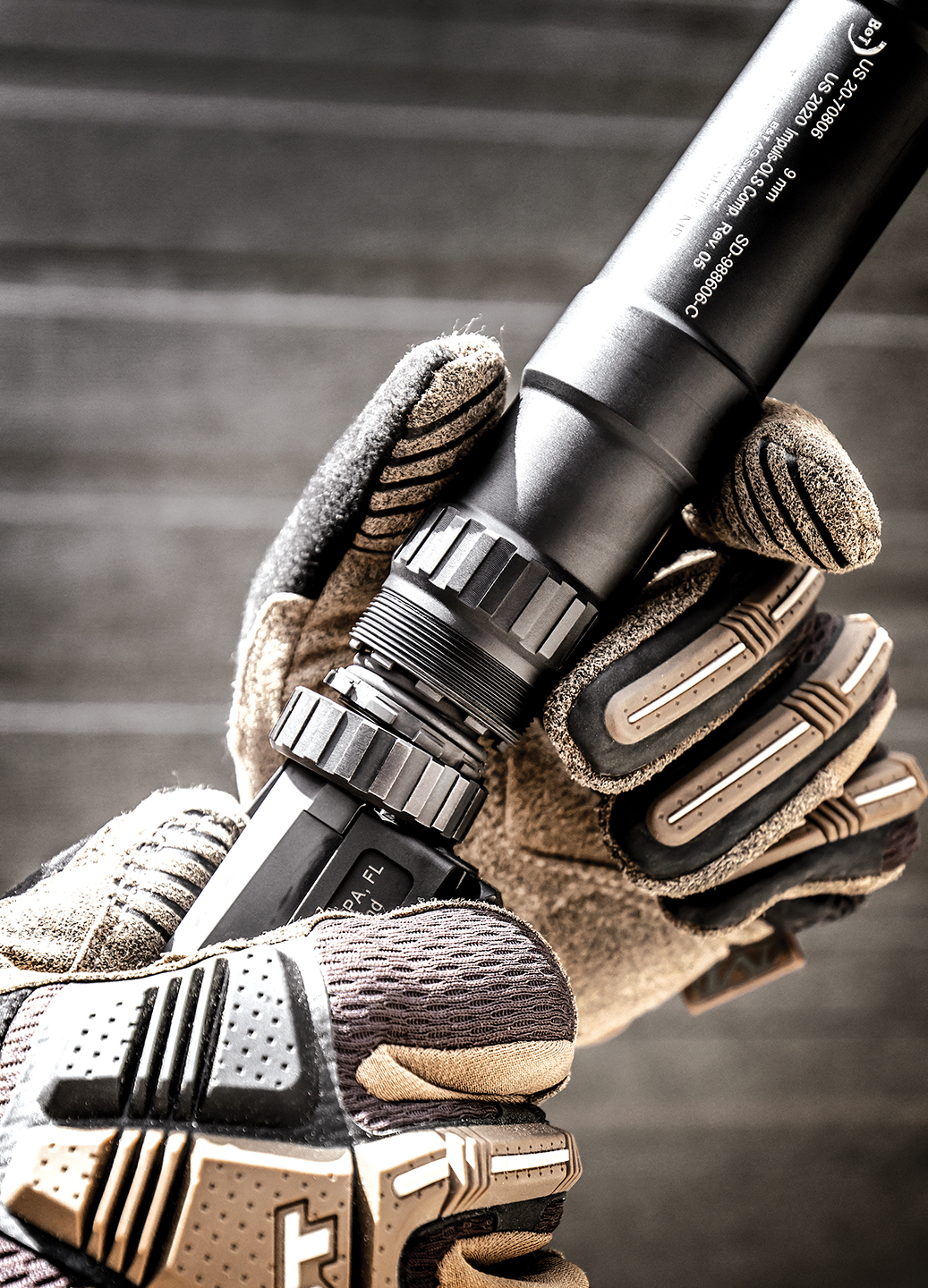 The Impuls-OLS was designed to offer users a high-performance suppressor that delicately balances minimal size and weight while still offering substantial sound reduction. It's available in both full-size and compact (shown) models, the latter of which is just 5.9-inches in length and tips the scales at only 7.4 ounces.
The OLS has proven 100-percent reliable on a number of pistols that have not had a stellar past with other manufacturer's cans, which is a testament to B&T's design. One of the features we really appreciate about the OLS is the ability to adjust the point of impact of our rounds on target by simply clocking the suppressor on its mount and turning it in the direction we wanted our rounds to impact — pretty cool! The Impuls-OLS is currently available in the ever-common 1/2×28 and 13.5×1 LH thread pitches to cover the majority of 9mm threaded barrels out there. If you're in the market for an ultra-lightweight, ultra-compact, and ultra-reliable pistol suppressor, look no further than the Impuls-OLS Compact ($675.00). Check out the complete line of B&T suppressors and firearms at your nearest dealer, or for more information, contact B&T USA; Tel: (813) 653-1200; E-mail: [email protected]; Web: www.bt-usa.com.