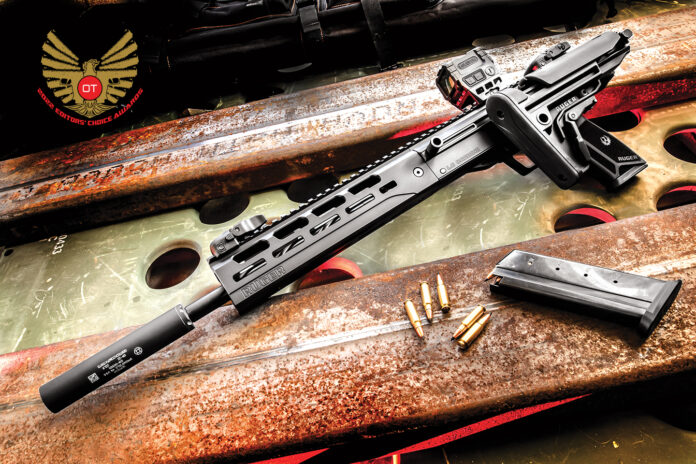 2022 Editors' Choice Award Winning
Ruger 5.7 LC Carbine
By: Dave Bahde
Ruger comes through for 5.7x28mm fans … again
I have been a fan of the 5.7x28mm cartridge since first testing it in an FN P90 for my SWAT team. Fast, easy to shoot, and with very little recoil, it's easy to stay on target during rapid fire. With the 5.7 x 28mm experiencing a bit of a rebirth over the last few years, the ammunition choices are much better, with varmint, self-defense, and practice loads now readily available. The outer dimensions of the cartridge allow for a higher capacity in a typical magazine size. The standard capacity is 20 rounds in the most popular pistols, including Ruger's newer 5.7 pistol. With its growth in popularity, the 5.7 many have clamored for is a small and lightweight carbine that won't break the bank, and Ruger has done right by 5.7 fans with the new LC Carbine. The Ruger LC is compact, lightweight, and packed into a folding stocked chassis with a 16-inch barrel and M-LOK compatible handguard. It may be the perfect "truck gun" for many shooters.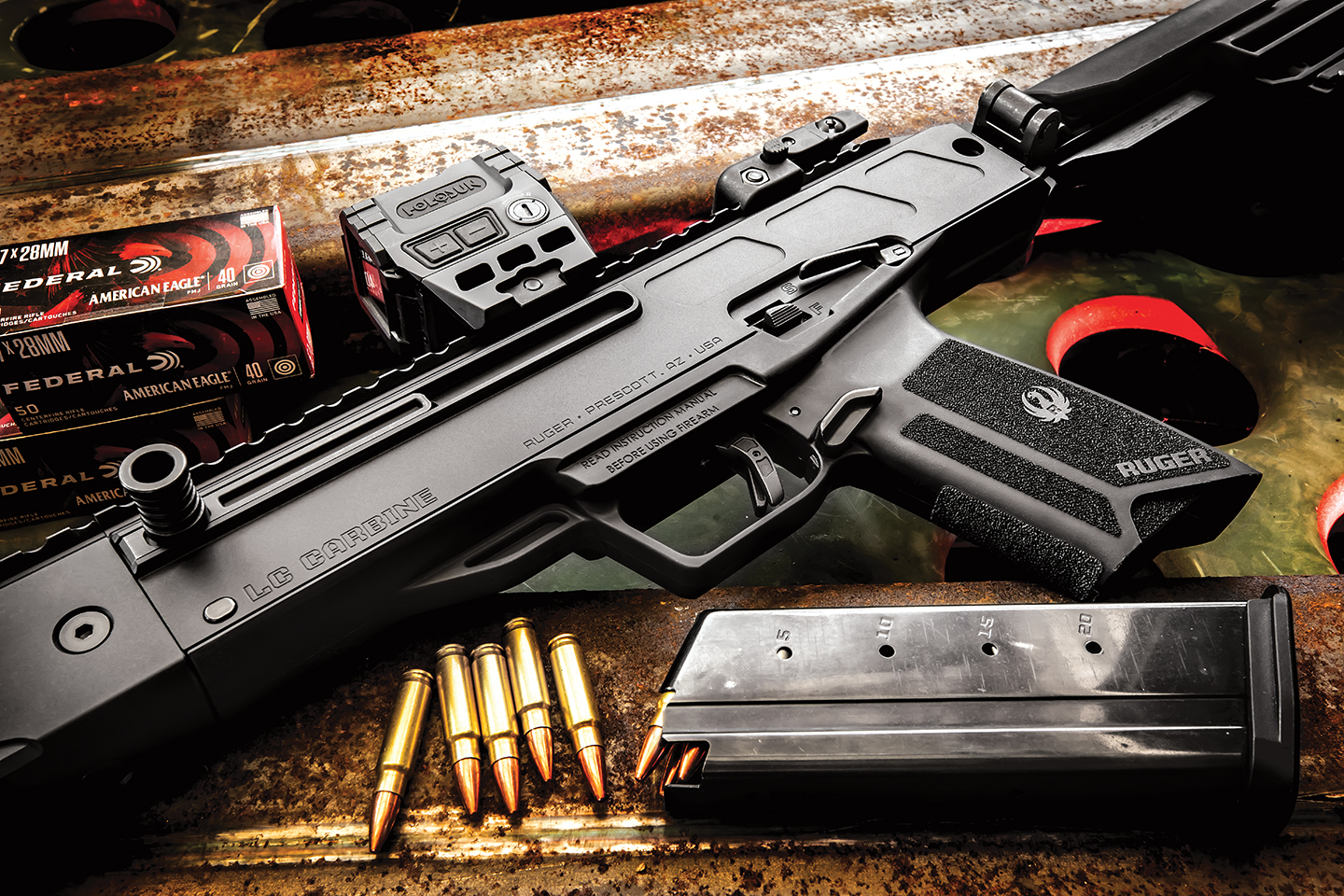 Ruger LC Carbine
Following the success of their 5.7 pistol, Ruger was almost immediately asked when they would come out with a rifle version. Well, it did not take long, and the Ruger LC carbine is brilliant — especially if you are a current fan of the 5.7 x 28mm cartridge. Ruger started by using their proven metal 5.7 pistol magazines, keeping the feed source lightweight and compact yet allowing for a 20-round capacity. Having tested these extensively in the pistol, I know they are as reliable as the original polymer version and also more affordable. They dropped it into a slim chassis system utilizing a reversible folding stock that is adjustable for length of pull and compatible with both AR and Picatinny rail-style aftermarket stocks. The carbine's fluted barrel is 16.25 inches long and threaded to 1/2×28 at the muzzle to accept a sound suppressor. Its safety lever is ambidextrous, and the controls are modeled after their 5.7 pistol. A bolt-style charging handle is found on the left-hand side. The package comes with a set of polymer Ruger Adjustable Rapid Deploy sights and a single 20-round magazine.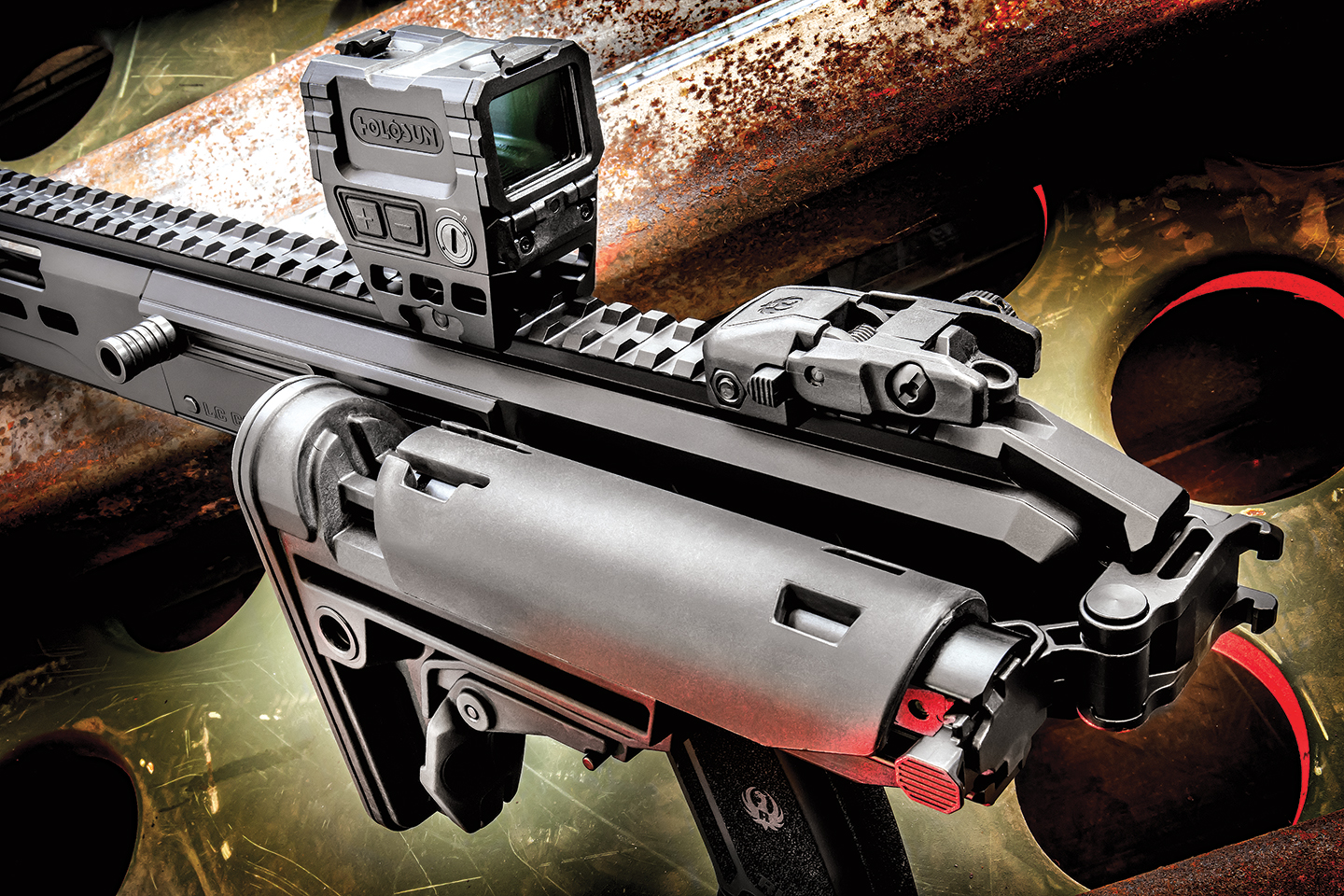 Range Time
Most of the testing was completed using Holosun's new AEMS red-dot optic and an X2 DevGroup Artemis X suppressor. Designed as a rimfire suppressor, the Artemis X uses a flow-through design and is rated to 5.7mm by the manufacturer in "reasonable" amounts. Built from Titanium and aluminum, it weighs 5.5 ounces. Having all but torture tested this suppressor with the Ruger 5.7 pistol and FN57, it has held up very nicely to my abuse.
Accuracy was excellent with the LC at 25 yards using the FN blue-tipped FS197SR "Sporting Cartridge" load using a 40-grain Hornady V-Max bullet, with my best group being in the one-inch range. While doing a bit of varmint control in central Utah, it proved fast, flat, and devastating on small varmints. Velocity on the FN load is over 2000 fps, making it very effective on smaller critters. The Federal American Eagle load is close to the same velocity but even softer shooting; recoil is extremely minimal and controllable with both. Load up some of the excellent Elite Ammunition loads, and this platform would be effective on some larger varmints or for self-defense. Recoil is noticeable with this ammo, with loads like the DevastaTOR making nearly 3000 FPS out of the LC Carbine's 16.25-inch barrel. Elite specializes in the 5.7 and offers everything from varmint to protection loads, even subsonic.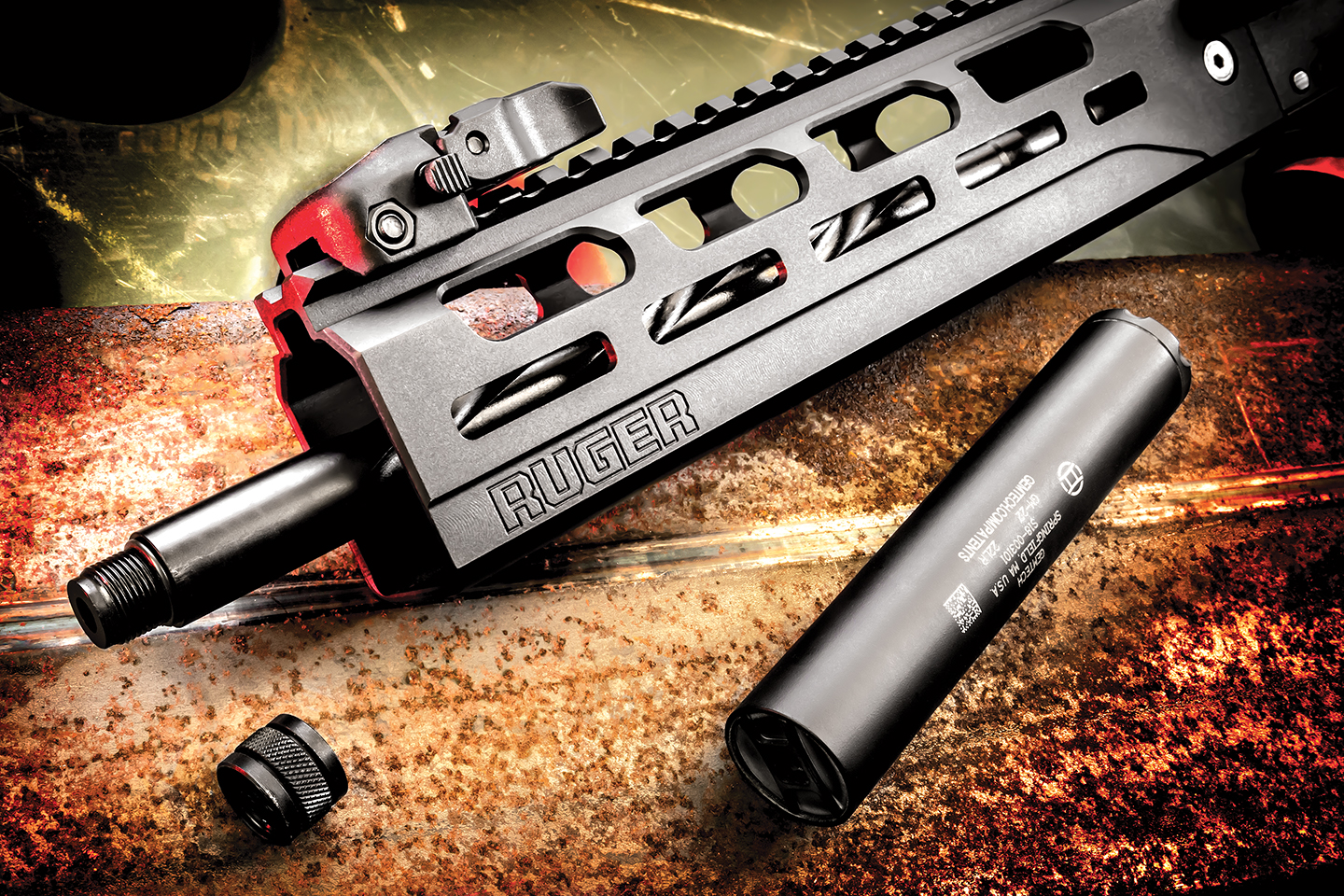 Bottom Line.
If you have a Ruger 5.7 pistol, this will feel the same, just with less recoil, more comfortable to shoot, and have greater accuracy potential with its increased points of contact. Above all else, however, it's just a riot to shoot and an excellent platform for new, younger and seasoned shooters alike. Suppressing the LC Carbine adds to the fun level — just make sure your suppressor is rated for this caliber, as the pressure of the 5.7 is substantially higher than a rimfire cartridge. Most 5.56mm suppressors will work just fine. If you are looking for a fast, light, and fun-to-shoot carbine, this Ruger LC should be very high on your list. See one at your nearest dealer, or for more information, contact Ruger; Tel.: (336) 949-5200; Web: www.ruger.com.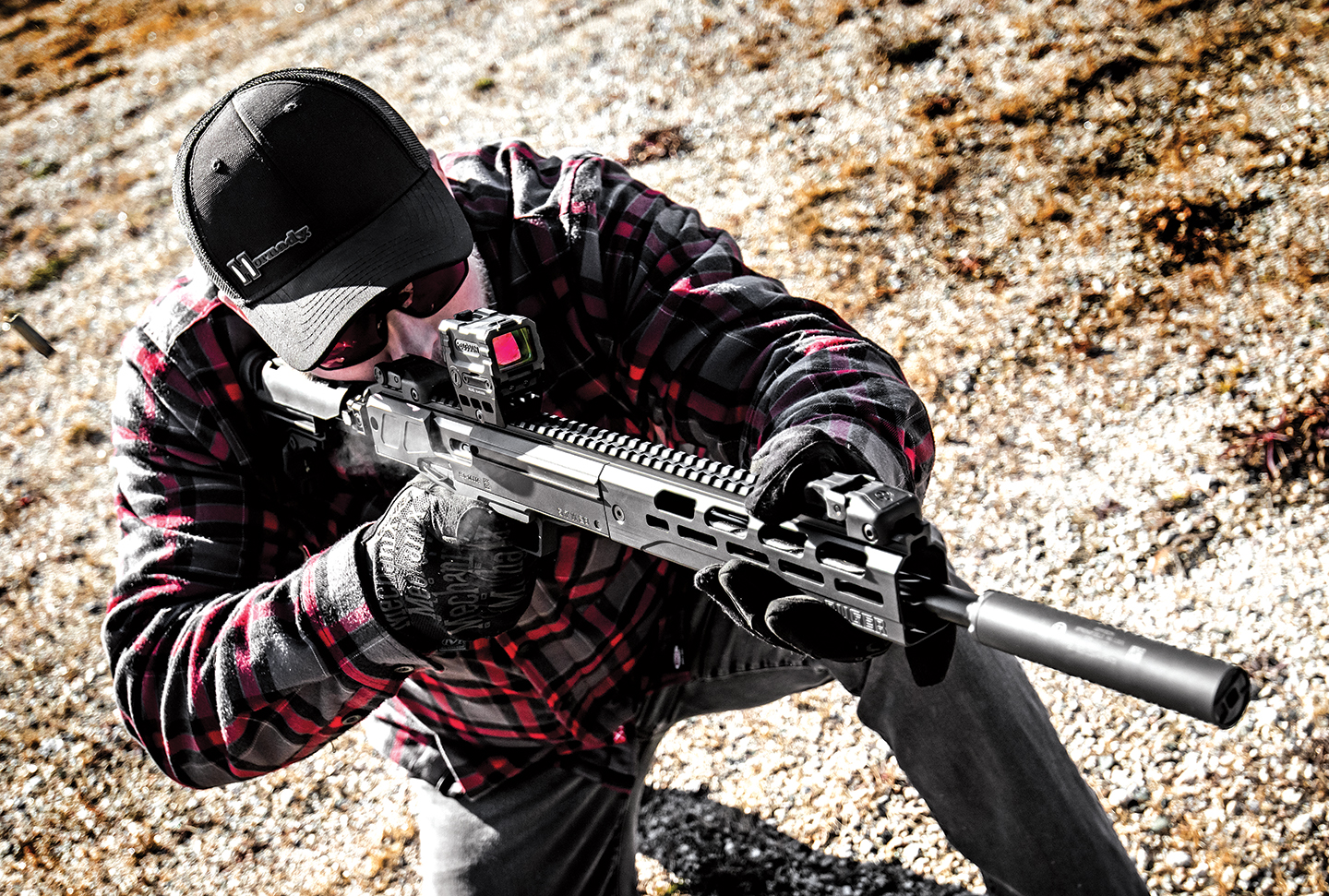 Specifications: Ruger LC Carbine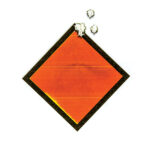 Action:                      Secure Action Hammer Fired
Caliber:                     5.7 x 28mm
Barrel Length:           16.25 inches
OAL:                         22.75 inches folded,30.60 inches extended
Weight:                     5.9 pounds
Capacity:                  20 Rounds                                           (Accepts Ruger and FN 5.7  magazines)
Sights:                     Folding/adjustable
MSRP:                      $979.00