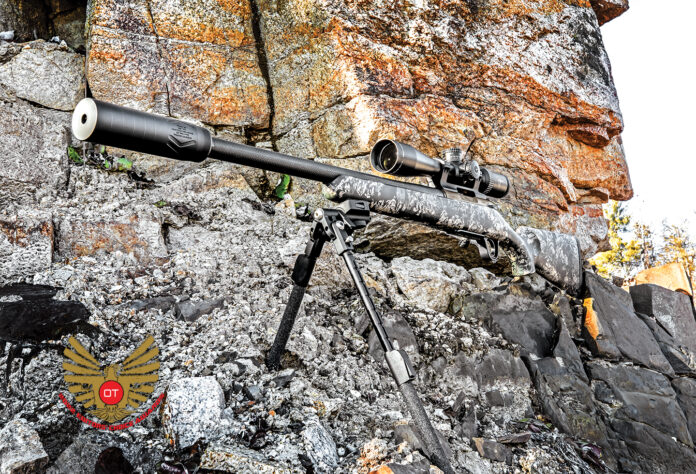 Christensen Arms Ridgeline FFT Rifle
By: Mike Dickerson
The newest version of the Ridgeline rifle is a tack-driving, lightweight wonder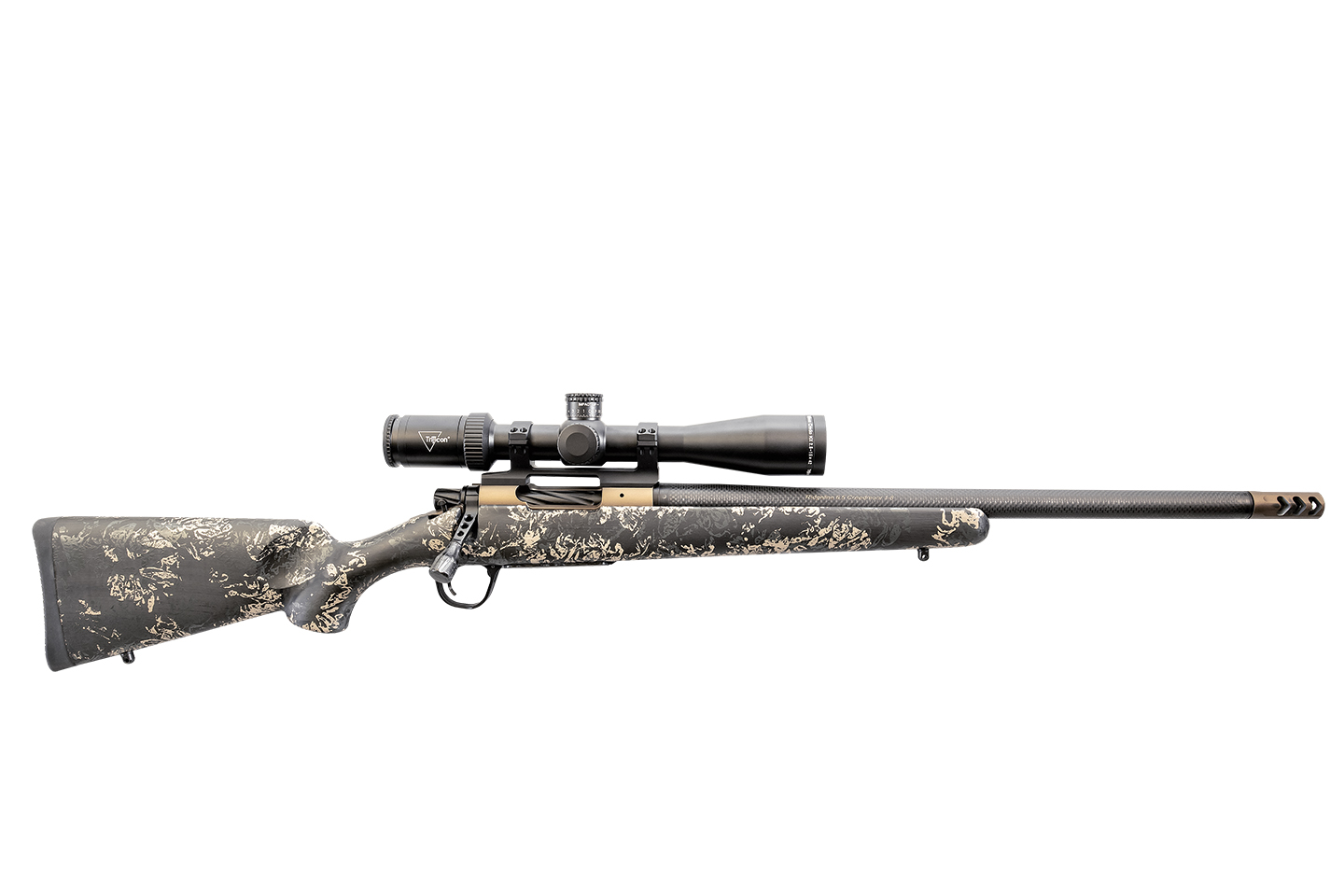 With rifles, the words "lightweight" and "accurate" don't always go together. They do with the Christensen Arms Ridgeline FFT, a new version of the Ridgeline rifle that delivers superb accuracy in a go-anywhere package tipping the scales at a mere 5.3 pounds. That's why the FFT has earned our Editor's Choice Award.
The FFT, which stands for Flash Forged Technology, features a new carbon fiber stock design that uses monocoque or "single-shell" construction, similar to that employed in race cars, in which a thin but strong external skin supports the structure. As a result, the Ridgeline FFT is a full-pound lighter than the standard Ridgeline rifle.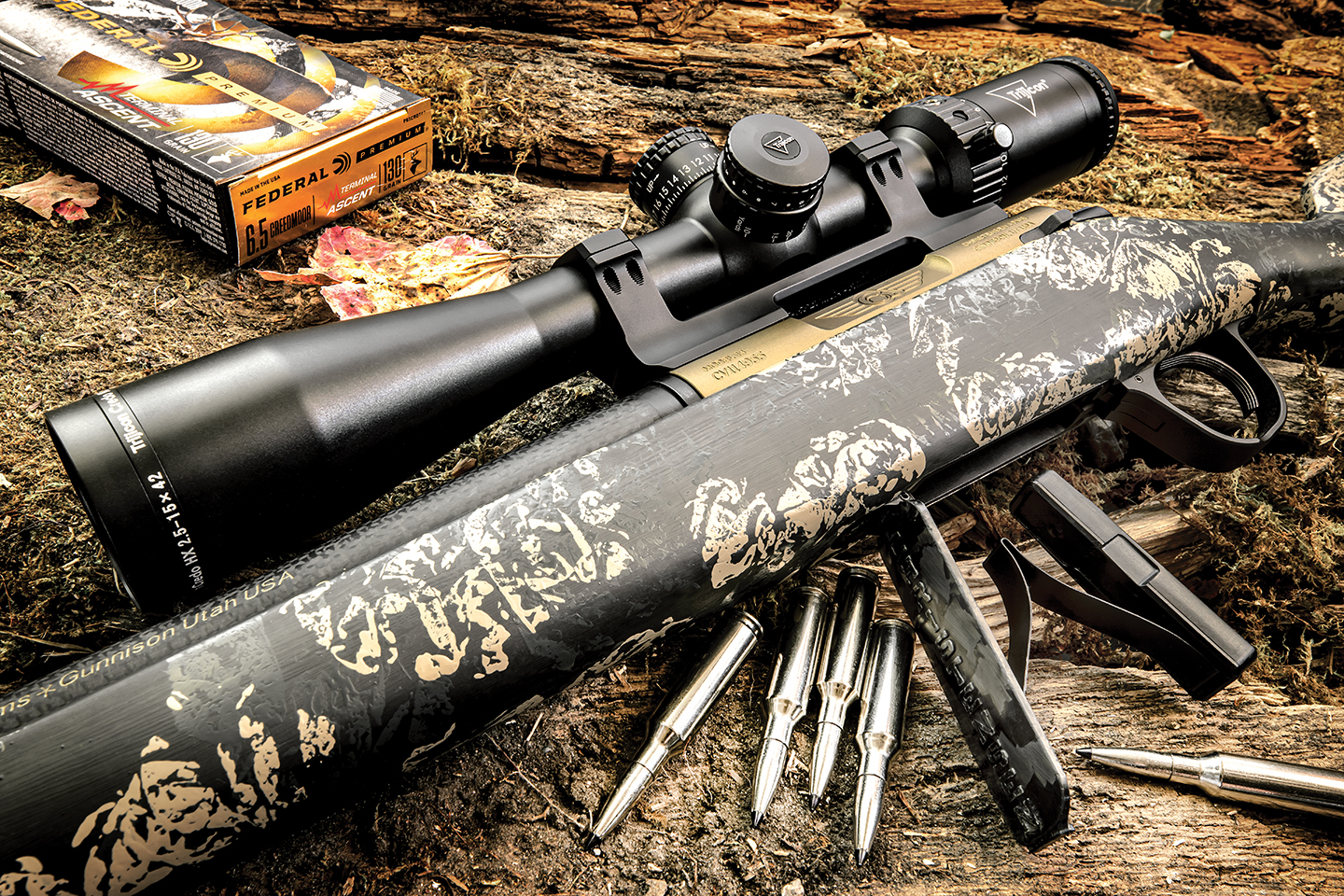 That can make a big difference when hunting in vertical terrain, where every ounce of added weight matters, but it does you little good to get to the top of the mountain if you can't make the shot when you get there. That's where the Ridgeline FFT really shines. This lightweight rifle helps you get where you're going, and its well-executed components work in concert to deliver a level of accuracy that eludes many lightweight guns and makes this rifle deserving of serious attention.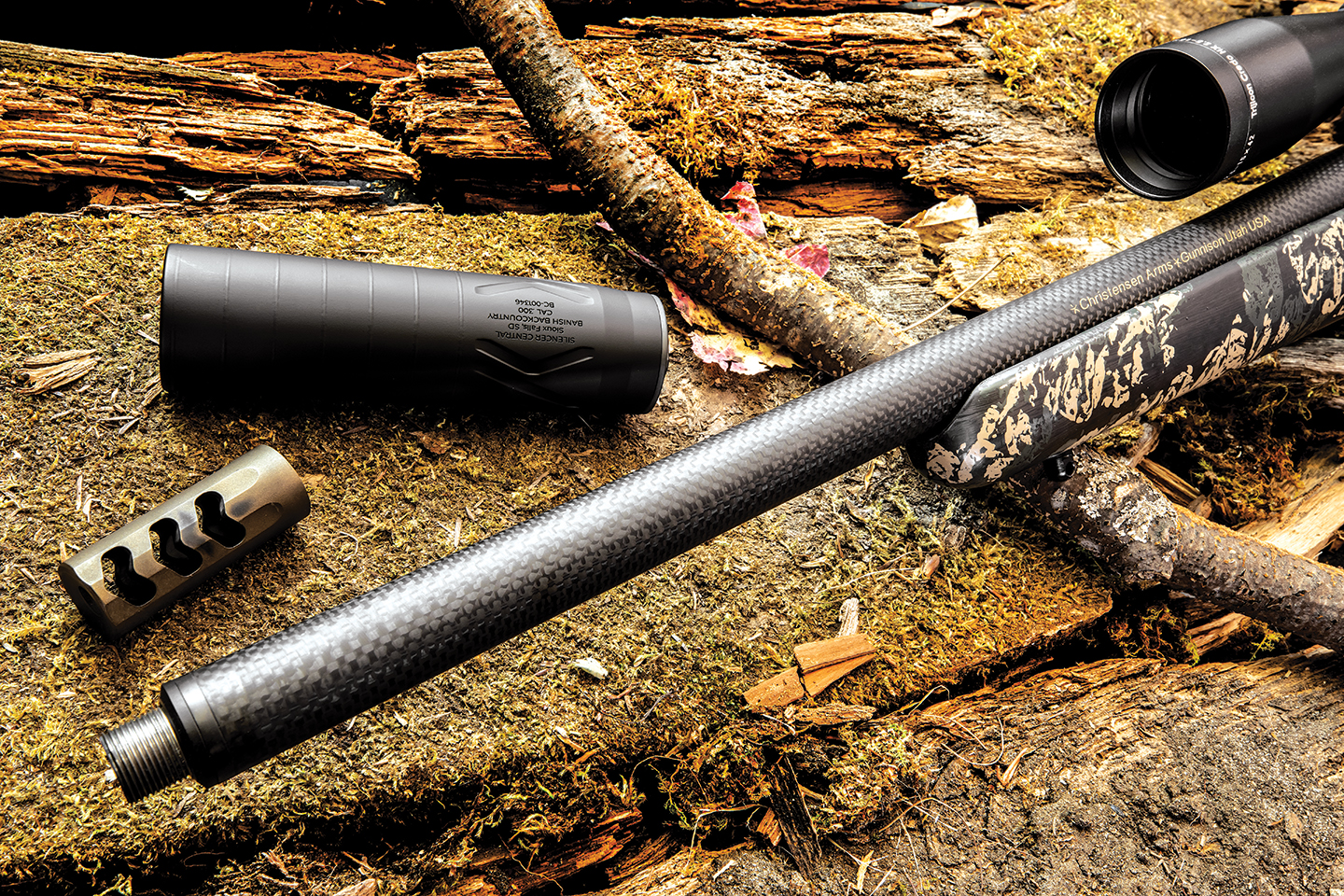 The heart of the rifle is its precisely-machined 416 stainless-steel push-feed action, which is bedded to the stock with steel pillars. Some weight savings were achieved with the use of billet aluminum bottom metal, an FFT carbon fiber hinged floorplate for the internal magazine, and an FFT bolt knob. The receiver has an enlarged ejection port, making it easy to feed rounds singly or load them into the magazine. The action is drilled and tapped to be compatible with STD 6-48 Remington 700 optic bases.
The FFT uses a spiral-fluted, one-piece bolt with two substantial locking lugs and a skeletonized bolt handle. Cycling was smooth in testing, and feeding, firing, extraction, and ejection went off without a hitch. The safety is a two-position, rocker-style design that does not lock the bolt down with the safety engaged. This newest Ridgeline also has an improved bolt release.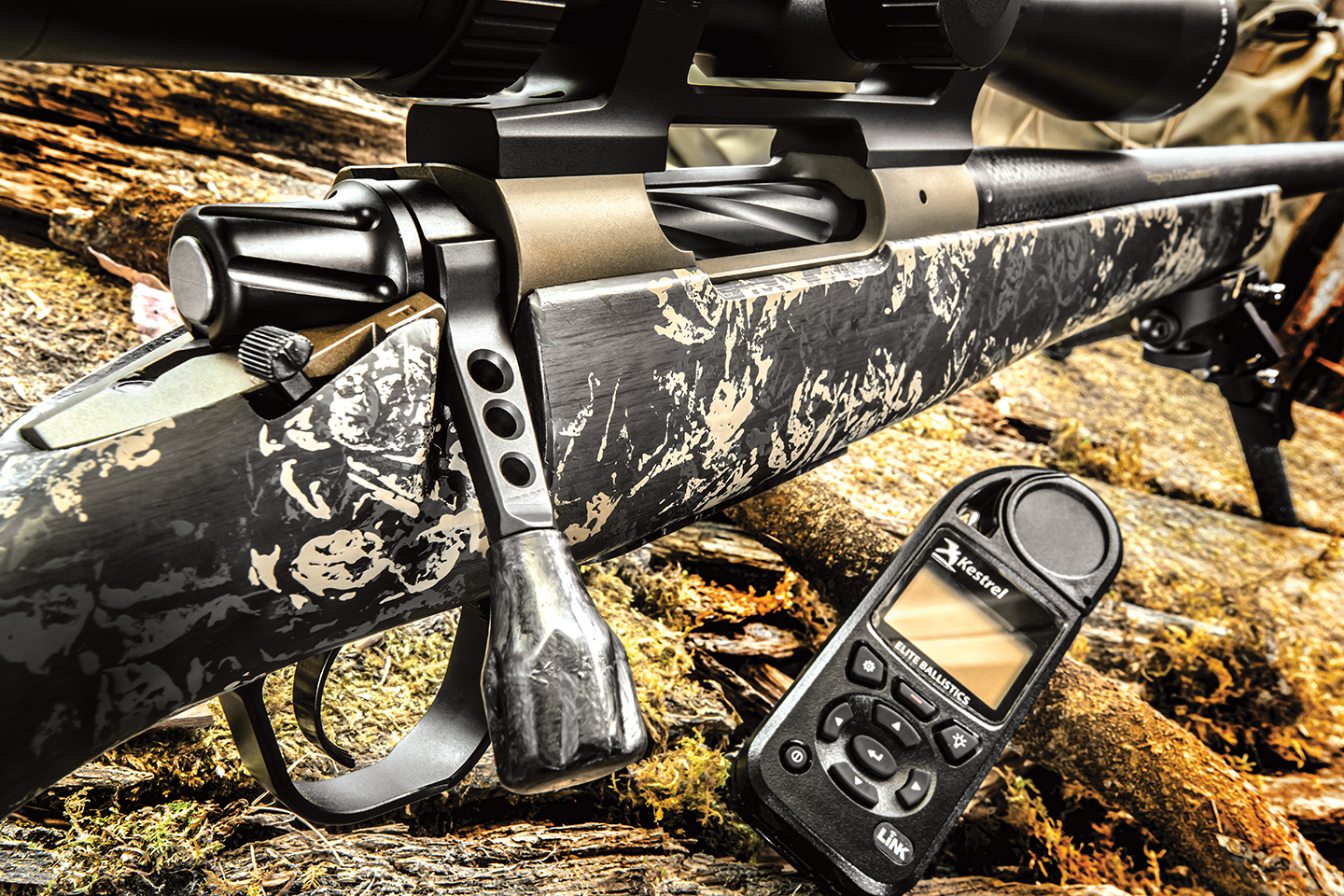 Mated to the action is a carbon fiber-wrapped, stainless-steel barrel. This wrap helps trim a significant amount of weight from the gun and dissipates heat from the barrel quickly. The 20-inch button-rifled barrel on our test rifle, chambered in 6.5 Creedmoor, has a 1:8 rate of twist and a match-quality chamber. It is free-floated and hand-lapped. At the business end, the muzzle is threaded and equipped with a new removable stainless-steel, side-baffle muzzle brake.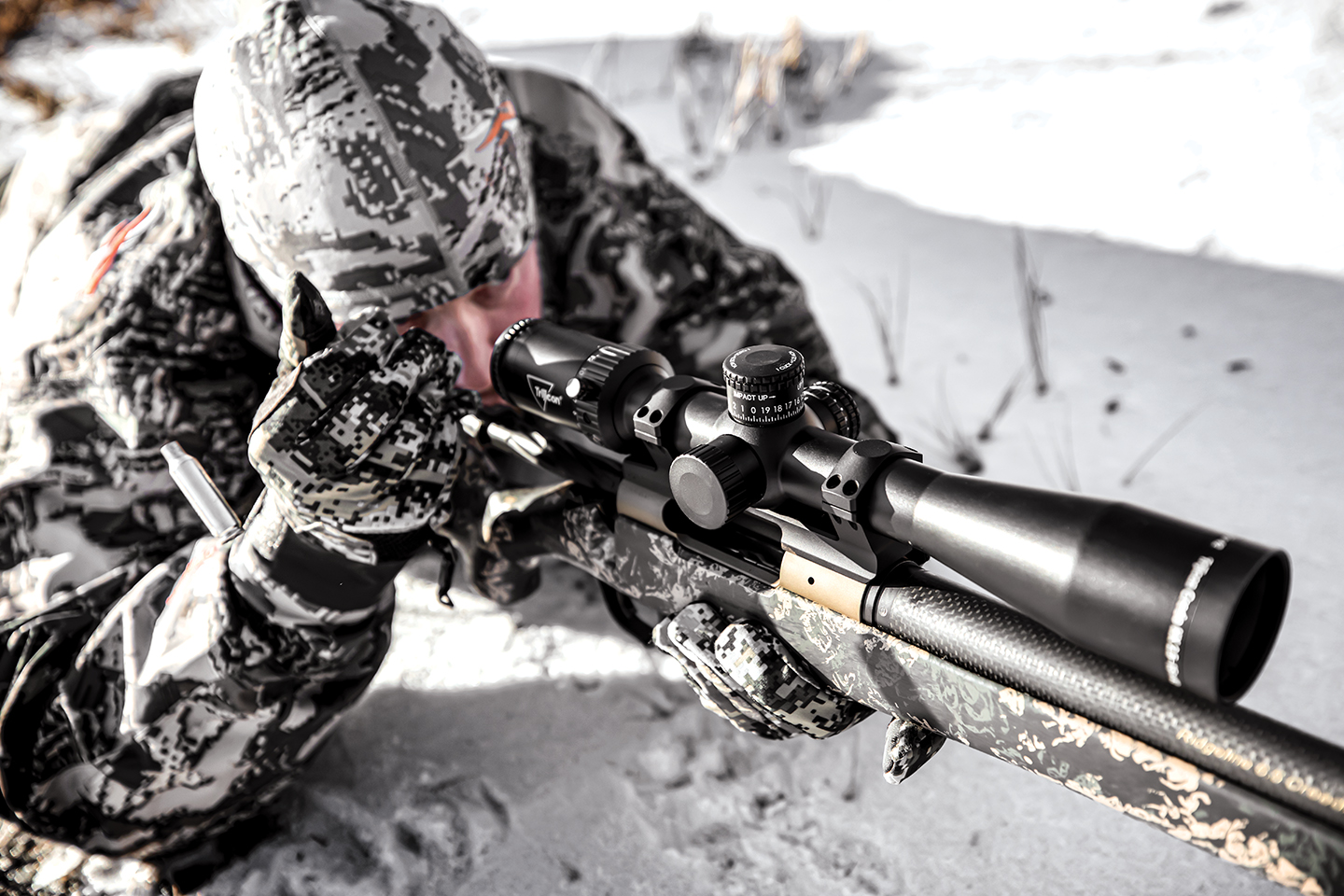 The brake and action on our test gun have a matching burnt bronze protective Cerakote finish that nicely compliments the carbon stock with green and tan accents. The rifle is offered with additional finishes, including natural stainless or black nitride barrels combined with Sitka Subalpine or Elevated II camo patterns on the stocks.
Ridgeline FFT rifles are offered in no fewer than 22 different chamberings ranging from 22-250 Rem. up to 300 RUM. In addition to the most common, popular chamberings, the list includes some highly interesting entries such as the 6.8 Western, 26 Nosler, 280 Ackley Improved, 28 Nosler, 30 Nosler 300 PRC, and 7mm PRC, and rifles in a few chamberings are available in left-hand versions. Magazine capacity is four rounds for standard cartridges and three for magnums.
The trigger provided with the Ridgeline FFT is — as you might expect of a rifle in this class — a very good one from Trigger Tech. It had zero creep, minimal overtravel, and a clean, crisp break. As it arrived from the factory, the trigger broke at a pull weight of 3 pounds, 7 ounces. The trigger breaks so cleanly that it actually feels lighter than that. An oversized trigger guard easily accommodates a gloved finger.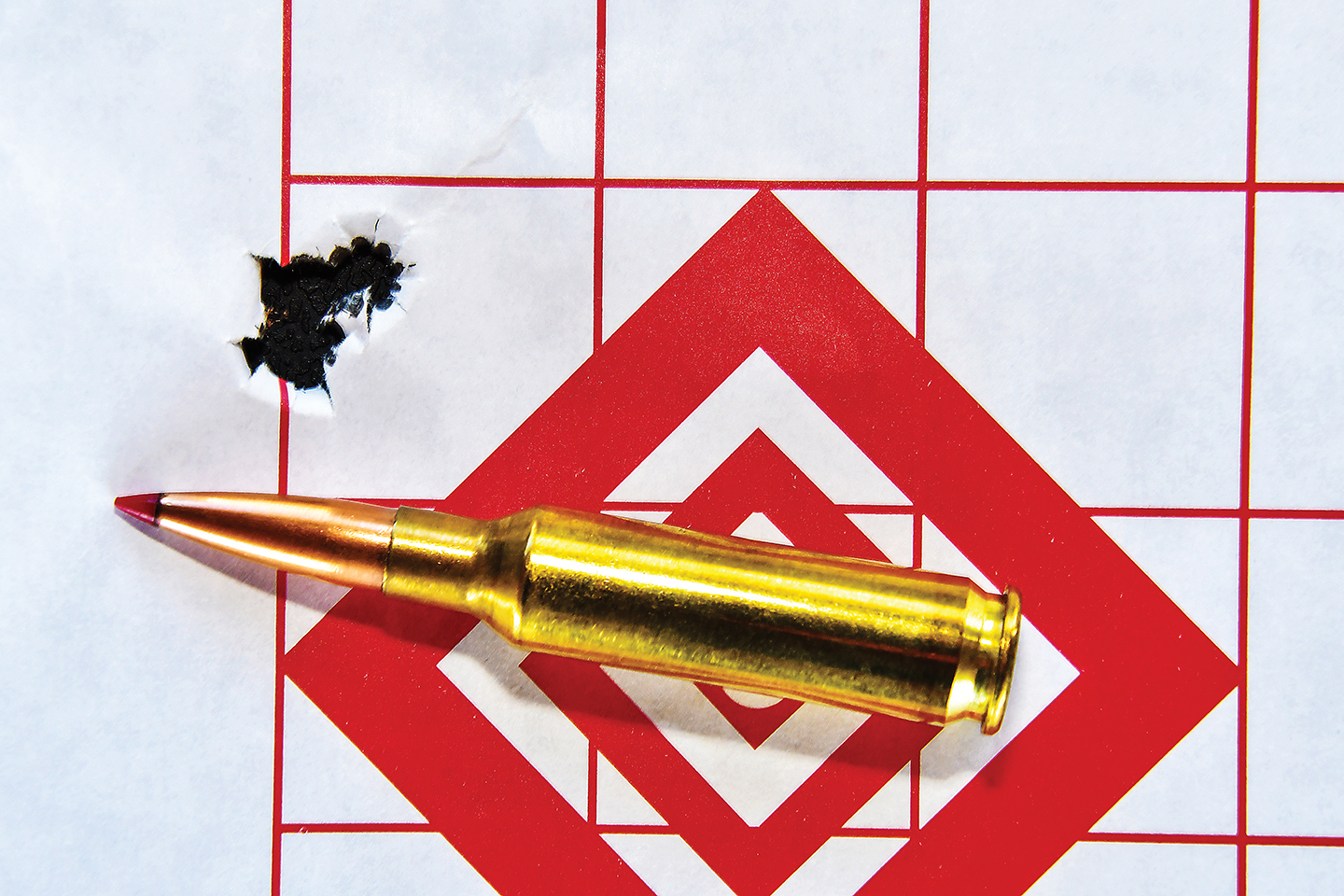 Having previously used a Ridgeline rifle that printed tiny groups at the range and enabled me to make the longest shot I've ever made, at 40 yards beyond one mile, I had high hopes for the FFT. I wasn't disappointed. With the rifle topped with a Trijicon Credo HX 2.5-15×42 scope, I tested four loads from three different ammo makers, firing several three-shot groups per load to see if the rifle lived up to its sub-MOA accuracy guarantee.
It met that standard and demolished it. Top accuracy honors were claimed by a Back Hills Gold load using a 147-gr. ELD-M bullet, which turned in 0.31-inch average groups and a best group measuring just 0.20 inches – or a single ragged hole. Federal's Gold Medal load using a 140-gr. Sierra Matchking bullet was also impressive, delivering a 0.30-inch best group and 0.55-inch average group. Two hunting loads, using 140-gr. and 143-gr. bullets, grouped into average groups measuring just under one inch, and best groups approaching half an inch. That's very impressive performance for any rifle, let alone one weighing just 5.3 pounds.
With an MSRP starting at $2,399.99, the Ridgeline FFT is not the cheapest rifle Christensen makes, but it costs less than half as much as Christensen's most expensive rifle, which has a 1/2-MOA accuracy guarantee. As my testing demonstrated, the FFT can do that with ammo it likes, and it's light enough to carry on the most physically demanding hunts. That makes it a bargain in my book. For more information, contact Christensen Arms; Tel.: (888) 517-8855; Web: www.christensenarms.com
---
Specifications:
Action:            Bolt action
Caliber:          6.5 Creedmoor, as tested
Barrel:            20-inch 416 stainless, carbon-fiber wrapped
Capacity:       4 rounds standard (3 magnum)
Stock:             Carbon fiber FFT
Muzzle:          Threaded, with side-baffle muzzle brake
Metal finish:   Burnt bronze Cerakote
Weight:          5.3 pounds
Trigger:          Trigger Tech
OAL:               41.4 inches