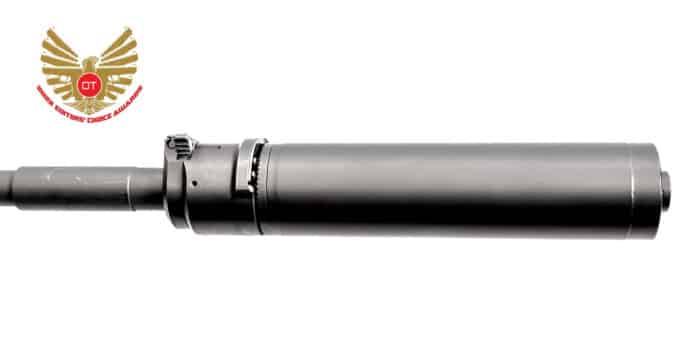 2022 Editors' Choice Award Winning
B&T USA Rotex-X
Cost, performance & versatility that's tough to beat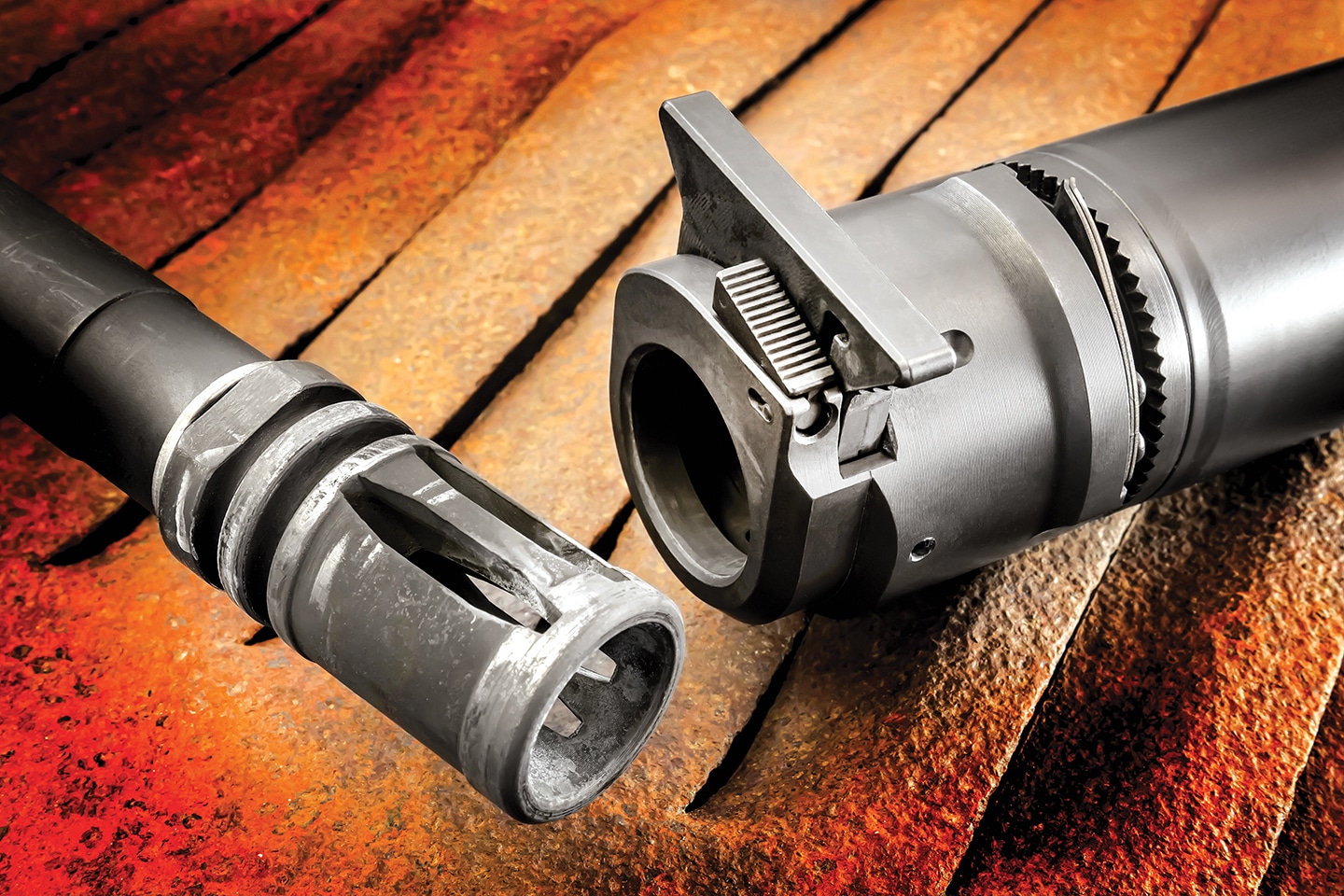 With the addition of the US component of B&T, B&T USA, more effort is being put forth on the US LE and civilian markets with a host of rifle suppressors—including the new Rotex-X 5.56mm NATO suppressor you're currently reading about. Derived from the well-known Rotex-V, it sheds 20 percent of its weight while maintaining industry-leading sound suppression and flash reduction.
The Rotex-X is available in either 5.56 or 7.62 and in compact or full-sized configurations. Current offerings use the NATO Spec A2 (birdcage) flash hider making it compatible across several platforms. Constructed of Thermax and Inconel, the Rotex-X weighs in at 21 ounces, including the mounting system, and the overall length is 7.80-inches with a 1.50-inch diameter. With a retail price of $675.00, it's a bargain, and given its ability to attach to any NATO spec A2 flash hider, it's one of the most versatile QD suppressors on the market.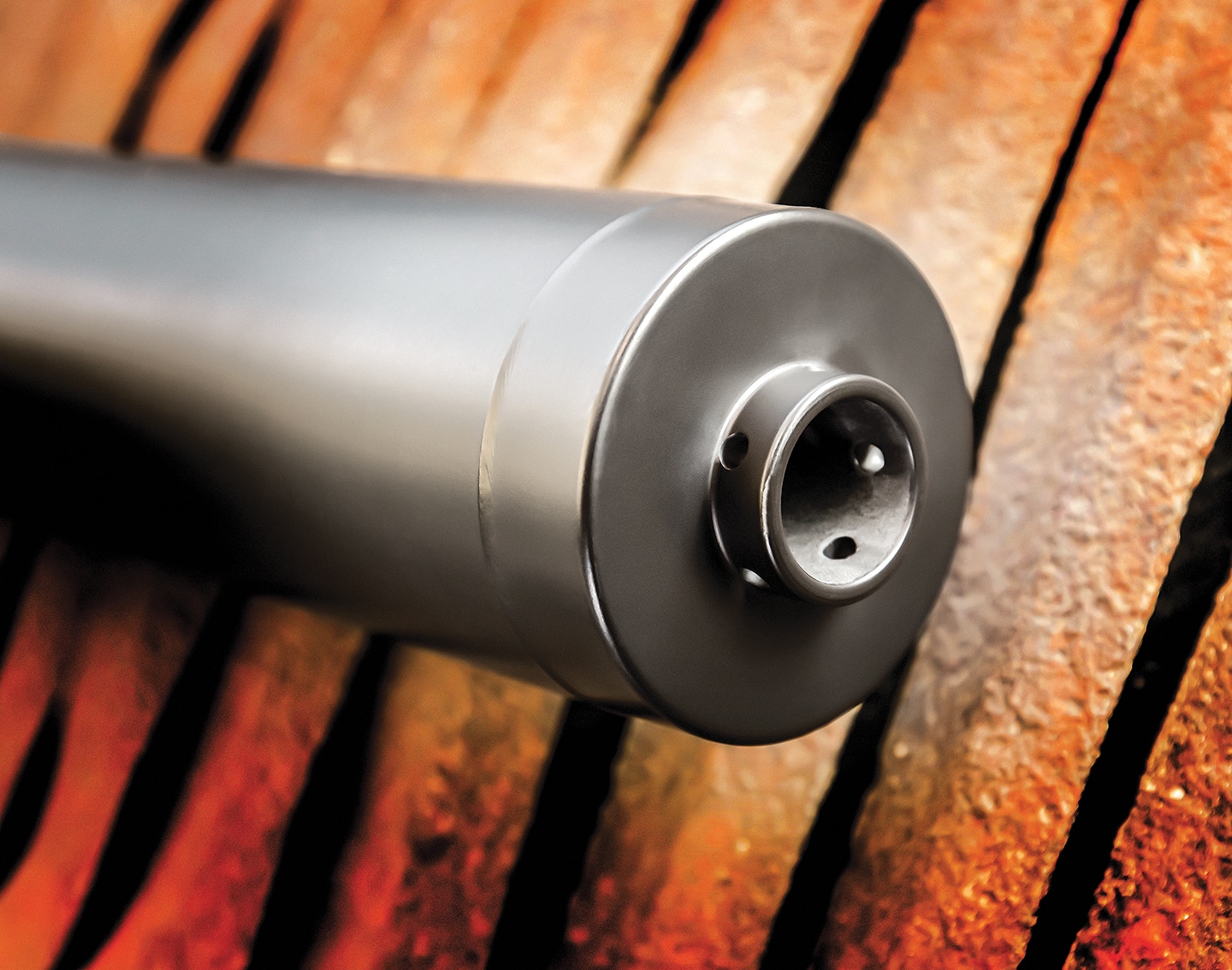 Testing was completed using an IWI USA Zion-15 AR, factory-equipped with a Mil-Spec A2 flash hider. Attaching the Rotex-X was very quick and easy; simply loosen the suppressor a couple of turns, unlock and open the locking collar, slide it over the suppressor, push the locking device in place and tighten it back up.
The first thing you notice is how quiet this suppressor is. The second thing is a noticeable reduction in felt recoil and muzzle rise. Maybe more importantly, the excess gas was minimal, with a slight change in where the brass was ejected. The end result was a pleasant shooting experience and a relatively clean magazine and chamber afterward. Removing and reinstalling the suppressor changed impact very little.
The bottom line is that the Rotex-X is a well-built suppressor at an outstanding price, using an attachment system that fits most standard rifles today, and is an excellent choice for anything using appropriate A2 flash hider. Check out the complete line of B&T suppressors and firearms at your nearest dealer, or for more information, contact B&T USA; Tel: (813) 653-1200; E-mail: [email protected]; Web: www.bt-usa.com.