After finally just getting our hands on one of CZ's new Scorpion EVO 3 S1 pistols earlier in the year, we were impressed. Real impressed.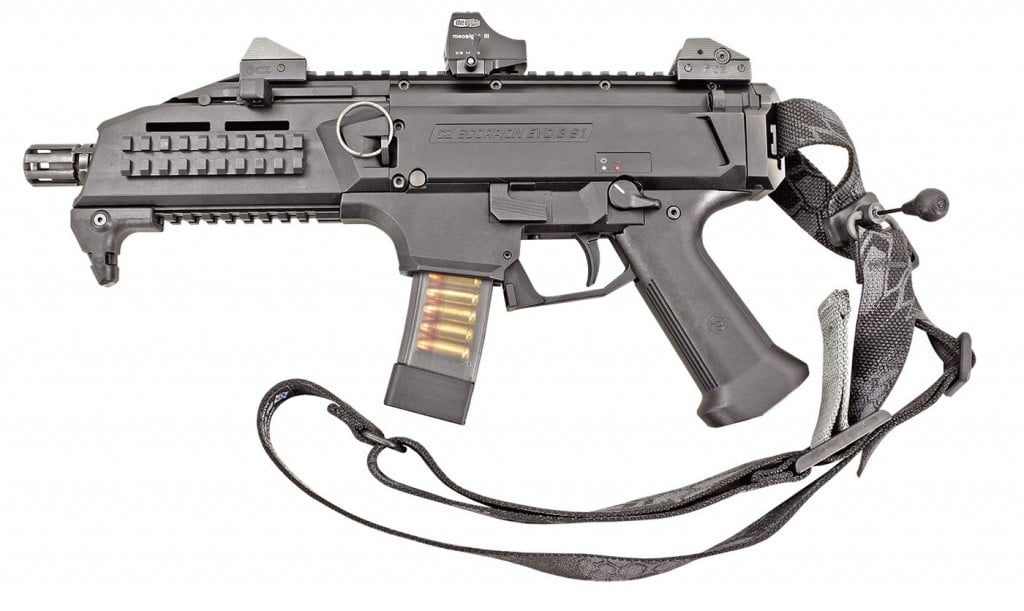 The Scorpion EVO 3 S1 ($849) is a blow-back operated pistol chambered in 9mm Luger with a 7.75-inch cold hammer forged barrel. The muzzle is threaded at 18×1 RH (adapters are available in more-common 9mm thread pitches for attaching a sound suppressor) and is fitted with a 360-degree ventilated flash hider. Basically, it's a jazzed up, semi-auto-only version of CZ's Scorpion submachine gun. At 16.75 inches in overall length, it's about six inches shorter than an AR pistol with the same length barrel, which is due in large part to the absence of a buffer tube. Empty weight is 5 lbs. 2.7 oz. with a magazine installed.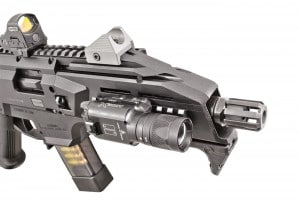 The Scorpion EVO 3 S1 is built on a fiber-reinforced, 2-piece, polymer receiver with integrally molded, 20-slot Picatinny top rail. The polymer handguard is a single piece with four integrally molded Picatinny rails: a 12-slot bottom rail, 7-slot top rail extension and 9-slot rails on both sides. A polymer hand stop is factory mounted at the forward end of the handguard's bottom rail as a safety feature to help prevent fingers from getting in front of the muzzle. CZ low-profile adjustable sights with rugged protective ears are mounted on the top rails: an elevation-adjustable post up front and a windage adjustable rear with four different apertures that snap into firing position by rotating the aperture wheel.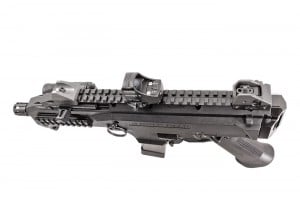 Controls consist a trigger, ambidextrous safety levers mounted above and behind the trigger guard on both sides, ambidextrous magazine releases mounted at the forward end of the trigger guard, an external HK-type, non-reciprocating charging handle that can be mounted on either side of the handguard under its top rail and a left-side mounted bolt release. Magazines are ejected forcefully when the mag release is pushed forward with the trigger finger, and the bolt locks open on an empty mag. Two 20-round magazines are included with the gun, but both 30 and 10-round versions are available through CZ…all coming in at under 20-bucks each!
The large polymer pistol grip has an integrally-molded hand-stop at the bottom, front and back strap vertical serrations for grip traction and can be moved forward or rearward to adjust for trigger reach over a range of about 5/16". A total of six sling mounting points are provided on both sides of the receiver and at its rear.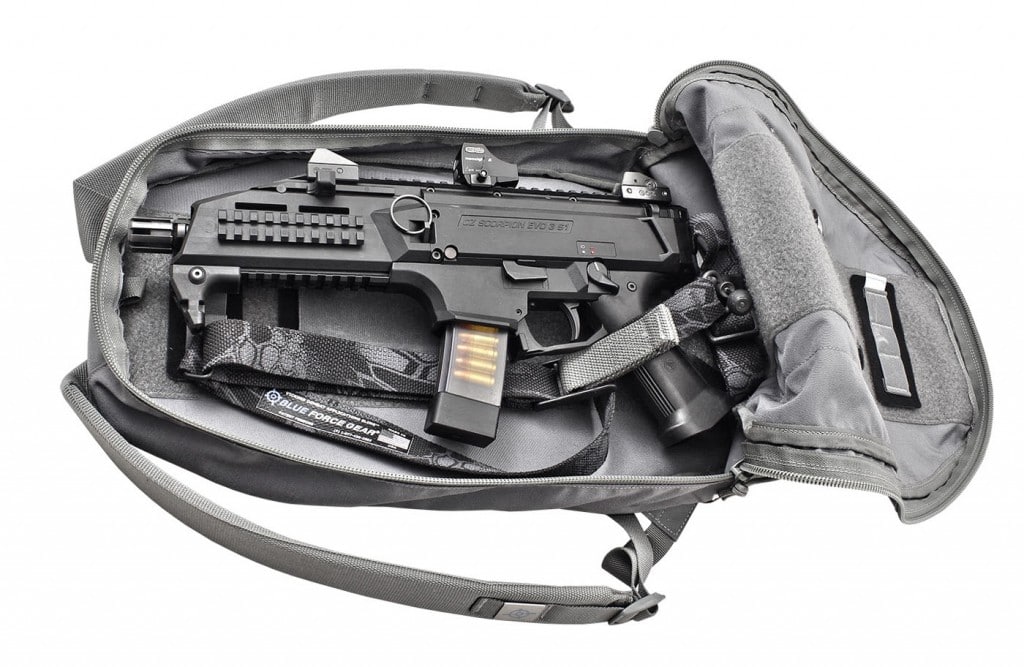 Take-down is quick and simple: after checking to make sure the gun is empty, remove the magazine, move the safety selector to the fire position, pull the charging handle all the way to the rear and flip it up into the locked position, push the captive take-down pin out, pull the mag well/trigger module down and out, release the charging handle lock, then pull the bolt slightly to the rear and lift it out. The recoil spring and guide rod come out with the bolt. To reassemble, just reverse the sequence. The bolt is a massive, machined steel affair that—with the recoil spring, guide rod, external extractor/ejector and internal firing pin—weighs almost a pound and a half!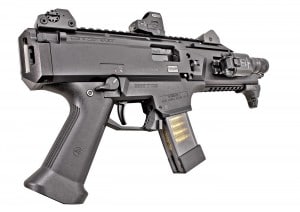 The Scorpion EVO 3 S1 is legally classified by the BATFE as a pistol, but CZ offers an "arm brace adapter" ($79.95), which adds an AR-style pistol buffer tube to the rear of the receiver, enabling the use of an "arm brace" like the Sig Sauer SB15 Pistol Stabilizing Brace ($129.99) for added stability.
We could tell just from handling the gun that the right-side safety selector was going to be an issue when firing. In the "fire" position, it projects downward far enough to whack the trigger finger under recoil. And sure enough, it did. CZ sells a "Scorpion EVO right control delete"—basically just a cover without the offending lever—for $12.95
Trigger pull weight averaged 9 lbs. 7 oz. on our Lyman digital trigger-pull gauge. While the trigger stroke length is a relatively short 1/4", it exhibited a bit of stacking before the break.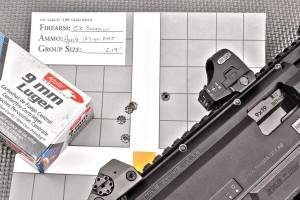 We tested the Scorpion EVO using four brands of ammunition: Hornady Critical Duty 135-gr. FlexLock (1,015 f.p.s./309 ft. lbs.); Black Hills 124-gr. JHP +P (1,200 f.p.s./397 ft. lbs.); Aguila 124-gr. FMJ (1,115 f.p.s./342 ft. lbs.); and Sig Sauer Elite Performance 115-gr. FMJ (1,185 f.p.s./359 ft. lbs.). During reliability testing no malfunctions of any kind were encountered.
We did not have a CZ arm brace adapter or SB15 Pistol Stabilizing Brace, so accuracy testing was conducted from a sandbag rest at 25 yards using a Meopta Meosight III red-dot mounted on the top rail. The best 5-shot group was printed by the Aguila 124-gr. FMJ, measuring 2.19" center to center for all five, with the best three in 0.65". At 3.00" even, second place went to the Hornady 135-gr. Critical Duty, with the best three measuring 1.15". Sig Sauer's Elite Performance 115-gr. FMJ was a close third at 3.12" for all five and 1.17" for the best three. Unusual for Black Hills, their 124-gr. JHP +P came in last, with its best 5-shot group measuring 4.00" and a best three of 2.23". Some guns make +P ammo pay an accuracy penalty, and the Scorpion appears to be one of them.
See the excellent Scorpion EVO at your gun shop, or contact CZ-USA; Tel.: (800) 955-4486; Web: www.cz-usa.com