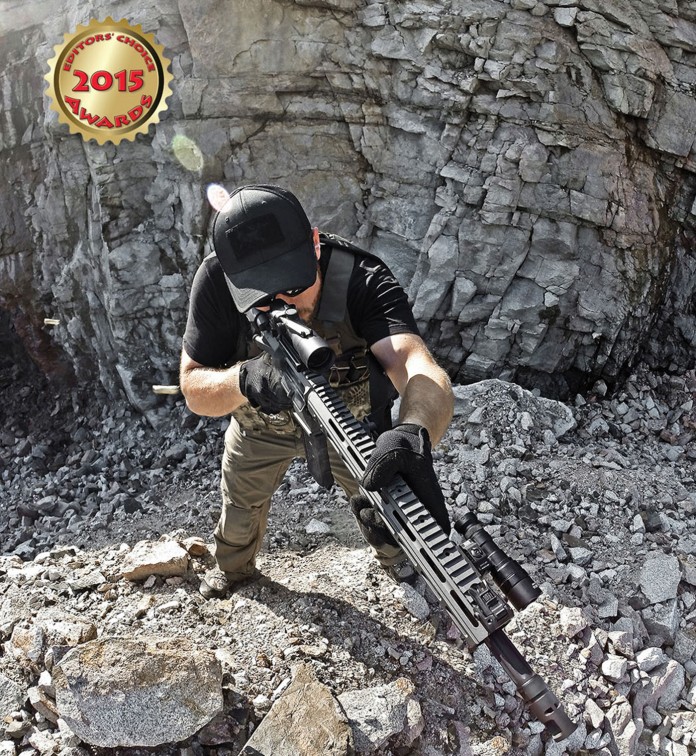 The Daemon Defense direct-gas-impingement OPR-15 is the embodiment of all the knowledge and experience with the AR platform gained by U. S. Army Special Forces during combat operations conducted all across the globe over the last 20+ years. It is truly an AR built, tweaked, modified and equipped to the specifications of the U. S. Army Special Forces, which is more than enough to earn it an Editors' Choice Award. Our evaluation carbine was the standard OPR-15 chambered in .300 Blackout ($1,599)

The lower and A4 upper receivers are CNC machined from aerospace-grade billet aluminum, and Type III hard anodized in a matte dark silver-gray that provides an eye-catching contrast with the black furniture, barrel, muzzle brake and trigger. The upper is machined in a blocky profile, with big side flats, a huge shell deflector and an oversize, flat-sided forward assist housing.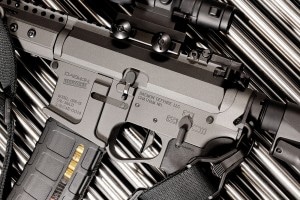 The 14-slot Picatinny top rail is not numbered. The machining profile of the lower receiver complements the upper, and has all of the standard controls in their usual locations. Two unique departures from Mil-Spec are a heavy, integrally machined trigger guard and a very widely flared magazine well. A Magpul ASAP ambidextrous sling plate is fitted at the rear of the lower receiver.
Daemon Defense gives you lots of choices, starting with the barrel. The standard barrel for the OPR-15 in .300 blackout is a fluted, medium-profile, 16-incher made from 41V50 steel rifled at a 1:7" twist rate and chrome lined. It features hand-polished M4 feed ramps, a manganese phosphate finish and a muzzle threaded at 5/8" x 24 TPI for attachment of a .30 caliber suppressor. The muzzle is fitted with a CMMG SV muzzle brake, robust no-nonsense brake that provides substantial reduction in perceived recoil and muzzle rise. The 5.56 NATO barrel is identical except for the smaller bore diameter and its 1/2" x 28 TPI muzzle threading for attachment of a .22 caliber suppressor. A 14.5-inch, M4-profile barrel with a pinned and welded SV muzzle brake is a no-cost option in 5.56 NATO.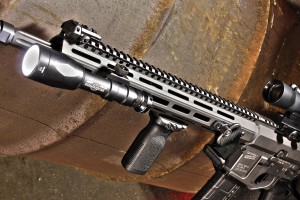 The standard handguard on all OPR-15 carbines is a 12-inch KeyMod with full-length Picatinny top rail. Our evaluation model was fitted with the optional 13-5-inch M-Lok handguard ($49 upcharge), with full-length Picatinny top rail and seven M-Lok flats around the circumference offering a total of 43 M-Lok attachment slots.
It also has 34 ventilation holes on each side immediately below the top rail. The upper receiver top rail and handguard top rail fit like they grew together, as do the two receiver halves.
Furniture consists of a Magpul CTR 6-position collapsible buttstock with enhanced cheek weld, rubber butt bad and ambidextrous quick-detach sling swivel receptacle. The pistol grip is a Magpul MOE+, but an Ergo soft textured grip is a no-cost option.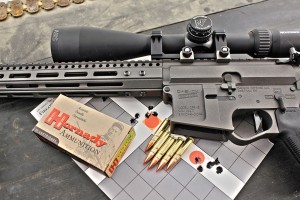 The trigger is one you'll never even consider upgrading—because this one is already as good as it gets. You can take your pick of a Geissele Super Dynamic Combat or Super Dynamic Enhanced 2-stage trigger group (tested). The first-stage pull weight measured 2 lbs. 5 oz., and the second stage 1 lb. 3 oz. every time—just like advertised. There was zero creep, stacking or over travel—truly a world-class trigger that would set you back $280 if you had to buy it separately.
The M16 profile bolt carrier group is designed to last and last. Machined from Carpenter No. 158 steel, it's high pressure tested and magnetic particle inspected. The carrier, bolt, toggle, firing pin and properly staked gas key are all Nickel-Boron plated for high lubricity and reduced wear. Other premium components include a BCM Mod. 4 Gunfighter 7075 aluminum charging handle with extended latch lock and a heavy-duty H2 buffer.