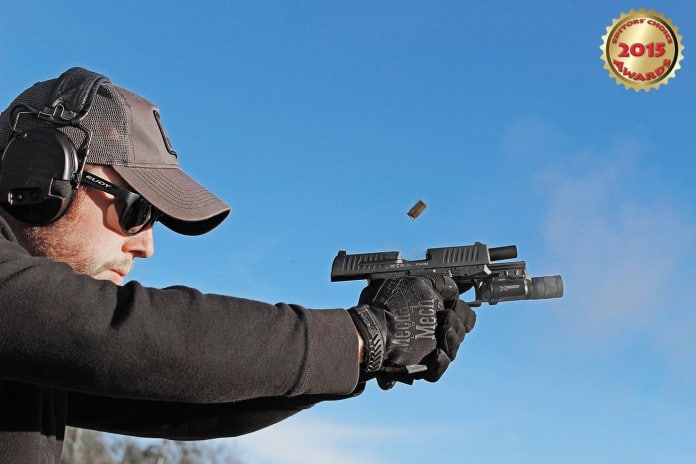 Just what the world needs, another .45 ACP pistol. Right? Wrong, at least in the case of the new Walther PPQ 45 ($699). We've spent a small fortune on paper and ink over the last couple of years covering Walther's PPQ Series pistols. Their 5-inch-barreled PPQ M2 9mm won a 2013 Editor's Choice award, and a few issues later we covered their 4-inch-barreled PPQ compact 9mm. Both proved to be outstanding performers that earned high marks on the performance and ergonomics scales.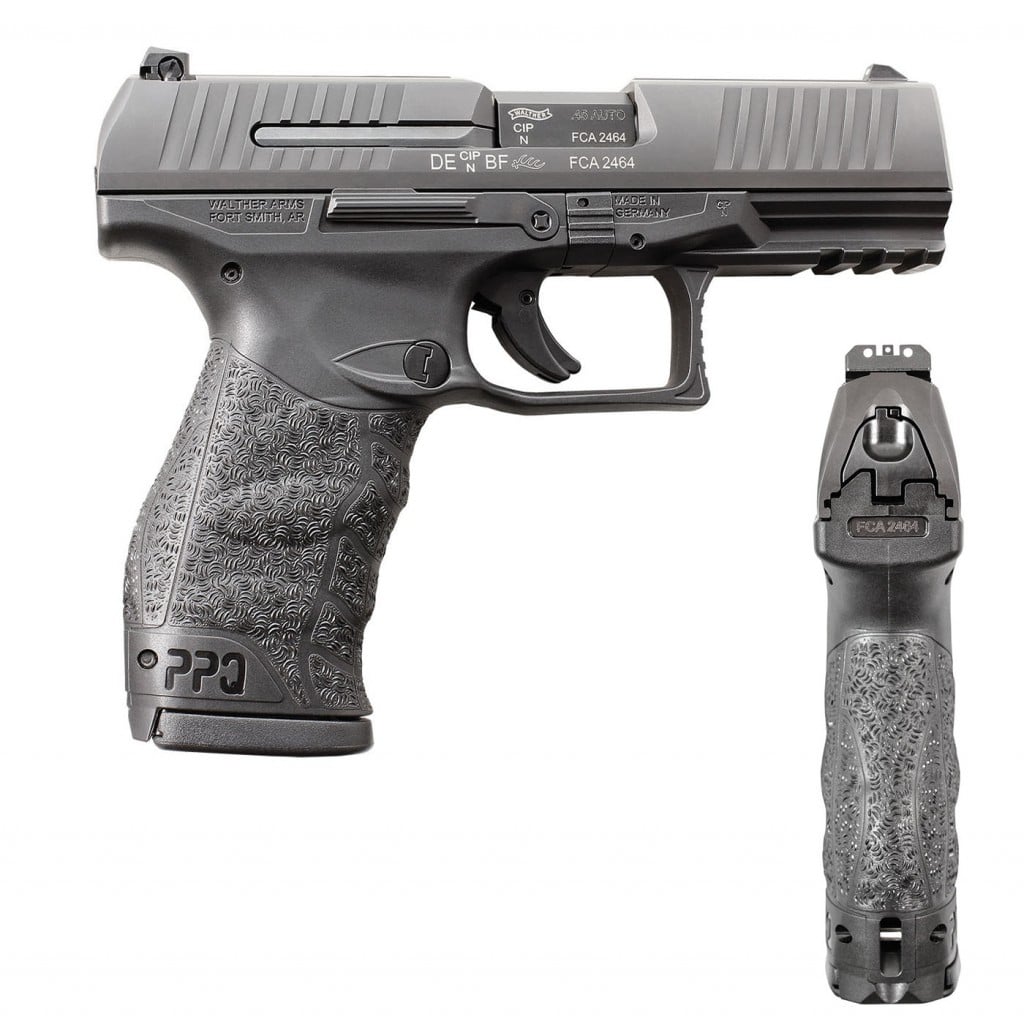 In case you've ever wondered, PPQ stands for "Police Pistol Quick Defense Trigger," and PPQ triggers really are exceptional. The PPQ 45 is the newest member of family, and will be welcomed by both law enforcement and civilian shooter. It features a 4.5-inch barrel, mid-size dimensions  (7.4" L x 5.8" H x 1.3" W) and an empty weight of 25.3 oz. without magazine, making it nicely proportioned for both law enforcement duty use and civilian concealed carry. Throw in 12+1 round .45 ACP firepower, and you have a very serious pistol.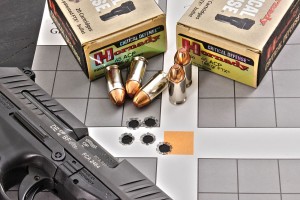 But "serious" is not enough to earn an Editors' Choice Award. A high degree of innovation and technical merit is what it takes, and in the case of auto pistols that translates into exceptional ergonomics, functionality, accuracy and reliability—qualities that the PPQ 45 has in spades.
Like all PPQs, the PPQ 45 is a polymer-frame, striker-fired pistol with a matte black, corrosion-resistant Tenifer finished steel slide and barrel. The slide wears front and rear cocking serrations, a 2-1/8-inch long external extractor/ejector, deeply cut and flared ejection port and polymer and low-profile 3-dot sights. The rear sight is adjustable for windage, and steel night sights will be offered optionally. The polygonal-rifled, bushing-less barrel fits so tight in the slide that it actually takes some fiddling to get it in or out. The slide is driven back into battery by a captured recoil spring mounted on a polymer guide rod. There is no cocking indicator, but a bright red loaded chamber indicator in the slide at the rear of the extractor/ejector port is exposed when a round is present in the chamber.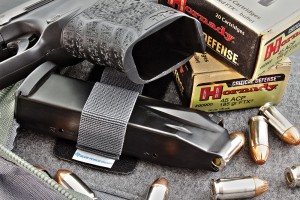 The polymer frame features a 3-slot Picatinny equipment rail molded into the underside of the dust cover, a 2-inch long, square-front, serrated trigger guard and a comfortable, hand-filling, cross-directionally textured, non-slip grip with subtle finger grooves, palm risers and two interchangeable backstraps (standard and large). Controls consist of a big, round, left-side mounted reversible magazine release—actually, it's an interchangeable mag release, as a second, but different, mag release button is included for right-side mounting—ambidextrous, 2-inch long slide releases that even short-thumbed shooters can reach without breaking their firing grips, and, of course, the Carl Walther signature Quick Defense trigger system. Empty magazines are ejected forcefully when the guarded mag release button is pushed inward.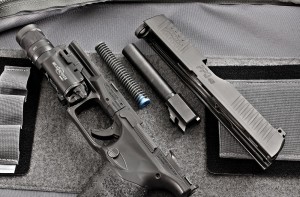 While the Walther Quick Defense trigger is Glock-like in external appearance—with a center-blade safety that must be fully depressed before the trigger will move—it far surpasses it in performance. Trigger travel with our sample pistol consisted of 3/8" of designed in take-up at an average pull weight of 3.3 oz. Following a barely perceptible amount of additional travel, an added 1.3 oz. of pressure results in a clean, crisp break at a total average pull weight of 4.6 oz. The trigger fully resets for the next shot after only 1/10" of forward movement, making it the shortest short-reset trigger we've ever tested.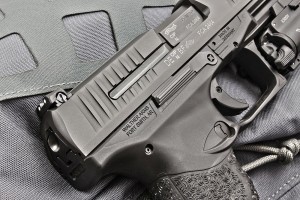 The factory target that came with gun was so promising—1.05" for five shots at 15 meters (16.4 yards)—that we decided to test it with five brands of ammo spanning the entire range of factory bullet weights. They included Hornady Critical Defense 185-gr. FTX (1,000 f.p.s./411 ft. lbs.), SIG SAUER Elite Performance V-Crown 200-gr. JHP (918 f.p.s./374 ft. lbs., Federal Premium Guard Dog Home Defense 165-gr. (1,100 f.p.s./475 ft. lbs.), Black Hills 185-gr. Barnes Tac-XP +P (1,000 f.p.s./411 ft. lbs.) and Black Hills 230-gr. FMJ (850 f.p.s./369 ft. lbs.).
Shooting offhand on steel, the PPQ 45 was 100% reliable, even when we limp-wristed it a few times to try to get it to fail. Perceived recoil was typical of a .45 ACP pistol of this weight, but muzzle rise was less than typical due to the thoughtful ergonomics of the grip design. From the bench at 25 yards, the best 5-shot group was turned in by the Hornady Critical Defense, measuring a scant 1.13" center to center. Second place went to the SIG V-crown at 1.94". Federal Guard Dog printed a 2.17" group, while the two Black Hills loads brought up the rear at 2.28" (230-gr. FMJ) and 2.53" (185-gr. Tac-XP +P). Overall this is a very pleasant and reliable pistol to shoot, and its accuracy speaks for itself.
The PPQ 45 comes with two blued steel magazines and a lifetime warranty with 48 hour service turnaround. See it at your gun shop, or contact Walther Arms, Inc., Dept. OT; Tel.: (479) 242-8500; Web: www.waltherarms.com