THE CMMG MK47 AKM Mutant earns its Editors' Choice Award for being the first AR designed from the ground up to reliably fire and function with the 7.62 x 39mm cartridge. While this round will work in some AR uppers, the magazines have always been problematic. Limited availability, varying quality and added cost have been the biggest issues, with reliability a close second. The solution has always been an AR chambered in 7.62 x 39mm that will accept standard AK magazines. A few attempts have occurred, but what was really needed was to start over, and CMMG has done just that.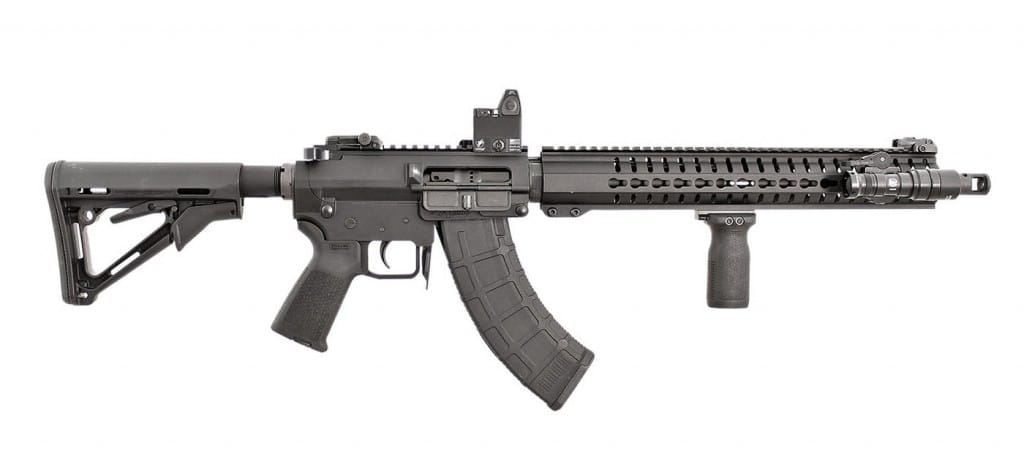 Rather than trying to make a 5.56mm bolt group work, CMMG started with its .308 bolt-carrier group, modifying it to meet their needs. Maintaining the larger bolt provides excellent strength, along with solid extraction, and is much better suited to the 7.62 x 39mm cartridge. Unique billet upper and lower receivers machined from 7075-T6 aluminum keep things strong yet light. An integral top rail, standard ejection port and custom-designed brass deflector with no forward assist are used. Charging is accomplished using a standard AR style handle. A 16.1-inch, medium-taper, free-floated barrel utilizes a 1:10 twist rate. Threaded 5/8 x 24, it allows for different muzzle devices, including sound suppressors. Our test rifle was the AKM ($1,649.95), the mid-priced model of three offered. The installed muzzle device was a CMMG SV brake (the $1,499.95 priced Mk47T model has an A2 flash hider). Covering the barrel is a is a 1-piece, 15-inch, CMMG RKM15 handguard with full-length Picatinny top rail and KeyMod flats at the 3, 6 and 9 o'clock positions. For those accessories not yet KeyMod compatible, there are 5-slot accessory rails.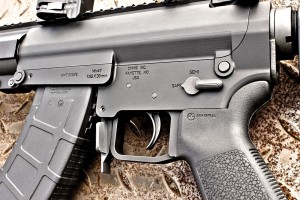 CMMG's lower is designed to accept most standard AK-47 magazines. The magwell is slim and trim yet sturdy, keeping the weight right at 7 pounds. A large ambidextrous paddle latch keeps magazines in place and allows for fast and positive mag changes. It can be easily accessed using your thumb on standard reloads, or your index finger when necessary.
Controls are standard AR fare, with a CMMG single-stage trigger (the AKM2 model is fitted with a Geissele SSA two-stage trigger). A standard AR safety lever is mounted on the left side of the lower. No bolt release is provided, and the bolt does not remain open on an empty magazine. Furniture consists Magpul's MOE pistol grip and CTR buttstock, but any AR-compatible stock or grip will work. Each rifle comes with one 30-round AK/AKM PMAG magazine.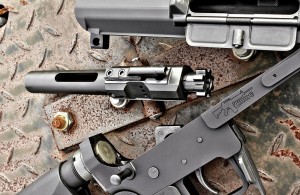 Trijicon's adjustable LED RMR sight was installed on the upper receiver's top rail using their riser mount. Easy to adjust, and built incredibly strong, the RMR is one of the best micro red-dot sights. For back up sighting we installed a set of Magpul's Pro Series flip up sights. Built from steel, they're small, light, rugged and easy to adjust. We also installed a Magpul M51 sling using the QD receptacle in the buttstock and a KeyMod receptacle on the left side KeyMod rail.
Accuracy testing was completed using a U. S Optics SR6 1.1-6X riflescope. It provides fast target acquisition when needed with magnification reaching out to most any practical range for this and similar calibers.
One hundred yard accuracy from the bench was solid, with my best group measuring .80 inches using DoubleTap 123-gr. Rifle Defense. All other ammo tested hovered between 1 and 1.5 MOA.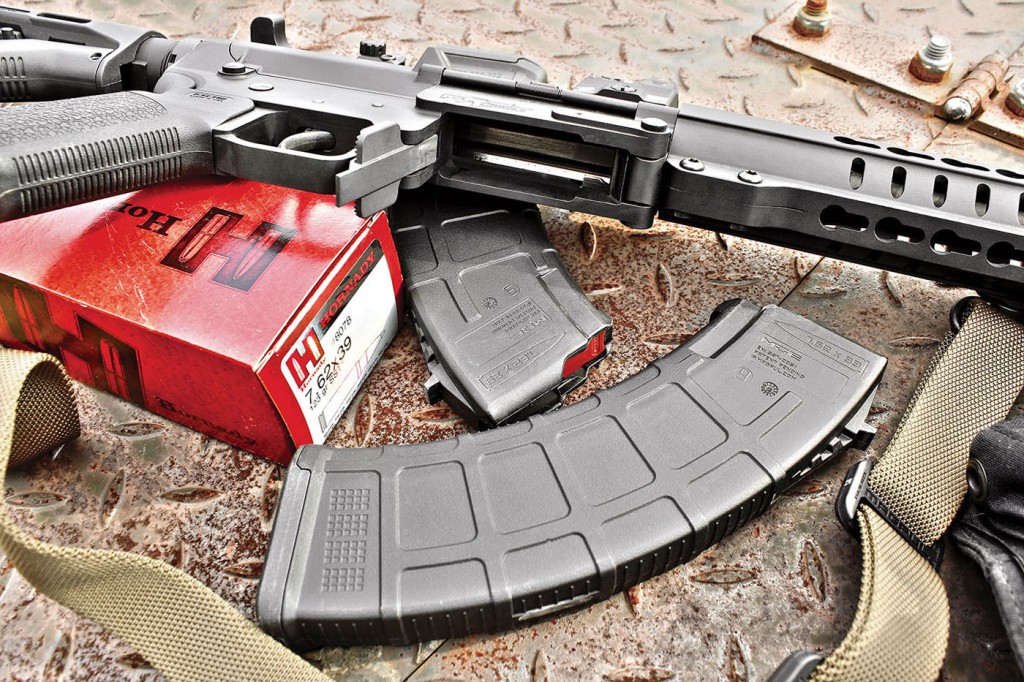 The single-stage trigger broke at an average pull weight of 6 lbs. 2 oz., with a slight amount of take-up and some barely perceptible creep, but the break was crisp and predictable.
The MK47 is designed to work with standard AK magazines, so we tested a wide variety of them. Every magazine ion hand was tested, including PMAGs, Polish steel, U. S. Palm, Bulgarian Circle 10 and a few other steel magazines of unknown origin. The bulk of testing was completed using the PMAGs, as there were several in house. Feeding and loading was smooth with both steel- and brass-cased ammunition.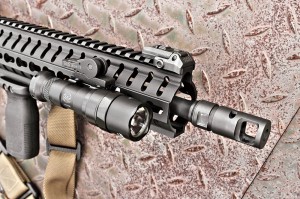 Even with the 16.1-inch barrel, the MK47 is light, handy, balanced and comfortable. Unloaded weight is 7.2 pounds, and overall length with the stock collapsed is 33.5-inches. Magpul's M51 sling is soft and comfortable, and quiet when being adjusted. Except for magazine changes and the absence of a bolt hold-open, operation was just like any AR.
Marrying the AK-47 and AR platforms has been a life-long task for many rifle builders. Arguably the two most prolific carbine platforms, they each have their respective strengths and weaknesses. While purists on either side see any mating as almost blasphemous, many in the middle have been clamoring for it for years. The results have been a number of attempts taking varying tacks with varying success. Accepting AK-47 magazines is a huge benefit, and the MK47's ground up design insures proper operation. This is a solid entry into the market and provides an excellent option for those looking for something different. Contact CMMG, Inc.; Tel.: (660) 248-2293; E-mail:  [email protected]; Web: www.cmmginc.com