Conceived by the late Col. Jeff Cooper as a harder-hitting, flatter-shooting alternative to the .45 ACP, the 10mm Auto was introduced in 1983. After the 1986 Miami shootout, where two FBI agents were killed six wounded, the agency tossed began issuing the Smith & Wesson Model 1076 chambered in 10mm. The 1076 was too much gun for some agents to handle, and the Bureau ultimately adopted a shortened, less powerful version of the 10mm in the form of the .40 S&W, which quickly became a mainstream law-enforcement cartridge.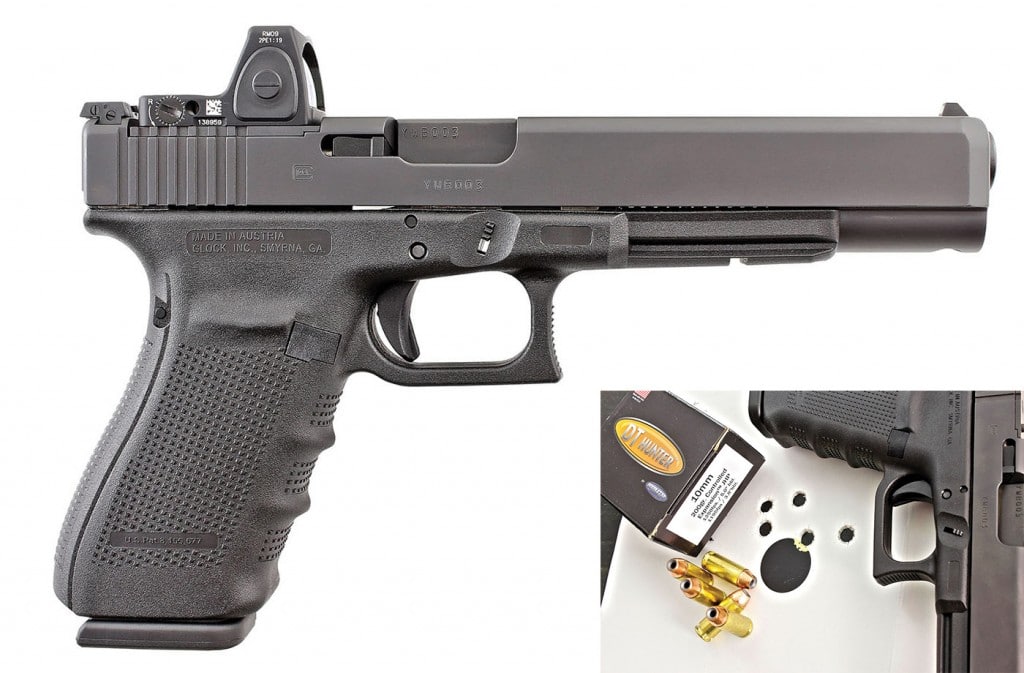 With external ballistics approaching those of the .41 Magnum, the 10mm Auto makes a great choice for hunting deer-, hog- and black bear-sized game, especially the "long slide" versions with 6-inch barrels. That extra inch of barrel length produces an extra 35 to 50 f.p.s. in muzzle velocity, depending on ammo. Enter the Glock G40 Gen4 MOS ($840). If it were named the "Glock G40 Gen4" you wouldn't be reading about it here. It's the "MOS" part that won it an Editor's Choice Award.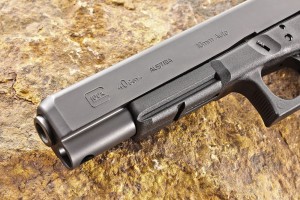 MOS stands for Modular Optic System, a new Glock innovation that permits quick and easy mounting of a mini reflex optic on top of the slide. This stretched out G20 Gen4 has a nearly 1/4-inch deep, full width flat machined into the top of the slide beginning just forward of the rear sight and extending almost 2 inches forward, ending just above the rear extremity of the extractor opening. There are two holes drilled and tapped into the top of the slide for attaching any of the four MOS mounting plates—numbered 05 through 08—that come with the pistol. It even includes a cover plate radiused and finished to mimic an uncut slide that fills in the slot when not using an optic. With the four MOS mounting plates included, you can quickly install any mini reflex sight from Docter, Meopta, Insight, Trijicon, C-More or Leupold. Whether for hunting or competition, there's no question that the addition of a mini reflex sight is a huge benefit over open sights in obtaining maximum precision and accuracy.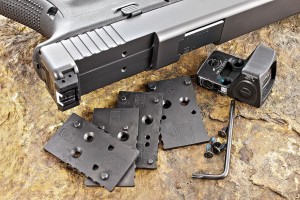 The G40 Gen4 MOS is, first and foremost, a Gen4 Glock, so you get all the benefits of the most recent generation of the Glock platform: rough textured frame, dual-captured recoil spring and guide rod, enlarged reversible magazine release and the modular back strap system. Our evaluation G40 Gen4 MOS came with a total of four back straps: 2mm and 4mm, both with and without extended beavertails. The extended beavertails extend 5/8" beyond the rear of the frame and help to control muzzle flip.
Other standard features include a white dot front sight, white outline "U" notch rear sight fully adjustable for both windage and elevation with the included sight adjustment tool, a cleaning brush, gun lock, plastic case, mag loader and three 15-round magazines.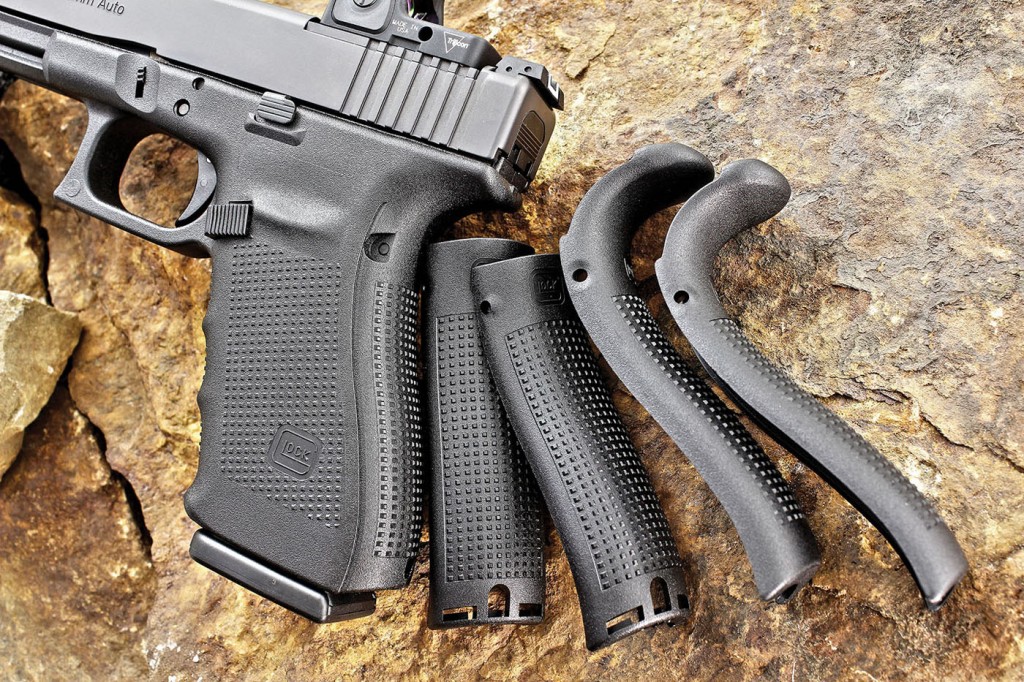 We tested our sample gun with three brands of ammunition: Federal Premium 180-gr. Vital Shok Trophy Bonded JSP, SIG SAUER Elite Performance 180-gr. flat-nose FMJ, and DoubleTap Hunter 200-gr. hard cast lead. Muzzle velocities produced by each of three loads averaged 1,295 f.p.s./670 ft. lbs. for the Elite Performance 180-gr., 1,310 f.p.s./686 ft. lbs. for the 180-gr. Vital Shok Trophy Bonded and 1,350 f.p.s./809 ft. lbs. for the 200-gr. DoubleTap, making the latter the hottest 10mm hunting ammo out there.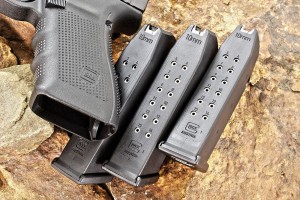 During reliability testing we fired over 100 rounds on our Salute Products steel plate targets without a single malfunction of any kind. The spring rate of the factory double-captured recoil spring was obviously dialed up for the 6-inch barrel. It did an amazing job of taming perceived recoil and preventing slide slamming, especially with those 200-gr. hard cast lead DoubleTap loads, which can be simply brutal out of some other 10mm pistols.
We tested the G40 for accuracy from the bench at 25 yards using the factory open sights, where it showed a distinct preference for the DoubleTap 200-gr. hard cast lead load, producing a best 5-shot group of 2.0" on the dot, measured center to center. The Federal Vital Shok Trophy Bonded's best group taped 2.25", while the SIG Elite Performance brought up the rear with a best group of 2.88".
The G40 Gen4 MOS is an innovative and hugely useful addition to the Glock line-up. Contact Glock, Inc.; Tel.: (770) 432-1202; Web: www.glock.com