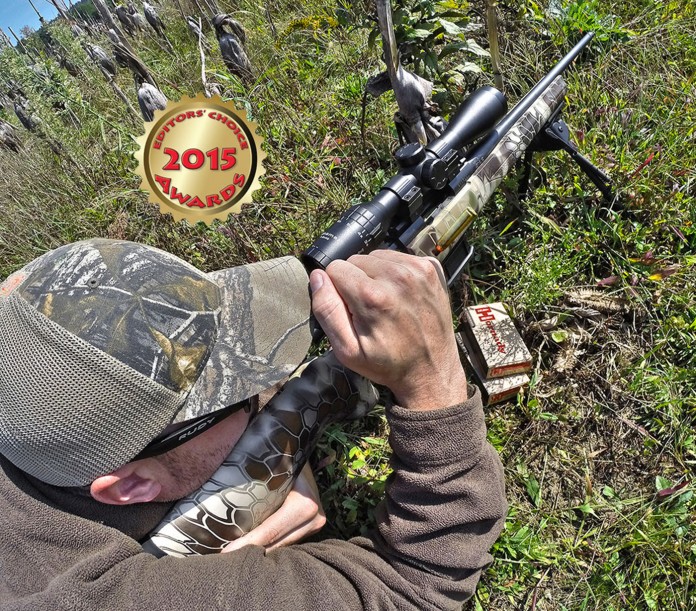 The new Model 1500 Mini-Action rifle from Howa is the first bolt-action rifle built on a receiver scaled down below the dimensions of a standard short-action receiver to the minimum dimensions required for the .223 Rem., 204 Ruger and .222 Rem cartridges. That's what we call innovation . . . and innovation is what wins Editors' Choice Awards. At 10.2 ounces, the Mini's action weighs 2.9 ounces less than that of a standard short action, and offers a bolt almost an inch shorter. Empty weight with magazine is a svelte 5.7 pounds.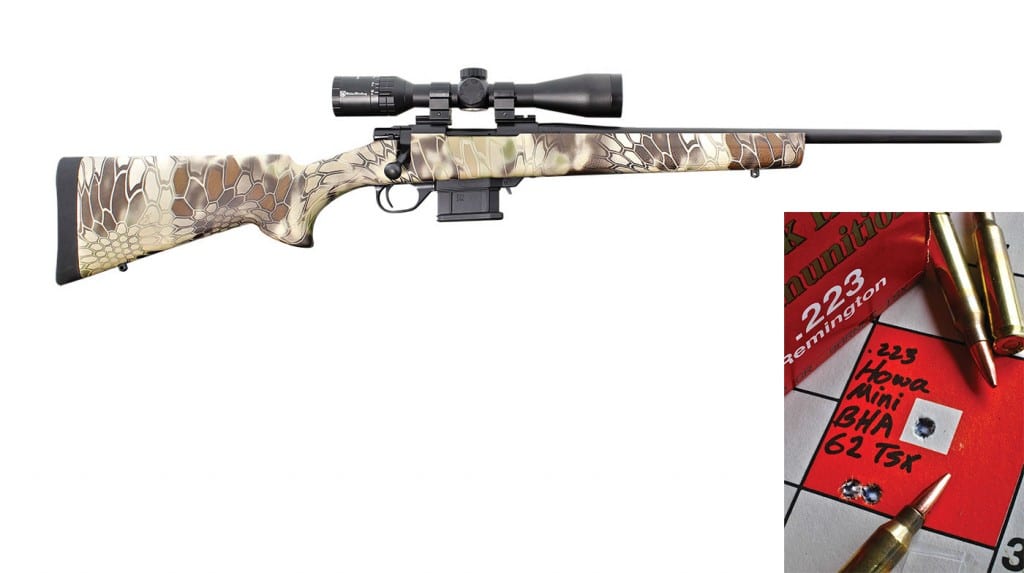 There's certainly nothing wrong with a .223 Rem. barrel on a receiver fashioned for the .308 Win., but why carry more rifle than you have to? Twelve percent shorter than the Howa short action, The Mini relieves you of excess weight and bulk. At the same time, the Mini has every feature of bigger Howas: a 3-position safety, a crisp HACT trigger, a synthetic detachable box magazine and a Hogue stock in black, green or camo. You can also get a Mini barreled action.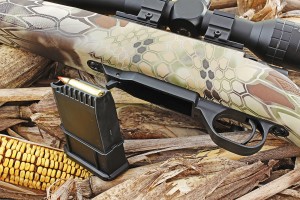 The Mini snared by Contributing Editor Wayne van Zwoll for function and accuracy trials featured a Hogue stock in Kryptek Highlander tan camo. The slim-profile, 20-inch barrel is bored to .223. There's a 22-inch "standard barrel" option, as well as a heavy-profile 20-incher. It's also available chambered in 204 Ruger and .222 Rem. Our evaluation gun was "package rifle" with 3-9×40 Nikko Stirling scope.
Like all Howas, the Mini has a twin-lug, one-piece bolt with M16-style extractor and plunger ejector. The action cycles silkily in the forged receiver. While the flat thumb safety looks like a 2-detent switch, it does, indeed, have three positions, and the stops are positive. The middle spot lets you work the bolt with the firing mechanism blocked.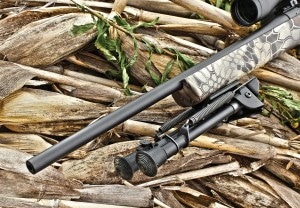 On our Timney gauge the 2-stage HACT trigger registers a pull weight of 3.2 pounds. Let-off is crisp and consistent. The pull comprises short, very light travel to engagement. Then there's the break. No grit, no creep, no stacking. It's a hunter's trigger, factory set at a useful weight for accurate shooting afield.
Detachable box magazines have mixed blessings, but the trend to polymer boxes has a lot to recommend them. Polymer is lighter than steel, quieter and rust-free. In our experience it's more durable and at least as reliable. The Mini's box snaps easily and securely in place and doesn't move when seated. Inexplicably, the box floor rattles against the box.
The Mini's magazine holds 10 rounds in a staggered stack. It's easy to load when removed from the rifle. Cartridges slide from the polymer follower as slickly as sausages down a hound's gullet. We couldn't get this Howa to stall, feeding and firing a wide variety of loads, and deliberately varying cycling speed. Ejection is quick and smart.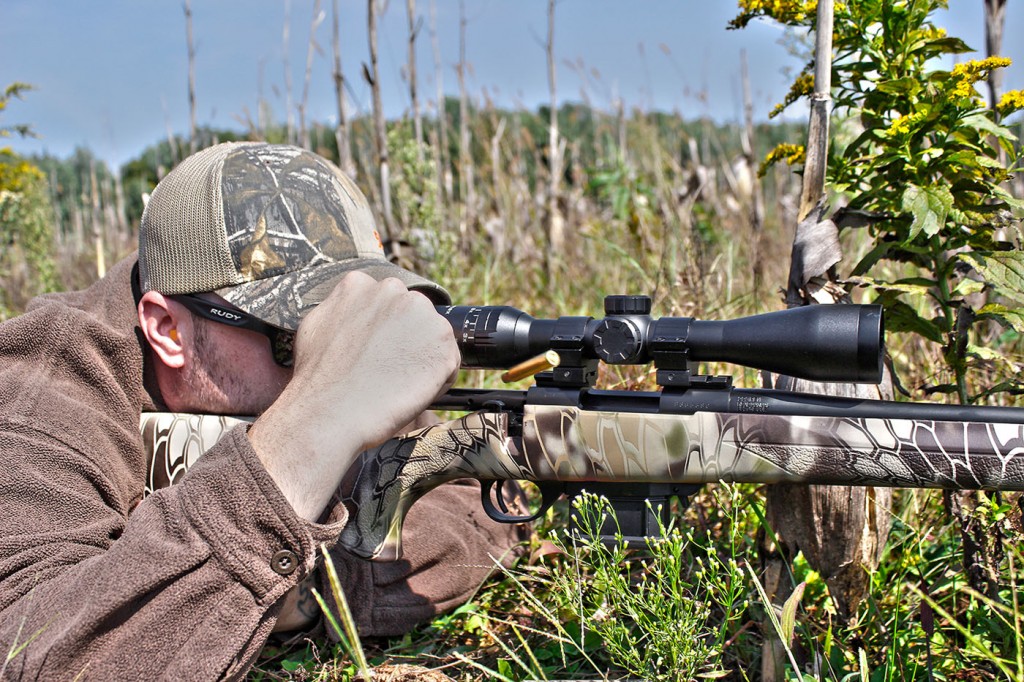 At the range, we bore-sighted the Mini, then fired at 35 yards to ensure our bullets would strike near point of aim at 100 yards. We dug out five boxes of factory loads, with bullet weights ranging from 40 to 75 grains. While Howa doesn't specify twist rate in its specs for the Mini, it does recommend a twist of 1-in-9 for the .223 Rem. with 53-grain Hornady bullets, and a spin of 1-in-12 for 32-grain Hornadys in the 204 Ruger. The wide range of weights in .223 is a test for any barrel; seldom does a twist rate fast enough to stabilize 75-grain bullets excel with 40 grainers.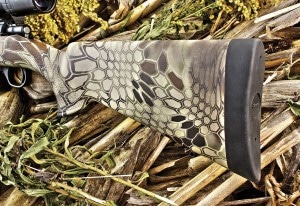 Our 100-yard groups stayed close to an inch with bullets up to 69 grains in weight, and we got sub-minute-of-angle (one inch at 100 yards) clusters with Hornady's 40-grain V-Max. The best accuracy came from Black Hills ammo loaded with 62-grain Barnes TSX bullets. We're well satisfied by precision that keeps bullets in coyote vitals to 400 yards and in prairie dog ribs to 200. That's good accuracy for a lightweight 20-inch barrel, tighter than most hunters can hold from field positions.
The Hogue stock seems, at first glance, a bulky handle for the dainty action and slim barrel. It's easy to control, however, and the comb is proportioned for aim through a low-mounted scope. The broad forend is flat enough for shooting over a rest, but comfortable in hand.
In sum, the Howa Mini is a well finished, smooth-cycling rifle. Its excellent trigger helps you tap accuracy that hovers at a minute of angle with a wide range of bullets. The rifle alone retails for $608 to $681, while the package with Nikko Stirling scope retails for $724 to $782, both depending on barrel contour. Contact Legacy Sports; Tel.: (800) 5-LEGACY; Web: www.legacysports.com