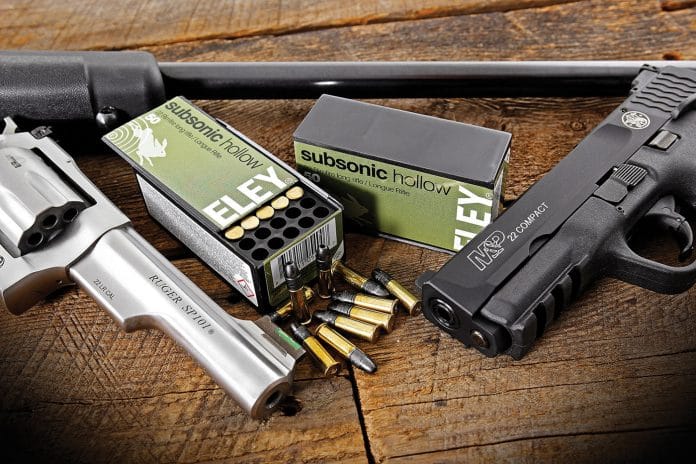 The Brits have long made the best .22 match ammo. Now there's one-hole accuracy for squirrel rifles!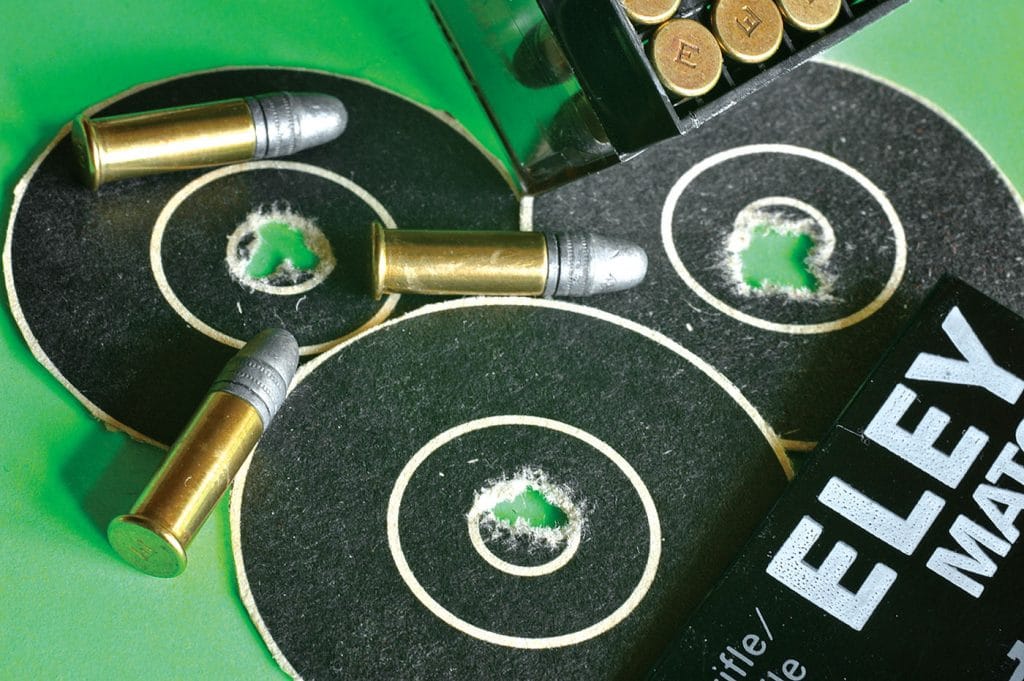 Decades ago, I lay on a mat and peered through iron sights at a black dot 50 feet away. The dot was actually the size of a golf ball. It had scoring rings. The 9-ring was smaller than a .22 bullet. A real dot in its center was a 10. The English Match comprised 60 of those targets. For a 600 score, you had to hit the dot you couldn't see 60 times.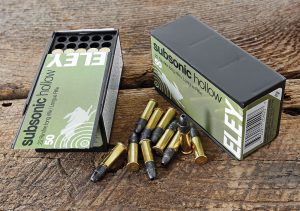 A 591 that day kept me in the running for an Olympic berth.
Of course, I used Eley ammo. It was the only choice when allowable error was half the diameter of a .22 bullet. Later, in outdoor prone competition, Eley delivered many wins with 5-shot X-ring knots the size of a Tylenol tablet. No American ammo equaled the consistency of Eley.
Outside competitive circles, this British firm isn't as well known. But it also makes ammunition for hunters. Subsonic Hollowpoints I fired recently in a CZ 455 sporter cut a 50-yard group miking 0.35"—as tight as that rifle will shoot with Eley Match. Hoo boy! Squirrels had better get topside of thick limbs!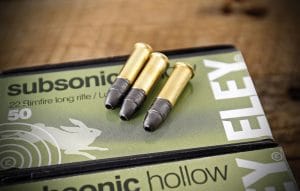 Established by William and Charles Eley in 1828, the business went to William's three sons in 1842. They grew it aggressively, and in 1874 sold public stock shares. Soon after the turn of the century, Ely became, with Kynoch, one of the founding members of Nobel Industries. In 1928 Eley moved to its present home in Birmingham. It's now a subsidiary of Imperial Metal Industries, a publicly traded, multi-national engineering firm. Eley makes air-rifle pellets too. Eley Hawk shotshells (#9 to 000 Buck) have a following. But the company focuses on .22 rimfire ammunition.

My one visit to the factory left the impression, from the outside, of a coal-and-anvil shop in what some might call a gritty neighborhood. No laboratory gleam inside either. Clean. But no surgical, micro-chip, laser-optic feel. "We make ammunition that will make you a champion," declared our host, clearly aware that was the final measure of the operation. "We inspect every round." Before I could ask how, he hurried us past the priming room, where precisely the same amount of mix is spun into each case head. A projector put enlarged images of cartridge batches on a wall, where we could see the teeniest irregularity. "We spot-test to ensure uniformity." At indoor ranges, groups are essentially one ragged hole.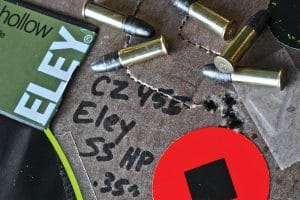 Eley's top match load is Tenex, or "red-box" as we knew it. "Black-box" (Eley Match) is next in line. Because it costs less, my friend Vic Fogle and I invested in sample lots of Match to see if it would equal Tenex in our rifles. Some did. I bought a case of one lot. From the Anschutz 1413 I used in position shooting and from the McMillan barrel of my Remington 37 prone rifle, it shoots into a very small hole. Eley has hosted shooters to test lots of ammo in their own rifles.
Eley boxes an astonishing variety of .22 target ammunition. Besides Tenex and Match, I've seen Club, Target Rifle and Standard, plus Silhouex for metallic silhouettes, all with 40-grain bullets at 1,085 f.p.s. Keeping velocities below the speed of sound (1,126 f.p.s. at sea level) guards against instability as the bullet breaks the sound barrier. Pistol shooters have as broad a choice, with bullets clocking 1,030 f.p.s.. Special loads serve Free Pistol and Rapid Fire competitors. There are even loads for "parlor" shooting.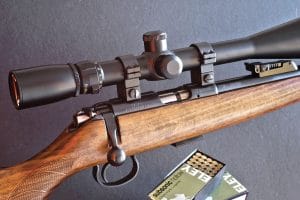 The 37.5-grain Subsonic Hollowpoints are loaded to 1,050 fps in rifles; so too 40-grain Subsonic Solids. Eley also makes high-velocity ammo (hollowpoints and solids) that clock at 1,312 fps. A .22 Short Solid at hand—the only offering to my knowledge that isn't Long Rifle—spits 29-grain bullets at 950 f.p.s.
I'm itching to get Subsonic Hollowpoints afield. While small-game vitals are bigger than the 10-dot in that bullseye of long ago, ammo that can shoot into one hole makes you feel like a champion! Check out Eley's entire line at your nearest dealer, or visit them online at www.eley.co.uk.