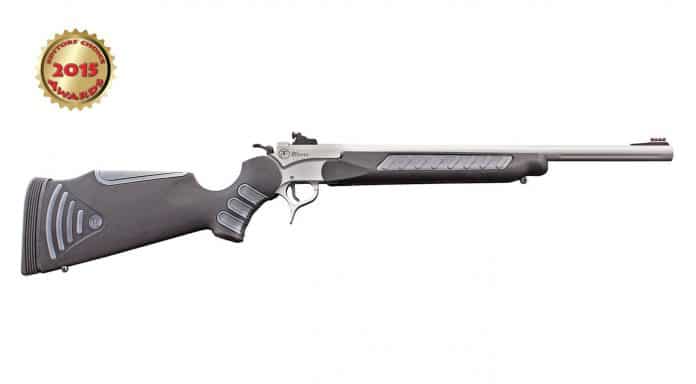 One of our favorite new deer rifles tested this year was the Thompson/Center Encore Katahdin Pro Hunter ($852). Originally developed for hunting black bear and moose in the thick cover of northern New England, this break-action, single-shot rifle is available chambered in .500 S&W Magnum, .460 S&W Magnum and .45-70 Govt. A are fitted with 20-inch, fluted, stainless steel barrels, recoil taming synthetic Flex-Tech stocks and super cushy Sims LimbSaver recoil pads.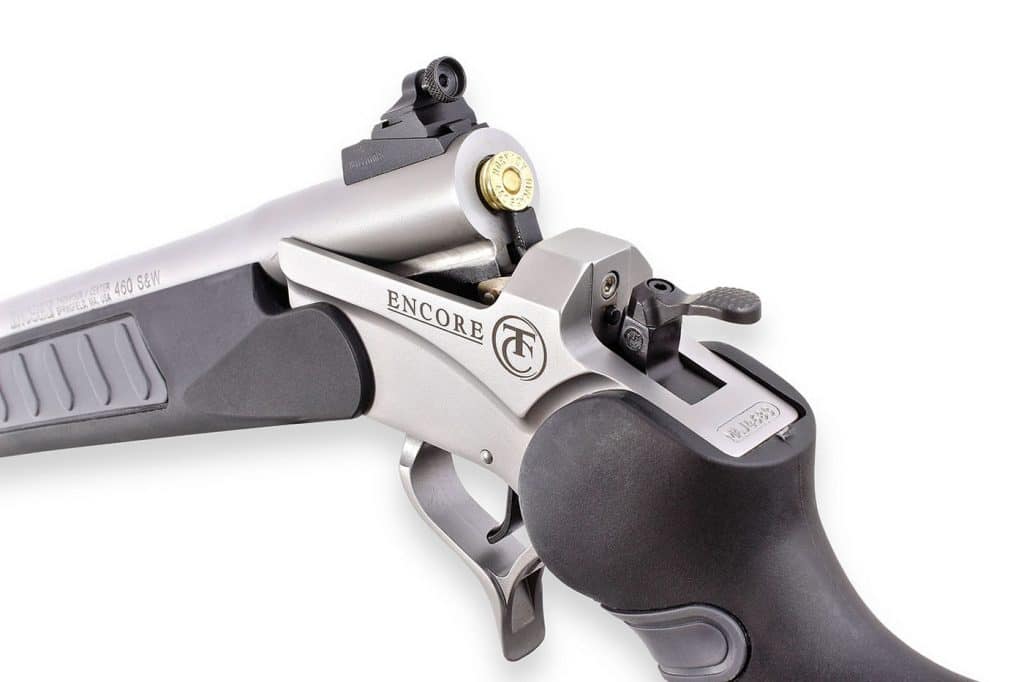 Our evaluation rifle was chambered in .460 S&W Magnum. Built on a stainless steel Encore frame, the switch-barrel Pro Hunter will accept all Encore and Pro Hunter barrels, available in four lengths and 15 chamberings up to .300 Win. Mag. Barrels are changed by removing the forearm, tapping out the hinge pin and lifting the barrel out. To install a new barrel, simply reverse the process.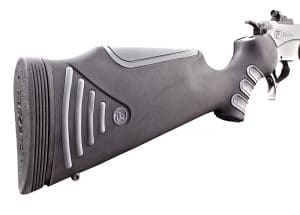 Pulling the action lever to the rear with your trigger finger releases the action lock and causes the breech to tilt upward and the extractor to partially extract the empty case. After reloading, simply snap the action closed. The external hammer has to be fully cocked to fire, and it automatically returns to the half-cock "safe" position when the trigger is released. There is no manual safety. The hammer spur can be rotated 50 degrees to either side to clear a mounted scope, making the Katahdin Pro Hunter truly ambidextrous.
Sights consist of a windage and elevation adjustable Williams aperture rear and ramp-mounted red fiber-optic front. The barrel is drilled and tapped for scope mounts, but the rear sight occupies two of the four mounting holes, so it must be removed to mount an optic.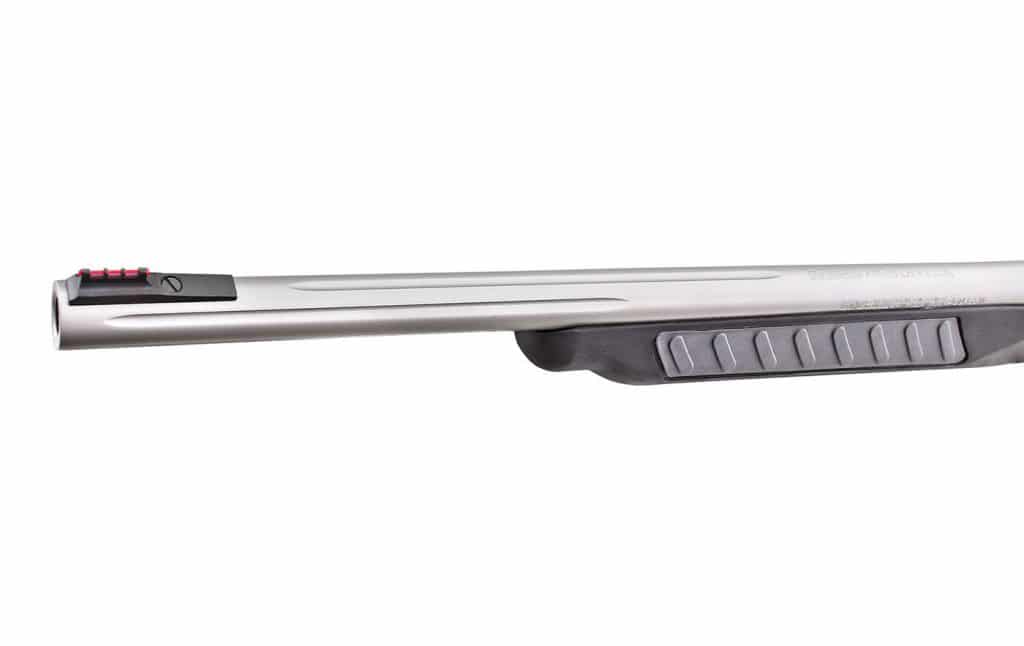 The Flex-Tech stock is black with gray sticky rubber inserts on top of the comb, and on both sides of both sides forward of the butt pad, on the pistol grip and on the forearm. Sling swivel studs are provided at both ends.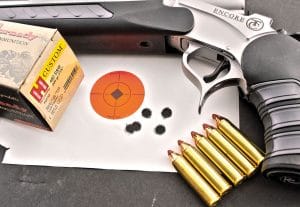 For testing we used Hornady's 200-gr. FTX load (2,490 f.p.s./2,574 ft. lbs.), fired from the bench at 50 yards using the excellent open sights. Recoil was modest and reliability was 100%. Group sizes averaged about 2.5 inches, with the best 5-shot group coming in at an impressive 1.61 inches.
Weighing only 5 lbs. 15 oz. empty and without optics, and measuring only 34 inches long, the Encore Katahdin Pro Hunter is a lightweight, compact, fast-handling and versatile rifle capable of taking any North American game animal. Contact Thompson/Center Arms, Dept. OT; Tel.: (866) 730-1614; Web: www.tcarms.com