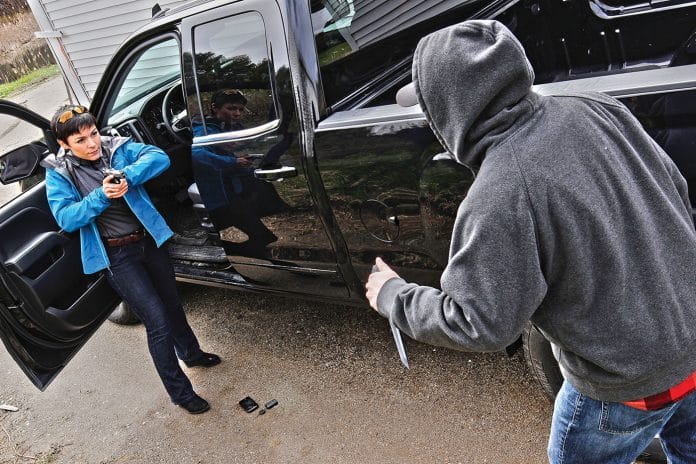 By Tatiana Whitlock
---
Springfield up-sizes it's smallest 1911 for enhanced shootability and a larger payload, while still leaving it highly concealable for every-day carry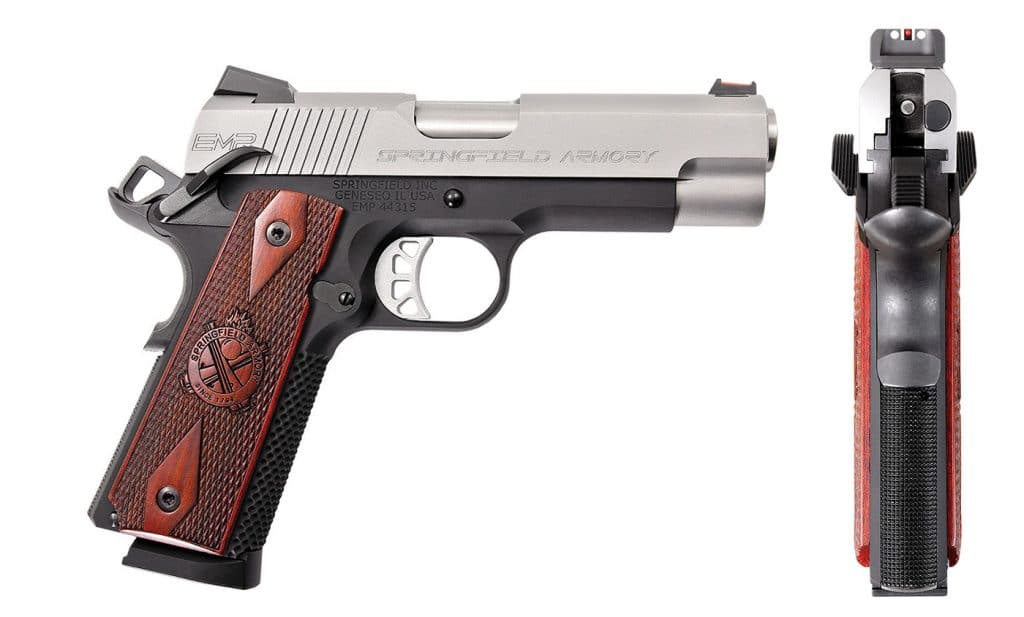 Being an all around 1911 fan, and someone who carries one concealed every day, I was excited to receive Springfield Armory's latest version of the EMP, their new EMP-4" Lightweight Champion in 9mm (also available in .40 S&W). As many 1911 shooters know, finding a compact 1911 in 9mm that can endure hard training, every day carry, and reliably perform under pressure isn't exactly an easy task. The new 4-inch EMP model exhibits all the everyday-carry attributes of the standard EMP, but with one-inch of extra slide length for a longer sight radius, a half-inch of extra grip length to accommodate larger hands and one-extra round in the magazine.
Shooting the EMP-4" for the first time right out of the box, off the bench, felt a lot like politely test driving a new car. You get behind wheel, familiarize yourself with the controls, and take it for a spin. With great scrutiny you experience its nuances all while trying not to make the salesman in the passenger seat too nervous. Initial feedback? Yes, I'd buy the car. But this isn't a gun intended for polite use. It's a gun I would seriously consider for a primary concealed carry pistol which I would be betting my life on for performance and practicality under great amounts of stress. So, a true test is one that works aggressively from concealment and may not be a ride-a-long for the faint of heart.
First Impressions
Right out of the box the EMP-4" Lightweight Champion is sure to make any traditional 1911 fan smile on sight. With a forged stainless steel, satin-finished slide, and aluminum alloy black hardcoat anodized frame with low profile Cocobolo grips, the EMP-4 is a classic-looking beauty. Picking the gun up out of the box the most noticeable feature was how light the gun is. Weighing in at 31 oz. unloaded, this aluminum-frame gun wins high marks in the featherweight division.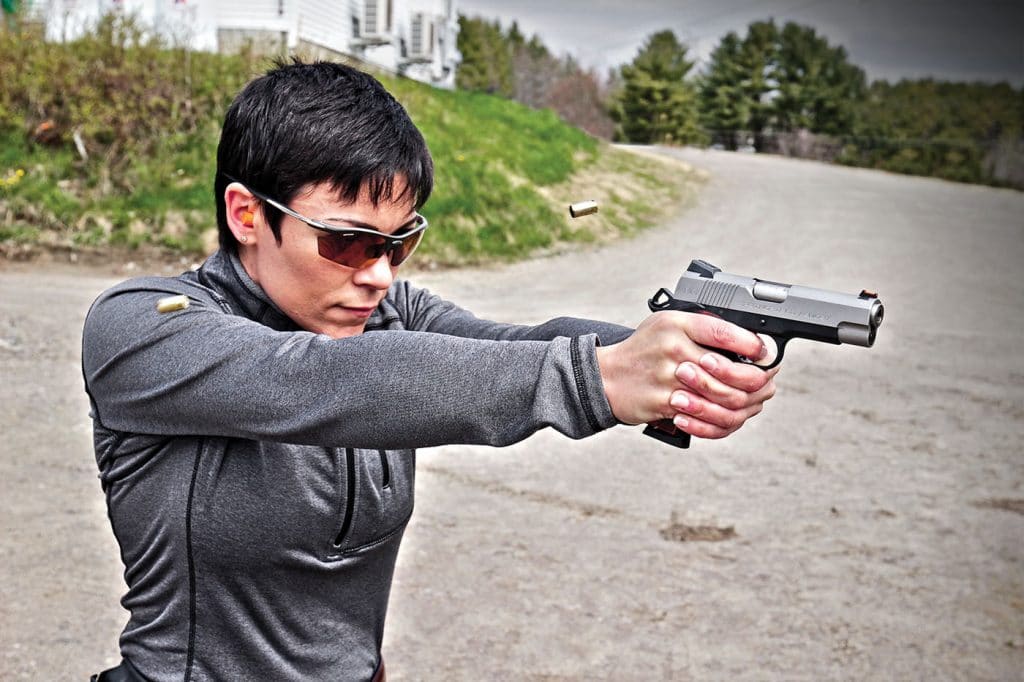 The EMP-4"s reduced grip circumference design, along with slim grip panels, allow the hand to fold naturally around it for a remarkably comfortable fit. For someone with average to small Size hands this is an excellent feature as it does not require a shift of the wrist in order to make positive contact with the trigger. The 5.5" overall height gives both hands an additional 1/2" of grip length compared to the standard EMP, allowing a pinky finger purchase on the gun with room to spare.
The grip itself has a Posi-Lock front strap grip texture but smooth wooden grip plates. While some prefer this smooth classic wooden plate style, I personally prefer a more aggressive texture. For sustained training and when hands get sweaty, muddy or bloody a grip with some bite provides a positive "sticky" hold on the gun and quickly reveals any imbalance in your grip pressures. For a concealed carry pistol this is a feature that I look for out of the gate. An easy and quick change based on your anticipated needs and personal preference.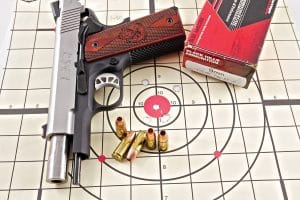 While usually an upgrade for most 1911s the EMP-4" comes standard with an ambidextrous safety. Though some dislike this non-traditional feature, those working through off hand shooting from concealment know just how important an ambi-safety is. One doesn't loose mechanical leverage in the grip by riding the safety, nor do they compromise the life saving, decision making, functionality of the safety selector. A vital component in my opinion to any contemporary 1911 concealed carry pistol.
Equipped with a two dot low profile combat rear sight and an orange fiber optic front sight, I was curious about how this visually "busy" package would work out at the range. In a discussion this past March with Dave Spaulding of Handgun Combatives on the topic of the visual impact of high contrast sights he explained how this kind of combo could be "optically confusing" for some shooters.