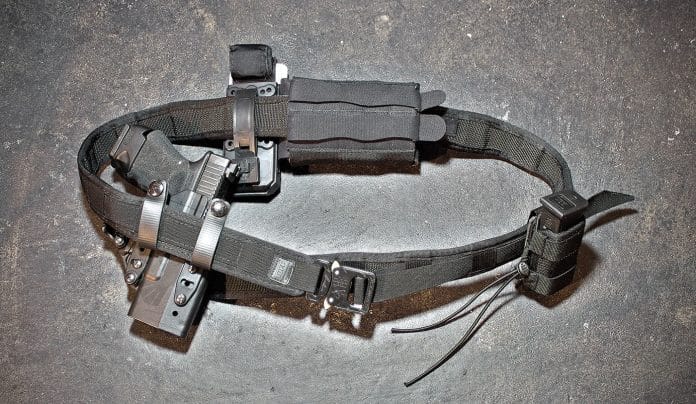 By Charles Anderson
---
The TUFF Products 1.5-inch EDC EZ-Feed Cobra Ranger Belt is made to be worn by citizens with an emphasis on Every Day Carry to support the weight that comes with that responsibility. It comes in color schemes that work well with civilian clothes and can easily blend in as just another belt. As a bonus, the belt is proudly American made.
The EDC EZ-Feed Cobra Ranger Belt is designed with a 1.5-inch base layer to fit civilian pants and 1-inch Mil-Spec webbing that allows for adjustment of up to six inches. This is a tremendous selling point for me. I go between summer and winter weight and often find that belts with limited adjustment require me to buy multiples. The 1-inch adjustment-webbing wraps back into the belt strap allowing for any overlapped material to be tucked out of the way. I typically advise against a Cobra Buckle due to the pain it can be having to take the buckle off to thread the belt through your belt loops. With the 1.5-inch Cobra Buckle, however, you can feed the buckle through your pants without having to take off the clasp.
Comfort
This belt is likely the most comfortable of the EDC belts I have worn. The 1.5-inch base layer has a rounded edge on the top and bottom. This makes the material less likely to bite you when bending over. The weight is dissipated well across the belt when supporting an IWB or OWB holster.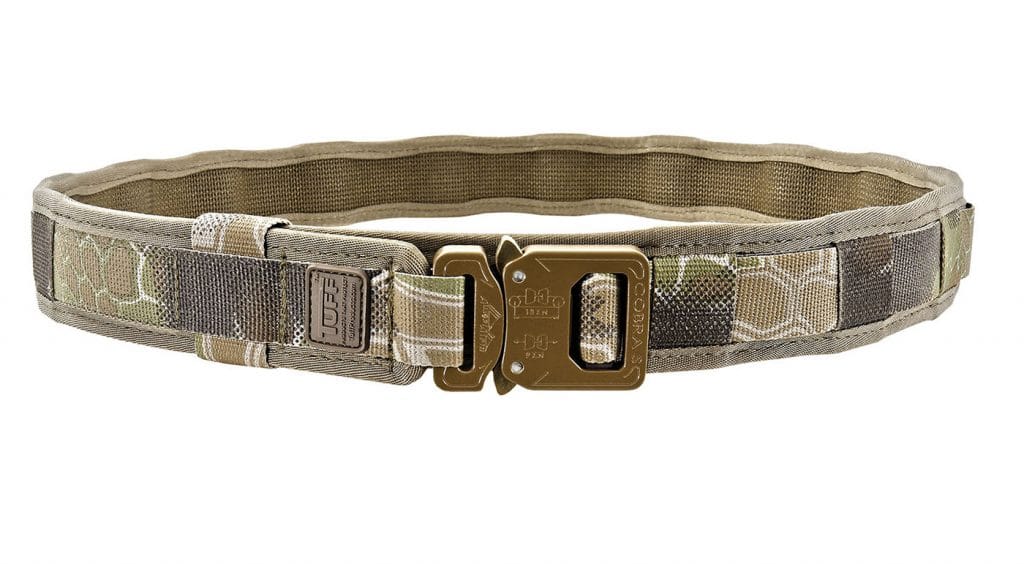 Pros
This is a well-made, fully adjustable belt that fits both tactical-style pants and standard pants. It comes in a range of colors—customizable to create an inner and outer belt combination that works for your tastes.
It is a USA-made product with heavy-duty materials including a genuine AustriAlpin Cobra Buckle. There are no plastic or cheap parts, and the stitching is tight and well done.
I have tried six different styles of IWB belt clips and none of them have given me an issue. I have loaded my pants down with multiple guns and pockets full of loaded P-Mags just to test how well they kept my pants on and found no issues.
Wearing the all-black version, my wife has been happy to see me look less like a survivalist when running out to the store and taking my sons to school.
With this being a custom belt (you choose the base and accent colors at time of purchase), the shipping time is about two weeks. We list this as a "pro" since many of the companies which import belts or make custom rigs are closer to 30 to 45 days. The belts start at just $89, and vary in price based on colors.
TUFF Products stands behind their stuff. If you ever have an issue with the product, just call them. They warranty the items for wear and tear (not misuse) for five years, and in some cases they will even back them longer. I can say after daily wear for two years, putting on and taking off numerous holsters, I have seen no wear or stitching issues. My leather belts can't say the same.
You can buy from your local TUFF Retailer or direct from TUFF Products at www.TUFFProducts.com, Use coupon code GAT10 to receive 10% off your entire order.