Rock River Arms is famous for their iterations of two classic American martial firearms, the AR-15 and the 1911. In the latter case, Rock River's .45 autos made their bones at Camp Perry, where their accuracy and reliability endeared them to bulls-eye shooters. Take one of those excellent pistols, make sure the tolerances will allow it to run reliably under duty conditions, put on some sights suitable for defensive purposes, and add a light rail to the dust cover: Voila! You have Rock River's new Tactical 1911-A1 .45 auto.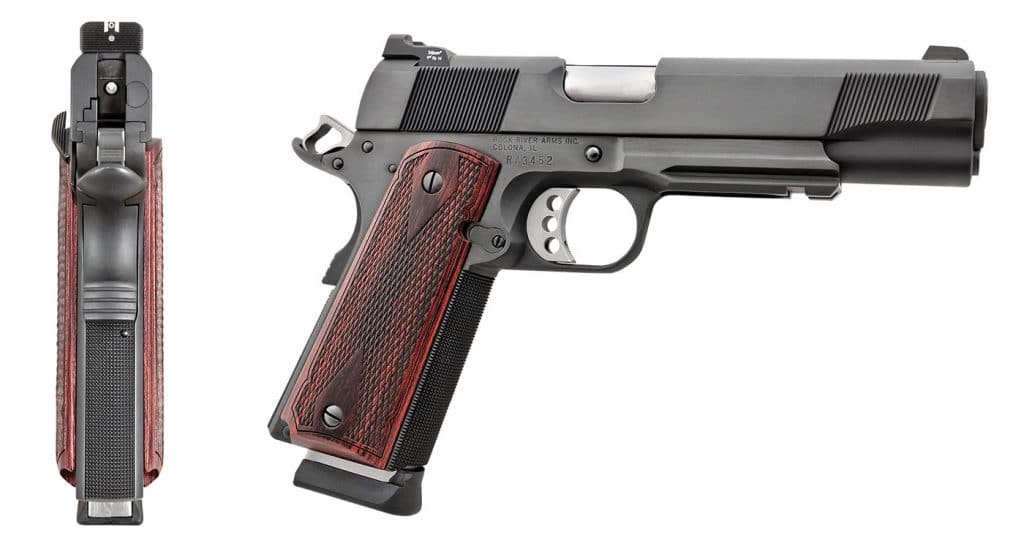 First Impressions
Back in the 1920s, the 1911 was upgraded to the 1911-A1 configuration with a host of revisions. Those included an arched instead of flat mainspring housing, short trigger instead of long, the frame machined out at the rear of the trigger guard for better finger reach, improved configurations of grip safety and hammer spur, and finally, larger sights. Though Rock River calls this pistol a 1911-A1, it actually has only one of those features, the machined out frame behind the trigger guard. It comes with the old flat mainspring housing of the original 1911. The trigger, hammer, grip safety and sights are better than either the original 1911 of the eponymous year, or the pre-WWII 1911-A1. Top-quality checkering on front and back straps gives optimum "feel" in this writer's opinion.
The sights were an excellent choice for a pistol bearing the "Tactical" moniker, to wit, the excellent Heinie Ledge, so called because the shape of the rear sight gives a ledge which allows a user with only one hand left to fight with to rack the slide against belt or holster using this contact point. The front post and the rear each have one Trijicon night sight ampoule, aimed by setting the front above the rear in Richard Heinie's famous "Straight Eight" configuration.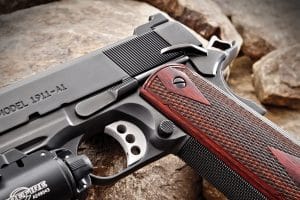 Kart match barrels are famous for their accuracy and quality. That's what you find in the Rock River Tactical, perfectly installed for optimum function.
The recoil spring system is John Moses Browning's time proven original, which gets a big thumbs up from this reviewer. The thumb safety is sized well for fast use, but on the test sample was right hand only. The speed hammer and beavertail grip safety with "speed bump" represent today's most popular configuration among 1911 cognoscenti, worked perfectly even with high thumb grasp, which on many 1911s fails to activate the grip safety. No so on this one.
I would have preferred an ambi thumb safety and could have done without the forward slide grasping grooves. That, of course, is subjective. I found the thumb safety stiff to engage to the "on-safe" position at first, but within the first day of "git 'er up on target an' shoot," it wore in just fine.
On the Lyman digital scale, the trigger pull weight averaged 4 lbs, 10.9 oz., but felt lighter, an indication of a well-made gun with a smooth pull. The RRA website calls for 3.5 pounds on this model. Given that GI spec on the 1911 pistol originally was 5 to 8 pounds, and 4.0 pounds is generally considered red-line minimum for a duty gun as opposed to dedicated target pistol in the 1911 platform, the pull weight on our test sample absolutely lived up to this model's "Tactical" name.

On the Firing Line
The test RRA pistol came in just as I was about to leave for Tom Givens' excellent Rangemaster Tactical Conference (rangemaster.com) in Memphis, where I was scheduled to teach and eager to learn. One live-fire course I wanted to take was Paul Sharp's "Recoil Mitigation" course, which turned out to be excellent (www.sharpdefense.me). Figuring I wasn't going to learn much about recoil control with a 9mm pistol like the Wilson Combat Beretta 92 Compact Carry I was wearing to the class, I brought the RRA along with a few hundred rounds of .45 hardball.