Lightweight Ruger In Action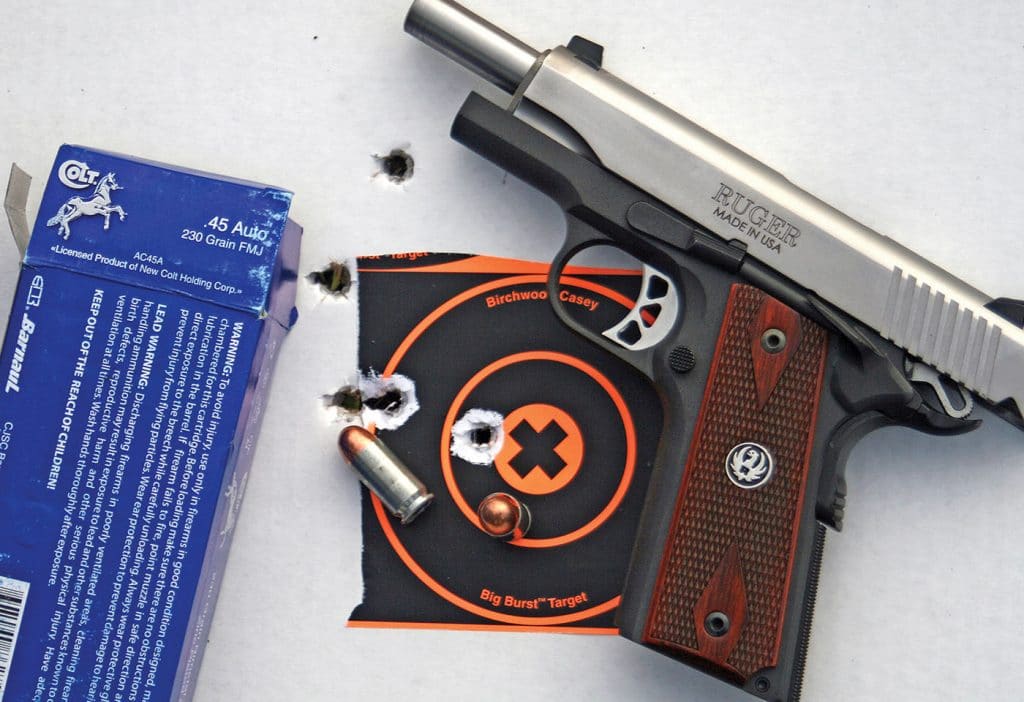 The late Col. Jeff Cooper, "the high priest of the 1911 .45," loved the Commander but felt it was designed to be "carried much and shot seldom." On 1911s, the frame is part of the feedway, and the aluminum Colt got a reputation for its frame being chewed up at that point by sharp-edged hollow points and some hard semi-wadcutter loads, roughening the feed path and causing malfunctions. My old friend, Bill Laughridge, at Cylinder & Slide came up with a steel insert to prevent that, and Ruger picked up on it, with a slightly different-shaped insert made of Titanium. It seems to work: JHPs fed fine through the Ruger LW Commander. Having learned my lesson with the first test, I lubed the On Target test gun early, and it ran with no malfunctions at all.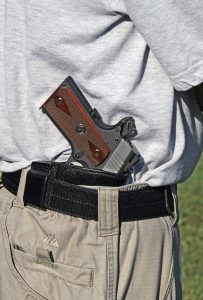 From the bench at 25 yards, I tried one practice load and two duty rounds. Colt's new ammo line, with a 230-grain FMJ "bimetal" bullet in a zinc-plated steel case, produced for Colt by the CJSC Barnaul Cartridge Plant in Barnaul, Russia, put five holes 3.15" apart. Remington's 185-grain jacketed hollow point, which has been dropping bad guys for decades now, put its quintet of shots into 3.65". One of my favorite current carry loads, Winchester's 230-grain Ranger-T high-tech hollow point, delivered a 3.35" 5-shot group. Seems pretty consistent to me. I've found over the decades that the best three hits in a 5-shot group, fired hand-held from the bench, eliminate enough unnoticed error to be a good predictor of what the same gun and ammo would have done for all five shots from a Ransom machine rest. The best three measurements were 1.45" for the Colt/Bernaul 230-grain FMJ; 1.55" for the 230-grain Winchester Ranger; and a most pleasing 0.95" for the Remington 185-grain JHP.
Trigger pull weight averaged 6 lbs., 6.2 oz. on the Lyman trigger pull gauge. There was a slight take-up, a "tick," palpable in slow fire before reaching sear-break, at which time the trigger broke cleanly. I did notice a sharp edge on the bottom face of the trigger that would bite the trigger finger a little in the necessarily bent-wrist position on the Matrix rest, but that and the pre-shot "tick" both seemed to disappear in rapid fire from conventional shooting stances.
The lighter gun kicks more, of course, but a firm grasp and strong stance control that well enough. The well-designed beavertail grip safety and slim stocks help with this.
At an MSRP of $979, it's in the ballpark with Colt's own original Lightweight Commander, and Colt 1911s are actually coming through quite nice these days despite that company's highly publicized financial woes. The Ruger is more likely to be available at more gun shops, is more likely to be discounted from suggested retail, and has Ruger's famously good customer service behind it.
Beautifully balanced, the Lightweight Commander really is noticeably more comfortable in a good holster than its more popular all-steel brethren. I'm hearing only satisfaction from folks I know who've bought and shot the Ruger SR1911 Lightweight Commander. Ace firearms instructor, Marty Hayes, is about to take a busman's holiday at the school Jeff Cooper founded, Gunsite, and plans to do it southpaw (even though he's right-handed) with his own Ruger Lightweight Commander. Yes, he'll have to install an ambidextrous thumb safety, but that's high homage to the Ruger indeed from a well-known 1911 expert.
See the SR1911 Lightweight Commander at your gun shop, or contact Sturm, Ruger & Co., Dept. OT; Tel.: (336) 949-5200; Web: www.ruger.com