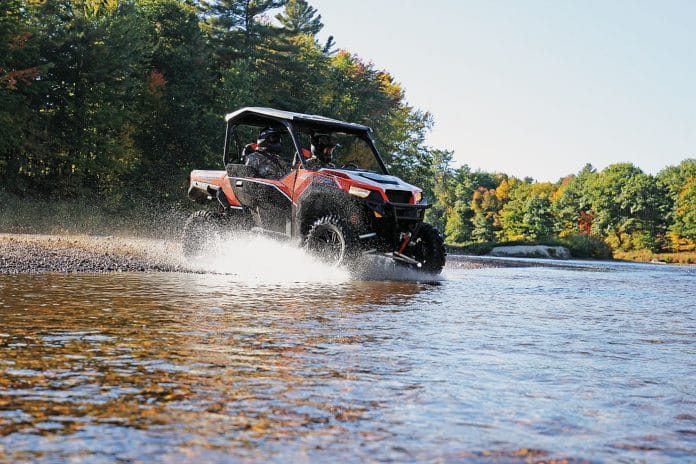 Performance meets utility in an ultra-capable, no compromise backcountry machine
If you're the type that simply refuses to compromise on your equipment—namely in the balance of performance versus utility—the new Polaris General 1000 is a machine made expressly for you. Traditionally, for a side-by-side to have a high level of trail performance you're forced to give up a high degree of storage and work-related utility, or vice-versa. Not the case with the General; now you can have your cake and your dump-capable cargo bed as well.

The 2016 General was a 100% new, ground-up build for Polaris, and was conceived with one goal in mind—to appease those who had one foot in the sport-oriented RZR camp, and the other in the more-work-oriented Ranger camp. The General is a true work hard/play hard machine that expertly combines high speed and high comfort of the RZR with the cockpit space and high utility levels of the Ranger. With three versions available for 2016, and a total of five 2017 versions (including a 4-seater and a Hunter Edition clad in Polaris Pursuit Camo) as of writing this, we got our hands on the top-of-the-line '16 model to evaluate earlier this year: the Deluxe model.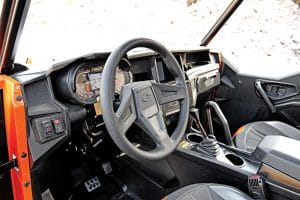 If the term "deluxe" were ever aptly applied to a UTV, it would be right here with the General Deluxe. While Polaris also offers base models without all of the amenities, the Deluxe spoils you with things like an integrated MTX sound system (which can easily be heard through your helmet while blasting down the trail), a poly sport roof, a low-profile front bumper, 4,500-lb. Polaris winch, 14-inch matte black alloy wheels shod with 27-inch-tall 8-ply GBC Dirt Commander tires (one of our hands-down favorite tires) and premium, quick-adjust Fox Podium X 2.0 QS3 shocks on all four corners. Electronic power steering is standard on all General models.
Under the hood (figuratively speaking, as the engine actually sits behind the cockpit) you'll find the General's class-leading, tried 'n true, electronically fuel-injected ProStar 1000 power plant, putting out a whopping 100 horsepower and 65-ft. lbs. of pulling torque. For a machine that has a sizeable presence, and weighs a couple hundred pounds more than the comparable Polaris RZR S 1000, the General has no problem building velocity. Power output is smooth, predictable, well matched to the chassis and never failed to fall short in the grin department when the skinny pedal was mashed. As an impromptu acceleration comparison, we lined up several times with a buddy's 2016 4-seater RZR 4 900 EPS on a straight stretch of dirt road to see who's machine could make it from point-A to point-B the quickest. Although not by a substantial margin, the General took the checkered flag every time. To slow the machine down from warp-speed with an extreme level of competence, Polaris gave the General hydraulic disc brakes on all four corners. The healthy 1000 ProStar paired with standard engine braking can also be thanked in part for the General's impressive 1,100-lb payload capacity and 1,500-lb towing capacity—both of with might come in mighty handy in large-game territory.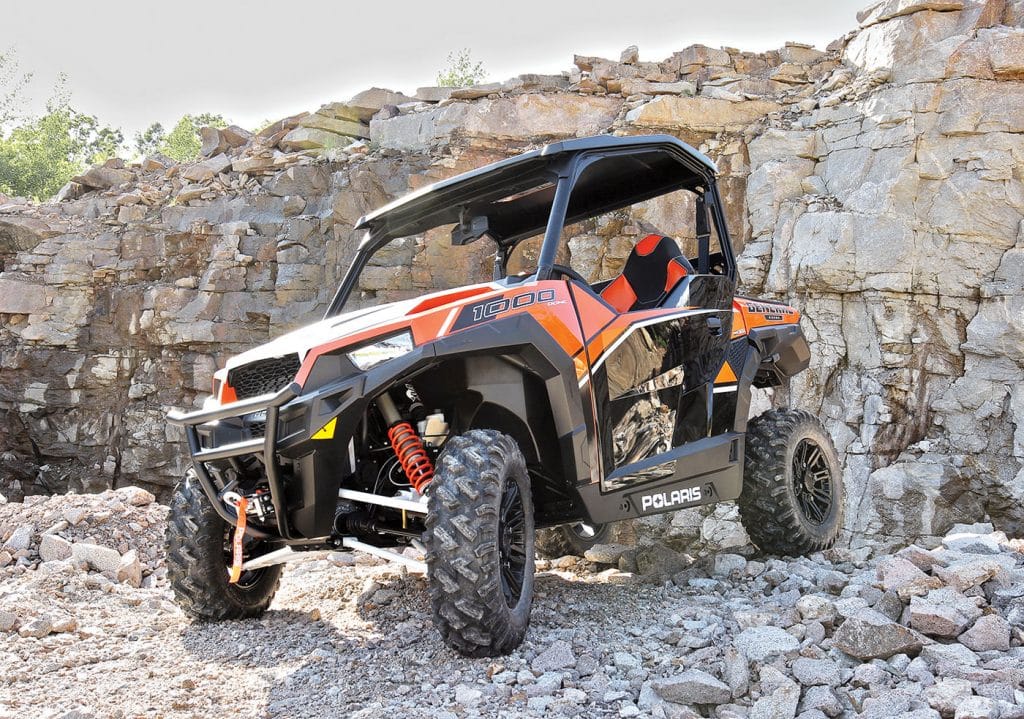 Power is nothing without the ability to harness it, and as such, Polaris outfitted the General with an extremely competent, long-travel suspension system that gives the rider an incredible amount of control over rough terrain. Simply point, shoot and enjoy the ride . . . just like you would with its closely related (in the suspension department) RZR S counterparts.