By Mike Dickerson
Finally, an AR-10 that's light enough to be an everyday hunting rifle. Meet the new DPMS GII Compact Hunter.
At first glance, the new DPMS GII Compact Hunter rifle may resemble other AR-10 platforms, but it's immediately obvious when you pick one up that this gun is very different. The first thing you'll notice is the rifle's weight—or rather, its lack of weight.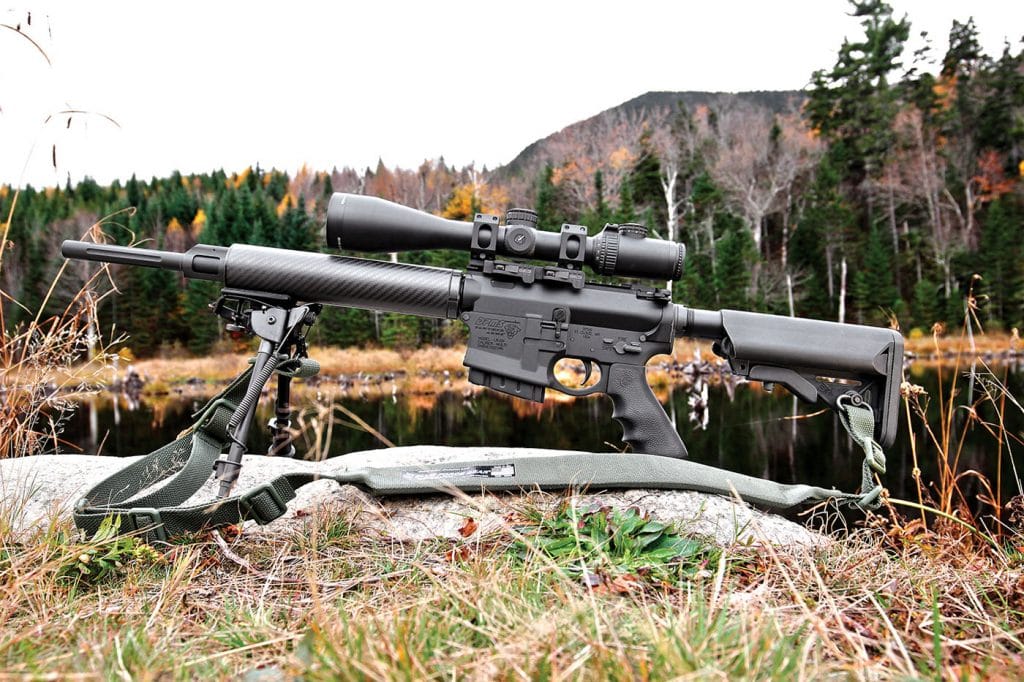 The Compact Hunter weighs a mere 6.9 lbs., which makes it one of the lightest production AR-10 rifles around. It's a featherweight compared to most AR-10s, which weigh 8 to 10 pounds and are about as much fun to carry on a hunt as packing an anvil. This rifle's weight puts it squarely in the running as an everyday hunting rifle, but also gives it great utility for tactical applications.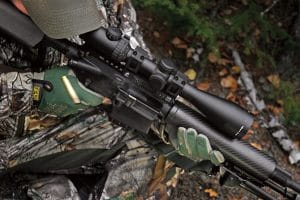 To get to that weight, DPMS reengineered the AR-10 platform to benefit from smaller-diameter and shorter-length upper and lower receivers, which are forged from 7075 T6 alloy. Dimensionally, apart from its necessarily longer magazine well, the rifle is quite close in size and conformation to a Remington R-15 (.223 Rem.) Carbine I own. Additional weight is shaved from the rifle with the use of a .223-sized, forged 8620-steel, monolithic bolt carrier. A new-geometry bolt, made of Carpenter 158 steel, allows for use of a newly designed, smaller barrel extension, which in turn allows for the A3 type upper receiver to be smaller. All of these changes are designed to reduce weight while preserving strength where it counts. The firing pin is titanium.
Most of the remaining weight savings come from the partially fluted 16-in. stainless steel barrel, low-profile gas block and a .223-sized carbon fiber handguard. Of course, stuffing an AR-10 into an AR-15 package naturally raises questions of reliability and durability. DPMS has taken special care to address these concerns in a number of areas.

There's a steel feed ramp insert, for example, which improves feeding while allowing for a lighter, smaller receiver. Inside the bolt face, you'll find dual plunger ejectors, designed to ensure reliable ejection and reduce ejector spring fatigue.
The ejection port has been enlarged, forward of the improved shell deflector, and there's a fully functioning forward assist. The bolt carrier incorporates an integral gas key tower, rather than one held in place with screws, and a removable gas key extension.
The extractor is an entirely new design, made of a metal which DPMS says is nearly impossible to break. The extractor uses a novel, elastomer extractor spring which the company says has proven, in testing, to be more durable, reliable and resistant to environmental effects than conventional springs.
DPMS says the spring can handle temperatures from -60 degrees to 650 degrees F.
Anyone who is familiar with a standard M4 or AR-15 will feel right at home with the controls on the rifle, which are in the usual locations in the usual configuration.  All DPMS GII rifles accept standard AR fire controls, making it easy to customize as you wish. GII rifles also have a newly designed barrel nut which increases compatibility with more two-piece and .223-sized free-float handguard systems. The rifle has a Hogue pistol grip, with finger grooves, and a B5 Sopmod stock with an anti-slip rubber recoil pad, a single stainless steel QD swivel mount and two molded QD sling receptacles. Overall length is adjustable from 32.5 to 36.0 inches. The lower receiver incorporates a generously sized, integral trigger guard and beveled magazine well.