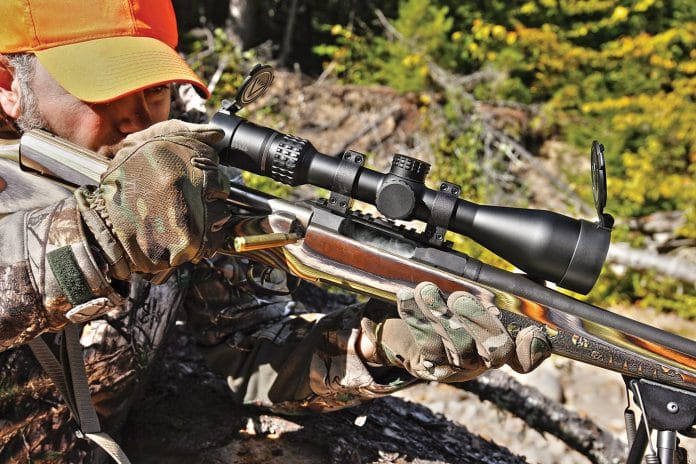 This rifle-scope seals the gap between all-purpose hunting sights and scopes for truly long shots.
New products are the life-blood of every brand in the competitive field of outdoor optics. Riflescopes have thus become ever more sophisticated and expensive. When I bought my first scope, a 2.5X Scope Chief, for its retail price of $39.95, it was one of five in Bushnell's line. Four were fixed-power scopes. Weaver ads of that era hawked 4X scopes as top choice for "big game in open country," and their K6 as a sight for "small game at extreme ranges."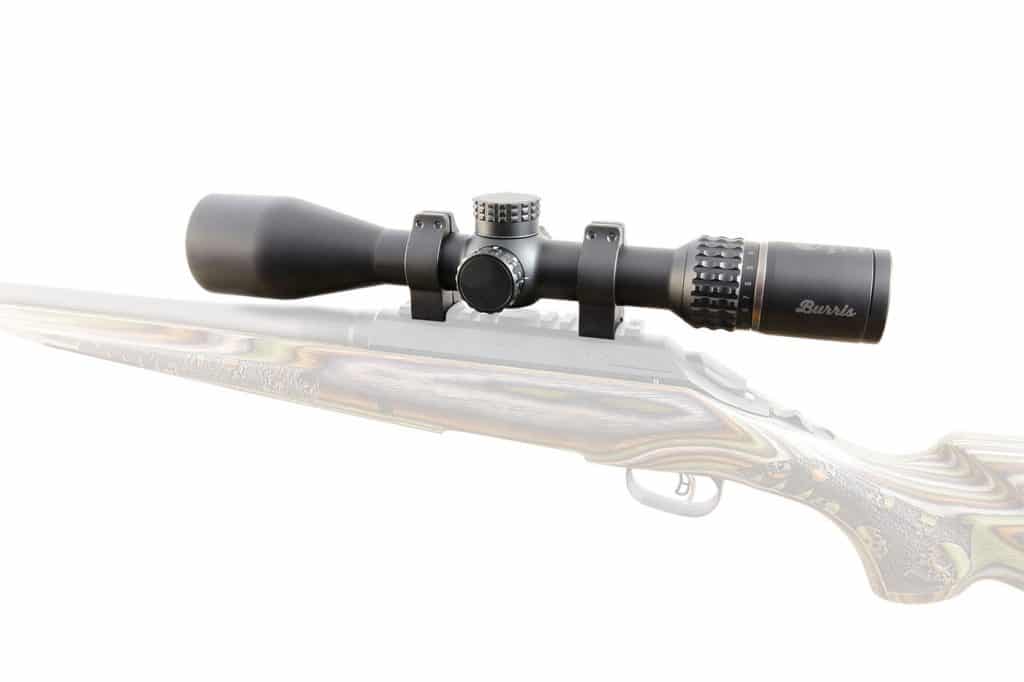 Before nostalgia brings tears, I'll concede modern scopes are brighter and sharper, thanks to more effective lens coatings that minimize reflection and refraction. The greater weight, cost and complexity of these scopes, though, beg a fresh customer base concerned more with long-range precision than quick hits in lodgepole thickets or piggy-bank pricing.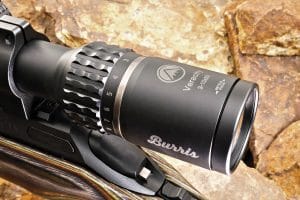 Few new scopes bridge this generation gap better than the 3-15x50mm Veracity from Burris. Its "five times" magnification range suits it to multiple tasks, from heavy beasts in dark cover to rodents or steel plates on the far side of your zip code. The "FFP" in its description denotes the first or front focal plane reticle. That's a European feature, becoming more popular stateside. Front-plane reticles appear bigger as you dial up the power, shrink as you dial it down. Because they stay the same apparent size relative to the target, you can use them to help determine range at any power setting. The rear- or second-plane reticles traditionally favored in the U. S. have an advantage too: As they do not grow or shrink with power change, they don't blot out distant targets that prompt you to dial up, or disappear in shadows when you dial down for fast shots in timber.
The Veracity's "interrupted plex" reticle catches your eye with thick bars. Fine center wires have bars (four below, one above) of increasing lengths, bracketed by dots. Use both to help you hit distant targets and compensate for wind.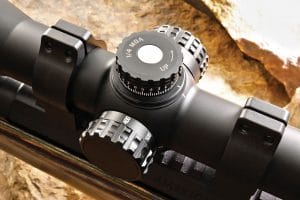 When a sample Veracity scope arrived, I attached it to a Legendary Arms Works rifle in .280 Ackley. New rings, designed for the Benchrest game by Gold Creek Rifles just up the road from my shop, fit the 30mm tube perfectly and held it securely on Picatinny bases. With 2.5 inches of free tube behind the turret and nearly 2 inches in front, I had plenty of mounting latitude.
The Veracity's turret can be ordered with standard finger-friendly capped dials (1/4 MOA clicks) or the Modular Adjustment Dials that Burris introduced for it this year. Choose M.A.D. dials with MIL, MOA or custom-lasered graduations for specific rifle/ammo combinations, in capped or tall competition form. They're interchangeable. The standard dials on my scope offer 70 minutes of elevation change, 40 minutes of windage. Clicks are both positive and audible. White dial lettering is small, crisp and readable from behind the sight. A dial on the turret's left side smoothly zeroes out parallax and focuses targets from 50 feet to infinity. In concert with the times, this Veracity has an easily adjustable helical or fast-focus eyepiece.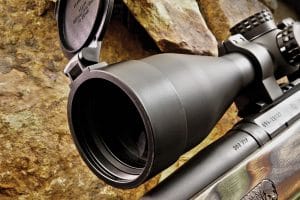 I like the big 44mm ocular lens. Eye relief is a generous 4.25 inches at 3X, shrinking a bit to a still-practical 3.5 inches at 15X. Hundred-yard field of view: 36 feet at 3X, 7.5 feet at 15X. A little math gives you the exit pupil measurements—nearly 17mm at 3X (almost three times your eye's maximum dilation in dim shooting light) to just over 3mm at 15X. The fully multi-coated optics of this Burris deliver a bright image at all settings, and that fat 50mm objective lens will deliver at dusk all the light your eye can use up to 8X. Shooting prairie dogs or steel plates at mid-day, you won't need the shaft of light this scope brings at 15x.
To check any scope's adjustments after zeroing, I "shoot around the square," adding 20 clicks at a time, first right, then down, then left, then back up to the original dial setting. Quarter-minute graduations should yield groups 5 inches apart, the last shot close to the first. With the Veracity at 10x, I fired a series that put groups 5.25 inches apart on average (5.0 to 5.5). My last bullet landed 1 inch to 4 o'clock from the first. Conclusion: adjustments are predictable and repeatable.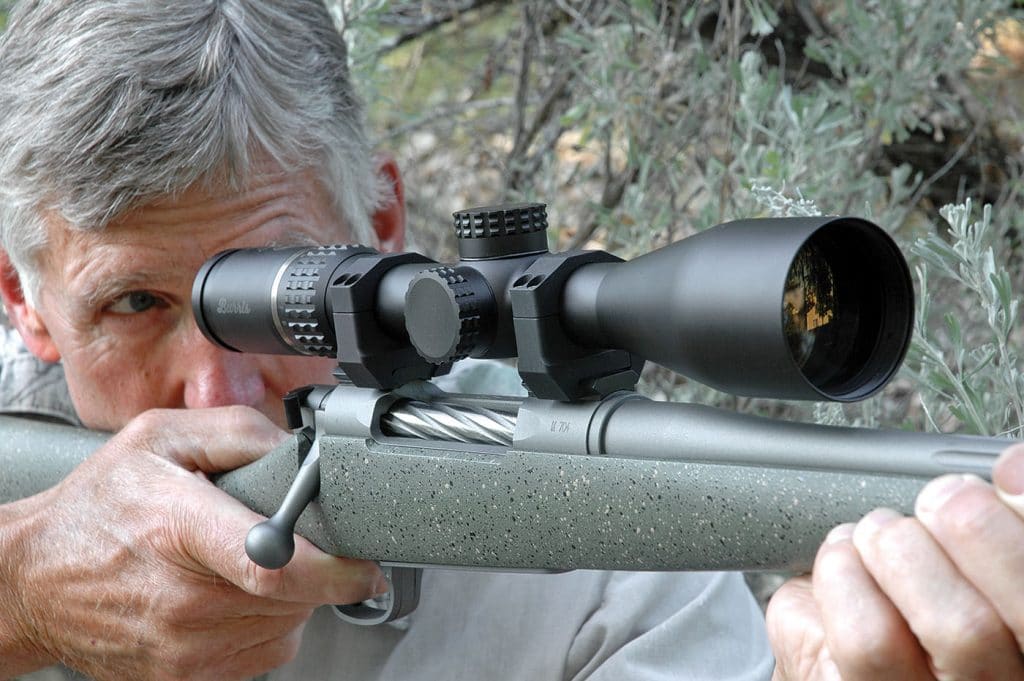 The Burris 3-15x50mm Veracity is a handsome scope, in my view, with a satin-black finish. Brand lettering and power numbers are a subdued gray. At just over 14 inches, it's not a small scope, and despite its lightweight alloy tube it tips the scales at 25 ounces. This Veracity retails from $839. It will complement any standard-weight hunting rifle or precision rifle—and its versatility will keep it in place! See it at your gun shop, or contact the Burris Company, Dept. OT; Tel.: (888) 440-0244; Web: www.burrisoptics.com