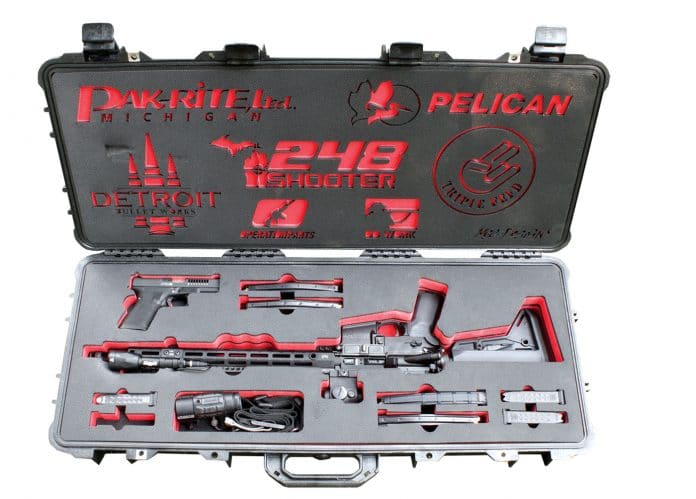 Sig Sauer .308 Win. Match Grade Elite Performance Ammunition
Sig Sauer has been expanding their line of Elite Performance ammunition faster than we can keep up with them, and the newest addition to their precision Match Series rifle ammunition is a .308 Win. round. Loaded with a 168-gr. Sierra Match King OTM (Open Tip Match) bullet. In addition to premium bullets, Match Grade Elite Performance Ammunition uses clean-burning, temperature-stable propellants, premium quality primers and is precision loaded using state-of-the-art, electromechanical monitoring for geometric conformity.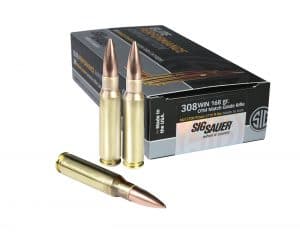 The new .308 Win. round expands the Elite Performance Match Grade line by 50%, joining its .223 Rem. and .300 Win Mag. counterparts. The new round produces  a muzzle velocity of 2,700 f.p.s., with kinetic energy of 2,719 ft. lbs. Sig Sauer also produces three .300 Blackout loads: the Sig HT 120-gr. hunting load (2,250 f.p.s./1,349 ft. lbs), plus 125-gr. supersonic (2,200 f.p.s./1,343 ft. lbs.) and 220-gr. subsonic (1,000 f.p.s./488 ft. lbs.) personal defense loads. Contact Sig Sauer, Dept. OT; Tel.: (603) 610-3000; Web: www.sigsauer.com
Hornady Rapid Rack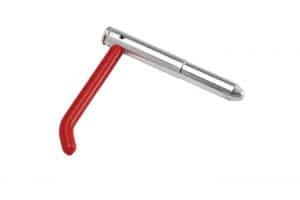 The new Rapid Rack from Hornady ($12.48) doubles as an empty chamber indicator and load-assist device for those who prefer to keep their AR rifles ready for action with a fully loaded magazine and an empty chamber. To use it, simply insert the cartridge-shaped portion of the Rapid Rack into the empty chamber, leaving the colored lever protruding out of the ejection port. Slowly close the bolt, allowing the extractor to grasp the extractor groove on the head of the Rapid Rack, then insert a loaded magazine. The colored lever visually displays that the chamber is empty.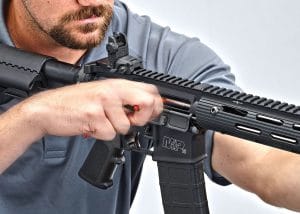 To charge the rifle, simply shoulder it, grab the lever and pull straight back, allowing the Rapid Rack to fall to the ground as the bolt carrier springs forward to feed a round into the chamber. Models are available for 5.56 NATO/.223 Rem. chambered AR-15s, 7.62 NATO/.308 Win. chambered AR-10s and select 3-inch 12–gauge semi-auto shotguns (Benelli M1 Super 90, Benelli M2, Benelli M4, Benelli Super Black Eagle II, Beretta 1201FP, Remington 11-87, Mossberg 930 and Weatherby SA-80). Contact Hornady Manufacturing, Dept. OT; Tel.: (800) 338-3220; Web: www.hornady.com
LaserMax Manta Ray Snap-on Weapon Light
The new Manta-Ray LMR-M from LaserMax ($199) is an ultra-lightweight 1.8 oz. with batteries), ruggedized, rubber armored, rechargeable weapon light that snaps on and off any Picatinny rail without the need for tools, levers or clamps via the combat-proven Manta rail connection.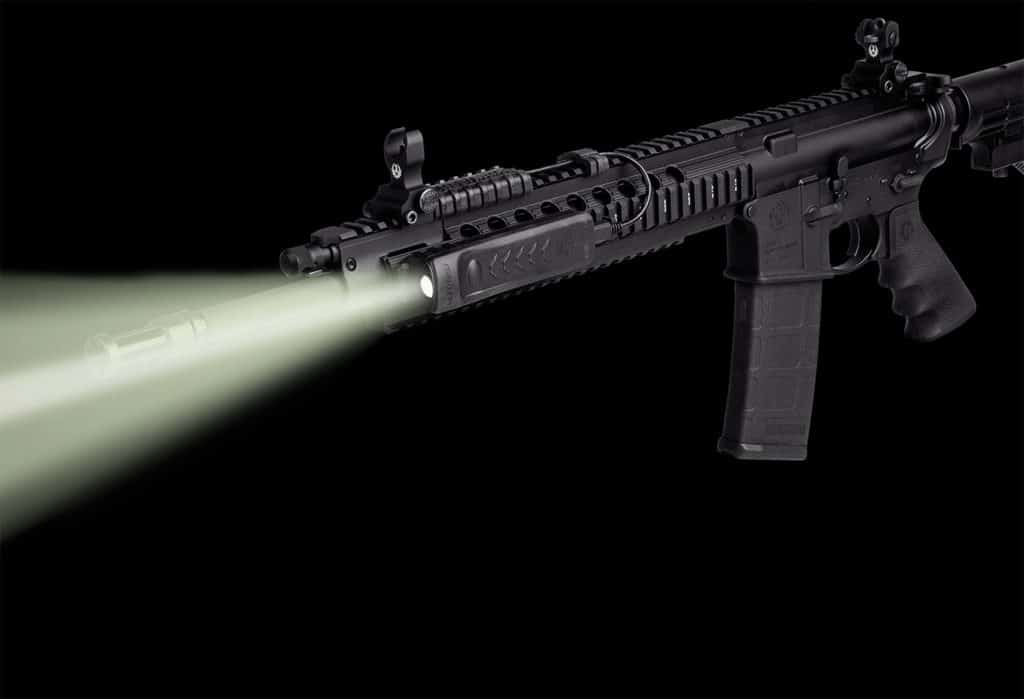 It puts out 140 Lumens of the newest "mint" green LED light technology, offering maximum visibility, superior performance in close quarters and guarding the operator's vision from harmful reflection caused by higher output white lights. It features adjustable brightness (dimmable from 140 to 20 lumens) and a discrete status indicator light displays remaining battery life. Its single LED is powered by internal, rechargeable batteries, and it comes with a mini USB charger. Continuous runtime is one hour, and it fully recharges in 90 minutes. Made in the U.S.A., it's waterproof to ten feet, shockproof and comes with a five year warranty. Contact LaserMax, Dept. OT; Tel.: (800) 527-3703; Web: www.lasermax.com
SureFire M600IB Scout Light with Intellibeam Technology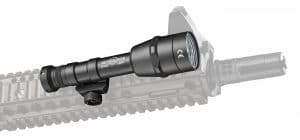 SureFire's new M600IB Scout Light with Intellibeam Technology ($299) utilizes SureFire's proprietary IntelliBeam Technology, an intelligent sensor and microprocessor-based system that continuously evaluates the environment where the beam is aimed to automatically adjust the light output to the optimal level—between 100 and 600 lumens—faster than the human eye can detect. Its high-performance LED and parabolic reflector create a smooth beam with far-reaching center and significant surround light for maintaining situational awareness at all output levels. Other features include O-ring and gasket sealed Mil-Spec hard anodized aluminum construction, tailcap click switch with momentary and constant-on modes (remote switching available optionally), integral thumbscrew Picatinny rail mount, five hour runtime and SureFire's No-Hassle Guarantee. Powered by two 123A Lithium batteries, it measures 5.8 inches long with a bezel diameter of 1.37 inches, and weighs 6.2 oz. with batteries installed. Contact SureFire, Dept. OT; Tel.: (800) 828-8809; Web: www.surefire.com