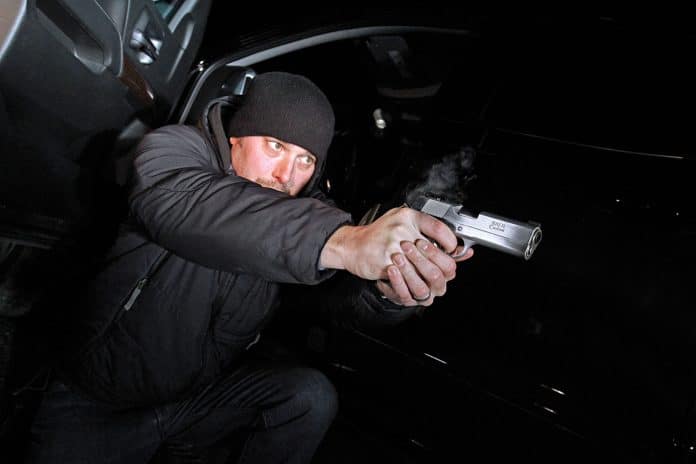 The Les Baer Stinger Compact has been out for a while; what's new is its Monolith configuration with a heavy frame dust cover and a slide design that says, "If you called the original 1911 'old slab-sides,' you ain't seen nothing yet." Les Baer told me the reason for his long-established Monolith design being adapted to this shorter gun: to bring weight up to 36 to 37 ounces to reduce muzzle jump. A conventional Browning-style recoil spring guide and plug are used, and there are no grasping grooves at the front of the slide. I'll side with Les on both counts. Low-profile Rolo adjustable sights include Tritium inserts from Trijicon, front and rear. The thumb safety is ambidextrous, with the lever on the right side being lower in profile.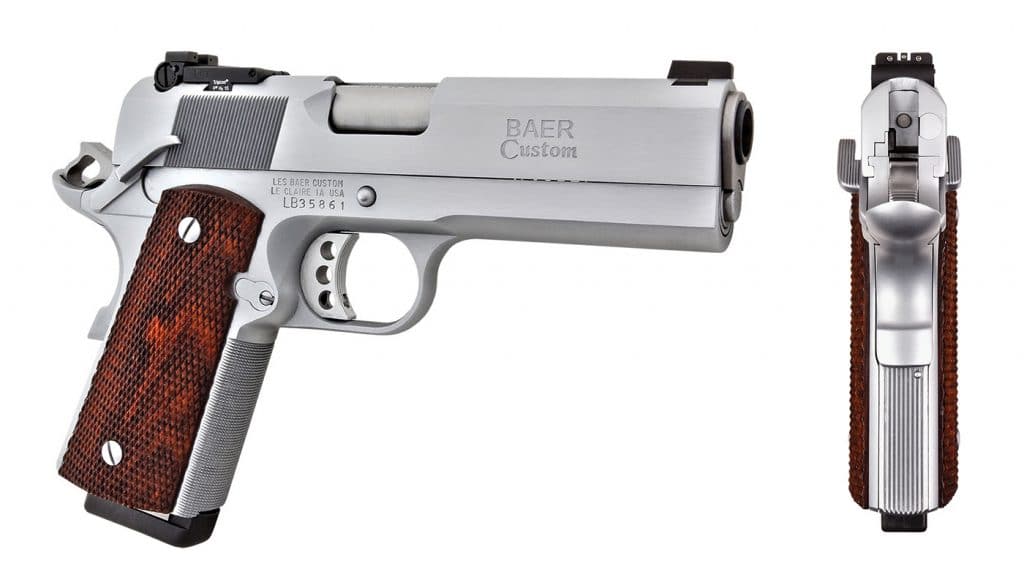 On our Lyman digital trigger pull scale, pull weight averaged five pounds, 7.3 ounces. This is a good "street trigger pull" range that won't sustain a "negligent hair trigger leading to indefensible unintended discharge" accusation, but still gives the shooter good control in rapid fire and, as we shall see shortly, in precise shooting.
You don't want to carry a loaded pistol that's not "drop-safe." Les told me that this pistol is drop-safe to twelve feet, thanks to an extra-heavy duty firing pin spring.

I put the Stinger Monolith in a Matrix rest on a concrete bench at 25 yards, hand-held. Each group was measured once for all five shots (center to center) and then again for the best three. For 230-gr. ammo I used Atlanta Arms TMJ round nose. It put five shots 1.70" apart, with the best three in 1.15". This compares favorably with the average 2-inch, 5-shot groups I've achieved in the past with my Colt CCOs.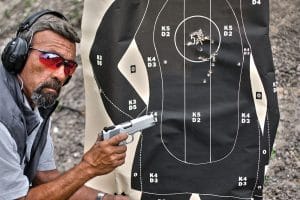 Federal's Classic line "45C," a conventional cup-and-core 185-grain jacketed hollow point, has mild recoil and is famous for accuracy. The group 5-shot group measured 2.30", but the best three were a more impressive 0.45" group.
Remington's "Express" line 185-grain jacketed hollow point has been dropping bad guys for 40 years, and was the first .45 JHP to pass the rigid FBI Protocols and be issued to Bureau agents. After launching five of them from the Stinger, my rheumy old eyes saw a black blob above and to the left of point of aim. The five shots had gone into 0.85", while the best three measured a quarter of an inch. Yes, I was impressed by the Les Baer Stinger Monolith!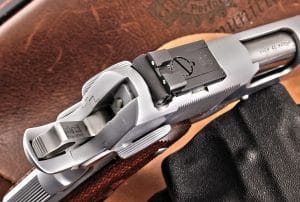 Sharply checkered walnut stocks mated with a checkered front-strap (30 lines per inch) to give a very solid grip, even when shooting with the non-dominant hand. My one real beef with this gun's layout was that when I was firing right-handed, the knuckle of my index finger kept bumping the right-side ambi safety lever up just enough to lock the gun. This ceased when I used the popular "thumb holding the safety down" grasp. It may just be that I'm an old guy whose knuckles and fingers are a bit twisted and enlarged by arthritis.
The couple ounces of extra weight up front are well applied. Recoil was very controllable, with the sights coming quickly back on target. The Stinger Monolith was comfortable and efficient to shoot. If you're going to holster-carry an all-steel Commander-size gun, a couple more ounces won't create discomfort.