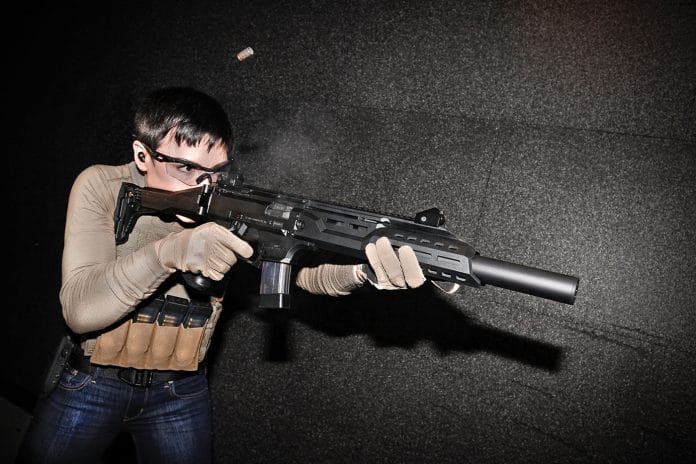 By Tatiana Whitlock
---
The king of affordable pistol-caliber carbines?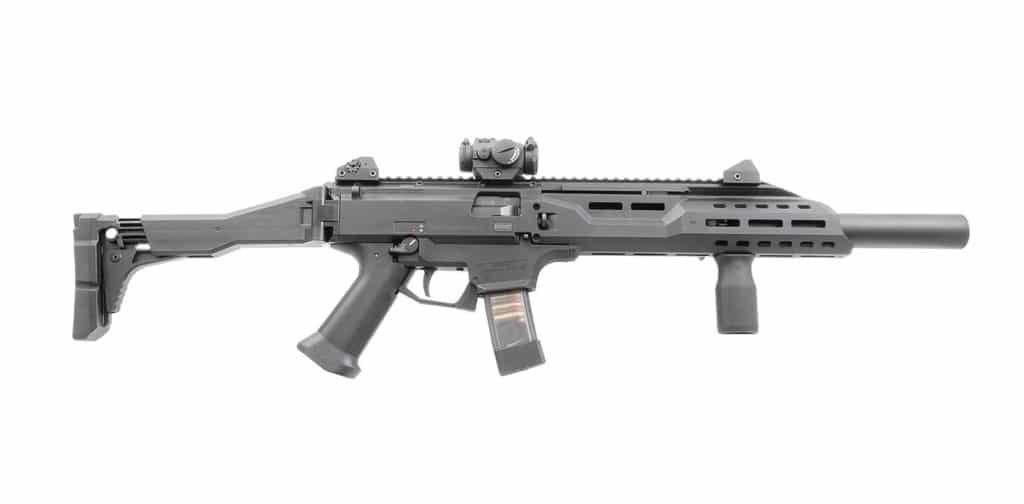 Opening the crisp brown box from CZ, I was pretty excited at the chance to put some rounds through the faux-suppressor, folding-buttstock-equipped version of the CZ Scorpion—the EVO 3 S1 Carbine. This gun is a remarkably soft shooting, 9mm blowback, semi-auto, polymer version of a submachine gun. The Scorpion has a 16.2" cold hammer forged barrel with it's muzzle threaded 1/2" x 28 TPI and is offered from CZ with either a compensating muzzle brake or a faux suppressor built specifically for CZ-USA by SilencerCo.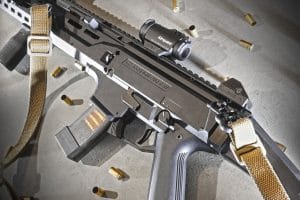 For those who love to run suppressed, this gun is ready to go! If you are still waiting for your BATFE paperwork to clear, the place-holder SilencerCo faux suppressor serves to aesthetically complete the gun before you're able to hit the mute button for real.
Functionally, the difference in these two variants is entirely aesthetic—both shoot beautifully and with surprising accuracy. Both models come equipped with a folding adjustable stock and ambidextrous controls, and their non-reciprocating charging handles are swappable, making these carbine a southpaw shooters dream. Not only was the Scorpion intuitive and accurate to shoot, lightweight and affordably priced, it was definitely a conversation starter at the range!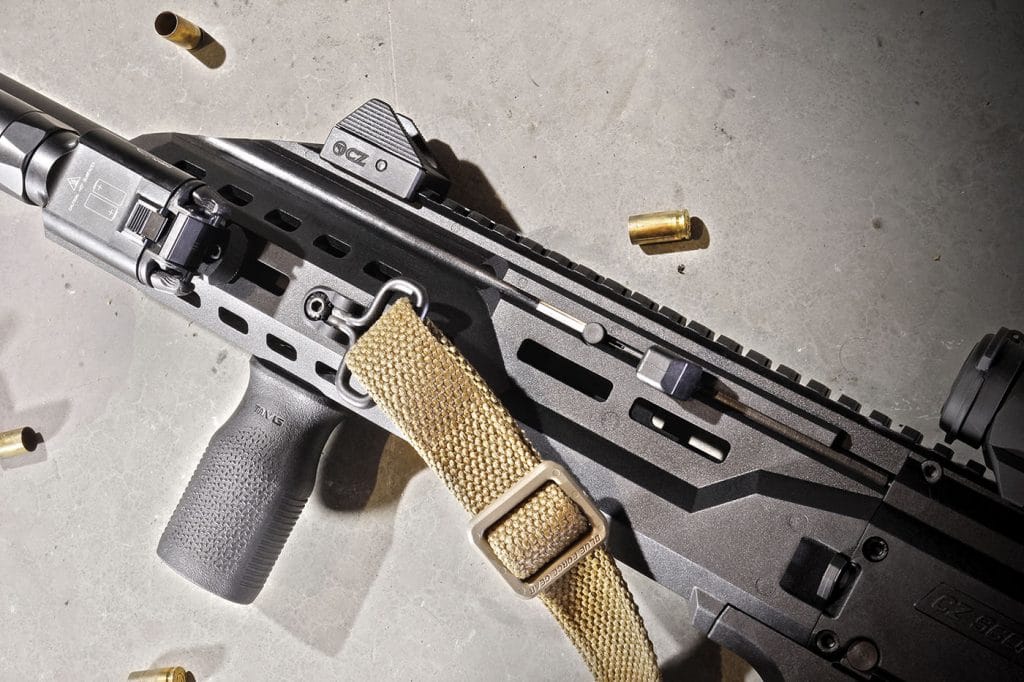 Origin & Evolution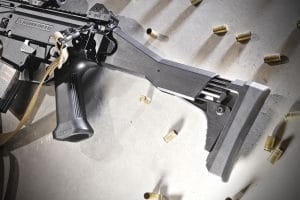 The name of this carbine originates from CZ's long discontinued, 1950s designed, .32 ACP Skorpion vz. 61 submachine gun pistol. The original was woefully inaccurate and cumbersome, unlike its current incarnation. CZ reintroduced the Scorpion in a semi-auto pistol version with a 7.72″ barrel and no stock in 2015. The popularity of this gun was immediate and immense, largely due to its ability to be converted from a pistol to an SBR carbine (legally of course) by replacing some Czech parts with U.S. made ones in order to meet Section 922r compliance.
CZ has the Scorpion classified for home defense, and with some aftermarket additions, it certainly fits the bill. Add a quality optic on the top Picatinny rail and weapon-mounted light on the Scorpion's M-LOK forend, and this gun is ready to go. The factory folding adjustable stock on the Scorpion—held ingeniously in the open position by a magnet—makes it backpack-ready and easy to transport discretely and a suitable bug-out-bag or vehicle gun. Given how light (just shy of 7 lbs.) and how remarkably soft shooting this gun is explains why I'm seeing so many at the range.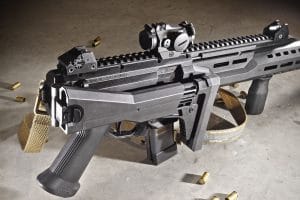 The Scorpion is chambered in 9mm Luger and comes with two translucent-smoked, 20-round magazines. Want more than just 20 rounds? CZ also offers a 30-round variant. Both are ridiculously inexpensive ($18.00 and $19.95, respectively) and have proven utterly reliable. In the scope of pistol-caliber carbines, this is a huge win for the Scorpion.
Being chambered in 9mm means an affordable gun to train with, even at pistol-only rated ranges, and is easily upgraded for home defense with self defense ammo—I tried 147-gr. Federal HST, which it has no trouble feeding. At the end of the day, the best home and self-defense gun is the one you are most proficient with under stress, and for a lot of gun owners, a 9mm-chambered carbine may be just the ticket.