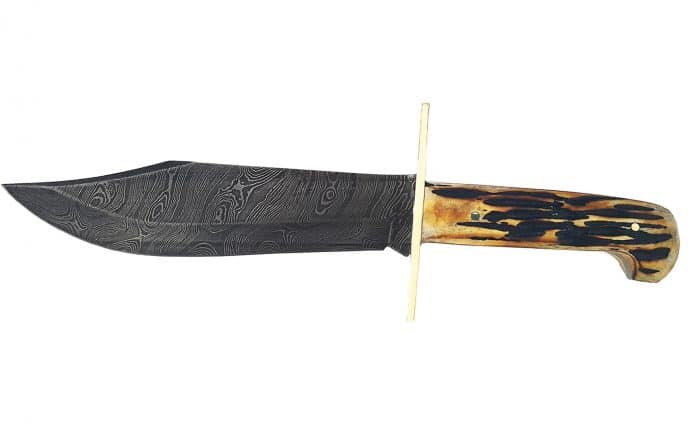 Bear & Son Cutlery has introduced a number of new Damascus blade knives. Two of our favorites are the 5-inch Damascus Black Butterfly Tanto ($101.99) and the 11.75-inch Genuine India Stag Bone Damascus Bowie ($299). Like all Bear & Son Cutlery knives, they are 100% American made (in Alabama actually).

The new Damascus Black Butterfly Tanto is a folder with a 3-3/8" long, taper ground, Tanto pointed, Damascus steel blade. Closed length measures 5.0 inches, while open length is 8-7/8 inches. It has a silver vein epoxy powder coat handle and weighs 5.0 oz.
The Damascus Bowie is a serious piece of business, featuring a genuine India stag bone handle, 7.0-inch, hollow-ground Damascus steel blade, brass guard and leather sheath. Overall length is 11.75 inches and it weighs 12.5 oz. without sheath.
See them at your outdoor retailer, or contact Bear & Son Cutlery, Dept. OT; Tel.: (256) 435-2227; Web: www.bearandsoncutlery.com