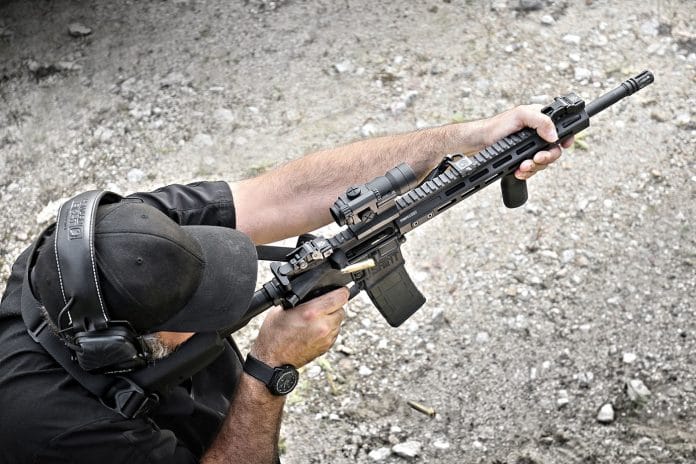 Springfield adds rock-solid modularity to its proven, accurate, reliable and now growing Saint family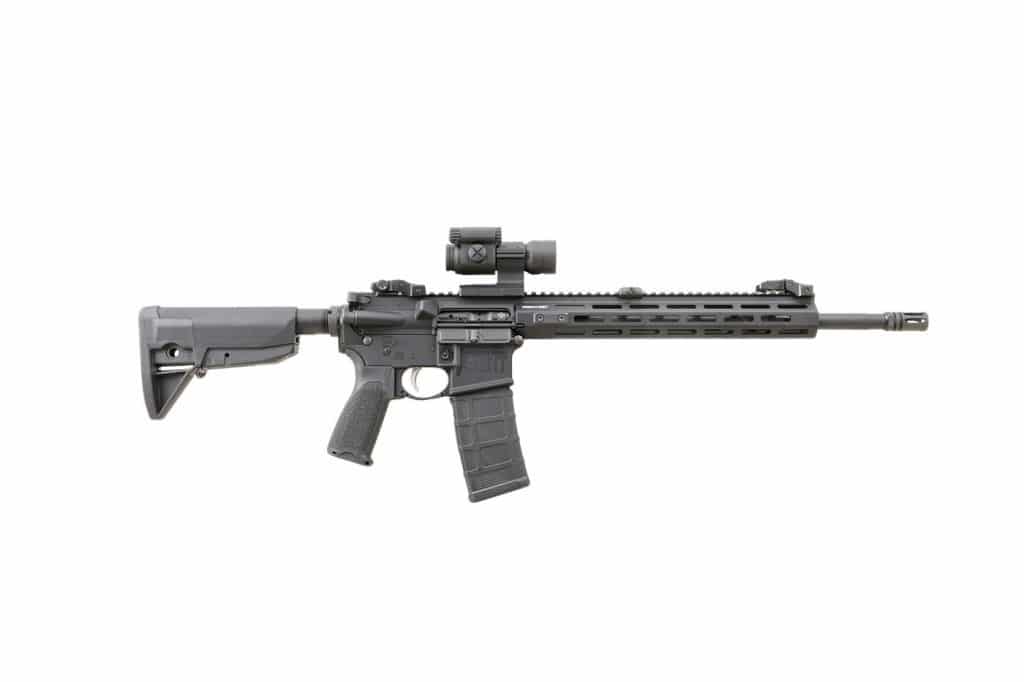 It's a pretty good time to be an AR buyer, at least for those of us in free states. The results of the 2016 election, combined with significant market saturation in the last five years, have led to an environment where legally buying an AR and associated parts is easier on the wallet than its ever been. While that may make many consumers happy, it leaves firearms manufacturers less so. In a marketplace where you can buy a vanilla AR for around $500 without lifting a finger, and competition is otherwise sky high, it is challenging to gain significant market share with a single platform. So when Springfield Armory (SA) introduced the Saint last year, there was perhaps cause for mild skepticism. Nevertheless, the combination of high quality parts, handiness and reliability in an affordable package, along with a savvy marketing campaign, made an impact. The fact that champion shooter Rob Leatham had input into the project probably didn't hurt either. In any case, the Saint is now well established. Expanding on that success, Springfield has now introduced their updated version of the Saint, the FFH (Free Floating Handguard). I was lucky enough to get one of the first copies.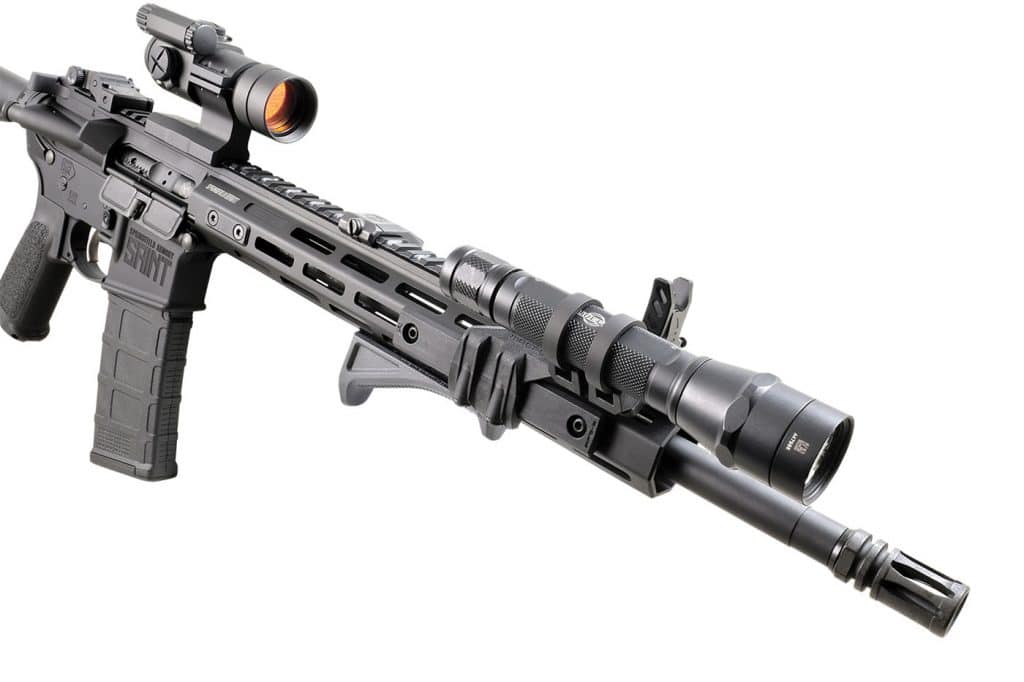 The new Saint FFH is more or less just like the older one, with the primary difference obviously being its Magpul free-floating M-LOK compatible hand guard in place of the polymer BCM handguard and fixed A-frame front sight post. Personally, I really liked the rather unique BCM handguard on the original Saint. I also don't mind a fixed front sight post, as it is both reliable and gives a quick reference if you temporarily lose your red dot in transitions. That said, we appear to have entered the era of the slick, thin diameter, free-floating AR hand guard for good. In some circles, carrying an AR with a fixed front sight post or a quad rail is like wearing a polyester leisure suit. Never mind that there are still a whole lot of ARs out there with legacy equipment that work great and still kill bad guys regularly, they are just not quite as in vogue anymore. The free floating handguard on the new Saint is a proprietary, aluminum, octagonal affair topped with a Picatinny rail and M-LOK cuts on all other surfaces for accessories or rails. It is held in place with two easily removable torx head screws at both 3 and 9 o'clock. This handguard promotes getting a C-clamp around it in what has become referred to as a "modern gripping technique", and is of course preferred for those who like to run with a magnified optic. One thing I noticed immediately was how light and nimble the M-LOK handguard made the Saint FFH handle. This rifle does not feel like the 6 pounds, 9 ounces it weighs in at empty. That is a major plus, as lightweight is great to carry and maneuver, but sometimes less great to shoot.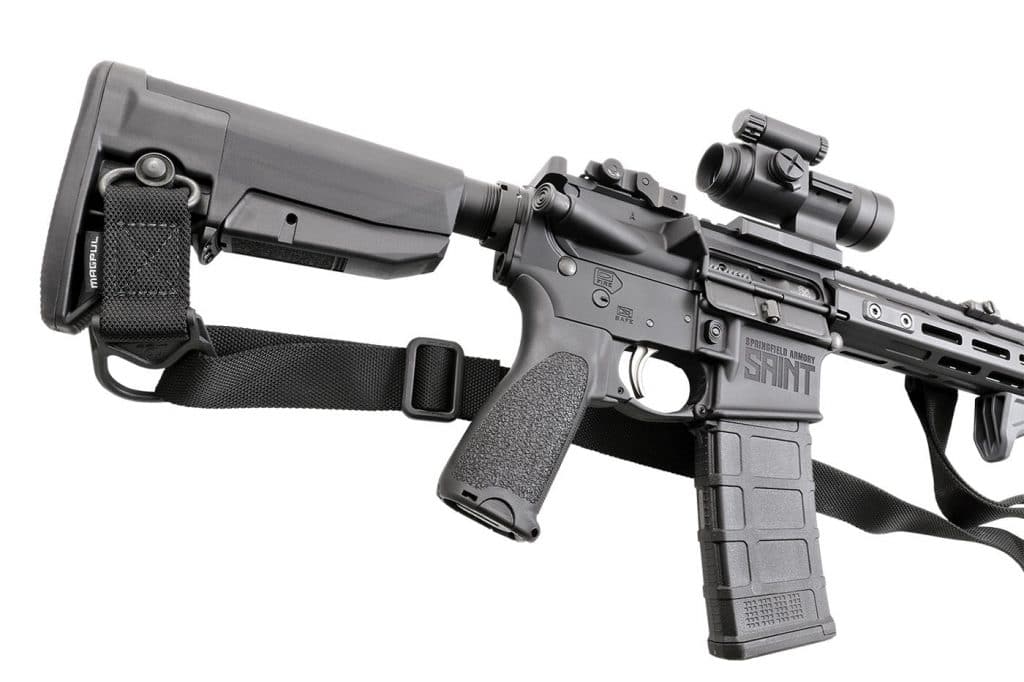 Other parts on the Saint FFH are all in their usual places, and generally mimic its older brother. It retains the 5.56mm, 1:8" twist, 16-inch CMV standard diameter barrel, with Melonite applied also to the chamber and outer surfaces to resist corrosion. The bolt is 158 carpenter steel, SA marked, shot-peened and magnetic particle inspected. It is run with a standard GI charging handle. Instead of the A2 front sight post, there is a low-profile gas block, and a set of metal flip up BUIS. These are adjustable for windage (rear) and elevation, marked with the SA logo, and are made by Leapers. This latter fact will cause some to turn up their noses, but it should not. First, they are robust enough and work just fine. Second, you got to draw a price point somewhere, and as most users will put some kind of quality optic on their AR, the chance they will use the BUIS much is rather slim. Moving on, the upper and lower are made of forged aircraft grade 7075-T6 aluminum. The lower is marked with fire and safe icons on both sides near the standard mil-spec AR safety, with the Saint logo on the right and SA logo on the left. The trigger is a mil-spec, single-stage model that has been nickel boron coated. My trigger measured an average just shy of six pounds on my trigger pull-gauge, which is better than typical mil-spec and will likely smooth out and grow a tad lighter with more use. Rounding it out is a BCM Mod 0 butt stock, a Mod 3 pistol grip, and trigger guard, all top-of-the-line. The stock rides on a six-position receiver extension, with an H buffer attenuating recoil. The Saint FFH came in a Saint/SA marked hard case, with a 30 round Gen 3 P-mag, owner's manual and a gun lock.