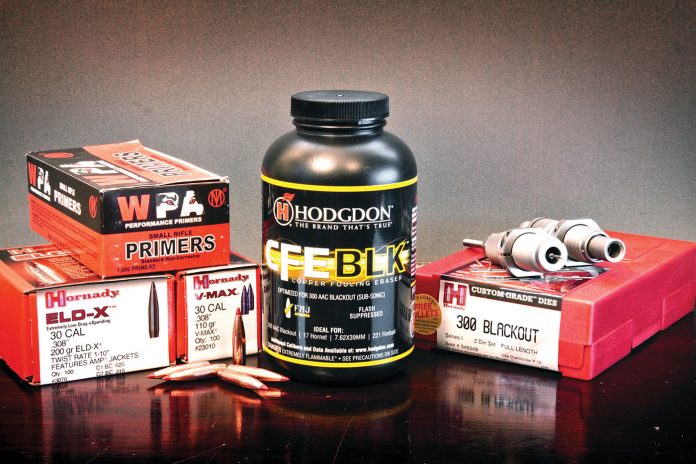 By Frank Melloni
---
Fast or slow, it's the right propellant for the 300 AAC Blackout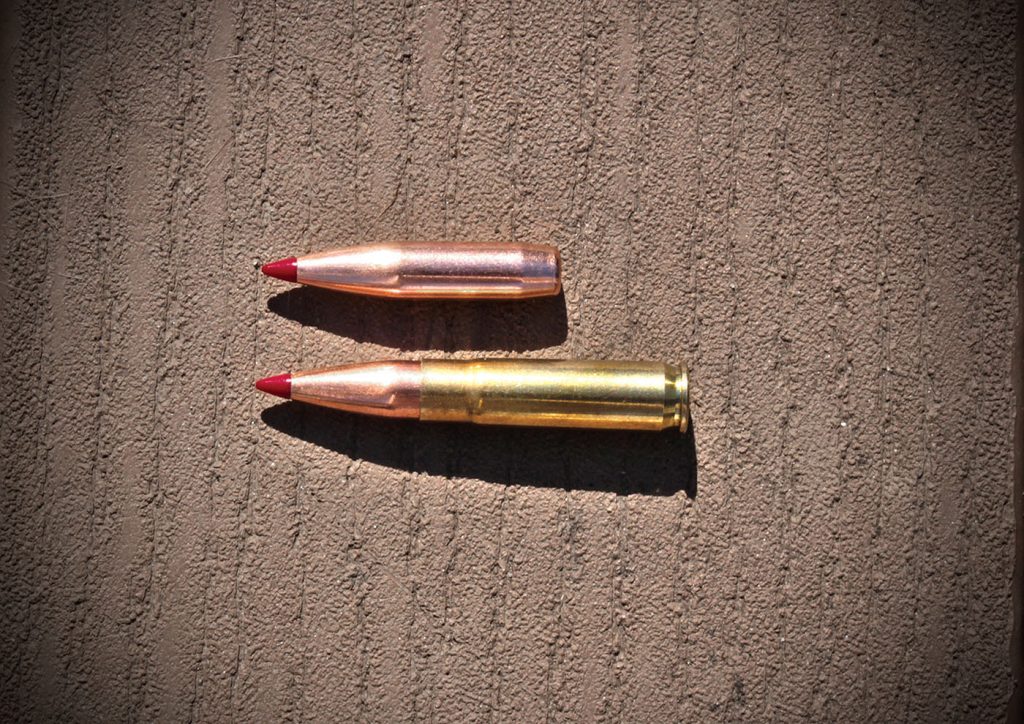 With the popularity of the 300 AAC Blackout cartridge on a steady rise, more and more reloaders are trying to make the most out of this game-changing round. The 300 BLK became popular for the same reason most other equipment does: versatility. Launching out of America's favorite rifle platform certainly doesn't hurt either. This cartridge can win a 3-gun match, hunt deer-size and smaller game a short range and defend a home without leaving the homeowner deaf. Utilizing bullets as light as 110 grains and as heavy as a beastly 230 grains, it's long on versatility.

While several powders "get the job done" there has never been a powder made specifically for this multi-faceted round . . . until now.  It was only a matter of time before Hodgdon addressed this deficiency.
New for 2017, Hodgdon CFE BLK (www.Hodgdon.com; $24.99/lb.) fills this long standing gap. Piggybacking off the success of the both its CFE223 and the CFE Pistol powders, Hodgdon decided to keep the properties that made these powders a hit and expand the line to accommodate this tactical favorite. Just like its predecessors CFE BLK meters well, is temperature stabile and of course prevents copper jacket material from fouling your barrel simply by shooting it. The powder also works well for 7.62x39mm and the .17 Hornet.
Once we got our hands on some CFE BLK, we were quick to start load development and testing. Hodgdon claims that it is a great powder not only for supersonic loads with bullets from 110- to 180-grs., but also with subsonic loads using bullets from 200- to 230-grs. That is quite a feat, so we selected Hornady's 110-gr. V-MAX for our supersonic load and their new 200-gr. ELD-X for our subsonic load to build both types of ammunition.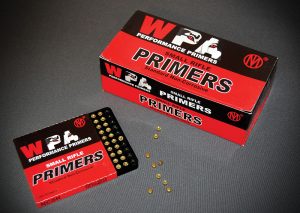 Our goal was to make a supersonic round that would work well for medium sized game as well as practical rifle competition and a heavy hitting, subsonic round that would be suitable for defending the home and turn that AR-15 into a good brush gun during deer season.
We worked up our supersonic test rounds with the 10-gr. V-MAX and charge weights from 22.2 grs. to 23.4 grs in 0.4-grain increments of the CFE BLK. The small charge range shows us that this is truly a purpose built powder. All of these rounds were built to an OAL of 2.180" to ensure proper feeding. We used Hornady brass Wolf WPA small rifle primers.
We loaded our subsonic test rounds with the 200-gr. ELD-X to a cartridge OAL of 2.215" and charge weights ranged from 10.9 grs. to 12.1 grs. in the same 0.4 grain increments. One aspect that grabbed my eye was how perfectly the powder filled the case. Both the 110-gr. and the 200-gr. bullets rested right on top of the powder at their respective mid-level charges.