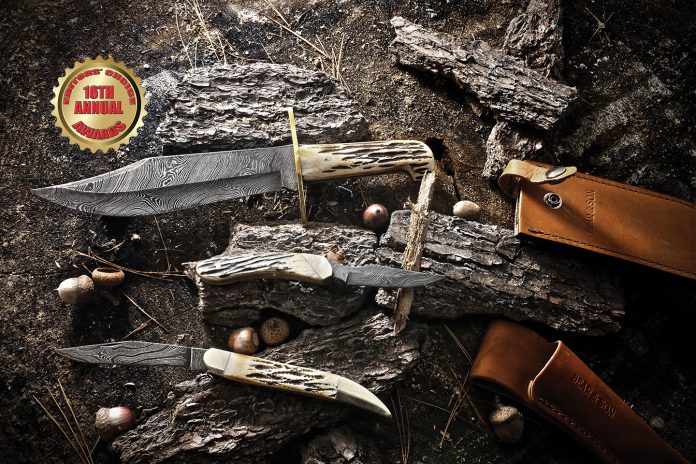 "We build 'em tough. We build 'em right. We build 'em here." So goes the motto of one of America's fastest growing knifemakers—Bear & Son Cutlery, Inc.
The three new knives that are the subject of this Editors' Choice Award are all 2017 introductions, manufactured from Bear & Son High Definition Damascus Steel. These blades are forged from 416 layers of alternating medium- and high-carbon steel, with added nickel to magnify definition. Flexibility is superb, and every Bear & Son Damascus blade is as distinct as a fingerprint. Damascus blades also have "secret" sharpness—they never feel as sharp to the touch as they really are! All three of these knives feature genuine India stag bone handles exhibiting lustrous color tones.
The strikingly beautiful, 9.0" non-locking folder ($155.99) features a 4.0" folding blade, nickel silver bolsters front and rear, leather sheath, taper ground blade and an overall weight of 6.0 oz.
The 6-3/4″ overall-length, fixed-blade Caper ($189.99) has a 3.0″ Damascus blade, a long and deeply serrated top thumb grove and front nickel silver bolster. It weighs a svelt 2.4 oz. and comes with an oil-tanned leather sheath.
The last member of new the Bear & Son Damascus line-up is a an 11-3/4" fixed –blade Bowie with a solid brass hilt that extends 1-1/8 inches above and below the 7-1/4-inch Damascus blade ($299.99). It comes with an oil-tanned leather sheath, hollow-ground blade and weighs 12.5 oz.
See them at your outdoor retailer, or for more information contact Bear & Son Cutlery, Inc., Dept. OT; Tel.: (256) 435-2227; Web: www.bearandsoncutlery.com