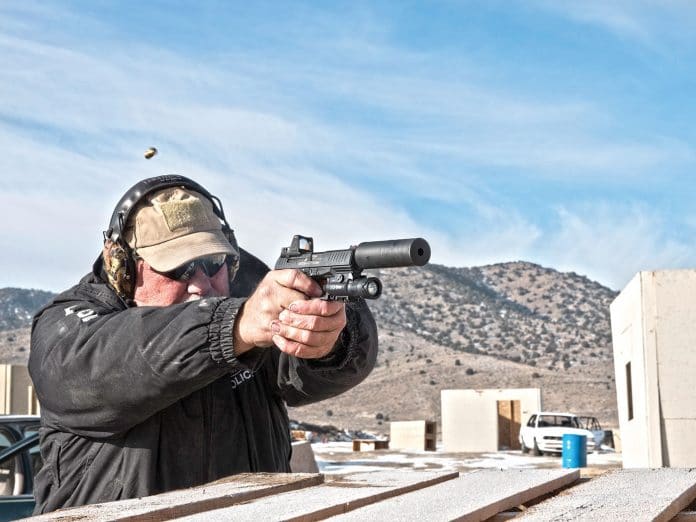 By Dave Bahde
---
Superior performance from Walther's RDS/suppressor-ready PPQ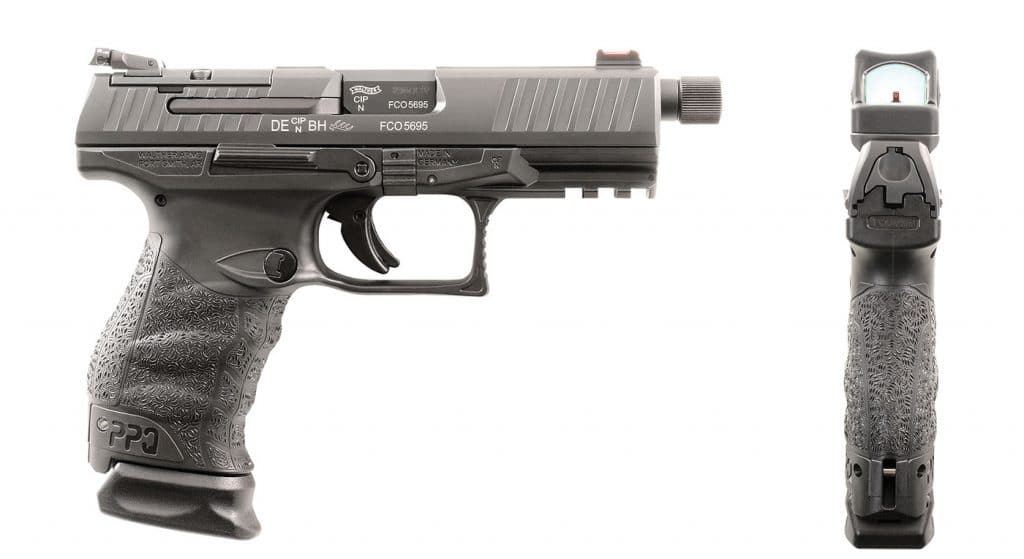 It is a bit surprising to see how many people consider Walther to be some sort of new kid on the block. Granted, Walther Arms, Inc. was created in 2012 as the U.S. import arm but, they have been building pistols in Germany since 1908, and have been in existence since 1886. Their lineage includes the P38, a pistol many considered for years as one of the most naturally aiming pistols around. Aside from the P38, their PPK may be the most well-known .380 ACP pistols in the world, thanks mostly to some auspicious product placement in the Bond films. It was also the "go to" backup gun for many during my three decades in law enforcement. That legacy continues with Walther's new polymer, striker-fired models. It's not that they are new, just new to a more aggressive marketing strategy. Smith & Wesson started importing them in earnest in 1993, bringing them a bit more to the fore on this side of the Atlantic, but its Walther Arms, Inc. that has been spreading the word since 2012. Its working, and Walther has a very strong following here, one of the strongest segments being the ever-growing ranks of PPQ fans.
Walther Q4 Tactical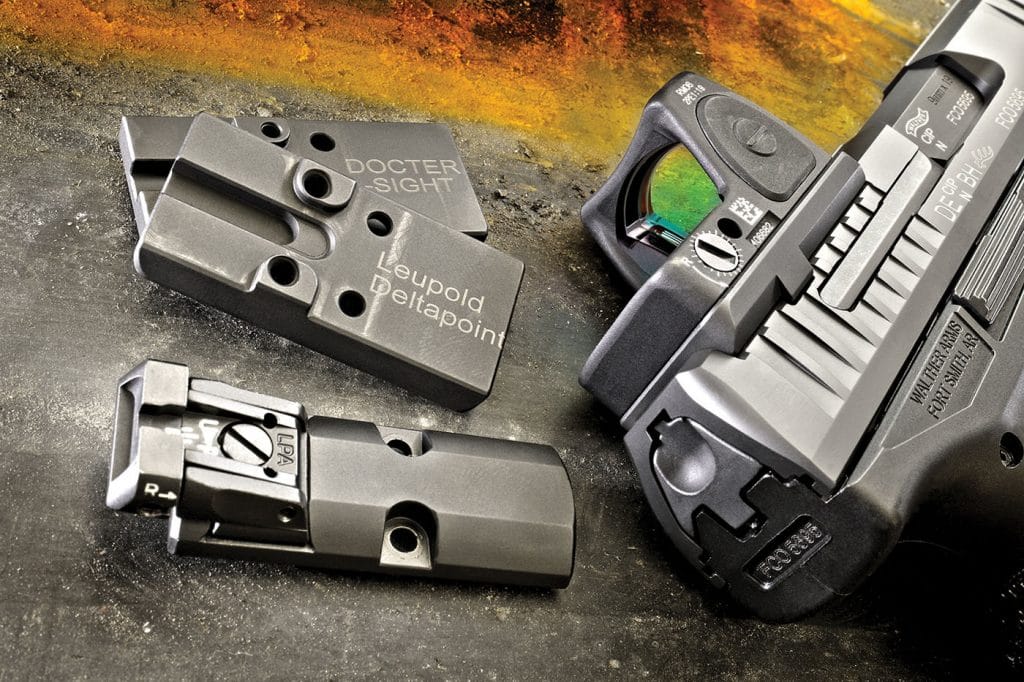 Introduced at SHOT in 2013, the PPQ has become a favorite amongst shooters in the United States. While much of the P99's heritage remains, the biggest difference in the PPQ is the trigger. Many consider it the best out-of-the-box, striker-fired trigger on the market—including a senior luminary here at On Target. Since the striker assembly is pre-loaded when the pistol is charged, trigger "pull" is solely due to spring tension from the trigger and disconnector springs. Travel is short by comparison with other striker-fired triggers, with a reset of only 0.10 of an inch. Trigger weight is approximately 5.5 pounds and consistent from shot to shot. Internal safeties include trigger, firing pin, and disconnector, with the external trigger safety as a fourth. Interchangeable grip straps remain, along with an ambidextrous slide stop and a reversible magazine release. Texturing on the grip is comfortable, and aggressive enough to be useful without tearing your hands up.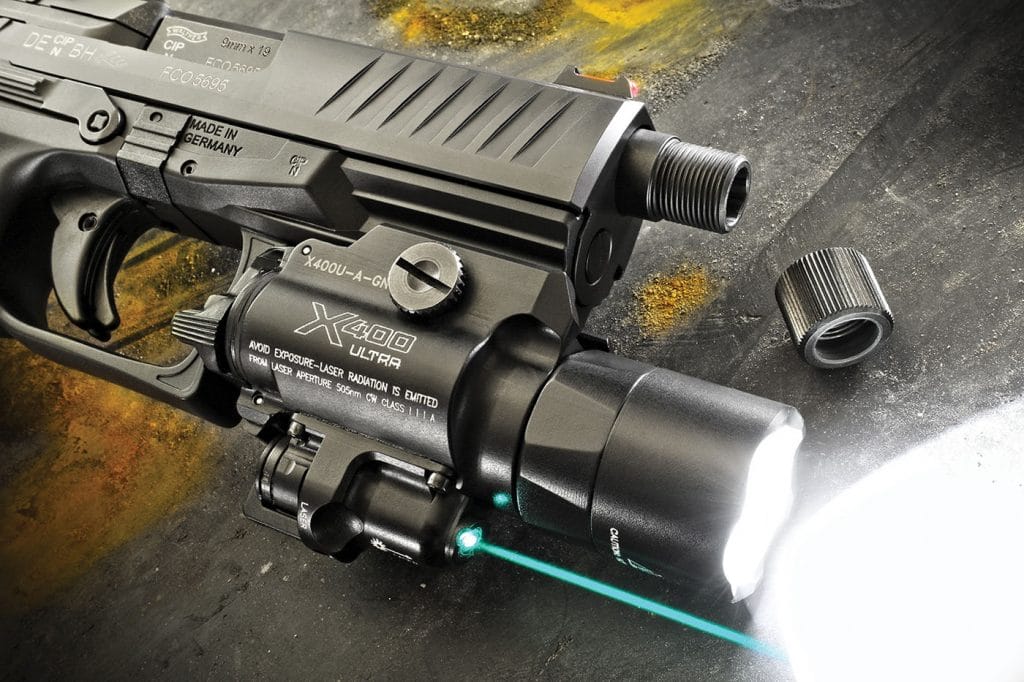 The 9mm Q4 TAC model is geared toward the tactical market, while taking a few cues from the Q5 Match pistol. It starts with a 4.6 inch barrel threaded at 1/2  by 28 TPI, and employs standard rifling. Extending from the 4-inch slide, the muzzle is capped with a thread protector. The front sight is fiber optic, the rear is an adjustable low-profile sitting on a replaceable plate for a red-dot sight (RDS). Plates for an RDS are supplied to fit the Trijicon RMR, Leupold Delta Point and Dockter Optic mounting patterns. The slide has front and rear cocking serrations, a loaded chamber indicator (in the extractor) and is coated in Tenifer for durability. Three magazines are provided, two 15-round and one 17 rounder, with an extended magazine base plate. Both optics and suppressor ready it, includes a rail for lights or other accessories.
Testing
Silencerco's Omega 9K was used for much of the testing. At 4.7 inches and 7.2 ounces it keeps the pistol reasonably well balanced. Walther was kind enough to use the standard 1/2 x 28 threading—the American 9mm standard—making suppressor use easy. Using LH threads on most adaptable suppressors works but is a royal pain, especially if things come loose, since you are always working against the primary threads. The Omega 9K is incredibly versatile, fitting a number of weapons. Rated for rifle calibers I have used it on a couple 300 BLK rifles, two different PCCs, my Sig Sauer MPX, along with three other pistols. Just swap out pistons or thread adapters and go to work. Check them out at www.silencerco.com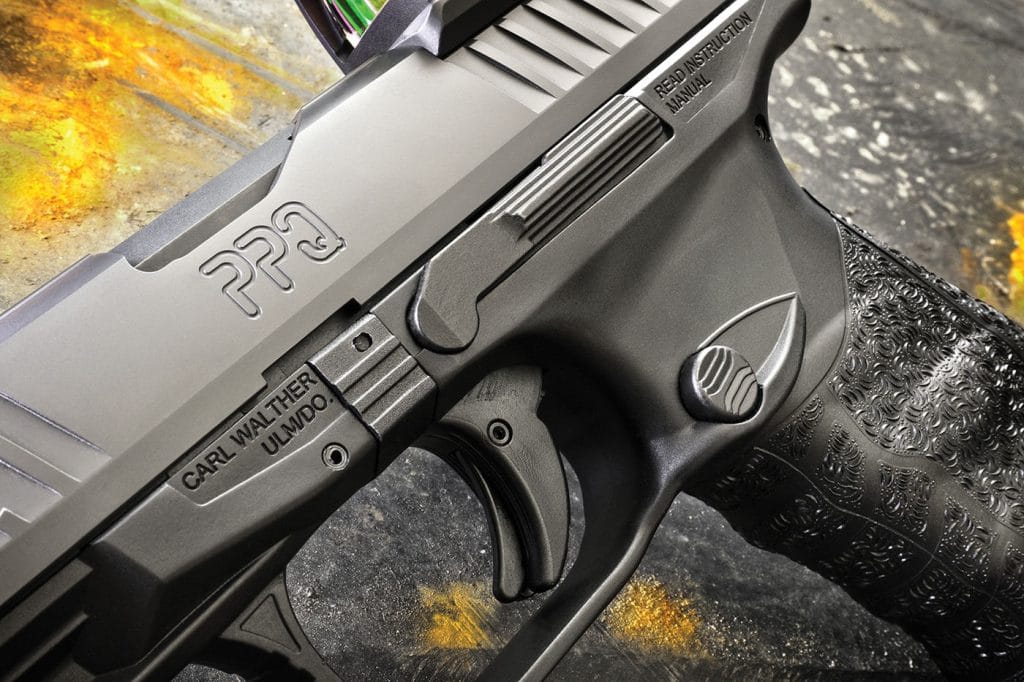 Trijicon's RMR R06 Type 2 was the RDS of choice for testing. This RDS has seen extensive use, proving reliable and very rugged. An adjustable LED is a must to me, and you can adjust for zero using a dime if needed. Using a 3.25 MOA dot is about perfect for a pistol while allowing use on most any other platform. Battery life is four years continuous operation, and it can withstand just about any working condition. Find out more at www.trijicon.com