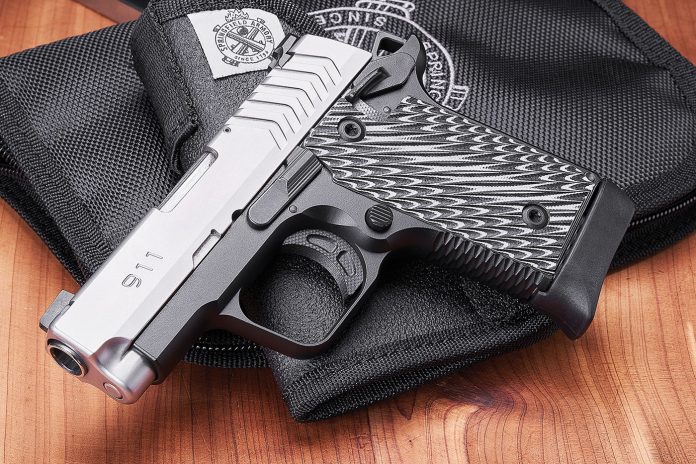 Photos by: 2EXTREME and Gail Pepin
---
 We test Springfield Armory's first .380 – user friendly, and remarkably accurate with the loads it likes best.
Yeah, I know: I'm the guy who said "friends don't let friends carry mouse guns," and here I am testing a .380 pocket pistol. Testing a .380 makes me feel like Ralph Nader driving a Corvair (millennials can Google that reference). I sometimes think Editor Ben Battles has a cruel sense of humor, and needs to be reminded that being mean to old people is a hate crime. But, what the hell, here goes.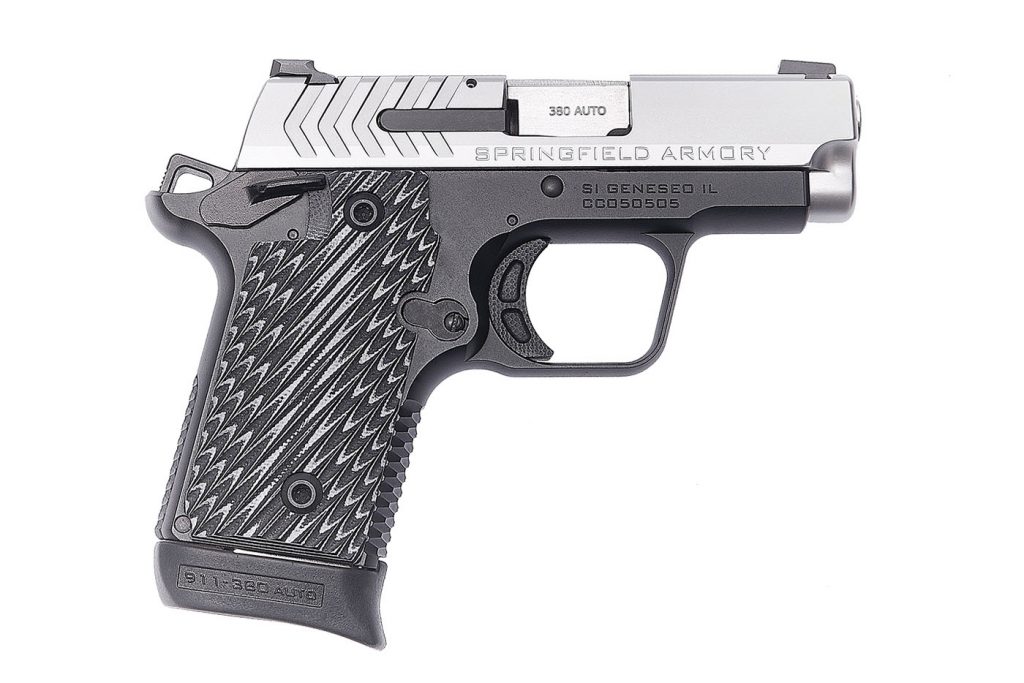 Some people can't carry more than a .380. Physical size is a factor. So is physical shape, in the sense of both configuration and condition. Wardrobe required for work or chosen for daily life may be a factor. Sometimes, while it's strictly legal to carry at work, it's against company policy and a hazard to continued employment to do so, making minimum size mandatory. I get it.
The .380 ACP, created by John Moses Browning more than a century ago, is also known colloquially as the 9mm Short. It tends to come up short in wound ballistics as well. This means that if you're going to carry one, you want one that allows you to deliver accurate shot placement very rapidly. Springfield Armory knew that when they came up with their new 911 pistol in .380.
First Look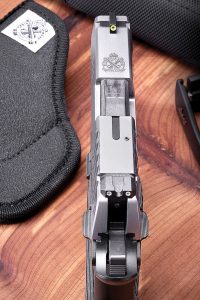 The Colt Pocket Model of 1908, the .380 version of the Browning-designed Colt .32 of 1903, was hugely popular "back in the day." It was flat, slim, and easy to shoot straight in spite of its tiny sights. Colt resurrected that concept with their Government .380 and Mustang series. At the risk of oversimplification, these were partly resurrected 1903/1908 models, and partly scaled-down 1911 models. Colt still lists the Mustang in their catalog, and today the concept is increasingly popular. SIG's version, the P238, is one of their best sellers and, in some sectors, their very best selling pistol. Others have more or less copied it, notably Browning Arms. Springfield Armory now joins that wave with the 911 model, our sample .380 being serial number CC050505 (hey – that number has a rhythm to it).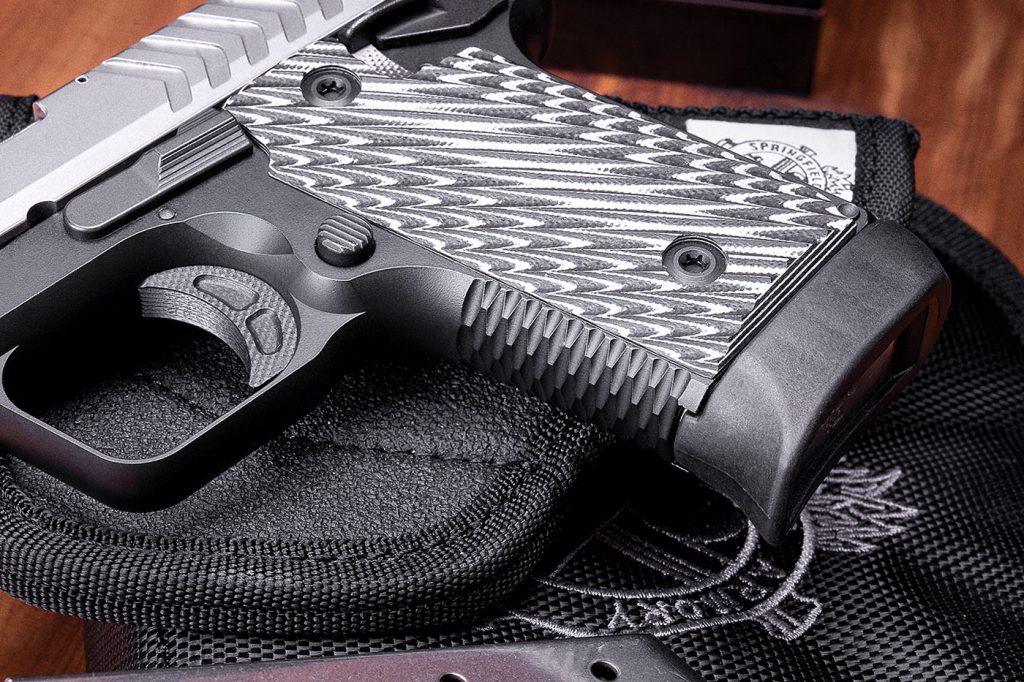 With a frame that's short front to back, and a relatively short trigger, the "trigger reach" on this pistol places the "go button" right under the distal joint of the index finger of a lot of folks who have trouble with trigger reach, and on the pad (the center of the whorl of the fingerprint) if you have very short fingers. The pistol has G10 grips, which are rough enough to give an excellent grasp with wet hands in rapid fire, and just thick enough that my own thumb doesn't either block the trigger finger or hit the magazine release button inadvertently when that digit is curled down. (Why curl down the thumb? Because with the .380's mild power, a high thumb making inadvertent contact with the slide could slow down the cycle enough to jam the pistol.)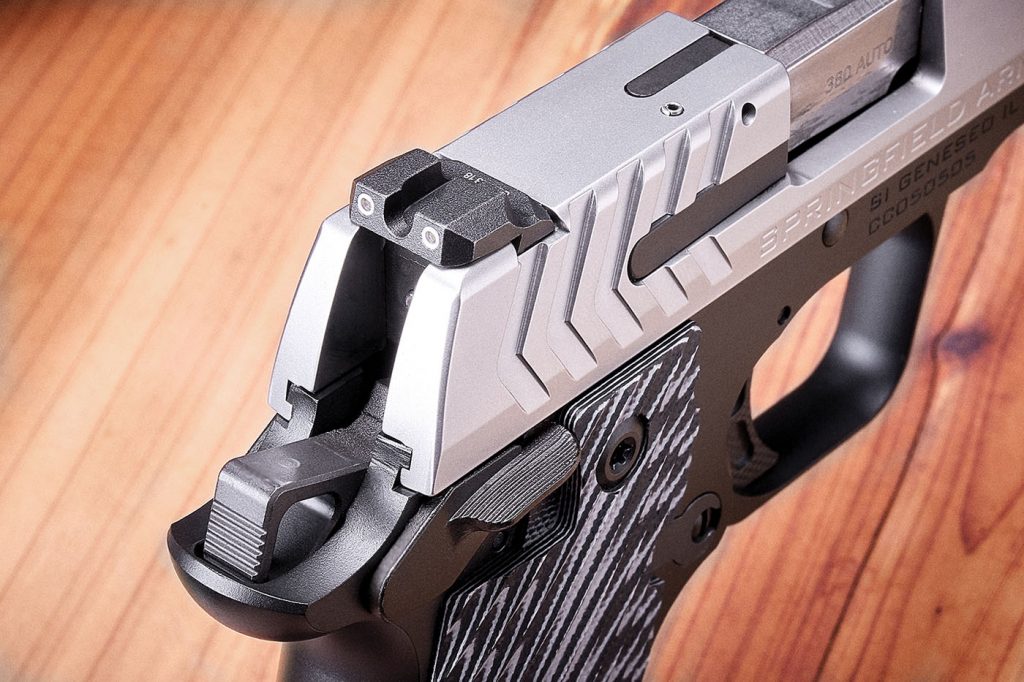 Having discussed the bad news with the .380's power level and slide cycling, let's discuss the good news. For those who don't have strong hands (which could be any of us if we are injured in the course of a fight) once the hammer is cocked rearward to eliminate mainspring resistance against the slide, the .380's very light recoil spring makes it very easy to rack the slide of the Springfield 911.