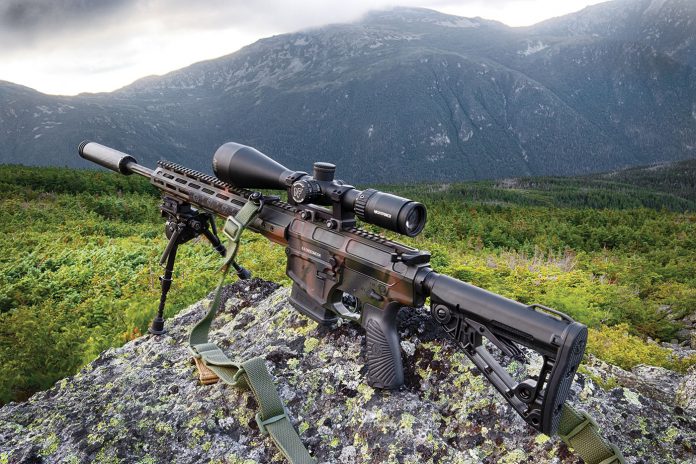 By Dave Bahde
Photos by Ben Battles and Dave Bahde
---
With reliable long-range precision shot after shot, this versatile rifle is ready for any hunting (our defensive) mission you can task it with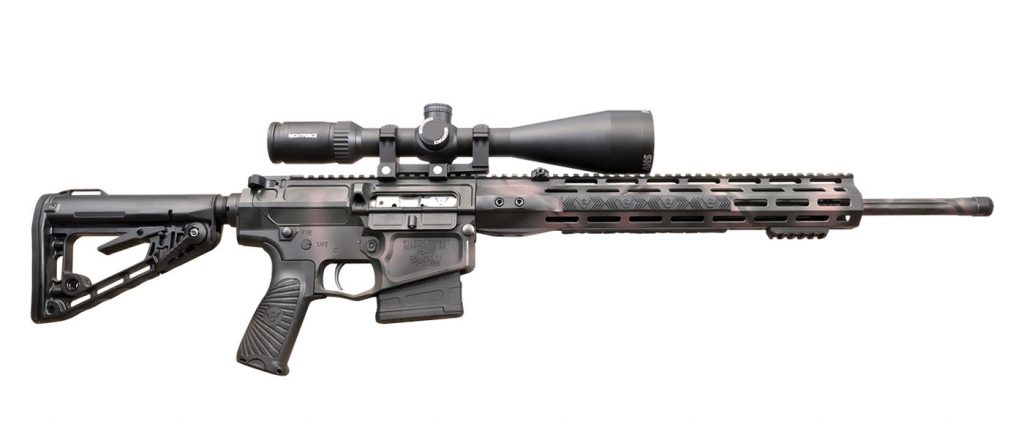 As the MSR (Modern Sporting Rifle) moniker continues to grow in use it tends to be focused on the .223 Remington platform. Mention hunting with your AR and the typical use is for varmints or predators, mostly in .223 but also in 6.8 SPC, 6.5 Grendel, and even 300 BLK for hogs. Occasionally you see some interest in the .308 (AR10) platform, but not nearly as much. Sad, since the larger platform lends itself to some excellent hunting cartridges, king among them the 6.5 Creedmoor. I took my first hog with an AR10 in .308 years ago, a runner at just under 300 yards using Barnes 168-grain TTSX. It was long before the 6.5 Creedmoor was around and .260 Remingtons were rare. Still, the 6.5mm really adds to the versatility of the AR, and Wilson Combat has been an industry leader in both the AR15 and AR10 for hunting.
Wilson Combat Hunting ARs
Bill Wilson is an avid hunter, having taken game from just about every corner of the planet, most using a bolt gun. When Wilson Combat started building ARs it was critical they be used primarily as a hunter, with self-defense and any tactical use being secondary. My introduction to his ARs was in 2009—a 6.8 SPC. A year later a similar rifle was used to take hogs on his ranch in Texas.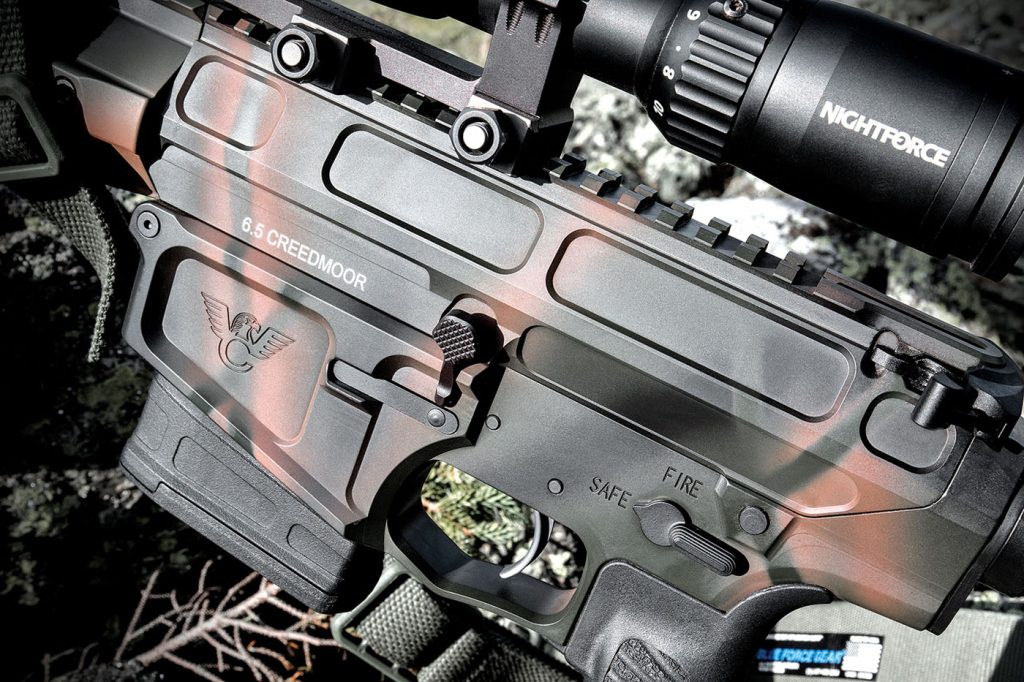 Subsequent trips for hog hunting included the 7.62 x 40 WT and 458 SOCOM. Having your own hunting ranch makes for an excellent test venue. Each time the AR was made lighter without compromising accuracy. Several models are available in the AR15, from the Ultra-Light to the Tactical Hunter, each designed to be used in the field. In the big-bore the Tactical and Ultimate Hunter are available in the 6.5 Creedmoor. Both use Wilson Combat lightweight billet receivers. The the Ultimate Hunter sheds as much weight as possible, while the Tactical is well suited to a variety of uses.
The Tactical Hunter
Starting with a lightweight billet aluminum receiver set, it is mounted with a Tactical Hunter match grade stainless steel barrel. Using a medium-contour, 20-inch barrel, it is fluted and threaded 5/8 x 24 TPI to accept muzzle devices or suppressors. The Gas system is rifle length using an SLR Rifleworks adjustable gas block.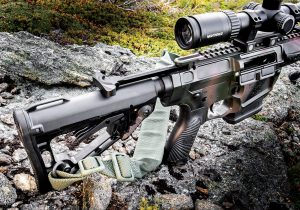 Twist rate on this barrel is 1:8" with a match chamber. Covered by Wilson Combat's 14.6-inch M-Lok equipped rail, including some padded rail covers, it is slim and strong. The bolt carrier is low mass, the bolt is Magnetic Particle Inspected exceeding MIL-SPEC, and both are coated in Nickel Boron. The charging handle is a BCM using the smaller latch. The trigger is a TTU (Tactical Trigger Unit)—my test gun used a two-stage, but single stage triggers are available. The pistol grip is a Wilson Combat Starburst using a more vertical angle. Controls are single sided with an extended bolt catch. The magazine well is contoured and flared. The buttstock is a Rogers/Wilson Superstock with a six-position buffer tube. Empty weight is just under 8 pounds. It comes coated in Armor-Tuff, and this rifle had a custom camo coating. It shipped with a single magazine in a Wilson case.
Nightforce's 4-14 x 56mm SHV (Shooter Hunter Varminter) scope was provided, mounted in their lightweight single-piece mount. These scopes are designed to be the pinnacle of hunting optics. Optimized for use when most game is taken (dawn and dusk), they provide excellent resolution across the board. Diopter is fast focus for use in the field, reticles are simple. My test scope used the IHR (International Hunting Reticle) located in the second focal plane. The design is focused on fast target acquisition at typical ranges. Available with an illuminated floating center cross hair, it has simple stadia lines on the horizontal and vertical cross hairs, but the upper part of the reticle is clear. While there are no hash marks, various parts of the stadia lines allow for ranging most game.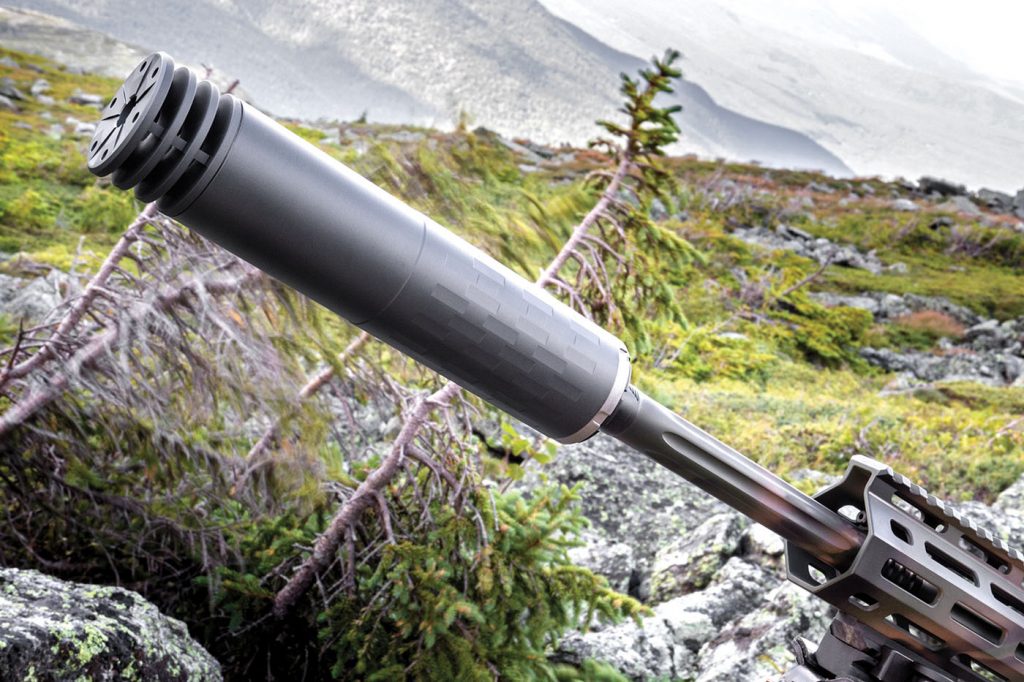 A 30mm tube keeps it light, yet very rugged with 100 MOA (23.7 mils) of elevation and 70 MOA (19.1 miles) of wind adjustment available in either .25 MOA or .10 mil increments. Knobs for both elevation and wind are capped for protection in the field. Eye relief is generous, ranging from 3.15 to 3.54 inches depending on magnification.