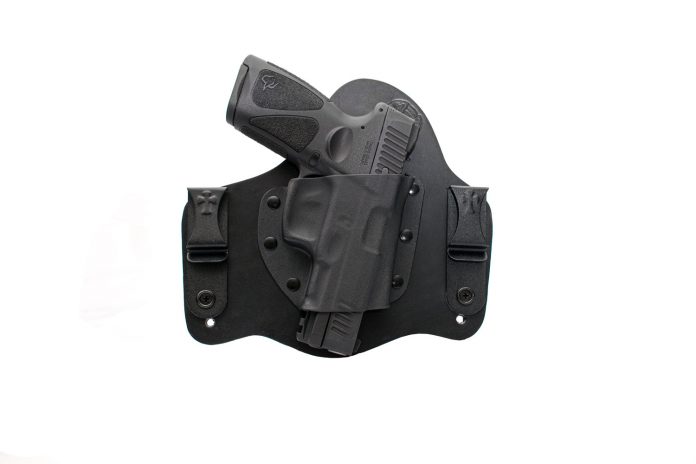 CrossBreed® Announces Robust Lineup of holsters for the new Taurus G3 Pistol
SPRINGFIELD, MO – CrossBreed®Holsters, a leading manufacturer in the category of concealed carry, marks the launch of the all-new Taurus G3 semi-auto 9mm pistol by offering a robust lineup of Crossbreed holsters custom-fit for this exciting new full-frame handgun. To build upon the introduction of the G3 gun and holster they have launched a giveaway inviting enthusiasts to enter here.
Since the release of the popular Taurus G2c compact pistol, Crossbreed has offered holster models for the G2c that cover every application. Predicting an equally high consumer demand for the new Taurus G3 polymer striker-fired pistol, Crossbreed worked with Taurus to ensure at-launch availability of its premium holsters for this much-anticipated defensive- and competition-grade firearm.
Concealed carry practitioners can choose between the always-popular IWB SuperTuck or the diverse Freedom Carry holsters. For OWB carry, Crossbreed offers G3 holsters in the SnapSlide, DropSlide, Open Top Pancake, and SuperSlide models.
In addition to its more traditional carry holsters, Crossbreed also manufactures modular holster systems to accommodate various home, vehicle, and discrete travel needs. For the Taurus G3, these include the Belly Band, Purse Defender, Pac Mat, Bedside Backup, and Ohai modular systems.
To support the available G3 holster options, Crossbreed has developed mag carriers to coordinate with each of these holster systems.
For details on these and other holster and carry solutions from Crossbreed, visit crossbreedholsters.com.
About CrossBreed® Holsters:
CrossBreed® Holsters was established in 2005 by Mark Craighead, who was an avid shooter and firearms enthusiast. His vision for US handcrafted holsters evokes attention to detail, quality and functionality that have made CrossBreed® a leader in concealment. Visit CrossBreed® Holsters.